Wellness
Inside Tata Harper's Much-Loved Organic Skincare Line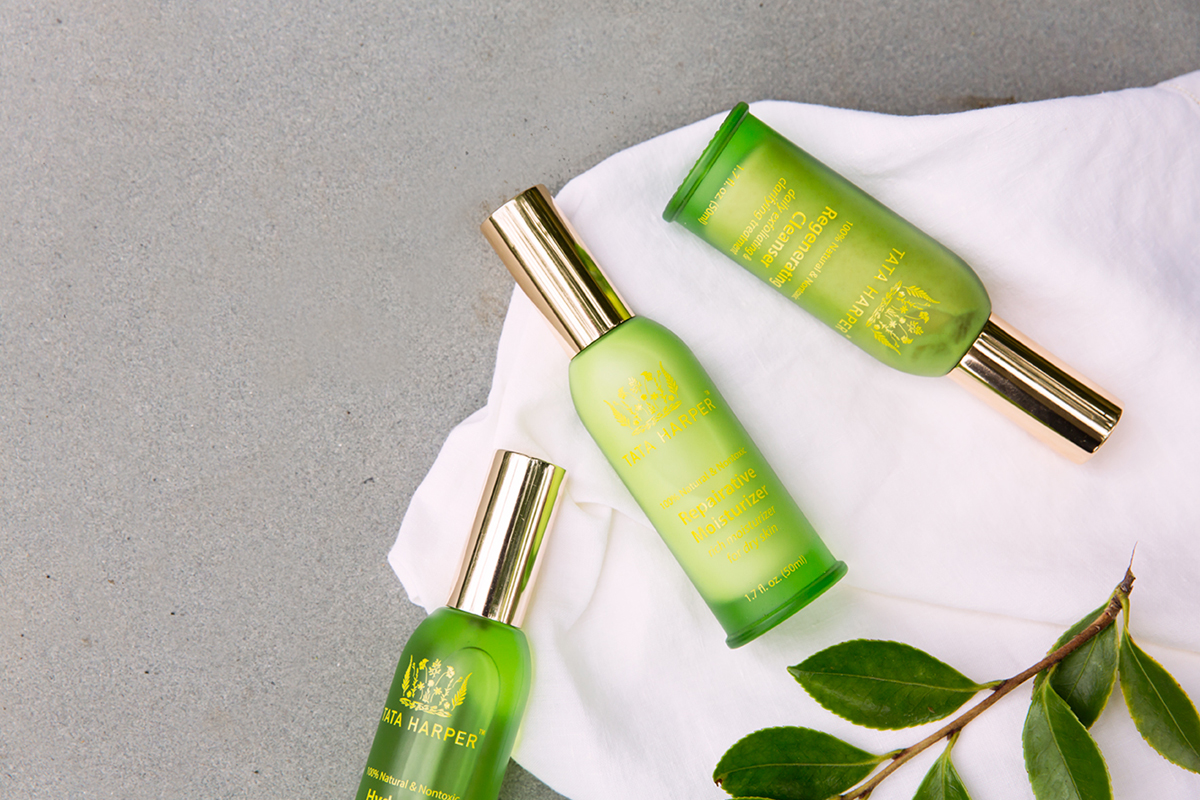 Tata Harper's organic skincare line, launched in 2011, has become a leading force not just in the natural beauty movement, but in the beauty industry in general. In just a few short years Tata has amassed a loyal following of high-profile fans and industry experts, while the line is now sold at high-end spas and retailers around the world. What's even more wonderful is that the products are manufactured right on Tata's own farm in Vermont using active botanicals and herbs sourced primarily from the 1,200-acre property. Whether this is your first introduction to Tata Harper skincare or you're curious what's new from the brand— which is quite a lot! —we thought now was the perfect time to catch up with the Columbian-born entrepreneur on the past, present, and future of her award-winning line. XXJKE
Rip & Tan: Why did you decide to start your line?
Tata Harper: My stepfather was diagnosed with cancer, and through helping him change his lifestyle, I learned about the toxic load our bodies can carry from exposure to toxic ingredients over time. I started transitioning to organic food and natural cleaning products, but when I tried to switch my skincare, I couldn't find anything that was 100% natural and gave me the results and luxurious experience I was used to, so I decided to create it myself. 
Rip & Tan: What is your typical day like when you're not traveling?
TH: No two days are the same—even if I'm not traveling. When I'm at my farm, I usually wake up at 6:15, meditate for a half hour, and have breakfast with my kids before school. Usually when I'm in the office I'm in meetings all day (that's why I have a standing desk!). At night I exercise. I like to change it up and do lots of things, like running, circuit training, pilates, TRX. Then I play with the kids, and we have dinner. Afterwards the kids and I take a bath together. It's our ritual; I add essential oils depending on our moods. Then I put them to bed and spend some time with each of them individually and we talk about their day. I find this is when they tend to open up the most about their dreams and challenges and existential crises. Once they're asleep I check email, then I meditate for another 30 mins before bed.
Rip & Tan: What types of ingredients go into your products—and what would you never use?
TH: We're open to using all natural and organic ingredients that have skin benefits. I will never use anything synthetic. We use ingredients from around the world, like Spanish lavender from Barcelona, Spilanthes extract from Madagascar, Edelweiss from Poland. We tend to focus on flowers, algae, and stem-cell technology more than fruits and vegetables. 
Rip & Tan: What is the hardest thing about developing natural products?
TH: Everything. I love this question—a lot of people think that because its natural it's simplistic, but it's really hard chemistry. Synthetics emulsify faster, create textures faster, and are more consistent. But we are obsessed with freshness and quality, so we only use the best ingredients, even though they're harder to work with, and created our Open Lab program so that our customers can see what's going into the products they're putting on their skin.
Rip & Tan: What's your favorite product in the line and why are you proud of it?
TH: The Elixir Vitae Eye Serum is one of them. It's a newer product, so it uses some of our most cutting edge technologies. Typical formulations on the market will use one or two results-driven ingredients, so I'm really proud that we were able to load 33 ingredients into it.
Rip & Tan: What skincare advice would you give all women?
TH: As I travel around I notice that people are overwhelmed by more than 3 steps for their skincare routine, but will do more than 20 makeup steps without giving it much thought. Taking care of the skin is more important than covering it up!
Rip & Tan: What is your current skincare routine?
TH: I love the ritual of layering many products. I always exfoliate in the morning with Regenerating Cleanser to remove build up and prevent dullness. At night I double cleanse with the Nourishing Oil Cleanser and Purifying Cleanser then sweep Concentrated Brightening Essence over my face. I apply Elixir Vitae Serum on my face and Boosted Contouring Serum on my neck, followed by a thick layer of Boosted Contouring Eye Mask around my eyes. I finish with a nutrient-packed layer of Replenishing Nutrient Complex.
Rip & Tan: Have you made any skincare mistakes you regret? Conversely, what are you always really careful about?
TH: I grew up on the coast of Colombia, so when I was young I got way too much sun exposure. Now I'm really careful about the sun. Also, before I knew a lot about skin, I thought that really aggressive things would work best. Now that I know more about the skin this really doesn't make sense; you need to nourish and take care of it.
Rip & Tan: Where is the Tata Harper brand headed next?
TH: We're really just scratching the surface. We've learned so much about the skin, and now are focused on creating new solutions for people. We've been great at addressing wrinkles and aging, now we're getting into more concerns like acne and pollution.