Living
Inside Stylist Djuna Bel's East Side Hideaway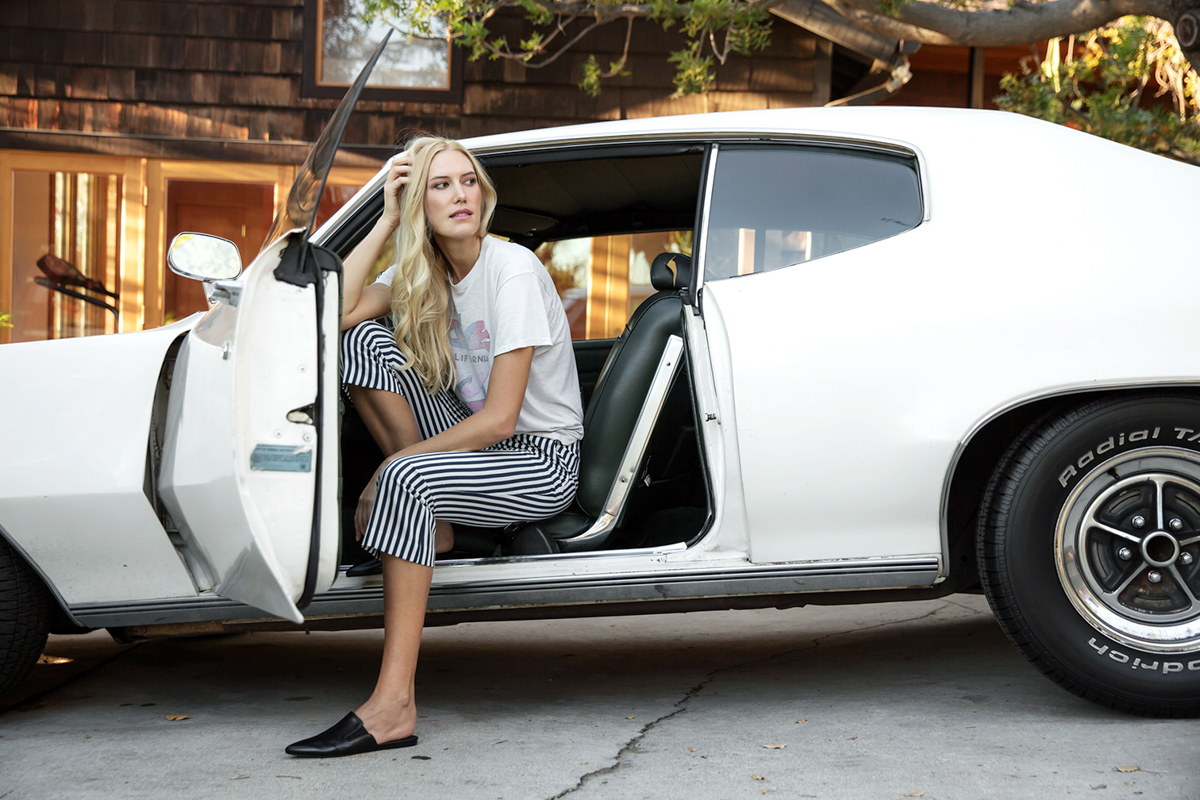 Los Angeles architecture is endlessly inspiring with interesting homes hidden all over the city. Model turned stylist Djuna Bel's hillside Highland Park house is one of those unique spots that feels very Los Angeles; it includes a pilates studio, outdoor steam room, and a white adobe oven where Djuna and her boyfriend, Nikolai Haas, often cook homemade pizza. Nikolai, a furniture designer, designed the living room specifically for entertaining friends and family; it has a little bit of a '70s feel. Djuna was kind enough to invite us over for a shoot and we caught up with her about all things interior design, career, wellness, and more. Stay tuned tomorrow for Djuna's take on holiday style! XXJKE 
Rip & Tan: You grew up in Santa Cruz, and lived in New York for some time, now you're here. Is LA home now?
Djuna Bel: I think so. My boyfriend and I live on the top of a hill on the East side that feels a bit removed from the craziness of LA. It makes city life a bit more manageable. Plus, one of the best things about LA is how easy it is to get out of LA—there are so many places just outside of LA that are really amazing to explore. It's really easy to not feel trapped here. 
Rip & Tan: How did you find your home and what drew you to the space or neighborhood?
DB: We worked with a really lovely realtor named Rob Kallick (@takesunset is his Instagram). He has really amazing taste. Niki was in Africa working on a project and Rob called me and showed me the house—I instantly saw that potential and the coziness, the privacy. The house has such a vibe —I was sold.
Rip & Tan: How would you describe the decor? Where did you find a lot of your furniture and objects?
DB: The house is a bit of a psychedelic tree house. My fiancé, Nikolai Haas is a furniture designer so we have a bunch of his pieces in the house. Most of the furniture is customized—we actually designed the living room for game night. The house is filled with our friend's pieces; Jeff Zimmerman's glass, Entler lamps, Devendra Banhart's sketches, Alex Prager, Brandan Pattengale and David Black's photos mixed in with crystals we have collected and strange cacti and succulents.     
Rip & Tan: What's your favorite space in the house and how do you use it?
DB: The steam room; I'm a total spa junky. I do a LOT of spa/outdoor shower/read on the deck when I have days off. I'm just waiting for the pool and the stone tub that are coming next.
Rip & Tan: How do you tend to entertain at home? What kind of gatherings do you host and what do you do to prepare for them?
DB: We have dinners and game nights at the house all the time. Niki is an amazing cook! We really utilize that pizza oven. We also have game night often. We play a game called Werewolves and Villagers. It's maybe my favorite thing on earth.
Rip & Tan: Tell us about your work as a stylist. Can you share a few people you work with and what kinds of styling projects you typically take on?
DB: I style a lot of commercials, everything from Coca Cola, Levi's, Nike etc. as well as a fair share of editorial and red carpet. I've worked with so many amazing talents, most of which have amazing personal style as well; Charlotte Gainsbourg, Ryan Gosling, and Jaden Smith to name a few.  
Rip & Tan: What do you love about your job and what is the hardest thing about it?
DB: I feel VERY lucky to work almost exclusively with people I love. I love to be able to help people express themselves through clothes and I love helping people feel good about themselves. My least favorite part of my job; probably the schlepping. The schlepping and the driving. 
Rip & Tan: How do you cope with the workload? Is your schedule abnormal? If so, what your strategies for staying balanced?
DB: I just started working some more balance into my life. I used to be a bit more of a workaholic; now I try to take some time out for myself to travel and relax and have a life of my own. I feel like taking a bit more time for myself has really given me a new appreciation for my job and it really helps inspire new ideas.
Rip & Tan: Do you have any career goals you still hope to accomplish?
DB: Honestly, I feel like balance and happiness are my two main goals.  
Rip & Tan: What are some of your favorite places to shop in LA?
DB: I love vintage so What Goes Around, Worship, Painted Bird, A Current Affair are really my go-to shopping spots. But I do spend a bit too much time in Gucci.
Rip & Tan: What's your idea of the perfect fall-in-LA outfit? 
DB: A vintage T-shirt, Re/done jeans, Jenni Kayne shoes and an elder statesman cashmere sweater. It's all about layers in LA.  
Rip & Tan: What beauty brands or products do you swear by? 
DB: I'm a huge fan of Biologique P50, I love Korean beauty (corsx snail mucin is one of my favorites), Pai or Sunday Riley Oil, and I have been dying to try the NuFace light facial toner. 
Rip & Tan: What beauty or wellness ritual do you cherish?
DB: I just started contributing to the Sakara blog where I share my favorite wellness routines, but right now I really like my morning tea/herbs/vitamins. I'm a huge fan of Sun Potion products (especially the Anandamine—it tastes so good!) and I love a visit to the Korean spa for a strong scrub/massage/hair mask.
Rip & Tan: How do you stay fit and healthy? 
DB: I try to do pilates when I can and I try to stay pretty moderate about everything. I love really rich foods, I love a cocktail, but I also love salad and tea.   
Rip & Tan: How do you stay grounded? 
DB: I feel really lucky to have amazing people in my life that I truly love; they keep me grounded.