Wellness
Inside Santa Cruz-Based Organic Skincare Line Urb Apothecary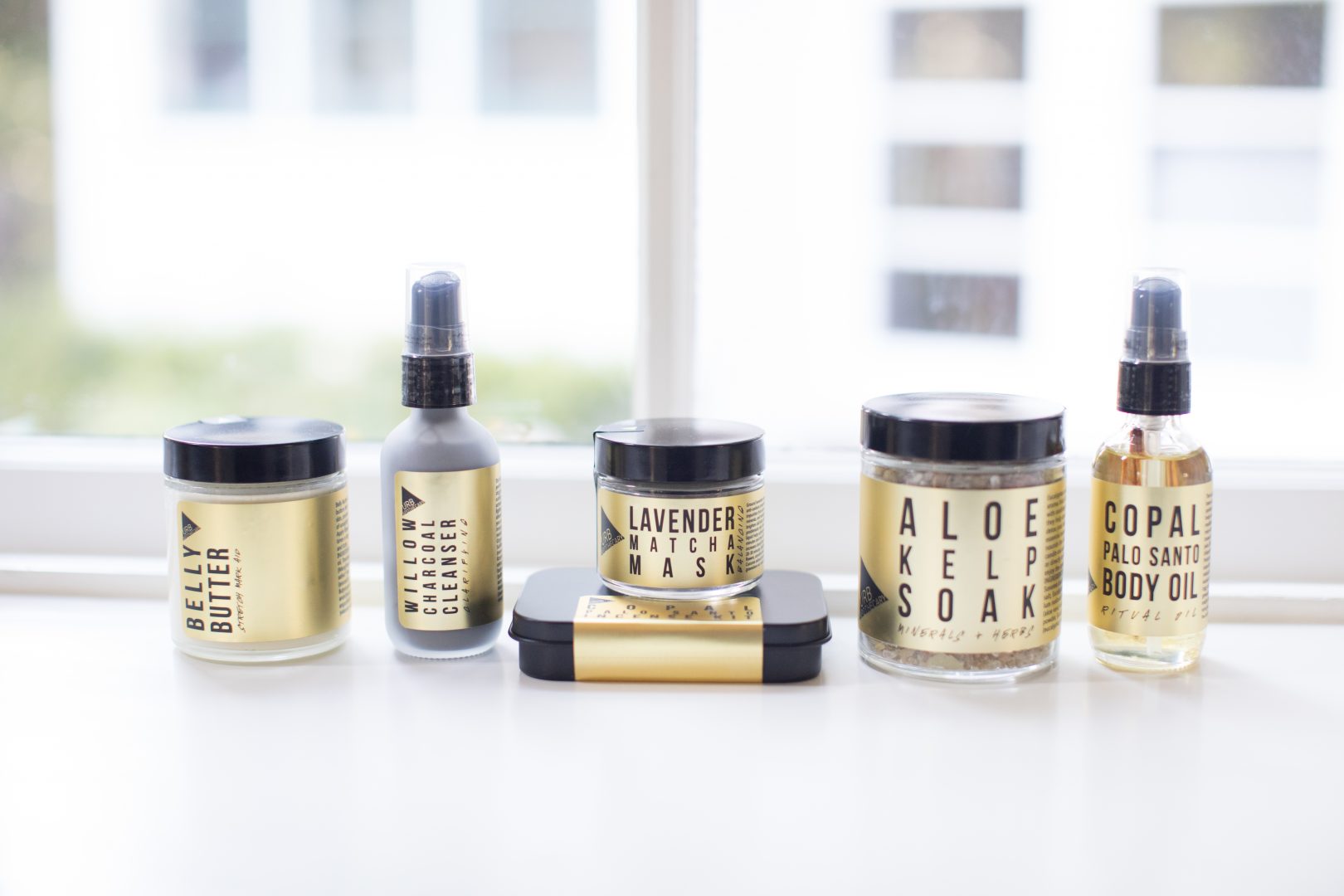 I recently discovered the organic skincare line Urb Apothecary through my sister, Saree, and loved the interesting mix of products and simple, plant-based formulas. The line was founded by Santa Cruz-based nutritionist Leyna Allred back in 2013 and she has been expanding slowly and thoughtfully since then. Urb Apothecary includes a mix of everything from body balm to hair serum, but there's a special focus on self-care products you might not use every day like bath soaks, facial steams, and masks. There are even incense and smudge sticks to help you set the mood, as well as travel sets so that you can take the products on the road. Check out our Q&A with Leyna to learn more about the brand. I hope her story and vision for Urb Apothecary inspires you to take some time out for yourself—and your skin!—sometime soon. XXJKE
Rip & Tan: What is your professional background? How did it lead you to start Urb Apothecary?
Leyna Allred: I hold a Bachelor's Degree in Foods and Nutrition from which I took away an understanding and deep fascination of human physiology. The human body is a marvel of homeostasis (the tendency or desire of the body to maintain a condition of balance or equilibrium within itself) and I grew quite alarmed that so many, indeed, the majority, of our cosmetics, skin, and body care, and household products contain additives or ingredients that disrupt the body's fine balance. Hormone-disrupting parabens, skin-sensitizing sodium laurel sulfate, and inhuman testing practices are just a few reasons why I saw the need for the beauty and body care industry to change, to make a shift back to natural ingredients that actually help the body repair itself and find its center and its balance again.
Rip & Tan: What is your mission with Urb Apothecary? How is it different than other natural brands?
LA: My mission is to bring the power of plants into focus, to show that plants are potent healers and that natural beauty and skincare is more exciting than daunting. When people use Urb Apothecary products I want them to feel beautiful and more secure in their own natural skin, not covered in foundation or concealer. There are a lot of natural brands out there, but I believe in the uniqueness of every individual and Urb Apothecary is the expression of my individuality: even if we used the same exact ingredients as another brand, our finished product would be as different as we are, and that is beautiful. 
Rip & Tan: What standards do you hold yourself to in creating the products? 
LA: Every product is composed of natural ingredients and each one has to be of the highest quality, or else the end result just falls short. I spend a great deal of time searching for suppliers (as local as possible) that also take pride in what they grow and/or sell. My goal is that at least 95% of all ingredients are organic, fair-trade, and sustainable.
Rip & Tan: What inspired the packaging and branding?
LA: The gold label? Honestly, it was a whim. I started out printing my own labels on kraft brown and bought the gold foil one day and really connected with it as a way of being slightly rebellious toward the norm of natural beauty packaging. I no longer print my own labels (thank the sweet stars above!) and I must admit that I sometimes play with the idea of moving to a more streamline color palette, and then I remind myself why I like the branding so much, it is different without being weird or un-relatable. The triangle symbolizes a type of symmetry, my mom would always say that groups of odd numbers are most pleasing to the eye, odd symmetry. HA! An oxymoron, but I like it! 
Rip & Tan: What product are you most proud of and/or what product is more resonating with your customers? Why is it special? 
LA: Right now I am most proud of the Willow Charcoal Cleanser. That little sucker took a solid 6 months of formulation and reformulation until it became just what I had envisioned. I wanted to create a cleanser that didn't strip away natural oils, was naturally antibacterial for those struggling with hormonal or persistent acne, and could be used by both oily and dry skin types, and have a refreshing unisex aroma. Everyone that uses it falls in love, I have even heard stories of partners getting hooked and claiming the bottle for themselves. 
Rip & Tan: How will you grow the brand in the future? What don't you want to do? 
LA: Social media is almost like the new word of mouth (word of mouth is still super important), so I want to continue increasing awareness of my line through social media, but I think forming in-person connections could be the next step in the growth factor. I am planning on attending my first trade show in February (gulp) and being able to talk to buyers face-to-face, educating them about the products so they can then inform and excite their customers about Urb Apothecary's natural skin and body care line. I don't want to get too big too fast and have to compromise my production process to keep up with demand. I have scaled up so many times since starting and doing so continues to be an exciting challenge of learning, being vulnerable enough to ask for advice, and strategically tackle problems. I feel so empowered every time I do!
Rip & Tan: Is there a wellness habit or beauty ritual you think really complements the line? Any special layering of products or ways of boosting their effectiveness? 
LA: Is it weird to say that I really look forward to washing my face? Well, I do. After I cleanse with the Willow Charcoal Cleanser I mist with the Yarrow Cucumber Toner and while it is still damp I apply the Sun Worshiper Repair Serum. Putting a facial oil on right after a toning mist helps hold the nourishing and moisturizing hydrosols to your skin and giving you a radiant dewy look.
Rip & Tan: What do you do when you're not working on the business? How do you spend your free time? 
LA: I really love exploring, whether it is on a bike ride along West Cliff, or a trip to SF or any city. I love finding tasty food, beautifully curated shops, and artfully designed coffee shops. On less exciting days, I really love connecting with friends over a cocktail, coffee, or nature walk. I am a simple gal and am pretty pleased to do just about anything and am really fortunate to live in a place with such amazing natural beauty at every turn.