Living
Inside Nadine Abramcyk of Tenoverten's Tribeca Apartment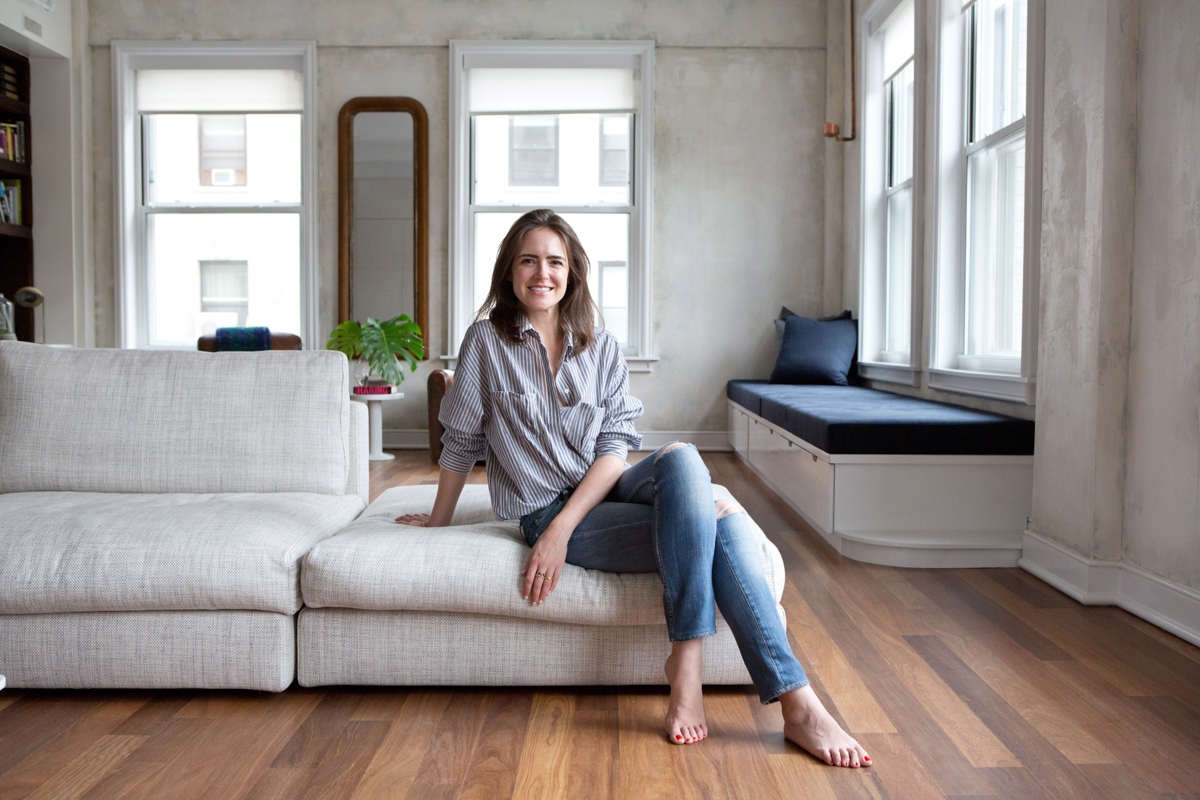 One of my favorite nail salons, tenoverten, is opening its first Los Angeles location next month. Nadine Abramcyk founded the company with her business partner and friend, Adair Ilyinsky, in 2010 and it took off immediately. Tenoverten has such a cool, calm aesthetic (it feels more like an apartment than a salon) and has the best polishes to choose from—including a non-toxic in-house line—so there's no doubt it will thrive here. To celebrate the upcoming opening, we thought it was the perfect time to visit Nadine in her elegant Tribeca apartment, and catch up on all things beauty, style, and family. Enjoy! XXJKE
Rip & Tan: How did you first get interested in the nail salon business, and how did you want to change it?
Nadine Abramcyk: I'm not such a fanatical nail person but more of a serial entrepreneur. I feel so excited by new business ideas, and the concept of tenoverten came out of personal frustrations with the average salons in NYC. My business partner Adair Ilyinsky and I felt the average nail salon experience left so much to be desired. Why was customer service not a priority? Why isn't there online booking? How come my polish options are so limited? And what's the truth behind the cleanliness of the tools that are touching my skin? After not being able to find a place that addressed all of these questions, and much hard work, tenoverten as a concept was born.
Rip & Tan: When were you initially exposed to natural beauty products, and why did you connect with that concept personally?
I was first exposed to natural beauty products when the designer Caron Callahan gave me a Soapwalla deodorant back in 2010 while I was pregnant with my daughter. I suddenly had a completely new awareness of what I was putting on my body knowing I was going to have a child. I am sure that I came across natural beauty products prior to that, but it wasn't a draw for me. Since becoming a mom, exploring more natural products with safer ingredients has become a deep passion of mine.
Rip & Tan: What are the major differences between tenoverten and other nail salons?
Tenoverten has always had a strong connection to creating the safest salon environment possible for both our customers and our employee family.  We have never offered gels and never will. So many places will follow a nail trend for the bottom line however we are committed to being the best at giving as natural of a manicure as possible in the safest environment possible. We choose our polishes, tabletop products, sanitation equipment, ventilation system and even our collection of tea offerings very carefully so that it is a feel good experience from start to finish. Among other things, I believe that is what sets us apart.
Rip & Tan: Your nail polishes are 8-free. What was the process like of formulating them? 
I'm so thrilled with the evolution of the tenoverten polish line. It started as sort of a side passion project led by our Creative Director Jaclyn Ferber and has since grown into an instrumental part of our business. We have 32 colors and a nail care line that is rapidly expanding. The most exciting part of building the product line is that we are an 8-free, vegan and cruelty free collection which means that we are constantly improving the ingredients that go into our polish without compromising quality. It is extremely rewarding to stand behind a collection that is safe for our clients and employees to use week after week. We are able to use our 5 salons as labs where we test products and new formulas until they are just right.
Rip & Tan: Where do you look for inspiration?
I am so inspired by the women around me. I feel so fortunate to be in this race during a time when women and particularly mothers have such bravado in the work force. I can thankfully call a lot of those women my friends so inspiration is within reach often. And in such a fast paced world, I find the most inspiration in simply slowing down and letting my mind wander. It is an incredible thing, and I would say a skill, to just let your mind rest and follow its lead.
Rip & Tan: What are some of the other wellness practices you incorporate into your daily life?
I am completely head over heels for Taryn Toomey's The Class. Anyone who knows me well understands that my mental and physical well-being hinges on her practice. I also start each day with a cup of warm water with lemon and a dash of turmeric which is a natural antioxidant and immune booster.
We often have dance parties in my home with my kids which has become part of the nightly routine, barring any outside conflicts or meltdowns. Movement and music are everything and these dance sessions lead to loads of laughter which is rejuvenating for the soul.
Rip & Tan: Do you have any natural beauty tips, recipes, or at-home practices you love? 
I dry brush 2 times a week at home just before showering which helps tremendously with releasing toxins through my skin as well as helping with blood circulation. Additionally, I am a big bath person so I have recently introduced Dr Singha Mustard bath into a weekly at home routine of mine which is cathartic. I soak in it for 20 minutes followed by a dry brush session and a cold shower. My skin feels amazing afterward. 
I burn a lot of white sage and palo alto in my home. I believe it clears the energy in various ways and helps calm me. Your home is such an important part of who you are and is where your wellness routine takes root so it's important to approach your home and space with as much respect as possible. Also I never leave home without using my Shu Uemura eyelash curler, it opens up my eyes even on the most tired of days.
Rip & Tan: How would you describe your personal style? Do you feel that Tenoverten is a reflection of this? 
I like to have a uniform of sorts. I tend to wear anything with a high waist and prefer a tailored look. I love a nice- fitting blazer and seem to dress a bit on the androgynous side which I think aligns with the tenoverten aesthetic. I am minimal in the way I dress and want to love everything in my closet so run a really tight ship on what makes the cut when doing a closet overhaul. Tenoverten is designed to be minimal in design as well so people can truly relax in the environment without too much clutter and 'noise' surrounding them. I believe a 'clean' look leads to a clear mind and that translates into my wardrobe and the designs of the salons.
Rip & Tan: What is your home like, style-wise? We hear you have a story about the wood paneling in your bedroom? Can you share it?
My home is the definition of comfort in my mind. It is the place where I most enjoy being in the world, mostly because of the people that live there but also because it creates moments throughout that help me ease through my day. One of those 'moments' is happening in my bedroom with the dark wood paneling on the walls. The wood was torn out of the Merc Bar which was a bar in Soho that my husband and I used to frequent when we first met while we were in college at NYU. When the bar closed a couple of years ago my husband bought the wood and had it installed lining our bedroom walls from floor to ceiling as a surprise to me. I am someone who wants some shade of white walls everywhere in my life, so maybe he was scared I would say no, but it has turned out to be the most beautiful wall treatment. Our bedroom is dark and as perfectly sleep inducing as it should be!
Rip & Tan: You're going to be opening an LA location this fall, correct? How did you select the location and can you give us a little preview of what to expect?
We are so thrilled to be opening in Culver City at the Platform this coming fall. The location is exciting for us as it feels like a natural next step for us seeing as we manufacture all of our tenoverten polishes and nail care products in California and have a secondary office there. LA represents a place where exciting things are happening in all types of businesses, particularly in the wellness arena. With our natural approach to beauty we think tenoverten will be well received. We will be offering our full range of nail services as well as full body waxing, sugaring, and brow services.