Living
Inside Lela Becker's Cozy Bohemian Hideaway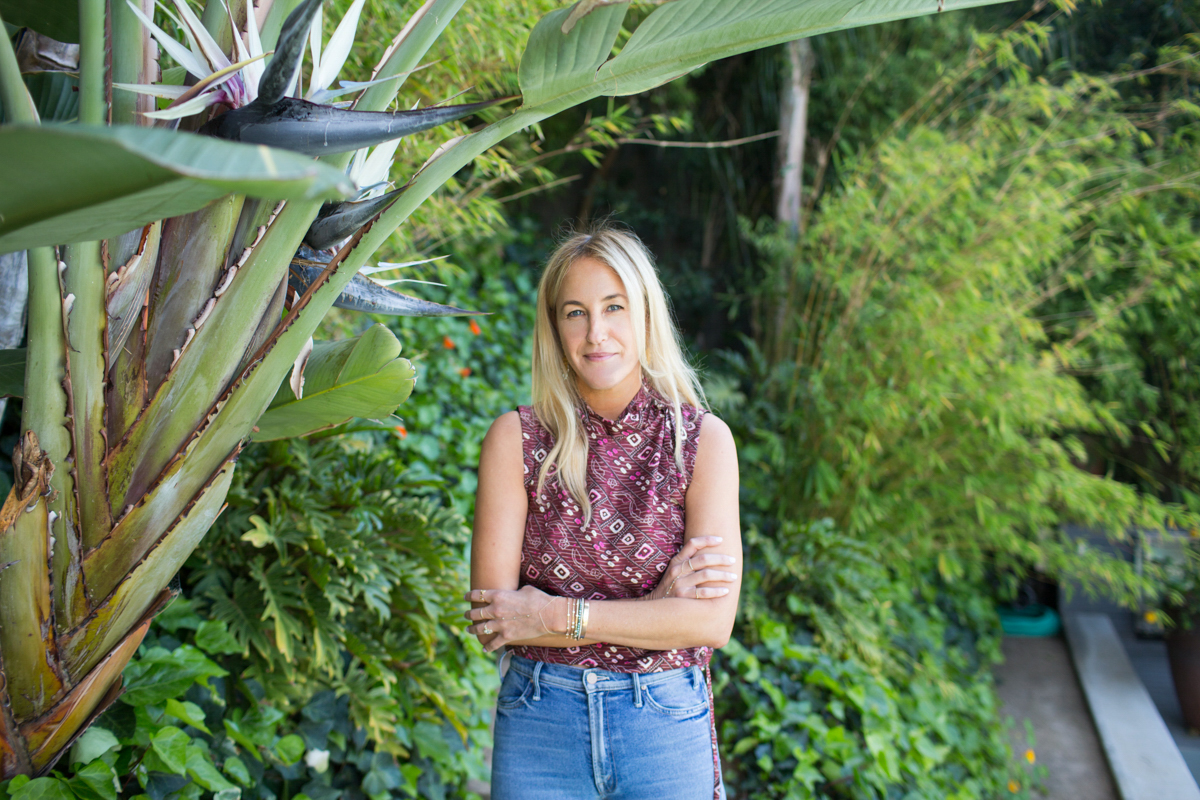 Lela Becker lives in the ultimate Los Angeles canyon home. It's a bit hidden, incredibly cozy, and has beautiful views of the trees and natural landscape—including the Pacific Ocean—which surround the property. Her home has a freestanding fireplace, pool, wine cellar, and plenty of inviting places to lounge. It's the perfect house for entertaining or just relaxing with family. 
The effortless cool of Lela's space is echoed in her career, too. Lela started the denim label, MOTHER, which is known for its sexy, vintage-inspired jeans and cheeky T-shirts and accessories. Lela and her cofounder, Tim Kaeding, both had extensive experience in the denim world before starting MOTHER in 2010, which has helped them form a vision and concept that really stands out in a crowded space. I love the high-waist cuts and just-stiff-enough fabrications of their jeans. 
Get to know Lela and tour her incredible home below!  XXJKE
Rip & Tan: How long have you lived in Los Angeles? What do you love about it?
Lela Becker: I have lived in LA for 20 years. I grew up in Sonoma Valley in Northern California and never thought I would settle down in LA, now I could never imagine living anywhere else. I love that the city has immediate access to nature and the ocean. We are also lucky to have access to so many delicious food options and to live in such a vibrant, creative city.  
Rip & Tan: How did you and your husband find this home?
LB: We both loved Santa Monica Canyon, my husband Dave, was raised close by in Pacific Palisades. He is a realtor so it came together very naturally. 
Rip & Tan: What drew you to the space or neighborhood?
LB: Our house is much like a grown-up's tree house—it has multiple levels and you feel like you're outside when indoors—we love that. We also appreciate being surrounded by trees, we spend a lot of time at Rustic Canyon Park. 
Rip & Tan: How would you describe the décor?
LB: The word I most overuse is "cozy" and that's definitely how I would describe our home. Lived in, with nothing too precious. 
Rip & Tan: What's your favorite room or corner in your house? Where do you spend the most time?
LB: We spend the majority of our time on the floor in our living room, which is basically also the dining room and kitchen as the top level of the house is essentially all one room. 
Rip & Tan: What are some of your favorite places to buy home items?
LB: A.E.U. Studio for the most stunning art, Rolling Greens in Culver City for great plants, 1st Dibs, Flea Markets, and Lawson-Fenning for furniture.  Most the tchotchkes in my house come from my mom, she is a lifelong flea market and garage-sale goer.
Rip & Tan: What decorating mantra or motto do you live by?
LB: Cozy-Town. Fill your home with things you truly love.
Rip & Tan: How do you tend to entertain at home? What kind of gatherings do you host?
LB: We love to have friends and family over. Dave loves to cook and we serve everything family style. We believe in the more the merrier and love having people of all ages over to eat, hang out, and dance to music videos.
Rip & Tan: What are your tricks for entertaining?
LB: Tequila and Beyoncé.
Rip & Tan: Tell us about what MOTHER is up to right now. What projects or new styles are you excited about?
LB: We just launched our MOTHER Superior capsule which is a play on the term "holy/holey" jeans. My favorite fit is The Sinner in Ice Cream, You Scream.
Rip & Tan: What does the brand do well that makes it stand out? How do you differentiate yourself in the market?
LB: I think we stand out because we stay true to not taking ourselves too seriously and the double entendre of our name allow us to loads of room to play. A perfect example are our socks—have you seen them?
Rip & Tan: What goals for you have for the brand in the future?
LB: We are thrilled to be growing our product offerings and are including some of those less expected items that speak to the spirit and cheekiness of the brand. In all the growth, we want to continue to support and focus on our yearly charitable and social campaigns. 
Rip & Tan: What do you wear when you want to feel comfortable? What cut/style of jeans do you live in?
LB: I love our Button Fly Stunner jean and our Hustler Ankle Fray. I pretty much always wear jeans and a T-shirt. I'll put on a jacket when I want to "try". 
Rip & Tan: What do you wear when you want to feel glamorous?
LB: Lots of Jacquie Aiche jewelry, which is made with so much love. 
Rip & Tan: What's the best style advice you've ever received or come to realize on your own?
LB: I always feel good and comfortable in jeans and a T-shirt, mixed with good shoes and jewelry. 
Rip & Tan: What beauty brands or products do you swear by?
LB: Coconut oil for everything hair, face, body, nails. I also love Natura Biss and Dr. Sebagh.
Rip & Tan: What beauty or wellness ritual do you cherish?
LB: Walking outside with my husband and dog, Ozzie, is my favorite thing to do. I love facials and I try to get them as often as possible.
Rip & Tan: How do you stay fit and healthy?
LB: Acting like I'm gonna go to Pilates or a dance class, but just end up walking my dog.
Rip & Tan: What are you looking forward to doing this spring or summer? What do you love about the season?
LB: I am so excited to go to Santa Ynez Valley to see the California poppies blooming in spring.  I like when the days get longer and the tomatoes grow riper. 
Rip & Tan: What are you listening to, reading, or watching right now?
LB: I'm pretty much always listening to AC/DC, Johnny Cash, & Beyonce. "Reading" Vogue Paris. I'm patiently waiting for the last season of Game of Thrones, and watching recorded episodes of SNL on Sundays mornings at 7am.