Living
Inside Emily Current's Chic L.A. Home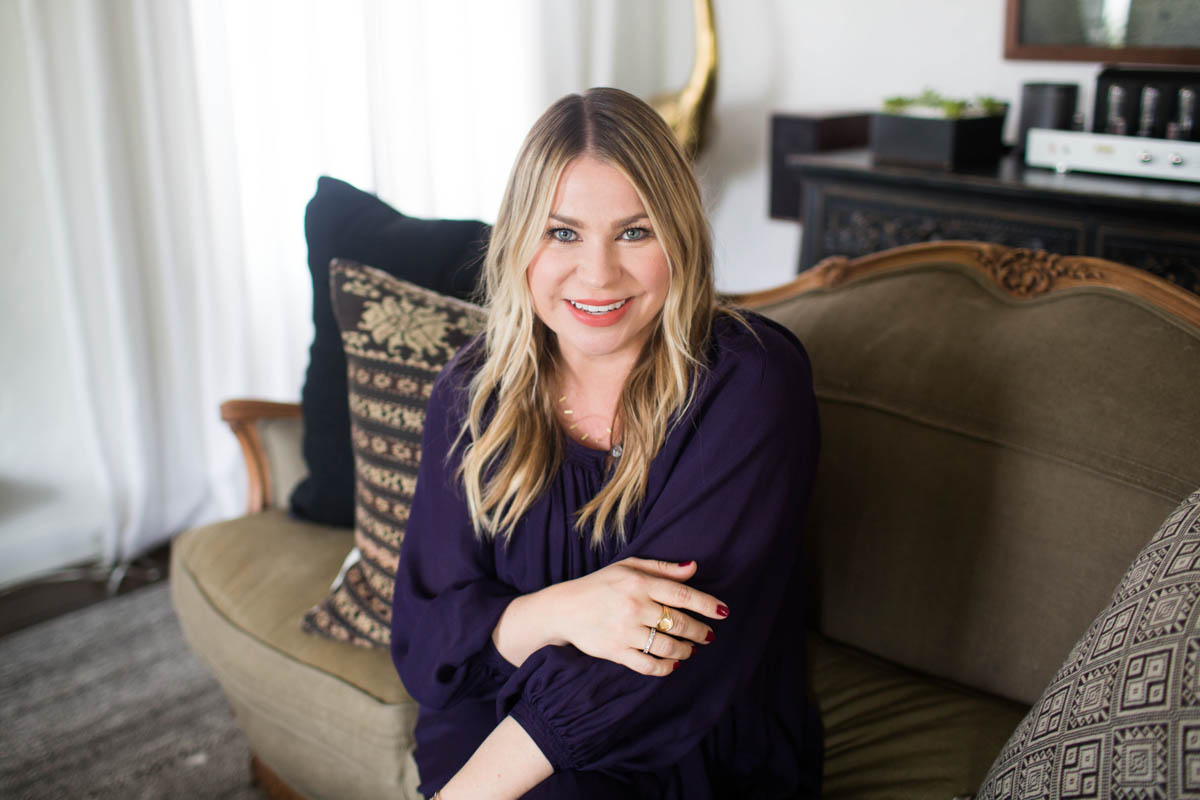 Emily Current's dreamy California home is exactly what you'd expect from a woman who is both a denim aficionado and renowned Hollywood stylist. That is, it's comfortable, livable, and a little bit rock 'n' roll with a few glamorous moments thrown in for good measure. I love the neutral palette, which keeps everything clean and elegant, and the mix of textures and patterns layered into every room in the house. Emily has two small children, and I love how comfortable her home is for them—with deep, cozy couches and big, open spaces for play—while still being incredibly stylish and chic for her dinner parties and game nights with friends.
Get to know this incredible woman below and stay tuned tomorrow for our feature with Emily's business partner and best friend, Meritt Elliott. The two met at UCLA and have been collaborating ever since. From their first brand, Current/Elliott, to their current love, The Great, to their styling and consulting business, I am so in awe of their ability to thrive with every project they take on—and still remain such down-to-earth, deeply interesting women. XXJKE
Rip & Tan:  What do you love about living in California?
Emily Current: I grew up in a farm town in Northern California. I am a country girl at heart, but after moving to L.A. I have grown to love the beautiful Southern California weather and being surrounded by such talented, creative people. L.A. is so close to fun places like Ojai, Montecito, and Palm Springs and I love taking little weekend trips when we can.
Rip & Tan:  How would you describe the style of your home?
EC:  Laid-back California eclectic with a tinge of rock and roll.
Rip & Tan:  What room in your home do you enjoy the most and why?
EC:  We use the family room the most. It has the deepest couch, a vintage record player, and shelves of books and games. On Sunday mornings we cozy up as a family with blankets and listen to records while my husband cooks breakfast.
Rip & Tan:  How do you tend to entertain at home?
EC:  We love to throw backyard dinners in the summer. We set up a big long table in the center of our yard and serve up food, family-style. Also, I am a big fan of a game night!
Rip & Tan:  What's one thing you love to do for guests when they come over?
EC:  I want people to feel at home when they come over so I make sure everyone feels free to raid the fridge or make a coffee.  I love to have lots of drink options available to guests and usually try make up some fun drink, like a big pitcher of fruit and herb infused water or a sweet tea.
Rip & Tan:  How do you find balance between work and personal life?
EC:  With a newborn and a two-year-old finding balance is very challenging!  I try to keep focused on what is right in front of me and set aside specific times to focus only on creating and work, and then carve out uninterrupted time with my family. I find that very early morning is when I can focus briefly on myself—a workout or a quiet cup of coffee.
Rip & Tan:  What do you love the most about your job?
EC:  I love that I get to create; whether it's products, brands or images. I love that I get to work with my best friend everyday and that we have this ongoing shared adventure. I love that every day is different and that we have multiple creative outlets from THE GREAT and our collection with Pottery Barn, to styling and consulting for brands.
Rip & Tan:  How does your work style complement Meritt's way of doing things?
EC:  Meritt and I have collaborated for many years and have a really healthy way of working together.  We both have strengths and weaknesses that we work with and around.  We have managed to grow creatively and as people over the last 15 years and we always put our friendship first.
Rip & Tan:  What do you tend to wear to work every day?
EC:  I just had a baby so the last year, being pregnant, I wore a dress with a jacket and a bootie, moccasin, or sandal every single day! For a girl who lives in denim I am excited to get my jeans back on though!
Rip & Tan:  What outfit do you own that feels the most like "you"?
EC:  Jeans with a white shirt and a red lip or all black everything.
Rip & Tan:  What do you look for when you're shopping?
EC:  Its evolved over the years. At the moment I am drawn toward things that are comfortable and functional but still with a bit of character. With clothing I tend to build off of jeans and a tee as a base and add fun third pieces and shoes to mix things up. Similarly, with home, the larger pieces are pretty classic but I create a vibe around them with interesting textiles, lighting, and accessories.
Rip & Tan:  What is one of your shopping or styling secrets?
EC:  Don't be stuck on a garments size and play with proportion. I will buy a tee in both a small and a large to wear different ways.  Same with trousers—going up a size can result in a cute belted slouchy look!
Rip & Tan:  What are a few of your beauty essentials?
 EC:  I can't live without Chanel inimitable mascara and Nars radiant creamy concealer (especially with a new baby). I use raw coconut oil on my hair once a week as a conditioning treatment. I was also just given a Charlotte Tilbury's Goddess mask and it is wonderfully soothing on tired skin.  I like to use essential oils and wear Le Labo Santal every day.
Rip & Tan:  What stores or beauty destinations in Los Angeles are you loyal to?
EC:  I mostly wear THE GREAT or vintage but I love Heist, Jenni Kayne, Tavin, and Mister Freedom for clothing.  I try to go to the Rose Bowl Flea Market each month. For my hair I love Lorri Goddard and Gregory Russell!  Shani Darden for facials is a magic-maker!  Olive and June for an organic pedicure. Larchmont Beauty is one of my favorite pit stops for beauty essentials.
Rip & Tan:  What item in your closet holds the most sentimental value to you?
EC:  My dad's jean jacket from when he was in 5th grade. He hand-painted Fred Flintstone on the back.
Photos: Brittany Wood