Living
Inside Elizabeth Antonia's 1920s Spanish Revival Home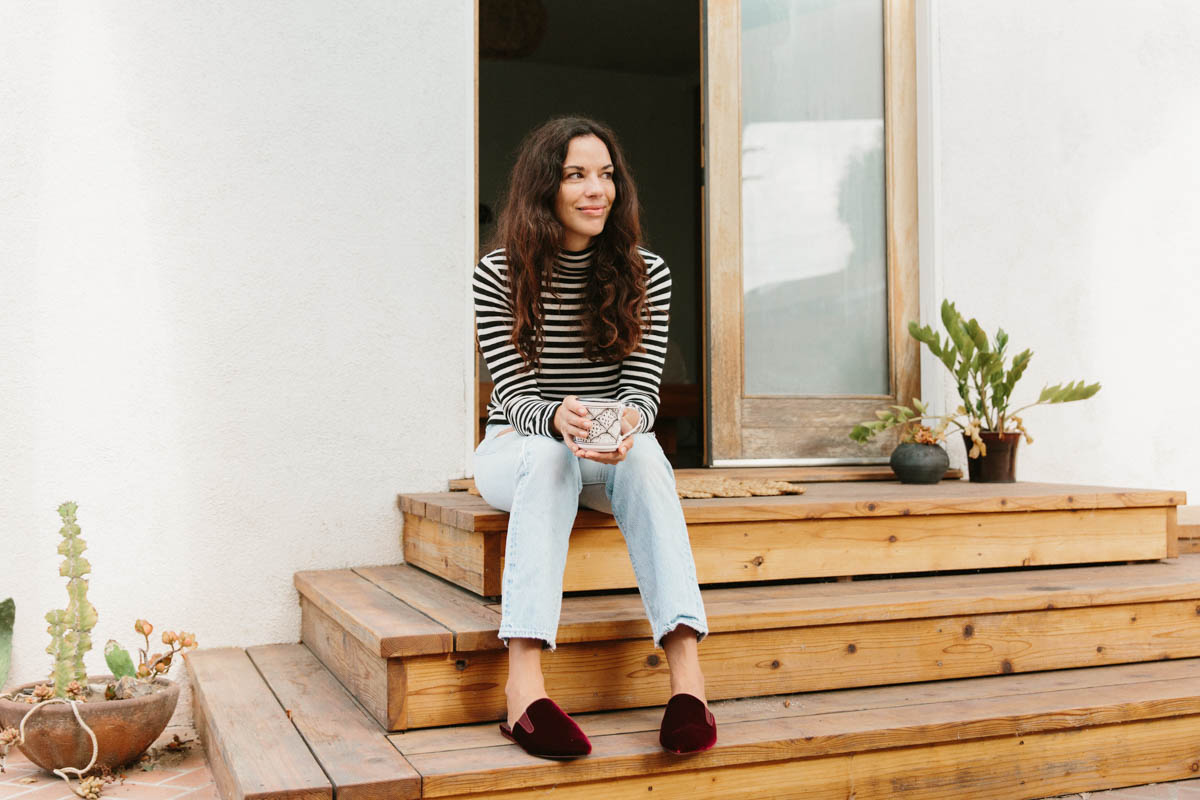 I love seeing how other busy, creative-minded women set up their homes to serve their family and their lifestyle. Elizabeth Antonia, creative director, mother, and wearer of many other hats, is someone who inspired me recently. Elizabeth's home feels joyful and deeply personal but is also clutter-free, which is always a challenge. There's a big table in the backyard for outdoor entertaining, an herb garden to serve her cooking needs, and the sweetest multi-use room for her little girls (they bunk together so the space can be used for play). Elizabeth's sense of balance in her home as well as her personal and professional life is wonderful. See inside her beautiful space and get to know her a bit better in today's profile, below. XXJKE
Rip & Tan: Tell us about your home. What drew you to the space or neighborhood? 
Elizabeth Antonia: When we moved from New York we weren't sure what neighborhood was right for us. I grew up in North County San Diego and always loved the hills of Encinitas, Leucadia, and Carlsbad and how jungle-y it felt. The East Side (Pasadena and Altadena specifically) reminded me of that with its narrow winding roads and beautiful old trees. It feels miles away from the bustle of LA but is actually so close to downtown. I love adobe houses and we immediately loved the energy of the space for our family.  
Rip & Tan: What's your favorite room, corner, or detail in the house? 
EA: I love our living room. It's our place to put a cross word puzzle or play games together. We have an open floor plan so it feels cozy to have my family here while I'm making dinner. 
Rip & Tan: How would you describe the decor? 
EA: Perhaps it is "high desert". My husband and I are heavily inspired by Dali's home in Port Lligat, Spain. He joined together a series of white washed fishermen's huts and filled them with treasures from nature and his journeys through the world. I also love the stark landscape with pops of color found in Marfa and in Arcosanti, Arizona. 
Rip & Tan: Where did you find most of your items? 
EA: We love to travel and bring things home that have a significance related to a memory or a moment adventuring with the family. We have totems from Asia, Bali, Fiji, Sweden, all over Europe and Mexico. Our children are always bringing home lots of objects from nature such as driftwood, interesting rocks, crystals, shells and sand dollars. I love those the most.  
Rip & Tan: How do you tend to entertain? 
EA: I grew up in a large family, the type of family where people just come on by; I still love the spontaneity of that. We do a large amount of entertaining in our backyard. 
Rip & Tan: Who comes over and what do you do? 
EA: Neighborhood friends, school friends, family; we love to grill, make a big salad, set an easy table with a flower arrangement from our neighborhood walks. I am not fussy or worried about having the perfect table. As long as everyone is eating good food and feels welcomed, I am happy.
Rip & Tan: How have you made space for the kids to play and have fun? 
EA: The girls are still at an age where they happily share a room so we have a play room for them. 
Rip & Tan: How do you keep their things organized? 
EA: We have very little closet space in our home which means lots of baskets for toys and art supplies and shelves for books. I read a book called "Simplicity Parenting" several years ago which heavily influenced the amount of toys we have out at any given time. We rotate books and toys out seasonally so that they can easily see the things they love.
Rip & Tan: How long do you envision staying in this home? What would be the dream next step, if any? 
EA: Hmmmm, I wonder! We buried a hamster in the backyard so according to my girls we can never move. Ha!  That said, I adore Altadena. I love the school community we have there (we have a 10-minute drive at the moment) and I would be so happy to live there in the foothills of the Angeles Forest. 
Rip & Tan: Tell us about your transition from NY art director to LA consultant. How did your path evolve and what type of work do you do now? 
EA: I was moved from New York for a Creative Director position and became pregnant shortly after. I didn't know anyone in LA and felt pretty isolated as a new mother. As soon as my contract was finished, I left the company to consult. My path wasn't clear but I have worked for Apple, Levi's, J Brand Jeans and took a stint at Ergobaby as Creative Director in the time I've been here. While my children are little I want very much to have as much quality time with them as possible, which is a juggle. I produce photo shoots for brands as well which is so fun for me! I still partner with brands such as Airbnb, Seventh Generation, ClifKids, and Apple through my blog The Littlest and love to champion the work of small women run children's clothing lines such as Mabo, Babaa, and La Coqueta amongst others. I've met the best people throughout the world online. 
Rip & Tan: You also have a furniture business and a few other creative endeavors on your plate. Can you tell us about them? 
EA: I have been writing a publication called Early Riser Companion which is family focused and filled with beautiful photo essays, Ayurvedic healing, songs, rhymes and rhythms for children from 0-7 (and beyond.) It's influenced by the quirky Farmer's Almanac and Poor Richard's Almanac and I'm so excited with how it's shaping up.
I've also been facilitating a women's circle called Early Riser Workshop where we discuss cultivating new ideas about wellness, motherhood and raising our children with intention. No one is perfect and there is no one size fits all. Gathering in circle is such a great place to see how we are all connected and to practice compassion and grace for ourselves and each other. I plan to bring this workshop to San Francisco and NYC soon and create an online component for those who can't make it in person.
In addition to this, My husband and I own Yeah Furniture and Yeah Rentals. I help him with branding and company decisions but am not involved in the day to day operations. We bought a building with some friends that we collaborate a lot with and will be opening a Yeah! Showroom and venue in Highland Park called Office Party this month! It's very exciting and busy right now. I will be helping with the programming and have several amazing events coming up. Having so many balls in the air is tricky and we are finding our path forward as best we can. 
 Rip & Tan: How do you balance them all? 
EA: We have a lot of late nights. Besides that, I strive to hold a strong family rhythm at home that takes the guess work out of what's happening each day, night, week. It is incredibly important for young children to have this rhythm to support them and it actually benefits us too!  
Rip & Tan: What advice would you give to someone who wants to diversify their talents in a similar fashion? 
EA: I had a lot of schooling in my core trade but we are really living in an age where you can learn anything if you put in the practice and hard work. Everything to me is woven through with communication, all the dots connect if you can get some perspective. 
Rip & Tan: How do you and your husband carve out time for family and friends. How does your schedule work or what "rules" do you have for personal time? 
EA: The biggest challenge for us is that work ebbs and flows. It isn't consistent from week to week. We both make an effort to be home for dinner almost every night of the week. We schedule walks around the Rose Bowl at least three times a month. Taking a long walk with my husband is the best way to unwind our own inner dialogues and to come up with solutions for long standing problems. We have a rule of no phones from the time we are home until the girls are in bed. Taking family trips with friends is such a good way to get more quality time. I love travelling with friends. 
Rip & Tan: What overarching belief or mantra guides your work or your creative POV? 
EA: I always ask myself, "What's my motivation? Does this project have heart?" You've heard it before but I'll say it again, "To thine own self be true." When we do things that are aligned with our higher self, we cannot fail. 
Rip & Tan: What goals do you have for your career in the future? 
EA: I want my children to look up to me and know that we are just here for a while. That it's important to leave the world a more beautiful and useful place. I want to trade more in ideas and contribute to the wellbeing of others. What I'm doing right now is a glimpse of this that is unfolding. 
 Rip & Tan: What items in your closet do you treasure most? 
EA: I have several vintage pieces from my time in NYC; some designer, most not. They always make the cut when I'm slashing through my wardrobe.
Rip & Tan: What do you feel most beautiful in? 
EA: I love dresses that are classic and feminine. I feel most beautiful in a belted, mid-calf dress. It's just my favorite cut of all. 
Rip & Tan: What are you coveting for fall? 
EA: We are travelling in October to Stockholm, Florence, and London. Last October I was in Stockholm and was so ill-prepared. I am loving all of JK's new Fall Sweaters.  
Rip & Tan: What would you love to add to your wardrobe? 
EA: The Velvet D'orsay flats in bordeaux velvet are gorgeous. 
Rip & Tan: What wellness ritual or beauty routine is making you feel your best these days? 
EA: As the days grow shorter and we turn to fall, I love to add dry skin brushing and abhyanga to my bathing routine. I have practiced dry skin brushing before a shower for the past 15 years and it always makes me feel better. I add Eucalyptus oil to the steam of my shower in the Autumn when it becomes cold season and Wild Orange essential oil in the Summer. 
Rip & Tan: How do you stay healthy?  
EA: Lots of exercise and walks. Meditation. During cold season, I take a shot of Apple Cider Vinegar every morning and always try to start my day with a cup of tepid water with lemon to help digestion. I have had a smoothie every single morning (except travelling) for the past ten years.  Besides healthy produce, I always make sure I have DHA, bee pollen, and blue green algae or chlorophyll. I reach for essential oils for every day ailments and always have frankincense, peppermint, oregano, and melaleuca handy. Plant medicine is simple yet profound. I love the ritual of tea that is being reintroduced here in Los Angeles which is also a form of plant medicine. I am in love with the 21st Century Tea from Mountain Rose Herbs.
 Rip & Tan: What beauty products have a firm spot in your medicine cabinet? 
EA: I am loving the True Botanicals line right now. I especially love the Renew Nutrient Mist. I've also used Suntegrity's Sunscreen for years and years and it's still my favorite. I try to never buy any new product until I've used the entire tube of what I have at home. A bunch of extra toiletries and products lying around half used is a pet hate of mine. 
Rip & Tan: What are you listening to/reading/watching right now? 
EA: I love going to the library with my girls and almost always find my next book there. This summer I read all of Elena Ferrante's Neapolitan Novels series as well as the Game of Thrones book series. I just found a 50-cent copy of "Gone with The Wind" at my favorite library and am obsessed. I read at random. 
My husband does all the music programming for the Ace Hotels and he always unearths the most amazing gems from all corners of the earth. I'm always streaming his playlists on Mixcloud. I also love the new album Painted Ruins by Grizzly Bear. My friend Ed has such a beautiful voice and is possibly the funniest person I know.