Living
Inside Blogger Camille Styles' Mediterranean-Inspired Home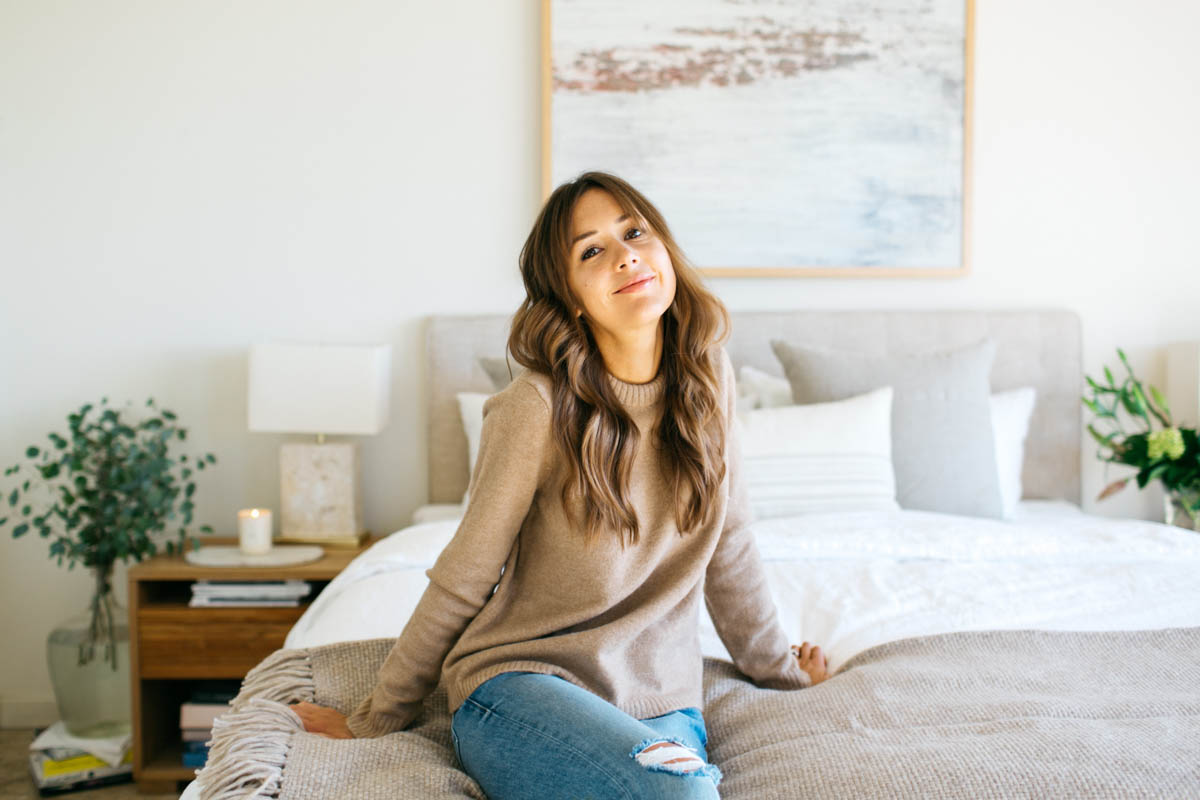 Event planner-turned-lifestyle blogger Camille Styles shares my affinity for neutral colors, earthy textures, and a minimalist approach to decorating. When we decided that Austin would be the first out-of-state stop on the Jenni Kayne Home Airstream tour, it seemed like the perfect excuse to pay her a visit. Camille and her husband built their beautiful, airy home from the ground up soon after they got married, and describe their aesthetic as "modern Mediterranean." Her love of white provided the perfect backdrop for the alpaca pillows and blankets from my new home collection. Get to know the lovely Camille and take a tour of her inviting space below. Our mobile shop will be in Austin through October 28th—stop by and say hello if you happen to be in the area! XXJKE
Rip & Tan: How long have you lived in Austin and what first brought you to the city?
Camille Styles: I moved to Austin 11 years ago without a job or any connections—I was just so drawn to the energy of the city and knew it was a place I could see myself building a life.
Rip & Tan: What drew you to your home and/or the neighborhood?
CS: My husband bought the lot where our house now stands while we were dating, but we didn't meet with our architect to start the plans for our home until a couple of years later, when we got married. Our favorite things about the property are the big live oak trees and views of downtown Austin – even though we're in the city, when I'm in my backyard it feels like I'm miles away from everything.
Rip & Tan: What types of rehab or DIY projects have you taken on since you moved in? What do you hope to do in the future?
CS: We built our home from the ground up, and we love that it'll always be an ongoing project. We have an acre of wooded land on our property, and we love spending our weekends going to the garden store, landscaping, and thinking about what projects we want to tackle next. This spring, we want to add a built-in concrete table near our barbecue area for the grilled pizza nights that we love to throw with friends.
Rip & Tan: How would you describe the décor? Where do most of your pieces come from?
CS: I describe our style as Modern Mediterranean. My husband and I both love a somewhat minimalist aesthetic that's still really warm and inviting, and we've been inspired by our travels to the coasts of Italy and France. We love those whitewashed stucco spaces that blend seamlessly with the outdoors. 
Rip & Tan: What is your favorite corner or object in the space?
CS: The big steel doors in the living room that open all the way up to the back patio, creating a true indoor-outdoor room. We use the space all year around and love the casual vibe that it brings to our living room. I want people to feel comfortable coming straight in from the pool and kicking their feet up on the couch.
Rip & Tan: How do you tend to entertain? Who comes over and what do you do for them?
CS: I'm super casual, which I think is a reflection of my own style as well as just living in Austin. There's nothing I love more than having friends gathered around our kitchen island drinking wine while I cook, and half the time the "dress code" at our dinner table is swimsuits and flip flops.
Rip & Tan: Tell us about your career path. How did you get into event planning? When did you launch your website and why?
CS: I started my career in event planning, and I loved so many things about it – planning menus, designing the décor, helping my clients realize their vision for a party, but I soon noticed that most people put so much pressure on themselves to make every detail of their event perfect that they really didn't enjoy the process. I found myself wanting a creative outlet where I could rediscover the fun in entertaining and cooking, so I launched my blog Camille Styles as a place where I could explore the topics I loved and also share what I'd learned as an event planner with a wider audience. As the site has grown over the past 7 years, we've broadened the scope to cover all types of lifestyle topics including fashion, beauty, and design, all through the lens of showing readers how to live their happiest, healthiest lives.
Rip & Tan: How do you see yourself fitting into the fashion/lifestyle blogger community? What do you readers come to you for?
CS: We frequently hear from our readers that CamilleStyles.com is where they like to start their day over coffee – it's a happy, positive place that inspires with beautiful images, interesting people, and applicable ideas for becoming your best self. 
Rip & Tan: What is your typical or "perfect" work day like from start to finish?
CS: It starts early! Coffee, workout, then making breakfast for my husband and our two kids (Henry, 2, and Phoebe, 4) — usually oatmeal or eggs with avocado. Once I'm at my desk, every work day is different! Some days I'm plowing through my inbox, meeting with my team, scheduling calls with our brand partners, and writing blog posts. Other days I'm in the kitchen testing recipes and shooting videos all day. The one consistency is that I'm always collaborating with my team and the amazing freelancers we get to work with, which I really love.
I usually wrap up late afternoon and try to take my kids to do something fun—the park or smoothie date are faves—then home to make dinner. Or if it's been a long day, we'll meet my husband at our favorite Mexican food spot for tacos and margaritas.
Rip & Tan: Do you ever feel a pull to disconnect from social media and the Internet? If so, how do you unplug?
CS: It's not easy, but I try to stay really present with whatever I'm doing at the moment which sometimes requires unplugging for a while. When I'm at work, I do my best to focus on work and really prioritize what's most important for me to get done that day. When I'm with my kids, I do my best to put away my phone and spend time with them — talking, listening, playing, and truly engaging. I'm not always successful at it, but I try to bring my best self to each moment and not feel guilty when I don't do it all perfectly.
Rip & Tan: You put together so many different, beautiful outfits for your blog. What staples really define your style?
CS: I can always rely on a white linen button-down or cozy camel sweater with dark skinny jeans, a pair of platform sandals, and oversized sunnies. And I'll throw on a blazer if it's chilly out. It's a timeless look that always feels chic.
Rip & Tan: Where are some of your favorite places to shop in Austin?
CS: I love walking down South Congress Avenue — favorite shopping spots include ByGeorge and Sunroom. 
Rip & Tan: What is your go-to look when you want to dress up and feel a bit glamorous?
CS: I love a simple silk dress paired with a topknot and red lip.
Rip & Tan: What wellness or beauty ritual do you cherish?
CS: Getting a massage is my favorite indulgence, and when my schedule has been really crazy, I try to find a way to squeeze it in—nothing leaves me feeling more relaxed.
Rip & Tan: How do you stay fit and healthy?
CS: I eat clean most of the time, and try to save my favorite indulgences for the weekend and vacation. For me, this means tons of veggies every day, plant-based proteins, and healthy fat sources like salmon and avocado. I love to work out and wish I had time to do it more, but I walk with my husband and kids most days and squeeze in barre and spin classes where I can.
Rip & Tan: What are your beauty staples? What do you buy over and over again?
CS: Vintner's Daughter Active Botanical Serum. It's so nourishing and keeps my skin looking glowy. Anastasia Brow Wiz; it fills in my brows to make them look naturally full. And Buxom Lip Polish in Bunny; the perfect peachy nude.