Living
Inside Basic Kitchen, a New Restaurant from Kate and Ben Towill
Tomorrow marks the last day the Jenni Kayne Home Airstream will be stationed outside of Basic Kitchen in Charleston, South Carolina and, before we go, I wanted to share a tour of this incredible new restaurant and introduce you to one of its founders, interior designer Kate Towill. Kate and her chef and restauranteur husband Ben opened Basic Kitchen less than a month ago, and it's already a local favorite. The restaurant focuses on healthful dishes made with seasonal, local produce and the décor is earthy and elegant, with big leather booths, rattan pendant lamps, and the coziest bar. It's really everything you want in a neighborhood restaurant. I wish I lived closer!
Get to know the lovely Kate and check out the brand-new space below. For more on Charleston check out our City Guide from earlier this week! XXJKE 
Rip & Tan: Tell us about your career as a set and interior designer. How did those skills play into this project?
Kate Towill: I did set design in NYC for 6 years, starting with music videos and ending with feature films. Some highlights were designing a music video for Kanye West and working on the art department team for "Moonrise Kingdom" directed by Wes Anderson. As much as I loved the excitement of working on films, life on the road became harder and harder and all the waste at wrap would really bother me! So I went into interior design with a 'less is more' drive. I wanted to strip things back as a designer, and allow the materials to speak for themselves. We did just that here at Basic Kitchen. We uncovered the plaster fireplace from layers of sheet rock, we ripped up the vinyl floors, polishing the beautiful concrete that was underneath, and brought in lots of wood elements. We have a walnut and maple bar and cypress dining tables and benches.
Rip & Tan: What is your vision for Basic Kitchen?
KT: We wanted to create a place that was as informal as a roadside diner but as special as a sidewalk bar in Cuba. A trip to Havana in 2016 really inspired our design!
Rip & Tan: Why did you choose Charleston as the location of the restaurant? What do you love about the city?
KT: We moved here to Charleston in 2014, after living in NYC for 10 years. We both were ready to move out of the city, but the big question was where. After a great visit down here, we were ready to make the move and change our lifestyle—we are both very outdoorsy and need space and quiet around us, so this was perfect. Charleston has an incredible sailing scene, and we love being out on the water. We often talk about buying a sailboat as our "second home" and taking it up and down the coast… in dreams!
We had been eyeing up the building where Basic Kitchen is now for about two years until we signed the lease this past April. Something I certainly have learned in the design and development business is you need to be willing to be patient for the right thing—good things really do come to those who wait!
Rip & Tan: Tell us about the food and drink program. How does it play into the concept?
KT: The goal of Basic Kitchen is simple; use seasonal, local produce and the best ingredients to create food that's nourishing and delicious, giving you tons of energy to pursue the things you love. Our tagline is "cleaner fuel, longer adventures"! 
Rip & Tan: What one drink or dish on the menu do we have to try?
KT: The vegan cauliflower buffalo wings or the pumpkin fritters! (Ed note: Kate was kind enough to share the recipe for the latter below!)
Rip & Tan: Do you have any special goals for the business or your career? How do you envision the future?
KT: We want to do these babies all over the world! And then check out and sail around the Mediterranean – dream plan.
Rip & Tan: You recently became a mom! How has your style or beauty routine changed or not changed since you became a mom?
KT: I feel like my style is the same, perhaps even a little more feminine. The only change is my eyes need a touch more concealer under them!
Rip & Tan: What are some of your beauty staples or wellness rituals?
KT: Lots of water, dry shampoo, and long walks each evening to decompress from the day. Daisy, our sheepdog, and baby Oscar have no choice!
Rip & Tan: What are your hobbies or favorite ways to spend fall weekends?
KT: Sailing or hiking!
Rip & Tan: What are you listening to, reading, or watching right now?
KT: Loving Christine & the Queens in my ears recently! And I recently watched Forks Over Knives, it blew my mind! I highly recommend it.
Rip & Tan: How will you be spending the Thanksgiving holiday?
KT: We will be driving up to the mountains about four hours away to be with my mom. She lives about 30 minutes from Asheville, NC where there are some really great antique shops and we always stop on our way home. We always pack the car so full after these weekends that poor Daisy will have to her paws resting on a bike wheel laying under a huge painting or table! She's a trooper.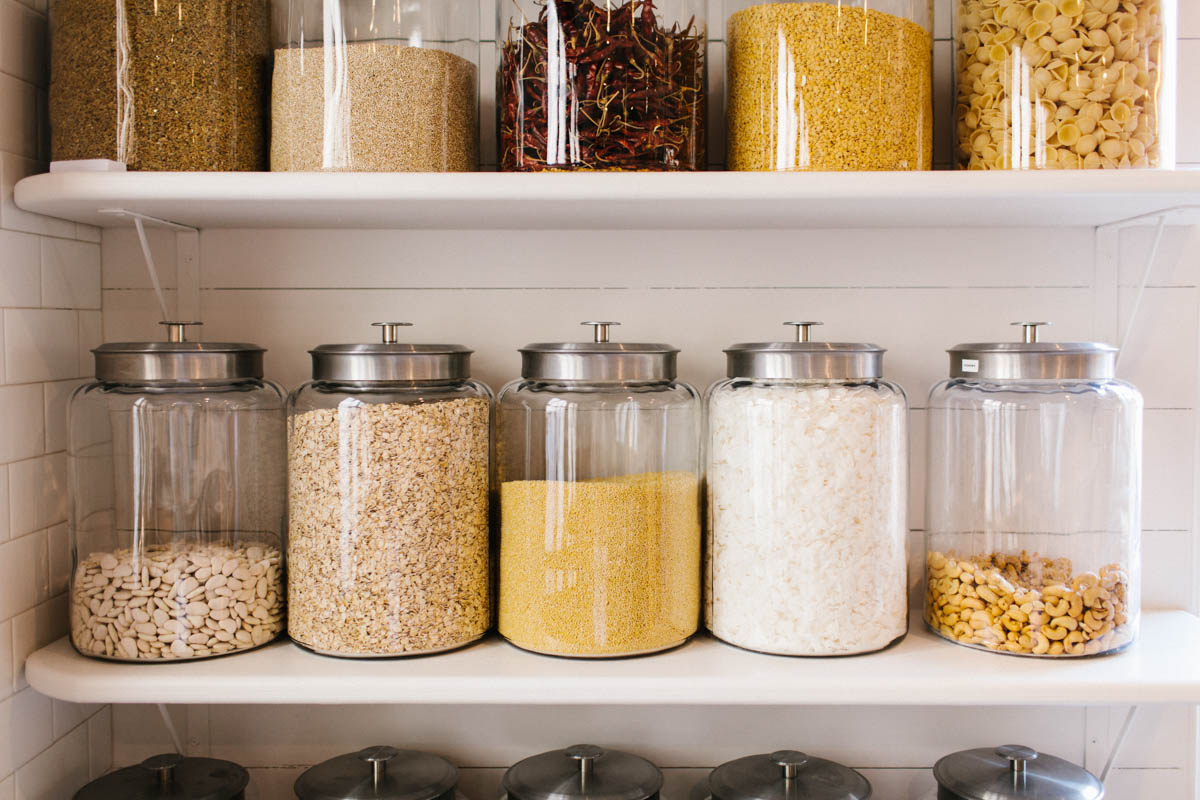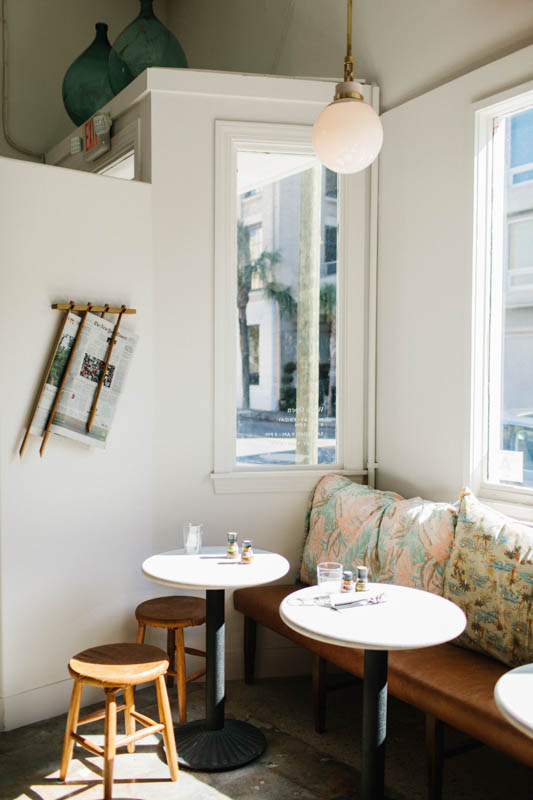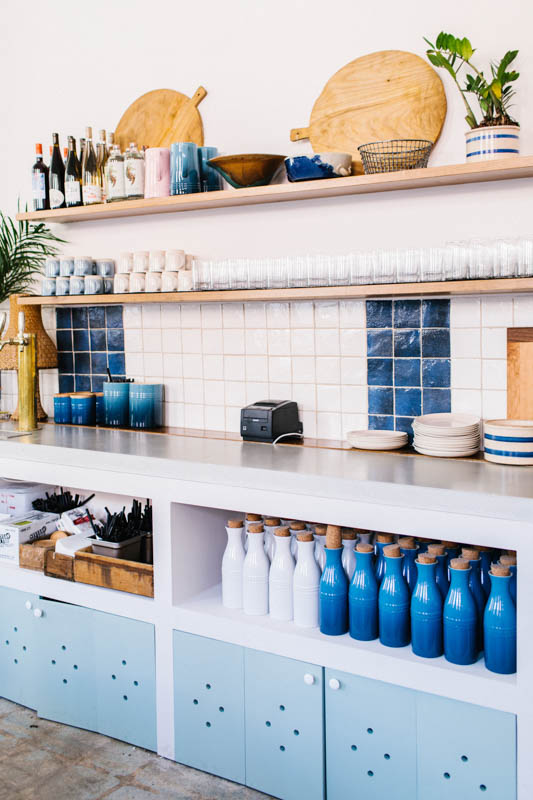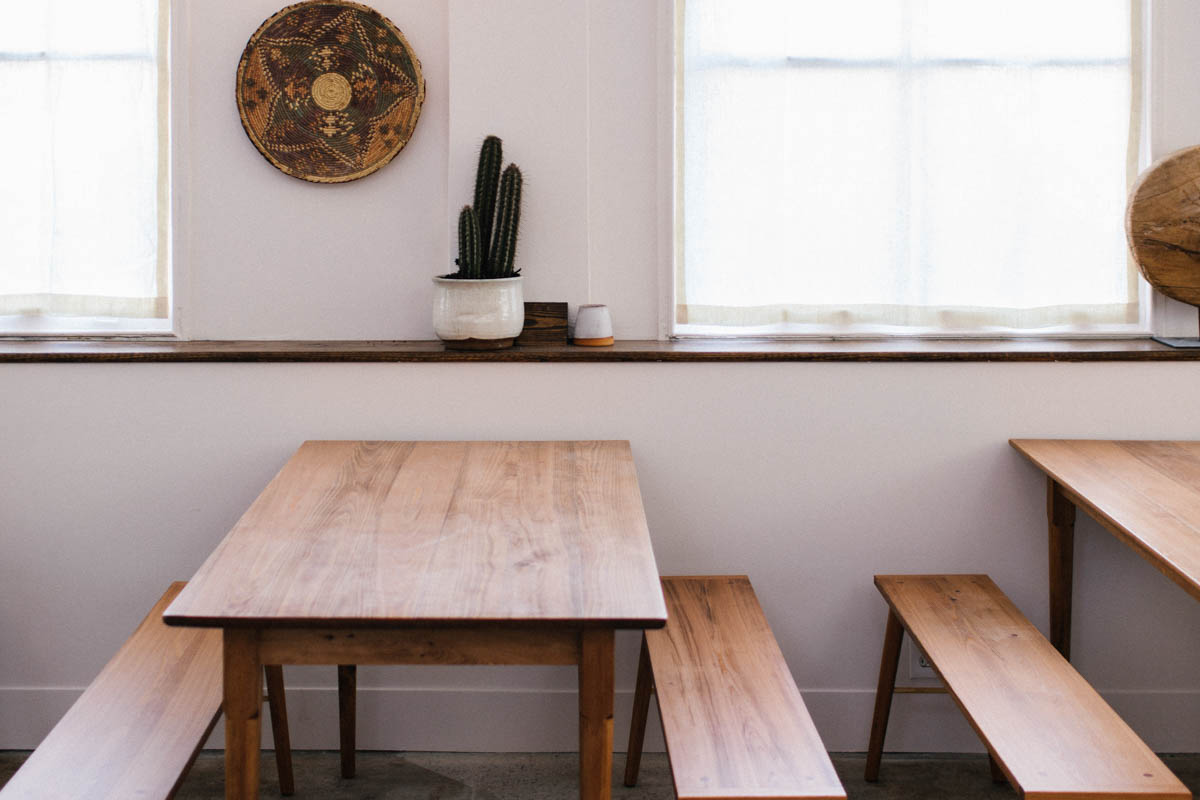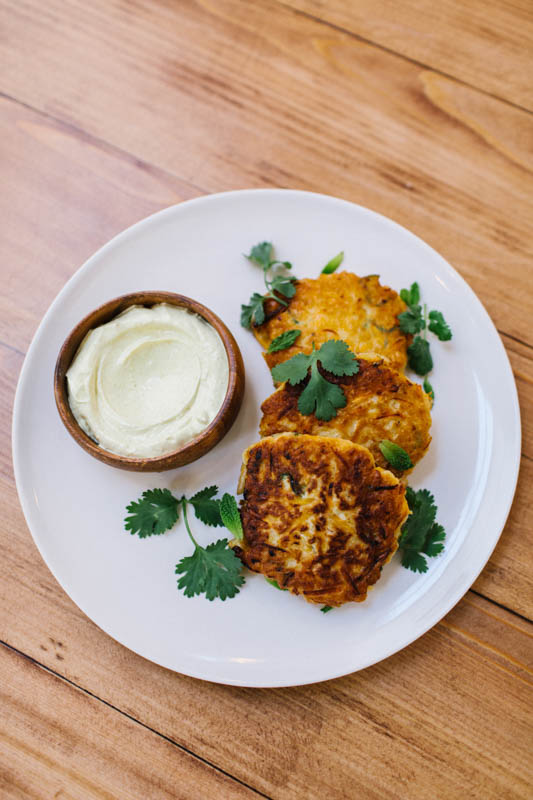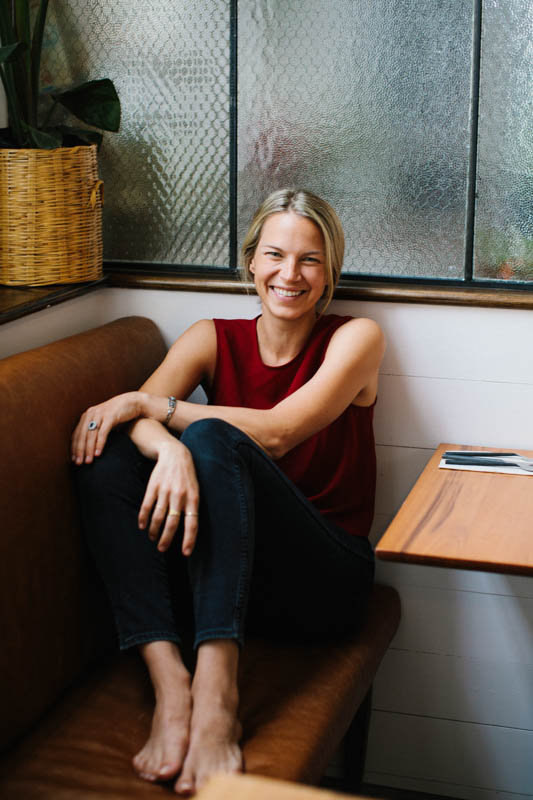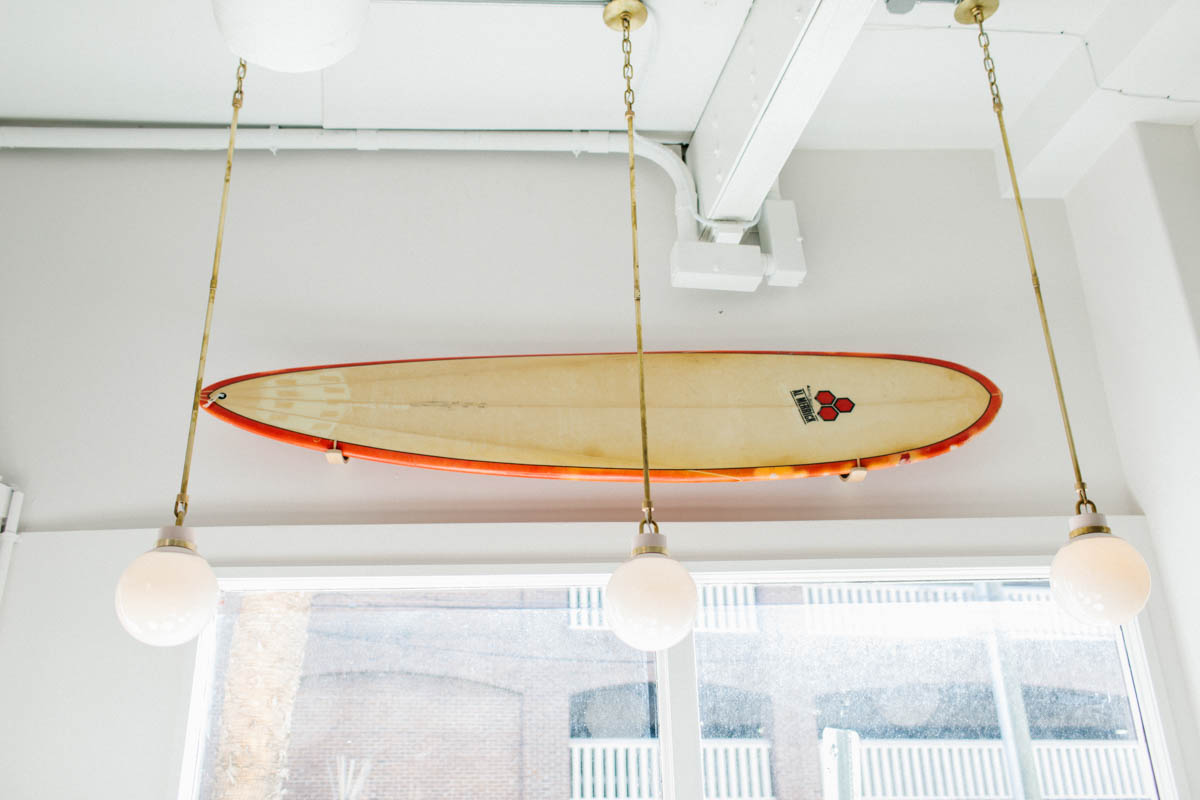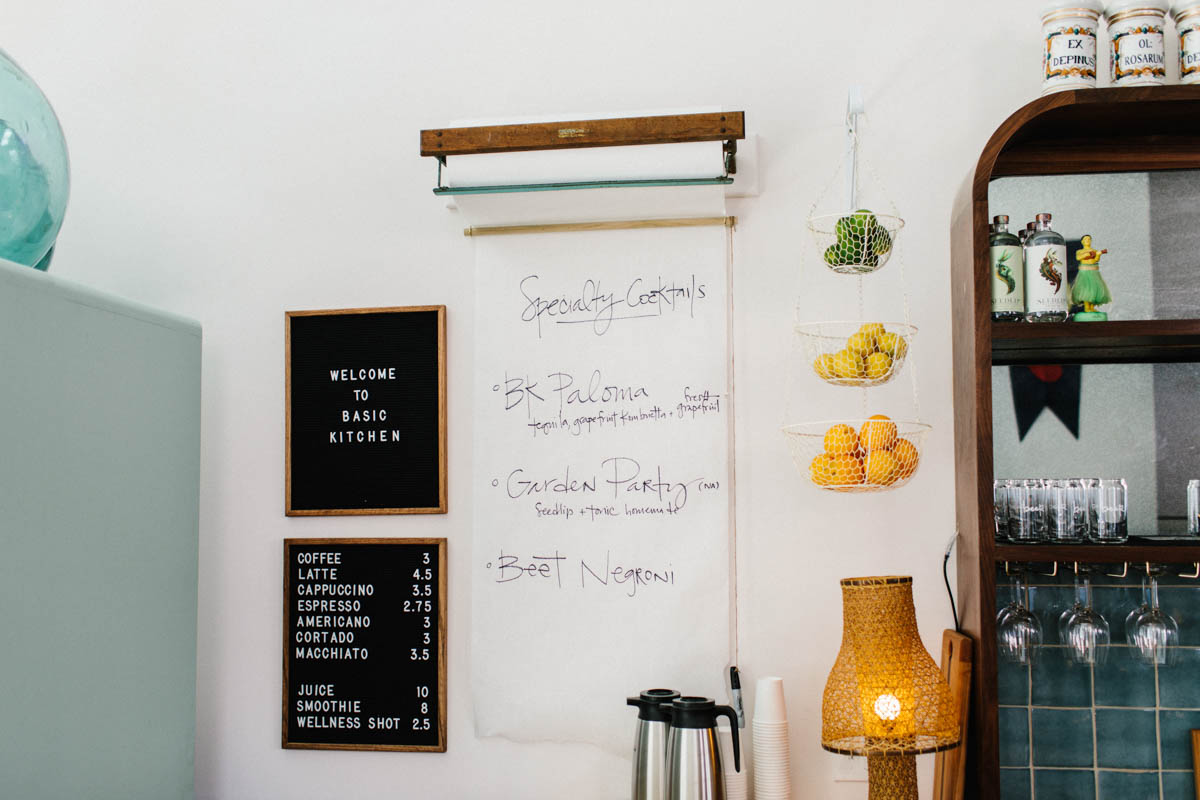 Ingredients
6 cup

1420 ml

raw pumpkin

1/4 cup

59 ml

fresh mint chopped

1/4 cup

59 ml

fresh dilll chopped
4 green onions chopped
1 clove garlic minced
1/2 lemon zest
2 tbsp hemp seeds

1/2 cup

118 ml

cup for cup gluten free flour
2 tbsp cornstarch
1 tsp baking powder
2 tbsp olive oil
Grate the pumpkin, with medium teeth on Japanese mandolin into a large bowl, toss with 1/2t sea salt and wait for 10 minutes. Add the herbs, onion, garlic, lemon zest and hemp seeds. In a small bowl, mix the gluten free flour, cornstarch and baking powder with salt and pepper to taste (there is already salt in the pumpkin, so don't add a lot here). Combine with the pumpkin mixture. In a pan, heat the olive oil over medium-low heat. Put 2 tablespoons of the pumpkin batter in the pan and spread into a circle. Make sure it is not too thick, so that it can cook thoroughly. Cook on both sides for about 3 minutes per side and continue until all the batter is cooked. I like to serve this with curry yoghurt, I haven't tested it, but I bet you could use coconut yoghurt. Its just 1c plain yoghurt, 1/4 t Indian curry powder, 1 clove garlic grated on microplane and sea salt to taste.
More Stories