Entertaining
In The Veggie Kitchen: Décor for a July 4th BBQ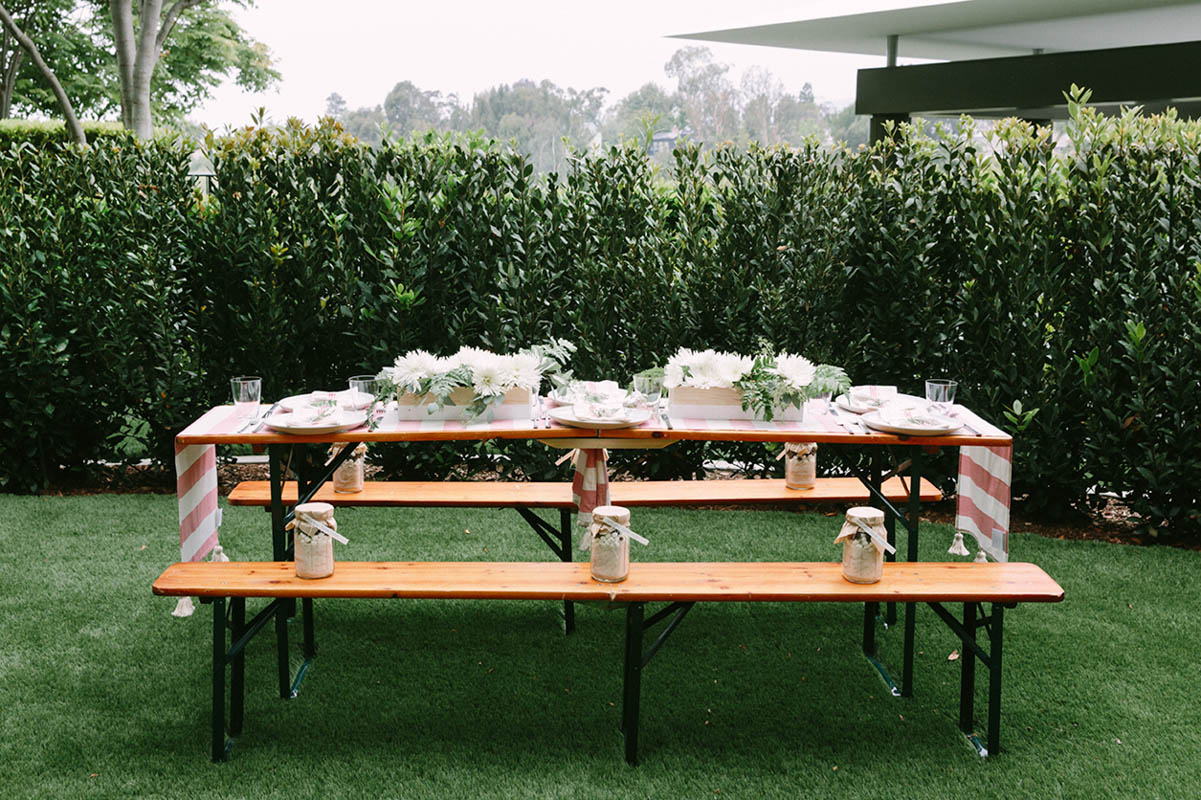 July 4th weekend is a great time to get outdoors and spend time with family and a BBQ is the perfect way to feed guests without taking away from the relaxation. But not all BBQs need to involve hot dogs, hamburgers, and coleslaw. For our latest installment of In the Veggie Kitchen I got together with the ever-talented Amy Blessing, chef Pamela Salzman and The Chalkboard Mag to put together a July 4th BBQ that was elegant and healthful, while still maintaining the holiday's all-American charm.
The wooden picnic tables in my backyard set the scene for the party quite well; you don't want anything too formal with a gathering like this. We added an awning stripe runner from Pottery Barn for a little bit of color to the table while nodding to the Independence Day theme, and kept the plates, glasses, and silverware spare and simple. The porcelain Irving Place Studio dinner plates we used are my favorite—there are few tables where they don't feel at home.
The flower boxes that served as centerpieces for the table are a great craft project you can do with your kids or a friend the night before the party. Amy used wooden boxes from a local floral supply store and added a thick light blue stripe at the bottom using tape and a quick-drying paint. Once dry, she filled the boxes with seedy eucalyptus, ferns, and white spider mums. The flowers flowed over the boxes in a lush, casual way that was just beautiful.
Another craft project Amy incorporated into the day were cookie jar favors for each guest to take home. She used wide-mouth, one-quart Ball jars and filled them with the ingredients for one batch of whole wheat s'more cookies. She topped the covers with squares of lightweight Kraft paper and secured them with natural linen twine to make them feel 'wrapped', and placed them on each seat at the table.  
Be sure to stay tuned tomorrow for the menu from our festive afternoon! XXJKE
Photos: Esther Lee