Entertaining
In the Organic Kitchen: Valentine's Day - The Decor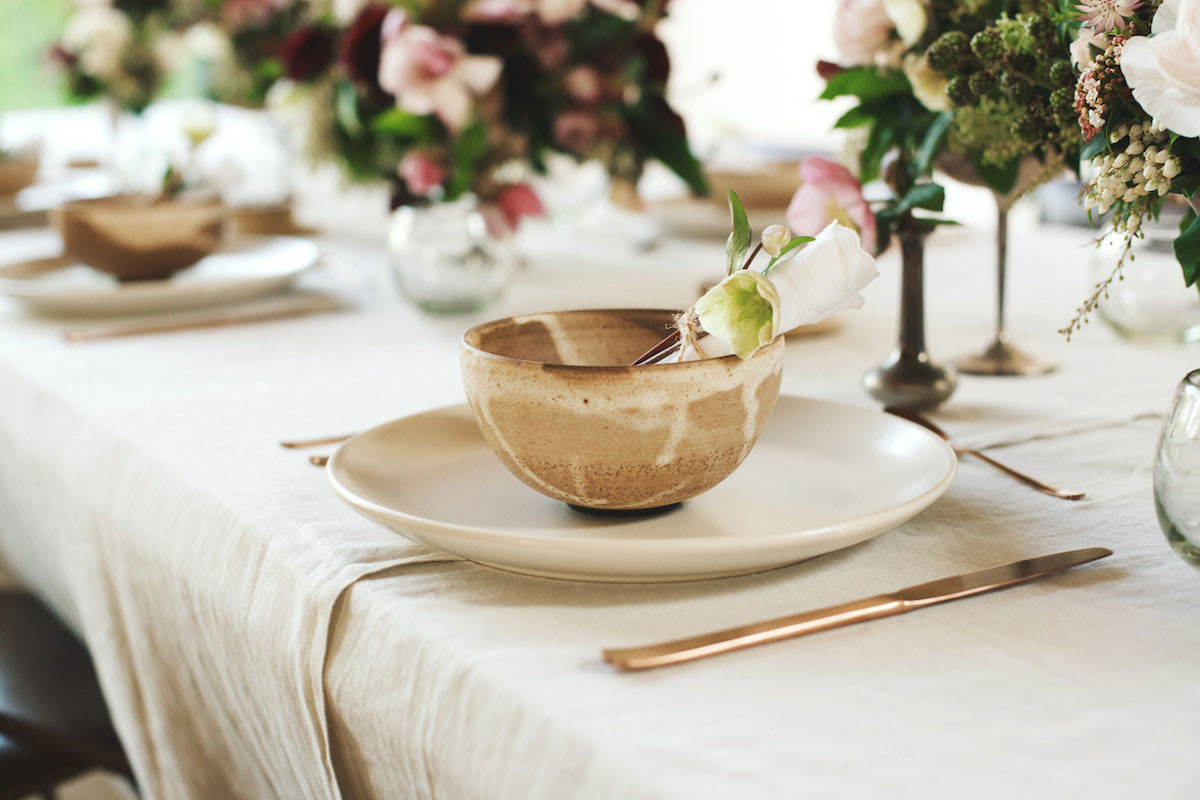 It's been a few months since our last In the Kitchen with The Chalkboard Mag, and with the amorous holiday fast approaching, we had the perfect excuse for another afternoon of great food and great company. On the menu for this occasion: a cooking class that was all about sweets, courtesy of the lovely Annie Campbell, and Valentine's Day decor that felt natural, with just a touch of vamp.
The Table
For this occasion, I wanted to create an environment that suited the holiday without feeling too literal – I subbed traditional pinks and reds for natural tones and deep hues – and loved the end result. To set the table and the scene, I began with my greige Matteo table linens, topped with linen plates from Heath, rustic bowls from Atwater Pottery, Canvas rose gold cutlery*, Roly Poly glasses from my Montecito store, and delicately detailed linen napkins that Richard and I received as a wedding gift.
For other elements, we used my William Yeoward cake stand, and served the most delicious bubbly sip (stay tuned for the recipe!) on my favorite round leather cocktail tray from Sol & Luna.
The Flowers
For this get-together, I was so excited to work with a new favorite: the amazing Heather Williams of Twig & Twine. She created the most exquisite arrangements; feminine yet dramatic, they paired soft neutrals with deep romantic hues for a feel that worked perfectly with the rest of the decor.
For our table, she created gorgeous arrangements of pieris, blackberries on the branch, tulip magnolia, astrantia, three shades of hellebores, viburnum greenery, ranunculus, and peonies. She housed the arrangements in an assortment of vintage and unique vessels – goblets, creamers, urns, footed bowls – thoughtfully curated through years of scouring flea markets and estate sales. And at each setting: a sprig of hellebores secured to each napkin with a piece of twine.
Stay tuned tomorrow for all the details on our day of baking and decorating, as well as recipes you'll be sure to want to add to your sweet arsenal. XXJKE
*Available at Jenni Kayne stores. To order, call 424-268-4765