Style
3 Timeless Button-Ups, Styled Your Way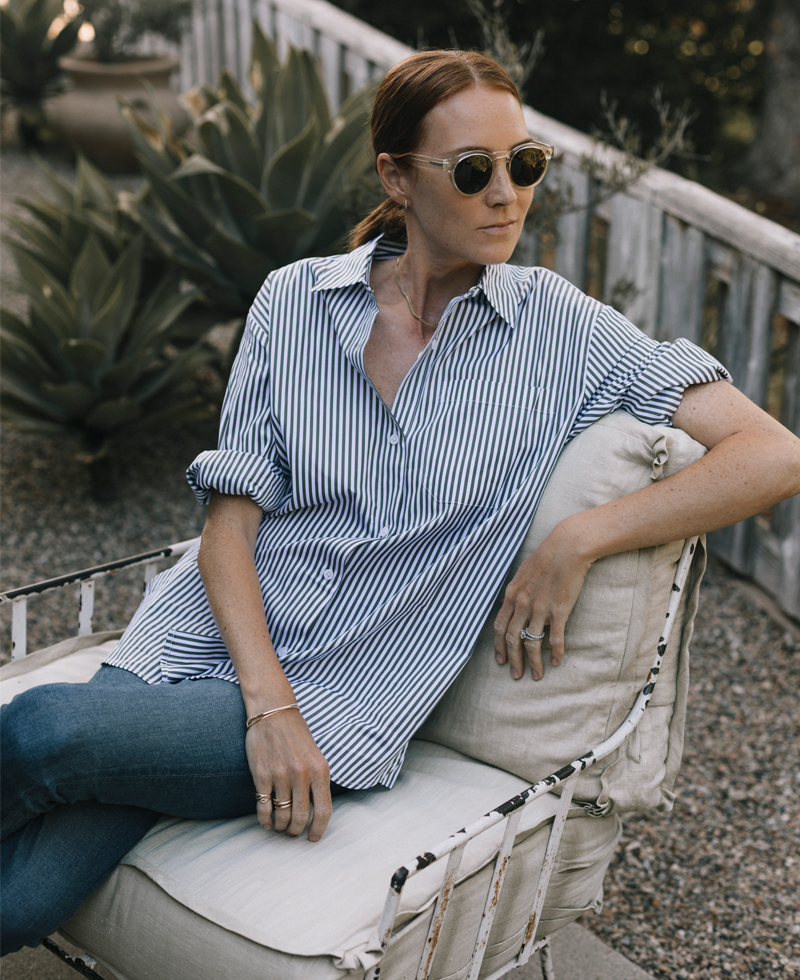 No matter the day, occasion, activity, or forecast, we stand by the fact that every great outfit begins with a button-up. Tucked in or out, buttoned up or down, the trusted handiwork of a button-up always (and we mean always) results in a look that's pulled together, effortless, and undeniably trendless. Simply ask
Sam Wennerstrom
and
Alicia Lund
for the perfectly styled proof. Three button-ups, styled their way—consider this your dossier for getting dressed daily.
All-White with Understated Accessories
Packed with polish and perfection, the
Collarless Shirt
brings a slightly different touch to the button-up lineup with an unmistakably European flair. In classic white or moss stripe, there's a never-ending amount of outfit possibilities when the Collarless is concerned. We turn to Sam for her enviable monochromatic look that's equally stylish and subdued.
Draped Over a Swimsuit
If there's one button-up that's infallible in every single way, the
Classic Shirt
willfully takes the cake for its well-earned reputation for endless versatility. Sam's
beach-ready
look proves as much: with a relaxed approach that's paired with
summer accessories
and
simple sandals
, a button-up showcases its ability to work well beyond the office. From the backyard and lake to your everyday errands, let your imagination run free with the styling capabilities.
Relaxed Denim & A French Tuck
While a full tuck into
high-waisted denim
is always a go-to for the
Collarless Shirt
, Alicia dons the French tuck variety for a casual styling that's entirely foolproof. Paired with distressed denim and summer lighting, this look is everything we need for outfit inspiration that works all year long.
Laid-Back Luxe Paired Perfectly with Jeans
There's something about a breezily oversized
Boyfriend Shirt
that makes even the most run-of-the-mill days memorable. We suspect the perfectly slouchy fit and easy flexibility are built into that reasoning. Wear yours over a
dress
for a lightweight layer, tuck one side into
jeans
for effortless dimension, or go for Alicia's shirting style. Tucked into jean shorts with the sleeves rolled up, the timeless simplicity is everything we need for days spent working from home or on-the-go.
Photos by Alicia Lund,Sam Wennerstrom
More Stories