Food & Drink
How to Build a Cheese Board Your Guests Will Love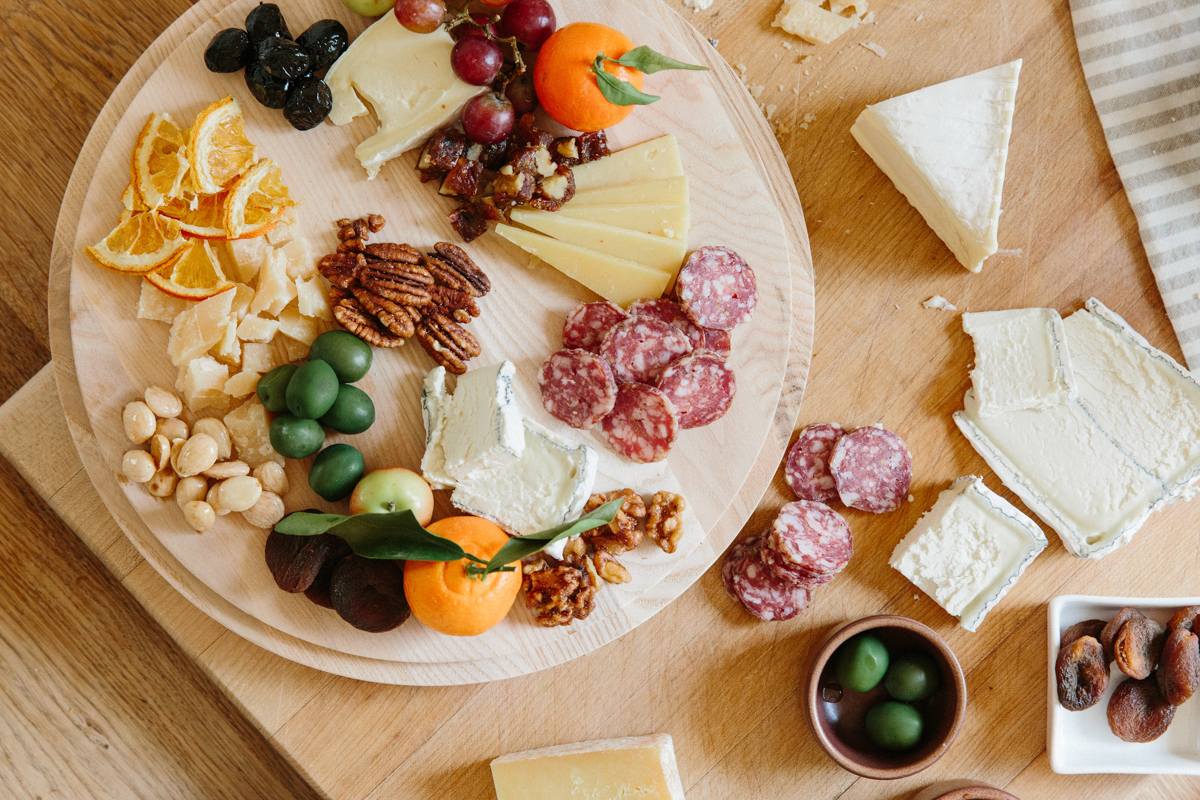 My friend Barrett Prendergast of Valleybrink Road has worked with us on a lot of special meals and gatherings over the last couple of years but we wanted to go back to basics for today's story. As a chef and gifting expert, Barrett has experience in all aspects of entertaining, so I thought she'd be the perfect person to share her tips and advice on building a cheese and charcuterie board that looks beautiful and will satisfy any guest.
As much as I love putting together a big sit-down meal for friends and family, this is an example of how a more casual, impromptu gathering can be just as thoughtful and stylish. Read on below to see how Barrett put together this incredible spread! XXJKE
Barrett's shopping list:
·      Saint Angel – triple creme brie, cow's milk
·      Humboldt Fog by Cypress Grove – goat milk
·      Westcombe Cheddar – raw cow's milk
·      Parmigiano Reggiano – unpasteurized cow's milk
·      Chop Fennel Salami
·      Olives, grapes, dried orange slices, figs, and more 
Four tips for creating the perfect spread:
1. Select a beautiful board.
Barrett used one of the simple wood-and-glass LSA International boards we carry in our stores to create her spread. "I like a simple, smooth surface like wood or marble," she told us. "This way, the ingredients, with their different colors and textures, can really be the focus."
2. Start with the cheese.
Barrett advises not to worry too much about soft versus hard cheeses. "Don't think about the cheese in a strict way," she explained. "Instead, pick cheeses that you've really enjoyed or are eager to try." And if you don't know what to select, you can always ask a salesperson for help—or use Barrett's menu as a guide! 
3. Add even more color and texture.
"I think about a cheese board more in terms of color and texture, than just cheese", Barrett said. "Once you've picked out cheeses, add in different colors and textures using fruits, nuts, and olives." Barrett recommends picking up the ingredients at your local farmer's market or cheese store instead of the grocery store to find the best, most exotic selection.
4. Style the spread.
"Cut the cheeses and charcuterie into different shapes to make the board more interesting", Barrett recommends. And don't set out huge portions unless you have a huge group coming over either. "You want a little bit of this and a little bit of that. Cheese, fruit, nuts. Some things left whole, some cut up." Sounds delicious to us!