Living
Homemade Gifts with Annie Campbell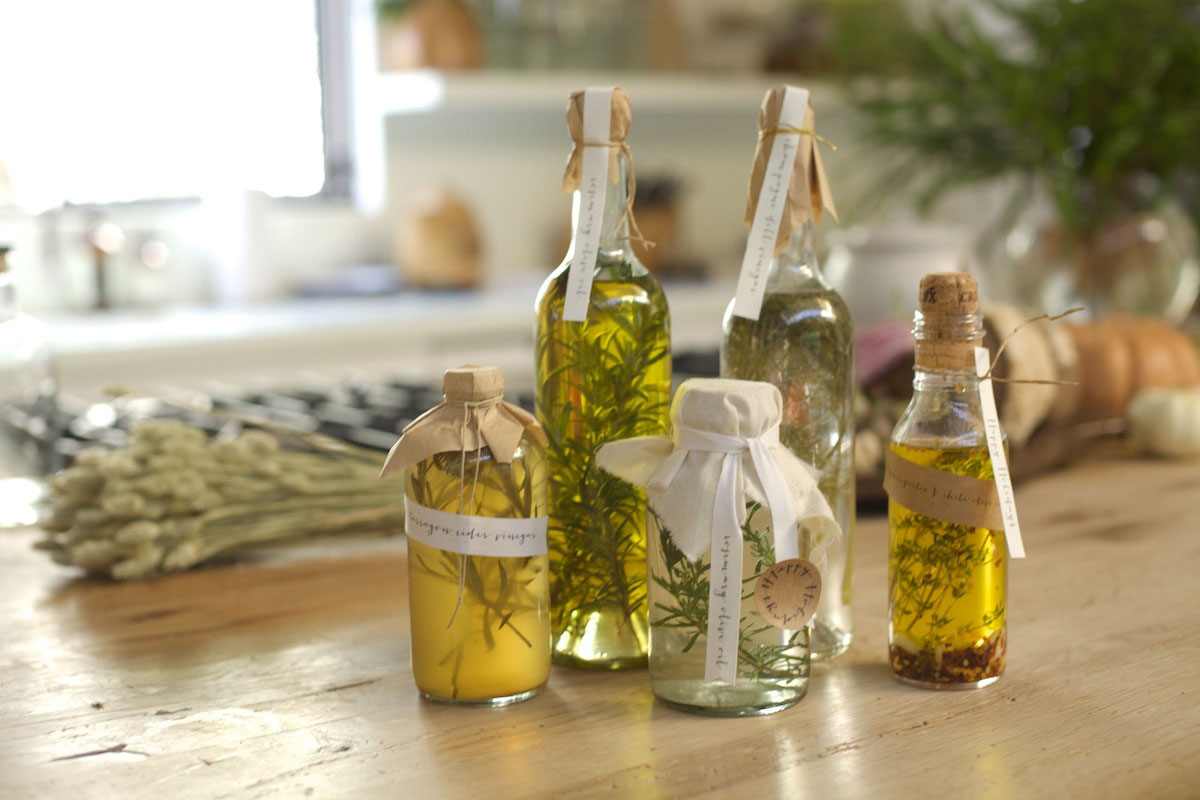 I've found that some of the best gifts are those that have a personal touch. So when my friend, the amazingly talented Annie Campbell, shared this idea for homemade gifts, I just had to pass it along. Here, Annie's instructions for creating your own gifts that are as beautiful as they are practical.
AC: My mom hosts a crafting day every year after Thanksgiving, and these bottles were one of her DIY projects.
Instructions:
It's super simple. Collect glass bottle throughout the year in all sorts of shapes and sizes: pretty liquor bottles, wine bottles and luxury bath products. You can shave wine corks to fit if you've lost the lids. Specialty Bottle is another great source for bottles, as is Cost Plus World Market.
Start with clean bottles and then fill them with your flavoring of choice: e.g. herbs, spices & aromatics. Using a funnel, fill the bottle with oil, vinegar, or maple syrup. Play around with your favorites and get creative.
My favorite combinations:
For olive oil:
– 6-12 garlic cloves, a tablespoon of red pepper flakes or a couple of dried chili de arbols
– several branches of rosemary with or without garlic
– thyme, garlic and chiles
– lemon peels
For vinegars:
– dill with white vinegar
– fennel fronds and tarragon with champagne vinegar
– balsamic vinegar & figs
For maple syrup:
– cinnamon sticks
– vanilla beans, split lengthwise
And finally, the wonderful Amy Blessing provided the pretty packaging, and shared some of her favorites for simple, sweet finishing touches including: Kraft wrapping paper, the best twine from Besotted, Paper Presentation labels, and Luxe White Paper from Paper Source (cut into strips).
I loved this idea so much that I decided to use it for my own holiday gifts this year. With Tanner's help, I created an assortment of great combinations, and not only was it really fun, but they came out beautifully. XXJKE