Style
Holiday Gift Ideas: Mad et Len Artisanal Candles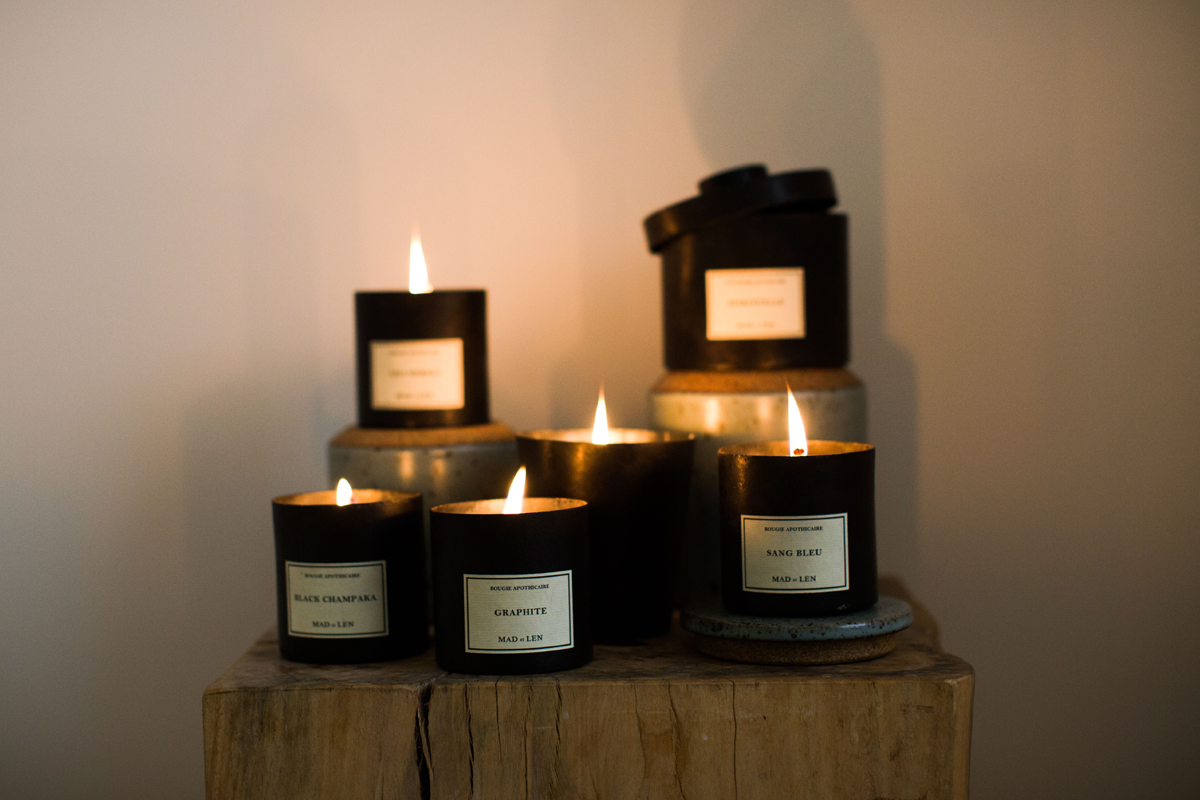 I love how fragrance can set the mood in a home; whether by way of a fireplace, home-cooked dish, or carefully selected candle. When it comes to the latter, I've recently fallen for Mad et Len; a small home fragrance brand started in 2007 by partners in life and business, Sandra Fuzier and Alexandre Piffaut. Poured and shaped by hand in the France Alps, Mad et Len candles use natural wax and evocative scents inspired by Fuzier and Piffaut's travels around the world. The vessels they come in are crafted from hammered steel, which is burned and treated with raw oils to achieve an earthy black finish. Needless to say, they function as beautiful decorative objects as well as transporting scents for the home. Learn a little bit more about the brand through our interview with Piffaut below. XXJKE
Rip & Tan: Why did you decide to start Mad et Len? 
Alexandre Piffaut: In 2007, our idea was to do artisanal work in small scale production, with techniques barely used before: Handcrafted iron, hand-blended perfume, hand-filled bottle, everything made by our small team, in-house.
Rip & Tan: What are your backgrounds? Did you apply previous skills to this business? 
AP: Sandra was senior art director at a large cosmetics packaging company. After studying law, I decided to travel for almost 6 years where I fixed sail boats, lived in Africa, Oceania and Asia; It is where I became familiarized with different perfume traditions far from our European standards. It was a sort of initiation, the street school of perfume, you could say!
Rip & Tan: How is Mad et Len different than other candle/home goods brands? 
AP: We want our perfumes to be instantly powerful, so we work on higher concentrations. This allows us to bring a more "realistic perfume" by using the full potentiality of a raw material to an extent that breaks its pre-conceived, more artificial image. We allow its intense expressive power and more brutalists traits to shine through.
Rip & Tan: What is the process like of identifying and refining a scent for your line? 
AP: We just create what we like to wear. It is literally as simple as that, and our perfumes evolve with our perception of them. We allow ourselves to change it, rename it, mix it—it is a sort of game, and we love that the user of our work does the same, mixing a red musk with a graphite and so on.
Rip & Tan: What types of ingredients do you use in your products? What won't you use? 
AP: The quality and the love of natural raw materials is more important for us than the construction of the perfume. We focus on the quality rather than on the mental creation of the perfume. Our work is physical, it references the old meaning of perfumery, something deeply vibrant like a shamanic trance—not a nice flower bouquet. We want to be honest with this, so we accept all the imperfections of our raw materials. We just don't want them to be harmful to consumers and to our team (especially the women who can work during the first months of their pregnancy in our workshop!). That is why we don t use some raw materials that could be allergenic or dangerous over time.
Rip & Tan: How does the design of the vessels play into the spirit of the brand? 
AP: As for the design, it is deeply linked to our metal process. It is an expression of our work, of our universe, something simple, but with a lot of know-how.
Rip & Tan: What is the most popular candle in the line and why do you think it resonates? 
AP: We have a lot of popular scents, but Terre Noire stands out. This scent is deeply simple; it references the scent of the earth.  
Rip & Tan: What are your goals for Mad et Len in the future? Any new projects you are excited about? 
AP: To bring quality; to be creative, humble and to keep learning from our craftsmen, our staff, our collaborators, and our customers. We do not put boundaries to our work. Anything could be done if it is properly done.