Food & Drink
Helen Johannesen Talks About Working in Wine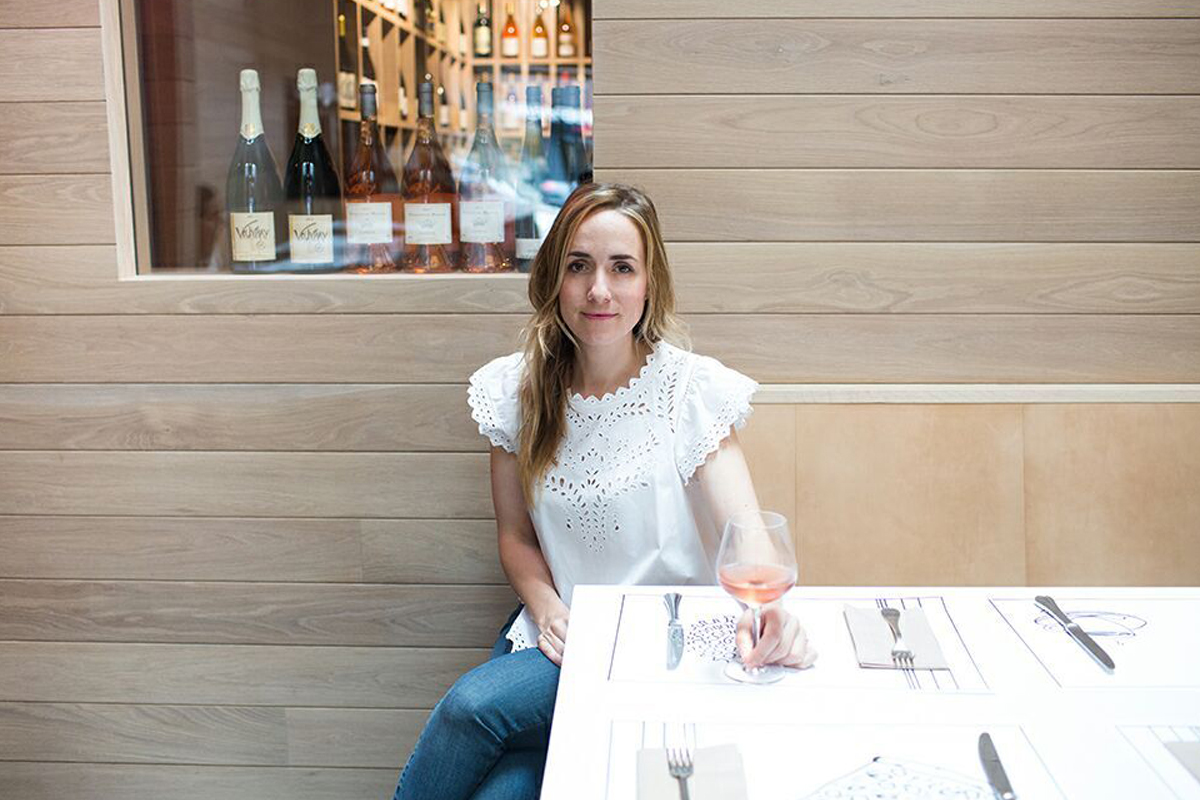 From chefs and event designers to florists, there are so many talented women doing inspiring things for food and hospitality in Los Angeles. Helen Johannesen is one such person. She oversees the operations and beverage programs at some of Los Angeles best restaurants, including Animal, Petit Trois, and Trois Familia. She's also a co-owner of the popular new restaurant Jon & Vinny's, where she runs a wine shop and delivery service called Helen's.
In addition to all that, Helen somehow finds time to host wine classes in Trois Familia and other locations. For her last class, she partnered with Barrett Pendergast of Valleybrink Road Flowers, to bring together a group of female business owners to catch up, connect, and learn about wine. Barrett put together floral arrangements with pink peonies, ranunculus, and roses for the tables, and Helen walked attendees through some of her favorite rosés. It was such a lovely evening and very pink! We caught up with Helen after the event to talk a little bit more about her background in wine. Here's what she had to say! XXJKE
Rip & Tan: When did you first get into wine?
Helen Johannesen: Food and wine have such a symbiotic relationship to me, so I think it goes way back. I have been into food, restaurants, vegetable gardens from a very young age. Growing up in New York, I was lucky to be taken out to dinner at young age, and I also spent every summer in Rhode Island helping my mom harvest her garden. My mom might even say I was obsessed, but I've always seen it as a healthy passion.
My first real exposure to "serious" wine was while finishing my undergraduate degree at the University of Wisconsin in Madison. I worked at L'Etoile, which has a renowned cellar full of gemmy Rieslings and Burgundies. From that experience I started to understand the art of food and wine pairing, the idea that winemakers are farmers, and the real 411 and truth about terroir. 
Rip & Tan: How did you learn about wine from there?
HJ: I graduated from college, packed up the car, and drove across country to Los Angeles. I had always been determined to move to LA, and finally I was free to pursue what really made sense to me. I immediately hit the pavement with 10 restaurants that I wanted to work at, one of them was Craft in Century City, and they hired me. After three months of hustling the front door as the maître d', I scored a management position and from there I appointed myself as the assistant beverage director, and set about getting to know the cellar and wine service. Learning about wine is like climbing a summit-less mountain, the capacity for knowledge is endless. I read a lot, I tasted a lot, and spoke to peers and mentors who I sought out for their pearls of wisdom. All of which I still do. 
Rip & Tan: How has your position with John and Vinny grown since you first started working with them?
HJ: It has been an amazing, wild and breathtaking journey with Jon & Vinny. Not only am I incredibly grateful to them for taking a chance on me as a young, novice General Manager and Sommelier at Animal (the first wine list I curated) but I am elated by the partnership and friendship that we have built. They're two of my best friends, it's amazing. I was the company's Director of Operations and Beverage Director for several years, overseeing our various spots and then, when we opened Jon & Vinny's we became partners on the project, and within that I created Helen's. Currently my position is dreamy, scary, and exciting: I am focusing a lot of my time on Helen's while still curating the beverage programs at all six of our restaurants. 
Rip & Tan: What inspired you to open Helen's? How is it different than other wine retail concepts?
HJ: When I met Jon & Vinny I told them, Listen, one day I want to do something that's mine, I think I want it to be a general store., and while that could still have potential, the outlet and business I ended up feeling that I wanted to carve out for myself was a dope wine shop that was focused and curated. The inspiration was to create a gem box, to highlight a small space that was an amalgamation of all the wine lists I write. It's similar to some retail wine concepts in that we sell wine, but I think Helen's retains a spirit of intimacy, excitement, quality, and allocation. I change the labels often, I have wines that are collectible, wines you rarely see and also many wines that are approachable and pleasing.  
Rip & Tan: What are your wine classes like? Who goes and what do you cover?
HJ: The wine classes are so fun!! But they are also serious. Education is key. A majority of the classes have been all women and the result has been such a magical learning experience giving smart women the tools and vocabulary to navigate a wine list. It's very much a male dominant world, and it is not my intention to be exclusive, but it is my hope that I can build a community around this that's not as much about drinking and is more about knowledge. I teach some classes at Trois Familia, I do a sporadic series with Clare Vivier at her West Hollywood store, and I teach many classes in private homes for my clients and their friends—these are always a blast. If it's the classic Helen's class, there is a short mingling time usually with some bubbles, and then people sit down with a little notebook and a pen, ready to focus and learn and taste. 
Rip & Tan: What inspired you to collaborate with Barrett Pendergast or Valleybrink Road Flowers? What did you guys do together? 
HJ: Barrett is such a wonderful woman who I have known through the restaurants for a few years. I have often looked up to her and how she has built her own business. I think she embodies a smart, confident, free spirit that I am very attracted to surrounding myself with. She was a natural choice when I thought about collaborating. Most recently Valleybrink Road Flowers and Helen's wines did a wine class at Trois Familia for several female business owners. It killed!
Rip & Tan: What affordable bottle of wine should we go out and buy today? 
They are all at the shop! Or sign up for the wine club and they will get delivered to your house! Rose is RAGING right now, so I would recommend going to Helen's and grabbing a bottle of the 2015 Mas de Cadenet Provence Rose ($23) or if you want to really slip into something summery, the 2014 Muscadet, Clisson, Pepiere. It's not sweet! It's seductive, crispy, bright, and electric. 
Rip & Tan: What restaurant wine list in LA (other than the ones you look after) are you impressed with? 
HJ: I am always and probably will forever be inspired by Taylor Parsons. You can currently find him at Republique. He's not only wicked smart, but he is creative, open and humble. 
Rip & Tan: What don't most people know about what it's like to work in wine? 
We don't drink wine all day and all the time! Seriously. People often comment to me, must be nice "tasting" wine all day, and the truth is, we spit the wine out. I also would not be where I am today if I didn't stay focused. The world of wine is scientific, there's many variables to weigh, geology to consider, and producers to know. But at the end of the day it's also really is instinctual.