Food & Drink
Heidi Swanson's Sweet Potato Mash with Toasted Coconut and Macadamia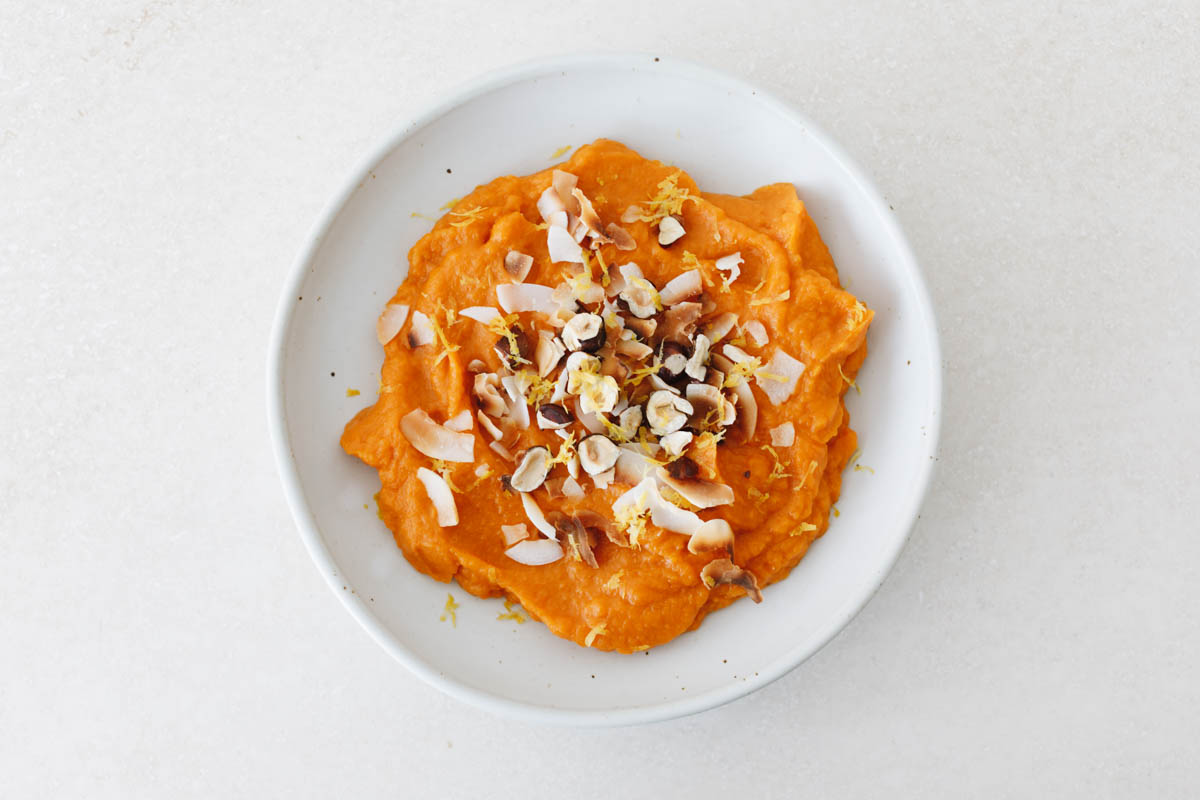 This sweet potato side dish is a great recipe to have up your sleeve, whether for Thanksgiving or your next dinner party. It's hard to do wrong by sweet potatoes but Heidi Swanson, chef and founder of 101 Cookbooks, gives them a whole new twist with this mash, which is made with toasted coconut, macadamia, and freshly grated ginger for a kick. Heidi was taught the recipe by a childhood friend over a decade ago. Sharing recipes with loved ones is such an important tradition; I love to cook with ingredients or fix special dishes that bring me back to my past in some way or remind me of someone important in my life. 
If you have time to cook sweet potatoes a bit slowly, they're extra delicious so I recommend taking Heidi's advice, which is to cook the sweet potatoes a day or two in advance in order to break up the prep time. Sweet potatoes and butter are a match made in heaven but Heidi rightly notes that olive oil would keep the recipe vegan, should you have dietary restrictions or are cooking for those that do.
Get all of the details below, enjoy, and happy Thanksgiving! XXJKE
Ingredients
2 1/2 lb

1 1/8 kg

orange-fleshed sweet potatoes

1/3 cup

79 ml

coconut milk or non-dairy milk
1 T fresh ginger grated
1 T maple syrup (optional)
1/2 tsp fine-grain sea salt

1/3 cup

79 ml

raw, unsweetened grated coconut
2 T olive oil or melted butter

1/3 cup

79 ml

toasted macadamia nuts chopped
Preheat your oven to 400F degrees, a rack in the upper third. Butter or oil 6 ramekins or a single medium-sized casserole dish.
Scrub each potato, rub with a bit of salt, and place directly in the oven for somewhere between an hour and an hour and a half, until each is baked through. Times vary greatly depending on the size of your sweet potatoes - in the end you should be able to cut through the center flesh as if it were soft butter. Remove the potatoes from the oven, let them cool for a few minutes, and cut each sweet potato in half. Scrape the flesh into a medium mixing bowl. You should have about three cups of sweet potatoes. Mash the sweet potatoes with the coconut milk. If your sweet potatoes are on the fibrous side, take a hand blender, puree them for a minute or so (alternately you could use a food processor). Stir in the ginger, maple syrup and salt. Let it sit for a few minutes, stir again and taste - adjust the seasoning if you need to - this is your chance to get the right amount of salt and ginger in the sweet potatoes before they go in the oven.
Spoon the sweet potato mixture into individual baking dishes (or single larger baking dish), sprinkle with coconut, drizzle with olive oil and bake uncovered until warm and the coconut golden roughly 25 - 35 minutes. Remove and sprinkle with the toasted macadamia nuts.