Wellness
Healing Brew: Wunder Workshop's Turmeric Latte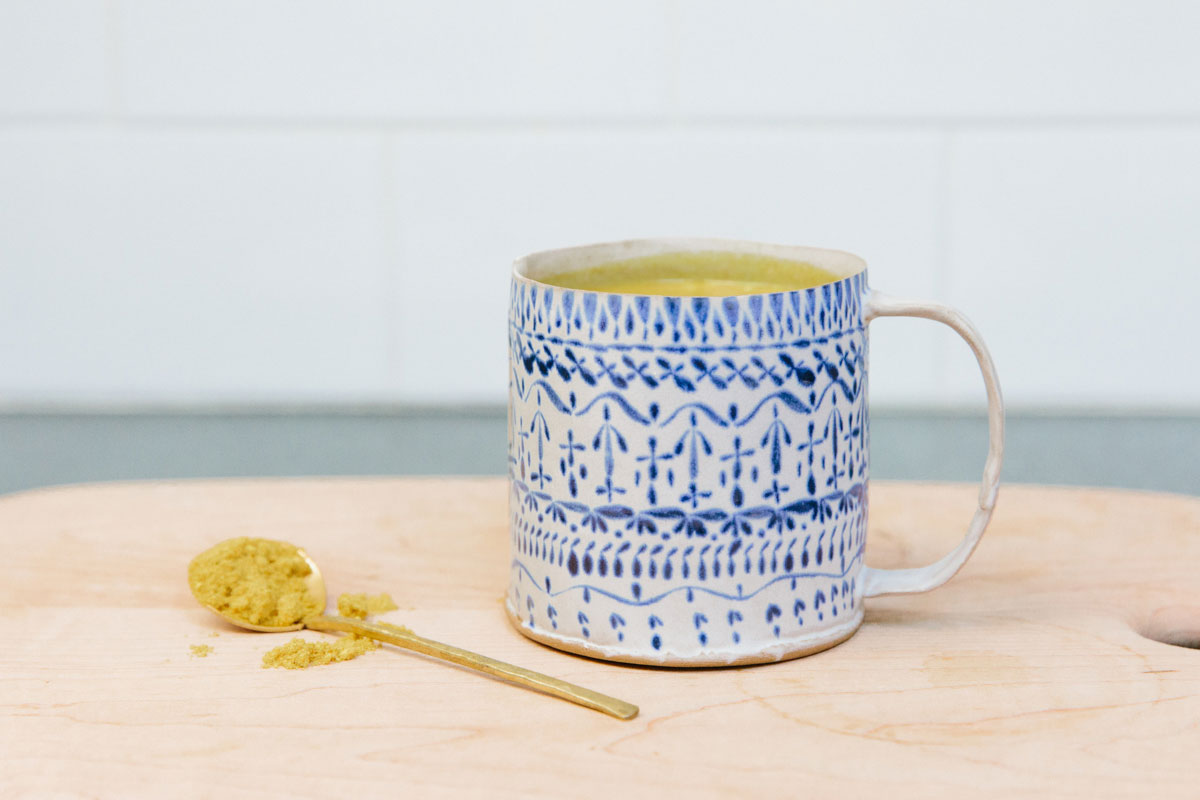 We've talked about turmeric's healing powers on Rip & Tan in the past, and shared tips on using the Indian spice in various healthful beverages—and even as a natural dye for home goods. Thanks to its powerful anti-inflammatory and antibacterial properties, beautiful color, and deliciously invigorating taste it's one natural ingredient I can never get enough of. Enter: Wunder Workshop; the two-year-old Ayurvedic-inspired health food brand, which focuses solely on turmeric-based products.
I've recently discovered Wunder Workshop's latte blends—which include Sri Lankan turmeric along with black pepper and coconut milk powder—and had to share them here. If you're short on time or are traveling, this option couldn't be more convenient. Simply mix a tablespoon of the powder with a little hot water, then fill the rest of your cup with your choice of milk (dairy, nut milk, or otherwise) and you have a healing, warming drink for morning or before bed. 
Wunder Workshop is based in Notting Hill, London and was founded by a Zoe Lind Van't Hof and her partner, Tom Smale. While Zoe and Tom are still in their twenties, they have impressive experience in health and wellness between them. Get to know a bit about their story in our interview, below! XXJKE
Rip & Tan: What was your relationship with health and wellness before starting Wunder Workshop?
Zoe Lind Van't Hof: My mother had been in the health-food industry since her early twenties, so by the time I was born she had over 20 years of experience, which means I was surrounded by interesting books about traditional medicine, the power of plants and how to create all kinds of natural remedies. I grew up eating organic and locally sourced vegetarian food. We used to go to very down-to-earth Ayurvedic health retreats in Sri Lanka and my mum taught me yoga from an early age. She also ran a natural spa for years. All in all I have been very lucky to have had a very healthy life from the very beginning.
Rip & Tan: What inspired you to start the brand? What did you hope to achieve?
ZLVH: As part of my 2014 New Year's resolutions I set a deadline that if I was unhappy with my life and job in six months' time I would hand in my notice and start my own thing. This coincided with the amazing experience of visiting Sri Lanka with my late mother. We were privileged to spend a lot of time with Ayurvedic doctors and learned so much about herbs and the power of the food that we ate. Turmeric, as it turns out, is one of the most powerful foods we can consume. Shortly after my visit to Sri Lanka, I followed through with my initial plan and started Wunder Workshop; piecing together what I had learned about Ayurveda and the knowledge I had gained from my mother. Primarily what I want to achieve is to move our awareness and attitude around health towards prevention rather than only focusing on cure. Leading a healthy life is a long-term investment. There is no quick fix and therefore we created products that can be integrated into our daily lives and form part of one's daily routine. Also we wanted to bring the power of turmeric to the Western world, because three years ago finding turmeric products here in the UK was very limited. We are thrilled to see how many more turmeric brands are now out there, as competition only helps to create more awareness.
Rip & Tan: How did you meet your co-founder, Tom, and how did your goals/beliefs align? 
ZLVH: Tom and I met at university and have been a couple ever since. He studied pharmacology and whilst he didn't grow up eating particularly healthy food his knowledge of pharmacology and biomedicine made him quickly realise how big a part diet played in your health and that pharmaceutical drugs aren't the answer to everything. As a rugby player and marathon runner he became very passionate about the power of a mostly plant based diet and finally decided to leave his job to help me co-run Wunder Workshop. As I don't have a scientific background in nutrition, making health claims has often felt difficult. We form a great balance as he can validate all the things that I have been taught by my mother and Ayurvedic doctors during my visits to Sri Lanka, which is particularly helpful in the case of turmeric as it has so many health benefits!
Rip & Tan: How would you summarize the benefits of turmeric? 
Tom Smale: Turmeric has a wide range of health benefits, largely due to its potent anti-inflammatory effect across the body. Turmeric's active ingredient, curcumin, is effective at reducing chronic inflammation caused by everyday toxins found in the air, diet and stress. Recent scientific studies have shown its potential for treating arthritis, Alzheimer's disease and even its effectiveness against certain cancers (particularly bowel cancer). It also releases dopamine, a chemical in the brain that is responsible for feeling at ease.
Rip & Tan: From where/whom do you source your turmeric and why?  
ZLVH: During my travels to Sri Lanka, I found an organic turmeric farm. It was such a pleasant experience that I decided to start importing their turmeric, and have now done so for the last three years. Over these years we have begun to source more ingredients from them including cinnamon, tea spices, and black pepper. It is so important to me to know the source of everything, not just with food but also clothing and other goods. Therefore, it was a no-brainer for me to find a farm that treats their employees fairly and are trustworthy in their procedures. Also, so many spices are often blends of several farms across the globe and it is getting rarer and rarer to have single-origin spices and herbs so we are very proud to have a Sri-lankan single origin turmeric powder.
Rip & Tan: Tell us about your product assortment. What are the options and how do they fit into your customer's diets? 
ZLVH: We currently have 7 products, our three Instantly Golden turmeric latte blends which are delicious, warming blends to quickly make Golden Mylk. People love using them as a coffee alternative, or even to add as a healthy boost to their coffee. We also have two loose leaf tea blends, a turmeric tea and a traditional Sri Lankan chai with turmeric. We also have a potent turmeric honey which is great on toast or in porridge and tea but also beneficial as an anti-bacterial and anti-inflammatory facemask. Finally, we have our pure organic turmeric powder which can be used in any way you wish.
Rip & Tan: Any tips for enjoying the turmeric latte specifically? Why do your customers love this product? 
ZLVH: Our favorite way is to simply blend it with either warm homemade oat milk or organic Oatly. The oat milk adds extra creaminess and blends very well with our organic turmeric blend. To freshen things up in the summer however, we love making an iced version with a shot of cold-brew coffee served on the rocks!
Rip & Tan: What does do you have for Wunder Workshop in the future? 
ZLVH: We will be adding more products to the Golden Turmeric range, with innovative ingredients and ways of increasing your daily turmeric intake. We have also started exporting to the USA and Europe and hope to increase our network to spread the turmeric love even further.