Entertaining
Floral Encyclopedia with Moon Canyon: From the Summer Garden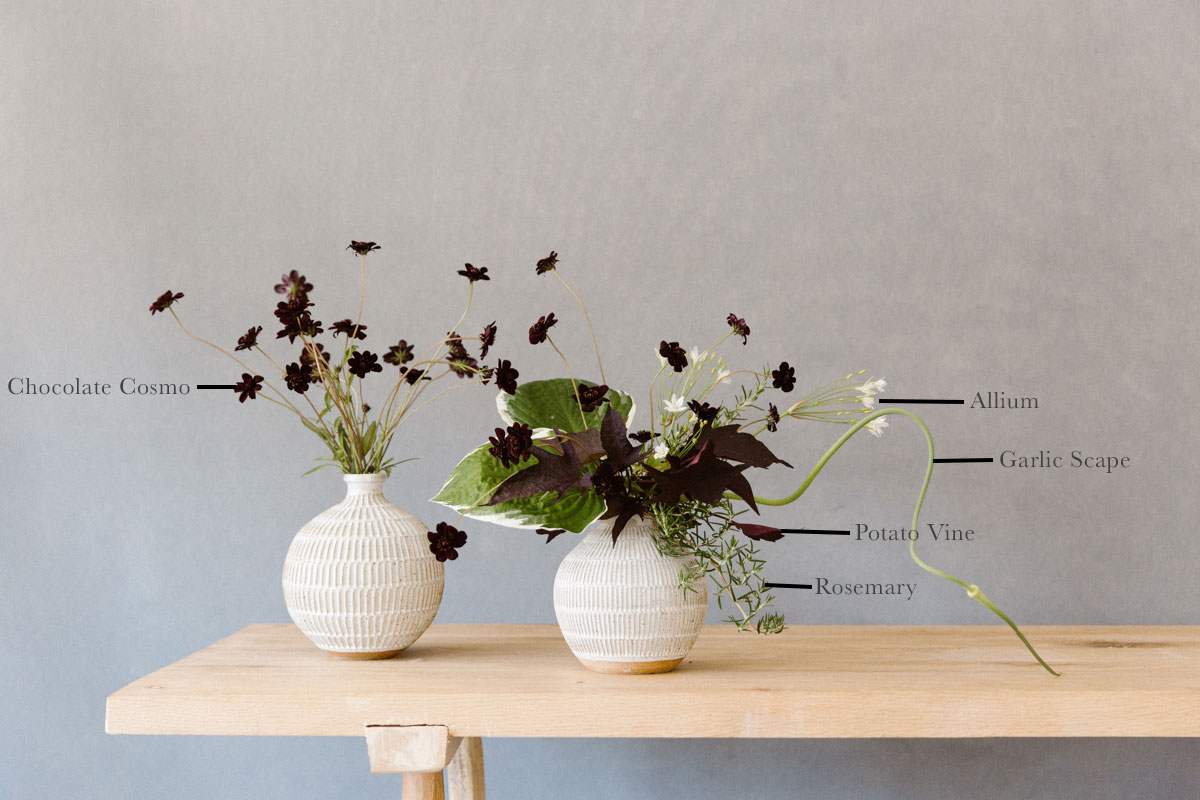 Using a beautiful hand-carved vase by Mt. Washington Pottery as a starting point, Kristen Caissie of Moon Canyon put together the loveliest floral arrangement for us this month. Her inspiration was simply "the summer garden"; most of the flowers were cut from her own backyard, while a few were purchased from her local nursery. I love the long, trailing shapes on display here and the color story Kristen put together with summery shades of green and white and deep chocolate hues for some added depth and moodiness. This arrangement should last for a solid week or even longer as many of the materials are known for their resilience once cut. I think it would look beautiful on most any table, don't you? XXJKE
Chocolate Cosmos — A species of cosmos native to Mexico, this perennial plant features a fleshy tuberous root, long pinnate leaves, and small flowers in shades of dark red, maroon, and brown.
Allium — Members of the onion family, these colorful late-spring blooms produce clustered florets in a globe-shape flower head, held aloft on a thick stem.
Hosta Leaves — A genus of plants often referred to as plantain lilies and occasionally by the Japanese name giboshi, hosta are widely cultivated as shade-tolerant foliage plants.
Rosemary — This woody perennial herb with fragrant, evergreen needles is prized in floral arrangements for its beautiful trailing forms and ability to hold its color and scent for many days.  
Garlic Scape — Also known as garlic spears, stems, or tops, garlic scapes are the flower bud of the garlic plant, which is often removed during the growing season in order to allow the bulbs to thicken.
Swet Potato Vine — This fast-growing herbaceous perennial vine, which is in the same family as edible sweet potatoes, has colorful foliage in deep shades of green or purple and several different leaf shapes.