Entertaining
Floral Encyclopedia with Moon Canyon: Fall Meadow Florals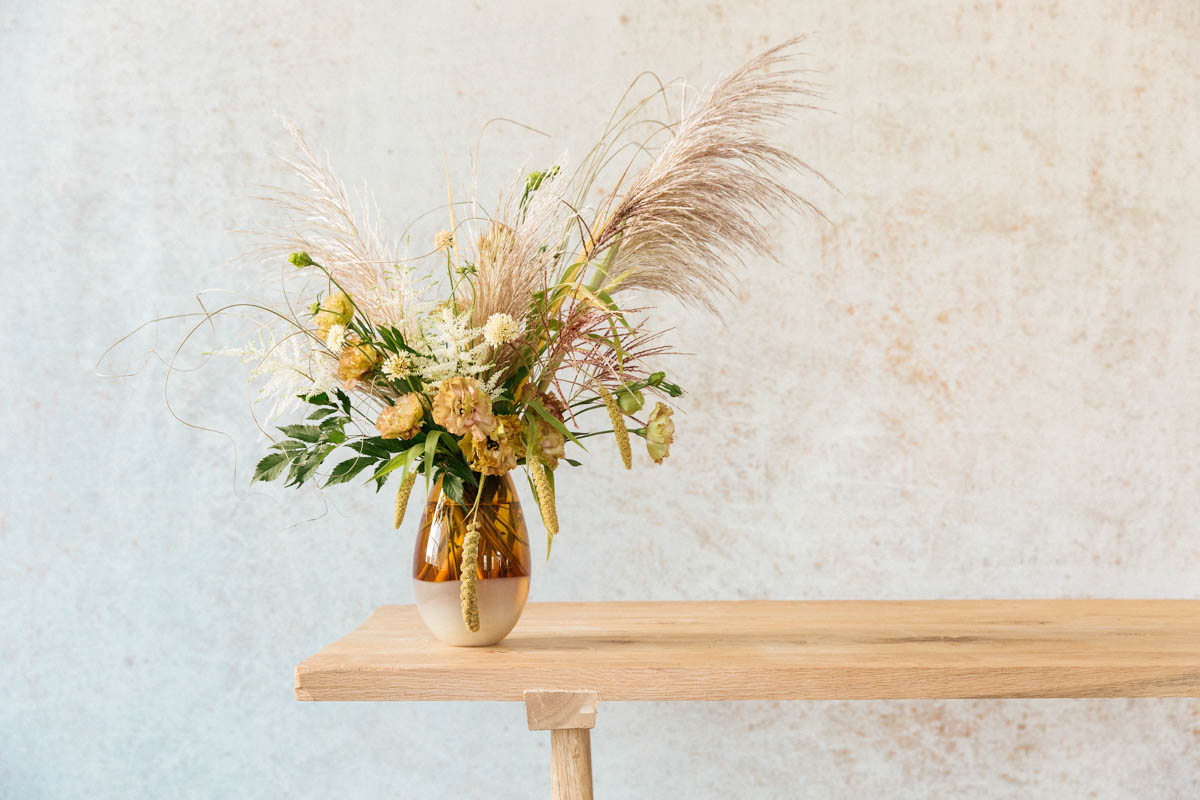 A new season means a new opportunity to collaborate with the lovely Kristen Caissie of Moon Canyon on a unique floral arrangement. Kristen is expecting a new baby and is totally luminous so it feels fitting that our fall display is done in warm shades of golden yellow. "I'm in love with early fall meadow-style florals," Kristen said during our shoot. "The color story is so beautiful with pale nude, citrus, and chartreuse." California artist Caleb Siemon's banded barrel tonal glass vase only enhanced the warm palette further. I love that the top half of the vessel is translucent so you can see more of the materials, while the opaque bottom half hides the rest. 
Kristen started the arrangement with the pampas grass, which was cut to different lengths in order to add dimension. She then filled in the gaps with the florals and other materials from there. To give the lisianthus florals a lusher look, Kristen delicately opened the florals with her fingers a bit. Learn a bit more about each element in the arrangement below. I hope you have fun recreating this one! XXJKE
Astilbe — A perennial with beautiful, showy flowers atop glossy, fern–like foliage. Astilbe may look delicate, but it is actually quite resilient.  
Pampas Grass—A very tall flowering grass that can grow in a wide range of environments and climates. The feathery plumes come in a range of pale shades and can be cut and used in an arrangement immediately, or dried for future use.
Millet—The healthy grain we know and love in our panty works in bouquets too. Like cattails, millet's long, bottlebrush-like spikes add strength to a bouquet.
Dried Grass— Meadow grass, wild grass, or other dried varietals can lend floral arrangements a soft, romantic charm. Long-lasting and affordable, they're also a sensible choice for practicing florists. 
Lisianthus—With large blue-green leaves and funnel-shaped flowers in shades of pink, purple, white, and blue, lisianthus has a rose-like effect in bouquets—especially when you open the petals with your fingers just slightly.
Scabiosa—Scabiosas are common in beautiful shades of blue, purple, white, and burgundy. The wild, densely packed petals give arrangements a hand-picked feel.