Entertaining
Floral Encyclopedia with Moon Canyon: An Arrangement in Autumn Hues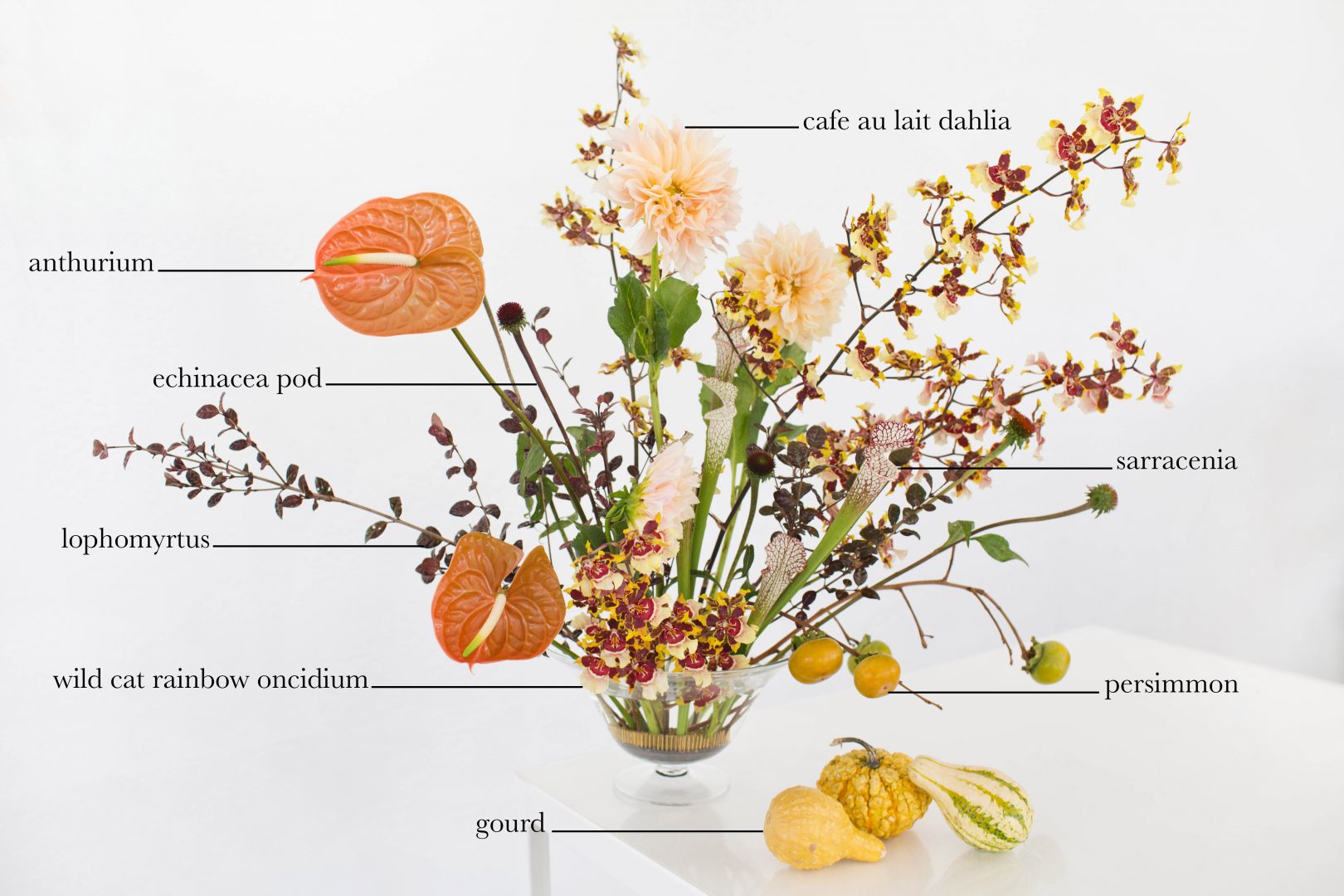 Thanks to the cooler temperatures of the last several weeks, I can (finally) officially say that it's starting to feel like fall. With this in mind, I'm soaking up all things autumnal – from food to florals – making it the perfect time for another Floral Encyclopedia with the lovely Kristen Caissie of Moon Canyon. See below for an introduction to some of her favorite floral elements, artfully assembled with the season's color palette in mind. XXJKE
Gourds – The fleshy, typically large fruits of the plant of the family Cucurbitaceae, many of which have a hard skin, and some of which are edible.
Anthurium – Native to tropical America, Anthurium are characterized by their brightly colored (often red) spathes and ornamental leaves, and boast a long vase life of about six weeks and even more depending on the variety and season.
Lophomyrtus – A genus of the myrtle family, Lophomyrtus is endemic to New Zealand, and consists of dense, evergreen shrubs or trees, noted for their colorful leaves, which are purple, chocolate, red or bronze-green.
Echinacea Pod – A member of the daisy family, Echinaceas have long slender petals with a large and vibrant rounded center. Oftentimes in arrangements (as in this one), the petals are pulled off, leaving only the distinctive pods.
Cafe au Lait Dahlia – Sometimes referred to as the "dinner plate" dahlia because of its size, this gorgeous bloom features large, lush petals in shades of creamy pink, blush, peach, ivory, champagne, and dusty rose. Blooming all summer long, Cafe au Lait Dahlia can sometimes be found through the month of October.
Wildcat Rainbow Oncidium – This striking, floriferous orchid features petals in a deep, dark reddish-purple with yellow tips, and a red and white lip.
Sarracenia – Beautiful and easy to grow, Sarracenia often catch small insects in their showy, tubular, flower-mimicking leaves.
Persimmon – The edible fruit of a number of species of trees in the genus Diospyros, persimmon (when ripe) range from light-yellow orange to dark red-orange, depending on the species and variety. Similarly, they range in size (from 1.5 to 9 cm in diameter), and in shape (varieties may be spherical, acorn, or pumpkin-shaped).
Photos: Brittany Wood