Entertaining
Floral Encyclopedia with Moon Canyon: A Rustic Summer Arrangement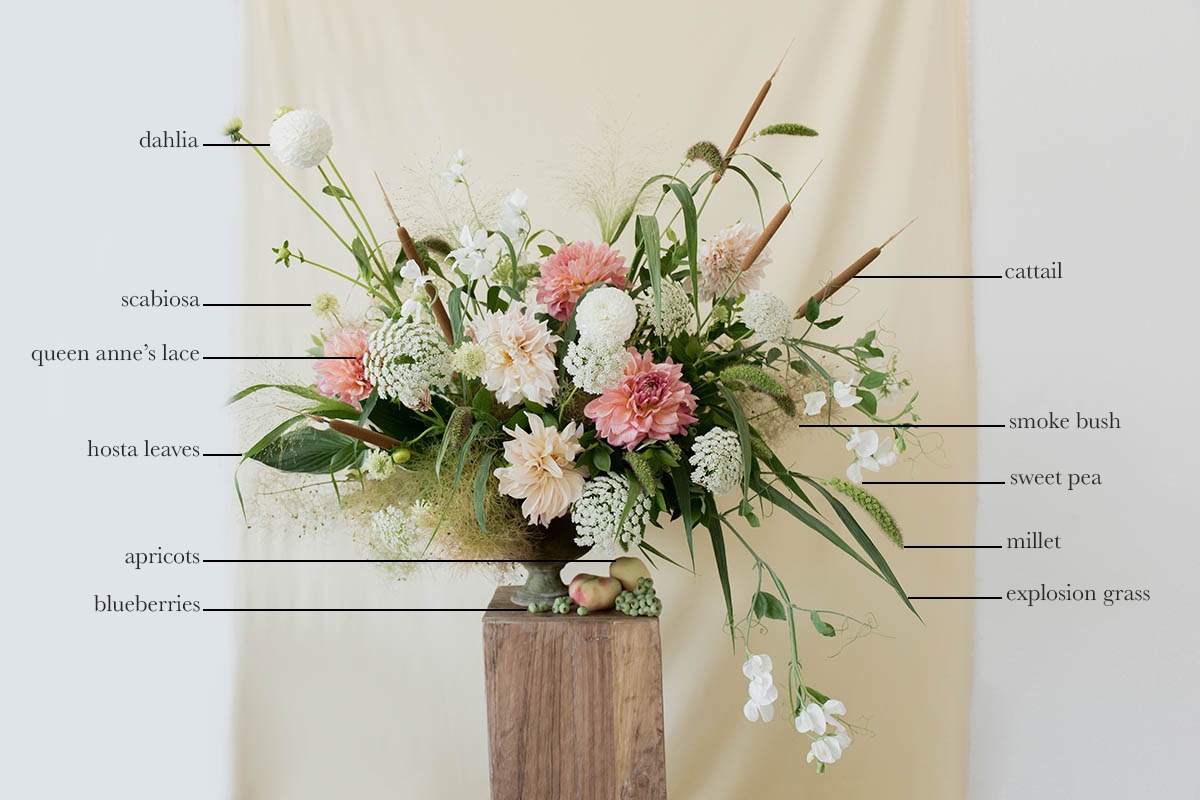 Summer is a social and relaxed season, so a serious floral arrangement can feel out of place on the dining-room table. I love a more rustic bouquet for these casual days; something overflowing with interesting greens in various heights, and flowers in a gentle monochromatic palette. For our latest edition of Floral Encyclopedia with Kristen Caissie of Moon Canyon, we put together such an arrangement. My favorite touch is the not-quite-ripened apricots and blueberries Caissie positioned around the vase. They add a farmhouse feel to the already rustic arrangement and nod to the cool weather just around the corner. XXJKE
Cattails—If you want to add height and structure to an arrangement, cattails are a good choice. Their flowering spike and flat, blade-like leaves add strength without overpowering.
Dahlia—This lush, dome-shaped flower comes in an array of gorgeous colors and shapes that give your arrangement color and liveliness.
Explosion Grass—These airy flower plumes add a wild, field-grown charm to arrangements that feel too stiff. While delicate in appearance, they dry out exceptionally well.
Hosta Leaves—When you desire a more substantial green to use in an arrangement, reach for these lush, bold leaves. They'll instantly add beautiful color and texture to your bouquet.
Queen Anne's Lace—This flowering plant is common in dry regions like California. We love how the lacy, flat-topped clusters almost look like white petal flowers in an arrangement.
Millet—The healthy grain we know and love in our panty works in bouquets too. Like cattails, millet's long, bottlebrush-like spikes add strength to a bouquet.
Scabiosa—Scabiosas are common in beautiful shades of blue, purple, white, and burgundy. The wild, densely packed petals give arrangements a hand-picked feel.
Smoke Bush—This fuzzy flowering plant grows in beautiful shades of purple, red, and orange and, like explosion grass, is excellent for filling out and softening an arrangement.
Sweet Pea—With colorful petals that resemble folded butterfly wings, and winding green tendrils that twist and turn, Sweet Pea will add romance and softness to any display.