Wellness
Esker Beauty is the New Natural Body Oil Line to Know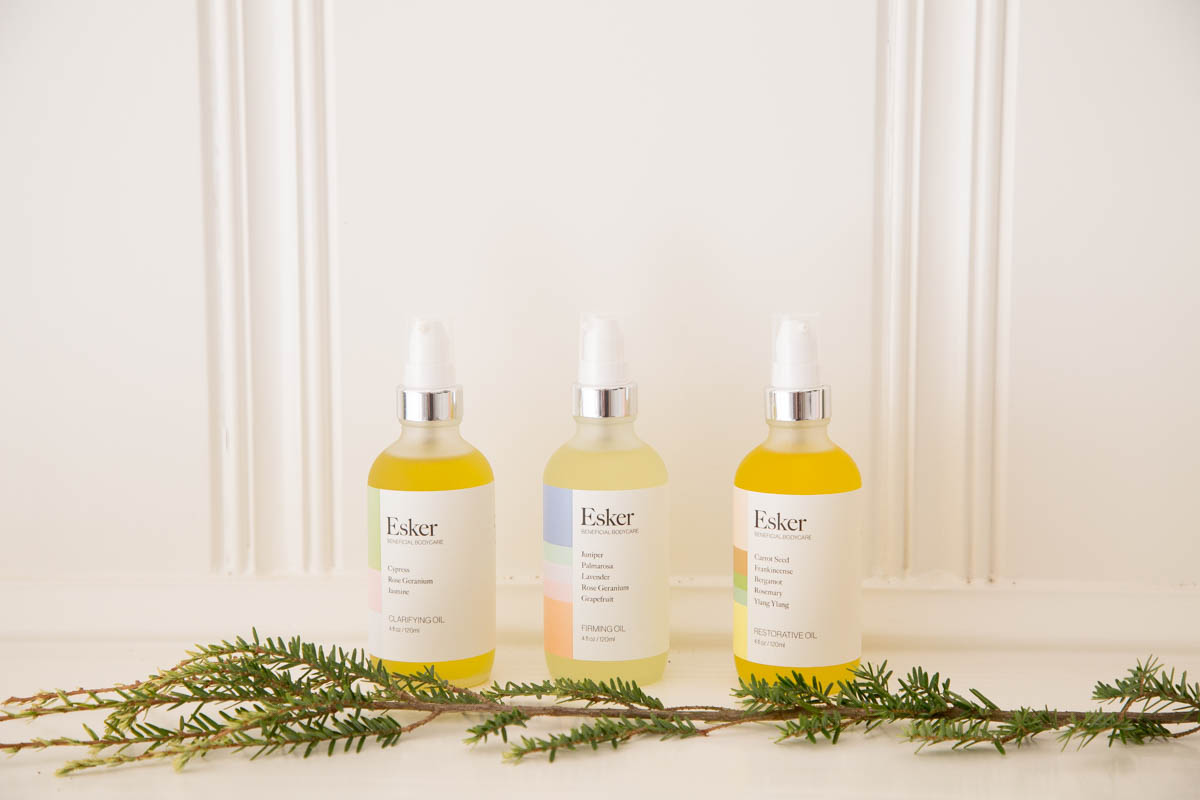 As we get into the colder months, enhancing your body care routine to include more exfoliation and hydration is wise. If you can take time for a nice long soak at night, even better! For a good winter moisturizer that will sink into skin without feeling too heavy I love the new line Esker Beauty. Started by Shannon Davenport, Esker Beauty is centered around three organic, plant-based oils that are pure enough for the face but formulated for the body. One balances moisture in the skin, one is firming, and one helps with dullness. They each smell heavenly and are presented in beautiful packages that look great in your vanity or next to your tub. 
For a thoughtful twist, Esker also includes an envelope of wildflower seeds with every oil to spread in your garden, yard, or neighborhood. The flowering plants that Esker relies on for its formulas depend on pollination, so planting new pollinators is a way of giving back to nature. Get to know a bit more about Shannon and this wonderful line through our Q&A with the entrepreneur below, and shop the line in our stores this holiday season! XXJKE
Rip & Tan: Tell us about your career before starting Esker and how it helped you develop the skills needed to launch the line.
Shannon Davenport: My background is in trend forecasting so I'm a natural researcher and I'm inclined to always be thinking about what's coming next. The natural movement has really upended many industries, particularly beauty, in the past few years and I love the opportunities it has created for small brands and entrepreneurs with a mission to do things differently. The more I started to see the way consumers were changing and expecting transparency and integrity from brands the more I started to get ideas about skincare, which I'm obsessed with—from product integrity to packaging and branding. I decided to do a certification program at the New York Institute of Aromatherapy in the East Village and that's what really brought it all together. Learning in-depth about essential oils and how they work inspired me to think about how to use these powerful plant ingredients in new ways that I hadn't seen before.
Rip & Tan: What is your mission with Esker?
SD: I'm fascinated by plant-based ingredients and I want to help tell the story of the amazing ways plants can benefit our skin. There's a lot of confusion and murky information about essential oils and I'd like my products to bring clarity to the conversation and really show how functional they can be. Essential oils are as diverse as herbs, each one comes from a different plant that has a totally unique composition, aroma, and skincare benefits.  I also love body-care and I want Esker to help people embrace the ritual of taking care of your skin, taking time to slow down in a meaningful way. 
Rip & Tan: Can you tell us a little bit about each oil and why it is beneficial for the skin?
SD: Each formula contains a combination of super nutritive base oils like fractionated coconut oil, squalane, avocado, evening primrose and jojoba oils—they were all chosen to be super moisturizing but not at all greasy. I never liked the idea of having to worry about staining my clothes or sheets while moisturizing so I made sure that Esker products were made with really high quality oils that absorbed right into the skin.  Each formula also has a key functional ingredient that I used as the cornerstone of each blend. Firming is built around juniper berry essential oil, it's great for lifting and easing water retention. The hero oil in the Clarifying formula is cypress which helps with toning and discoloration and Restorative is designed around Carrot Seed CO2, it's an amazingly powerful, nutritive oil that helps repair skin. There's a color code on the packaging that helps highlight the essential oil blends in each formula so you can see the strength of each ingredient, and the palettes are inspired by the colors of the ingredients in nature. 
Rip & Tan: Where do you source your ingredients? How do you know that they are authentic?
SD: I am fortunate to work with an amazing natural lab in the Pacific Northwest which makes sure that all the ingredients are cruelty free and vegan; being Leaping Bunny Certified was really important to me. Each oil comes from a specific place, for example the lavender comes from Bulgaria, the ylang ylang is grown in Madagascar, and the rose geranium is from Egypt. With essential oils this is really important—similar to the way terroir is important to wine, making sure you know where oil comes from is really key to knowing it's authentic and pure. The environment it's grown in also affects the way an oil can smell too.
Rip & Tan: Your packaging includes wildflower seed packets for customers to scatter in their own yards. Why was this important to you?
SD: I wanted to create a brand that made people think more deeply about plant life and a huge part of that is acknowledging and appreciating the role that pollinators (bees, butterflies, and birds) play in the ecosystem. The more I read about how to protect pollinators the more I understood that helping them can actually be quite simple—planting more flowers! I loved the simplicity of that idea and I wanted to make it super easy and fun for my customers to do, so I created a custom seed packet that fit into the box as an extra little surprise.
Rip & Tan: How do you plan to expand the brand from here? What won't you do?
SD: I'm working on body washes next which will be coming soon! There aren't a whole lot of natural ones on the market and I want to create a cleansing step that smells amazing and complements the oils. I have a few more body oil concepts that I'm working on too which I'm pretty excited about. I want to grow the line really carefully and thoughtfully–I want each Esker product to feel really special and intentional instead of filling up the line with the same types of products you can find anywhere.
Rip & Tan: What wellness or self-care ritual complements the line? What do you hope all of your customers take the time to do in addition to using your products?
SD: I think any ritual or product that helps you feel more grounded and relaxed is right in line, whether that's taking a long soak in the tub, spending time in your garden, or diffusing oils at home. We're living in stressful times so I believe that self-care should be unique to each person, making time to do something that makes you feel good is what counts. 
Rip & Tan: Tell us about your personal life. What do you do in your free time? What are your hobbies?
SD: I would have answered this very differently a year ago but I just had a baby last month so my free time just got a lot less free! In addition to getting to know my new little lady I love traveling, hiking with my scruffy dog Billie, doing karaoke, and trying new restaurants.