Entertaining
Easter Egg Hunt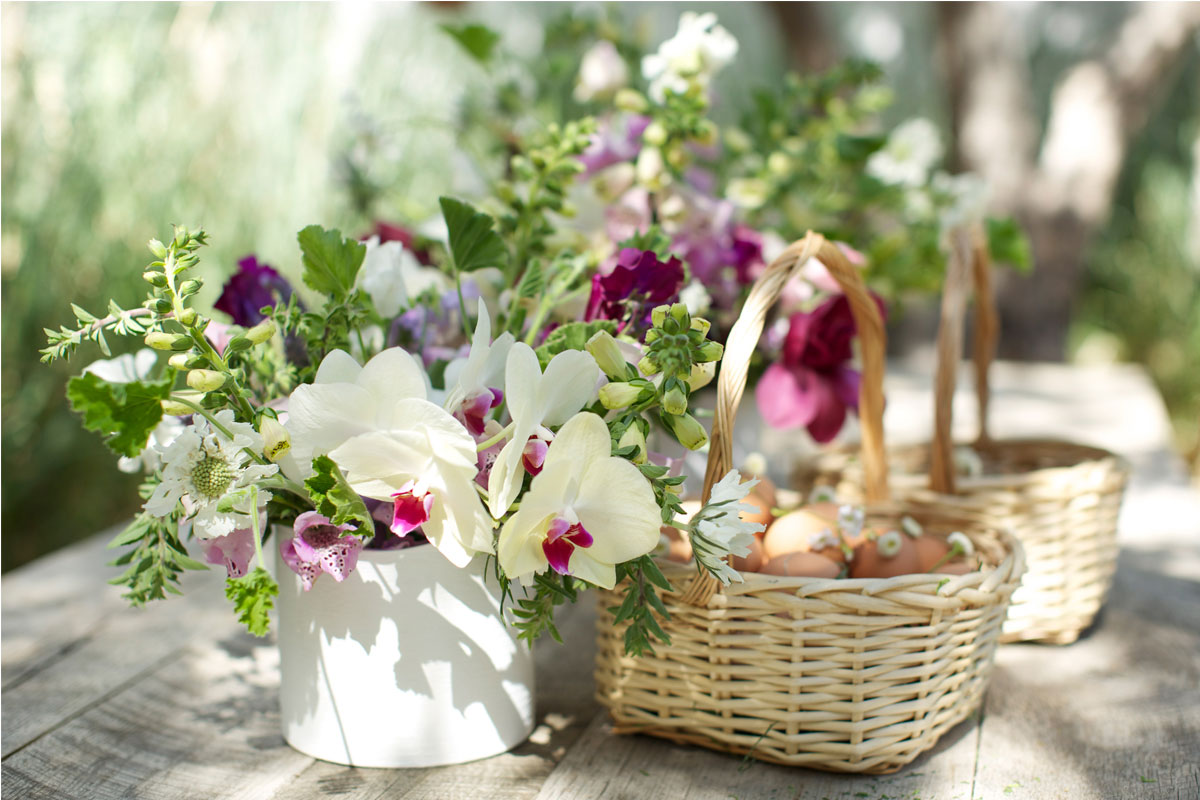 This year, I really wanted to host an Easter egg hunt – a fun, relaxed afternoon that was all about the little ones, but fun for the whole family. I called on the wonderful Amy Blessing to help me put it all together and was so happy with the way everything turned out. Rip and Tan had so much fun – I'm thinking we'll have to make this an annual event! XXJKE
Crafts and Activities
Easter Ears
To begin, Amy made the most adorable and festive bunny ear headbands, which the kids just loved. She did so by using plastic headbands as a guide, shaping bunny ears with wire from the hardware store, and then wrapping the headband and ears in ripped cotton and muslin from ISW.
Eater Baskets
Amy picked up simple baskets and moss, both from Moskatels, and placed a nice amount of moss inside of each. She then made the most adorable kraft nametags and attached them to each basket. She used these labels from Paper Presentation (one of her favorite online resources for paper goods), downloading the template that they have on the site. Using this font from Dafont (another online crafting favorite) she printed each of the kids' names on the labels and wrapped them around the basket handles.
Easter Egg Dying Kits
As party favors, Amy assembled chic, personalized kits for each of the kids to bring home and use in dyeing their own eggs. For our hunt, we hardboiled eggs, dyed them, and then tied flowers around them with twine, for a simple, sweet presentation. Amy's kits included all of the supplies needed to do the same, including a dyeing kit, egg carton, stickers, feathers from ISW, and twine from New Stone Age on Third Street.
Chicks and Bunnies
Another highlight: the most beautiful chicks and bunnies, courtesy of one of my party go-to's, Jessie's Party Animals. Needless to say, the little ones were in love, and if felt like the perfect Easter touch.
The Table
We used my 6ft folding table and covered it in burlap fabric, and for seating: these amazing wood stumps that we rented from Peggy at Fire and Creme. We placed moss down the center of the table, mixing in with gorgeous spring arrangements from Yasmine Floral Design, comprised of Sweet Pea, Campanula, Foxglove, Oregano, Geranium, Lavender, and Scabiosa.
And lastly, Amy dyed and opened blown out eggs to make little vases, which she filled with flowers from the flower mart, and placed them among the moss and florals.
The Menu
One of my no-fail favorites, Barrett from Valleybrink Road, provided the delicious spring bites, including a salad, tartines, egg-shaped cookies, and white cupcakes with vanilla buttercream icing and edible flowers. It was a delicious light spread, perfect for the occasion, and the kids couldn't get enough.