Living
DIY: Floral Pounding with Deepa Preeti Natarajan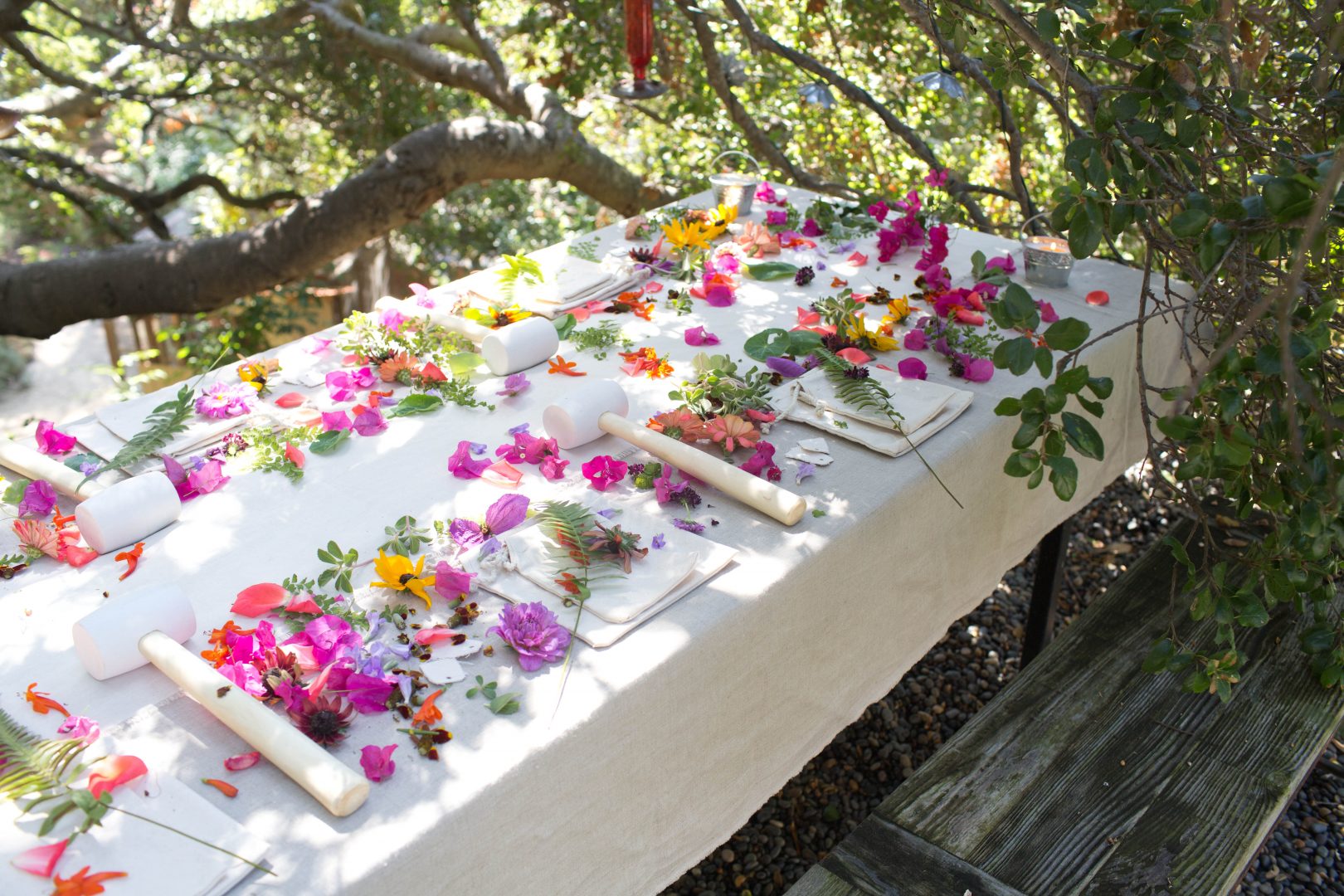 As you may know, I've shared the talents of the wonderful Deepa Preeti Natarajan in these pages before. Ethnobotanist (and one of my sister Saree's dearest friends), she has been an invaluable resource for all things natural and plant-based (her posts on natural fabric dying and natural egg dying seen here). So when I recently learned about floral pounding, the process of creating beautiful surface designs using the natural dyes of flowers & leaves, I begged her to run a DIY class for us. Having already fallen hard and fast for the beauty that is Silver Lake Farms, I knew they would be the perfect source for all of our blooms and leaves. And, alongside fellow all-things-natural enthusiast Shiva Rose, who was kind enough to host our class at her home, we were treated to a beautiful afternoon of learning the practice for ourselves.
In the days leading up to our class, Deepa visited Silver Lake Farms for all of our local and organic components – fresh greens and wild flowers that would work best for the process. And the result: perhaps one of my favorite DIY's to date. Deepa was kind enough to share a bit about this beautiful process, and how to achieve the best results, below. XXJKE
DPN: Though I love the slow and detailed process of making natural dyes from plants, what can I say, I also love having instant gratification. You can make gorgeous patterns on cloth by simply pounding plant pigment into cloth. Some prints are ephemeral, while others are as permanent as dyes themselves. I was first introduced to this process (a technique also referred to as "Hapa Zome") by my friend and dye inspiration Rebecca Burgess of the Fibershed Project. Later, I found India Flint's work and fell further in love. Both of their books Harvesting Color by Rebecca Burgess and Eco Colour by India Flint are great resources for natural dyes.
NOTES
For best results I recommend pre-mordanting your fabric with alum. Alum salts can be sourced online from textile companies such as Dharma Trading Company or Maiwa.
Use 10% weight of the fiber and simmer the fabric with the alum for 1 hour. For the shortcut version I dissolve alum in a spray bottle with warm water and spray this solution directly onto the cloth before and after I pound.
Thicker weaves work best for this process:  cotton jersey, linen, canvas (I recommend soaking canvas overnight), heavy silks, and tightly woven wools.
A lot of plant material works for this, but I have gotten best results with:
Flowers:  zinnia, marigolds, dahlias, coreopsis, nasturtium, scabiosa, poppies, salvia, bright pink succulent flowers, dark petaled roses, violas, calendula, sourgrass, black eyed susan, borage
Leaves: nasturtium, plectranthus, scented geranium, oak, some species of fern, grape
INSTRUCTIONS
Lay out a towel and place your fabric on top of the towel.
Place the plant material on the fabric and fold cloth over the flowers so that they are sandwiched between the cloth.
Spray the alum solution on the flower until you can see the color coming through. Using rubber, wooden or metal mallets pound the flower.
For sharpest results, use the edge of the mallet head and imagine the outline of the flowers/leaves as you pound. Continue this process with each piece of plant material.
When finished rub away and excess leaf or petal matter. Let dry and then iron to help secure the color.