Wellness
Daughter of the Land is Skincare, Simplified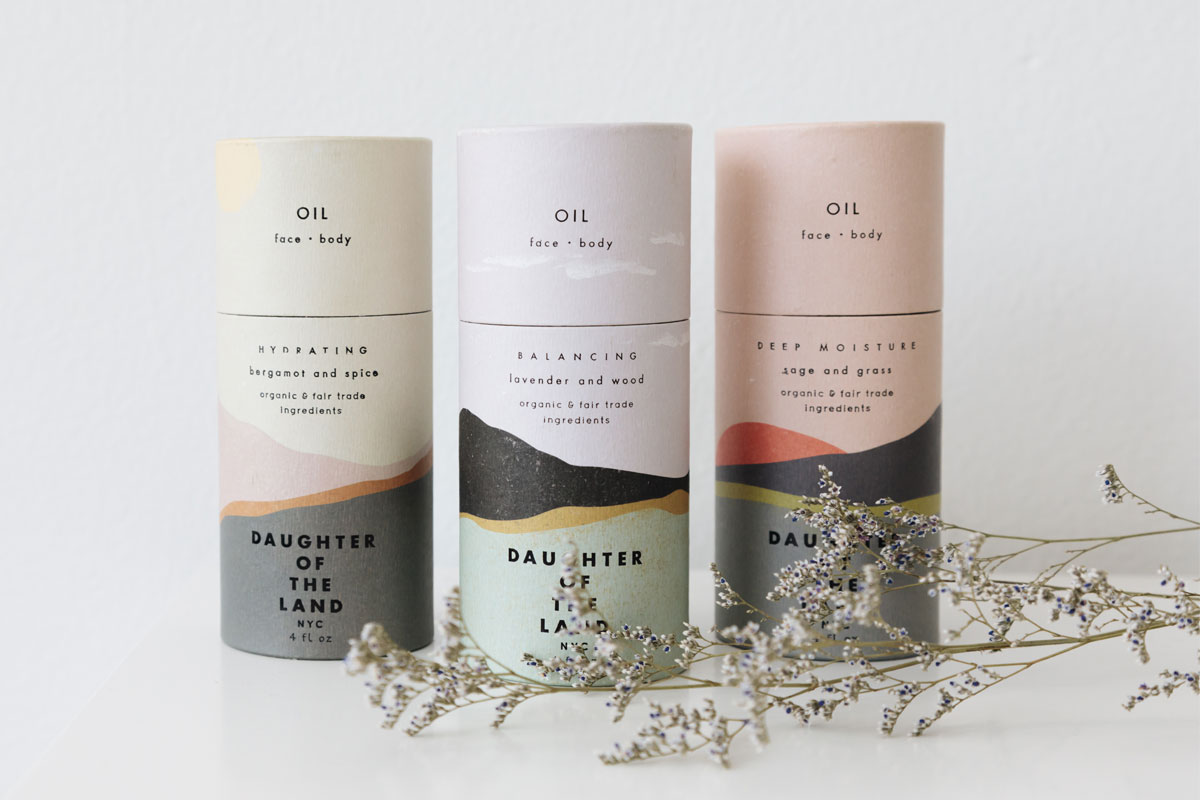 I love a good body oil, even during the summer months. All the swimming, hiking, and exploring that happens this time of year can really tire and dry out your skin. Plus, I think the act of applying it helps you slow down and focus on yourself for a minute in a way that a quick drying, pump-and-go lotion doesn't quite achieve. If you're looking for a great body oil to incorporate into your morning or evening beauty ritual, Daughter of the Land is a new brand to check out. The line is comprised of just three oils that can be used on face or body, made with a unique combination of fair trade and organic oils to hydrate the skin. The packaging and bottles are environmentally conscious and beautiful to look at, too. Check our interview with the brand's founder, Ashley Spierer, who came with the idea for Daughter of the Land while working for a maternal health startup in Chennai, India, below. XXJKE
Rip & Tan: Tell us about your career before starting Daughter of the Land and how it brought you to India. Do you still do work in this field? 
Ashley Spierer: I was working in healthcare consulting and wanted to transition to working within the social enterprise space and learn from a female entrepreneur (I always knew I wanted to start a business) so I took a year leave of absence from consulting to work in Chennai at a maternal health startup focused on reducing maternal mortality.  The experience helped me understand how to run a small social enterprise. I still do a bit of healthcare consulting on the side as Daughter of the Land grows.
Rip & Tan: You discovered the benefits of coconut oil during your trip and that eventually sparked the idea for your brand. What did using coconut oil make you realize about the beauty industry and our consumption of products?
AS: I realized a handful of things! First, it made me realize my disconnection with actual natural ingredients, despite how "conscious" of a consumer I thought I was. I learned that the skincare industry is incredibly lenient with packaging claims and products that say "natural" on the front do not necessarily contain all actual pure, natural ingredients. It made me question why I hadn't put the same rigor into looking at beauty and household items as I did with food labels.
A second area that I became super aware of was an extreme emphasis on consumerism in the beauty industry. There are specific-use products marketed for every inch of our bodies (think foot lotions vs hand lotions vs body lotions) and also a strong emphasis on changing ourselves or stopping the aging process. It really motivated me to create a brand that was focused on self-love, pure ingredients and helping reduce the impact on the environment.
Rip & Tan: What is your mission with Daughter of the Land? How would you sum up your POV?
AS: My mission is to use Daughter of the Land's simple line as a vehicle to educate consumers on reducing consumerism, being aware of the impact that our purchases have on the environment, and emphasizing that our natural self is perfect.  Daughter of the Land truly believes that natural beauty is radical, and we encourage women to embrace this ethos as it pertains to their unique beauty and identity. As we grow, my goal is to provide job training and opportunities for women in tough situations.
Rip & Tan: Can you tell us a little bit about each oil and why it is beneficial for the skin? 
AS: Each oil blend was formulated with base oils and essential oils for different skin types that absorb nicely into the skin.  The balancing oil blends the base oils grapeseed and jojoba oil, which are both great for oily, acne prone skin. Jojoba oil is actually a wax that is similar to the sebum of the skin, helping to maintain a healthy skin Ph balance while letting it breathe, and grapeseed oil is the lightest of the oils. The hydrating oil uses a blend of apricot kernel oil which is light, absorbent and high in gamma linoleic acid, which helps skin to maintain moisture balance. And the deep moisture oil, uses avocado oil, which is a bit thicker than the other oils, and is super rich in nutrients, vitamins, essential fatty acids and minerals making it great for dry or damaged skin (especially for sunburns!) 
Rip & Tan: Where do you source your ingredients? How do you know that they are authentic?
AS: When I'm sourcing ingredients I look up each ingredient individually to see where I can get the highest quality product, and I continue to look to see where I can improve. I only source from suppliers that can provide certifications of the quality of each oil including, a report on the product specifications, how the oil was distilled, where it is coming from and copies of the organic and fair-for-life certifications. I'm also reading up on the different variations of each oil to see which are the most beneficial therapeutically.  
Rip & Tan: Your packaging is beautiful. How did you conceptualize it? 
AS: Thank you! I worked with Dando Projects on creating the packaging, they were amazing and Oona is an artist! Our goal was to create a line that had a natural, clean and inviting vibe that represented the formulas. The majority of our packaging is also recycled paper, glass, and metal, all able to be recycled or reused (we do have a small plastic orifice reducer in the cap to prevent the oil from spilling everywhere).  
Rip & Tan: How do you plan to expand the brand from here? What won't you do?
AS: I plan to create meaningful products that have a positive impact on the people using them and our environment.  I want each product I launch to really make people think. I have a couple products in the works for this October. I won't make products for the sake of expansion and that don't serve a legitimate function.
Rip & Tan: What wellness or self-care ritual complements the line? What do you hope all of your customers take the time to do in addition to using your products? 
That's a great question. I really love abhyanga, the ayurvedic practice of giving yourself an oil massage before you shower. It feels really loving and grounding. My dream is that my customers would spend less time on their skin and more time enjoying their lives and feeling confident! 
Rip & Tan: Tell us about your personal life. What do you do in your free time? What are your hobbies? 
ASL I really like being outside (biking, hiking and swimming) or doing ashtanga yoga, I've been practicing that style of yoga for the last 4 years and really feel grounded from it!  I also just moved to Seattle from New York and now that I have a bit more space I started gardening and am loving it!