Wellness
Coconut Cure: Meredith Baird's Healing Nucifera Balm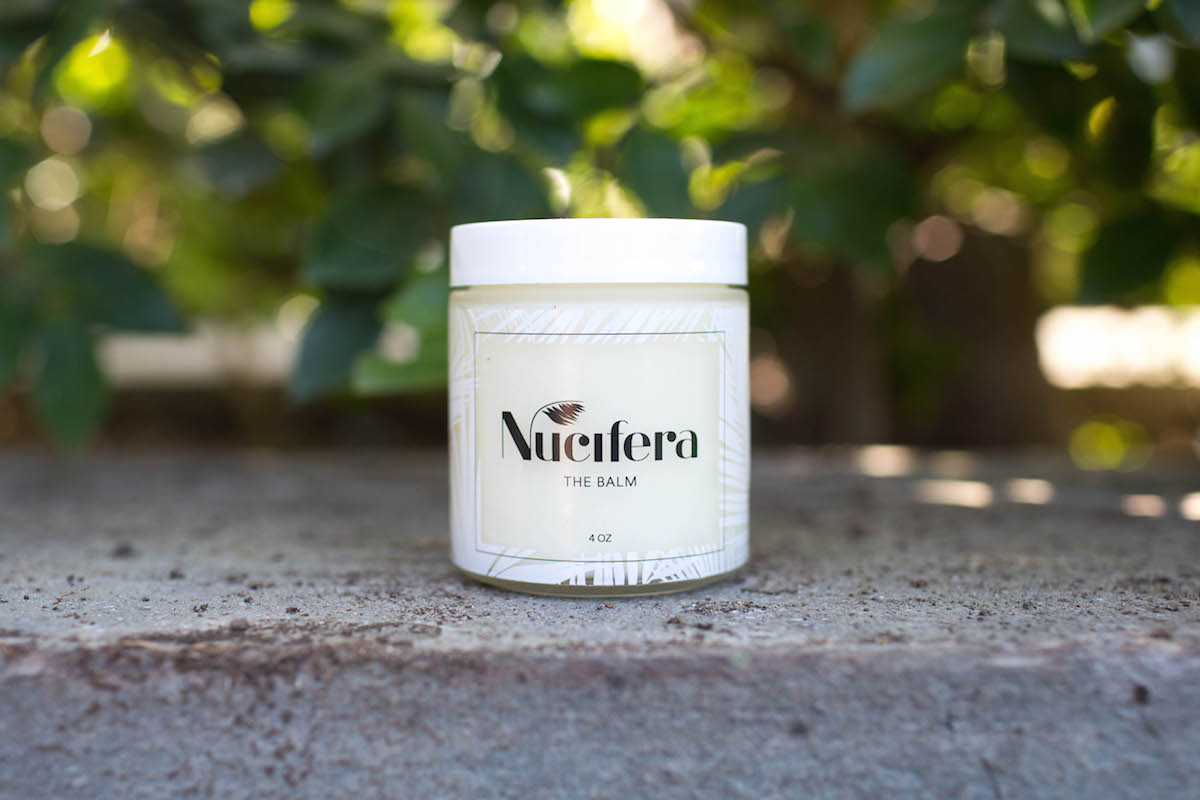 As a coconut oil enthusiast it almost feels as if Meredith Baird created her Nucifera skincare line just for me. The innovative plant-based chef and cookbook author's newest venture incorporates not only my go-to body moisturizer, but many other favorite ingredients (lavender, palo santo, frankincense). This first product of Meredith's, The Balm, is just the kind of multitasking formula I love. It's an all-in-one that is also organic, vegan, raw and plant-based, with zero synthetics. The LA-based Coconut Kitchen author is currently devising more original nontoxic products. In the meantime she shared her holistic skincare and natural beauty philosophies. XXJKE   
Rip&Tan: As a chef and author, how did you decide to step into the realm of topical beauty? 
Meredith Baird: My interest in food has always been holistic. You can't really look at what you put in your body and not look at what you put on your body. For me, when I became interested in natural foods, I also became interested in natural beauty and skincare. 
My personal health issues have also manifested themselves in my skin. The older I've gotten the drier and more sensitive my skin has become. About five years ago I really stared actively focusing on shifting that through diet and skincare regimen. Nucifera is a product of my experimentation, and discovery of what really works for me. 
Rip&Tan: What correlation have you noticed over time between what you eat and how your skin looks? 
MB: Everything. As someone who basically has 'good skin' in that I've never fought acne or anything visible, something in my body shifted around age 25 and now if I eat gluten, too much soy, sugar, or even eat too clean without enough fat or protein, my skin gets very dry. 
On the positive side, eating a high raw, plant-heavy diet does give you a kind of naturally tan glow. I think the skin is a really interesting opportunity to pay attention to what is going on inside our bodies. So many people ignore it or think that it's a superficial thing to be concerned about, but that isn't the case. The skin is the external way our insides speak to us. 
Rip&Tan: What is your goal with Nucifera, and did you see a hole in the market for what you wanted to accomplish? 
MB: My goal with Nucifera is simply to share something really beautiful and clean with as many people as possible. I'm as much of a sucker for luxury cosmetics as any woman, but the problem is so much of it isn't clean at all—even products that are marketed as such. In truly natural skincare I see a gap in products that smell good and feel elegant. I have a very sensitive and refined sense of smell (if I do say so myself). My studies of food and especially wine have given me the ability to build essential oil combinations that are pleasant as well as detect if any oil is off or rancid.
What you eat and how your skin looks are so directly connected. I think people are starting to understand this. You can't be obsessed with diet and exercise and completely ignore your skincare. Keeping it simple and natural in both diet and beauty regime is so liberating! I want people to be excited about natural beauty, excited about the ritual of caring for your body, excited about taking a more natural approach. Taking the toxic out of skincare lightens you energetically and emotionally. It's so beautiful! 
Rip&Tan: What is it about coconut oil that you love topically? 
MB: I love coconut oil for its versatility and simplicity. It smells good and can be used from head to toe. It wasn't until I discovered the power of coconut oil that I really started to appreciate cleansing with oils—using coconut oil to remove eye makeup, wash your face, oil pull, moisturize your hair and scalp, your body, all of it. It works! It was really my gateway oil. Admittedly it doesn't work for me exclusively as a skin moisturizer, so from that I branched out and started incorporating other oils and butters.  
Rip&Tan: How did you set out formulating The Balm, your first product? 
MB: I've been making it for years as part of my own skincare regimen. People would always tell me I smelled good and ask what it was. Well, it was my little homemade concoctions. When I met my fiancé he was always fascinated by my experiments and really encouraged me to set aside the time to focus on creating a product. 
I created the formulation and he has the design/advertising skills, so it's the perfect combo. I really look forward to continuing to grow the line and refine the brand. 
Rip&Tan: How do you collect or source the wildcrafted ingredients that go into the formula as essential oils?
MB: Loads of research. Before we launched the product I made sure to source all the best ingredients I could find. The essential oils were really key for me. We use only Elizabeth Van Buren Essential Oils, which are therapeutic grade. They test every batch and it is analyzed in a laboratory using GC/MS (Gas Chromatograph/Mass Spectrometer). They were the first company in the US to do so. With the GC/MS analysis they guarantee the highest quality, correct chemotype, 100% pure essential oils. Most essential oils on the market don't uphold these standards. 
Rip&Tan: How do you recommend using The Balm? 
MB: My favorite way is to use it as a face wash and upper body moisturizer. I massage it into my face to remove makeup, and then I gently cleanse with a warm cloth or charcoal sponge. In the winter, I'll add a touch more for added moisture. Always make sure to moisturize your neck and chest. Massaging your face is so important to lymphatic drainage and cellular regeneration. You can use it all over though—I also love it in my hair! 
Rip&Tan: What are some of the benefits—both to the skin and otherwise—you notice with continued use of The Balm? 
MB: Skin texture, tone and improvements in skin pigmentation. It truly helps boost your skin's natural resilience. 
Rip&Tan: What can I look forward to trying next?
This year we will introduce an oil-pulling formula with coconut oil, essential oils and charcoal, and a lube with coconut oil, cacao butter avocado oil and schizandra berry. I decided on the other products because good skin, a healthy, clean mouth and good sex seem like the only three things you need in life! In 2017 we're preparing for a Nuci Baby line, because we're en route to becoming parents in the fall. 
Photo: Brittany Wood