Living
Celebrating Motherhood: Nicki Sebastian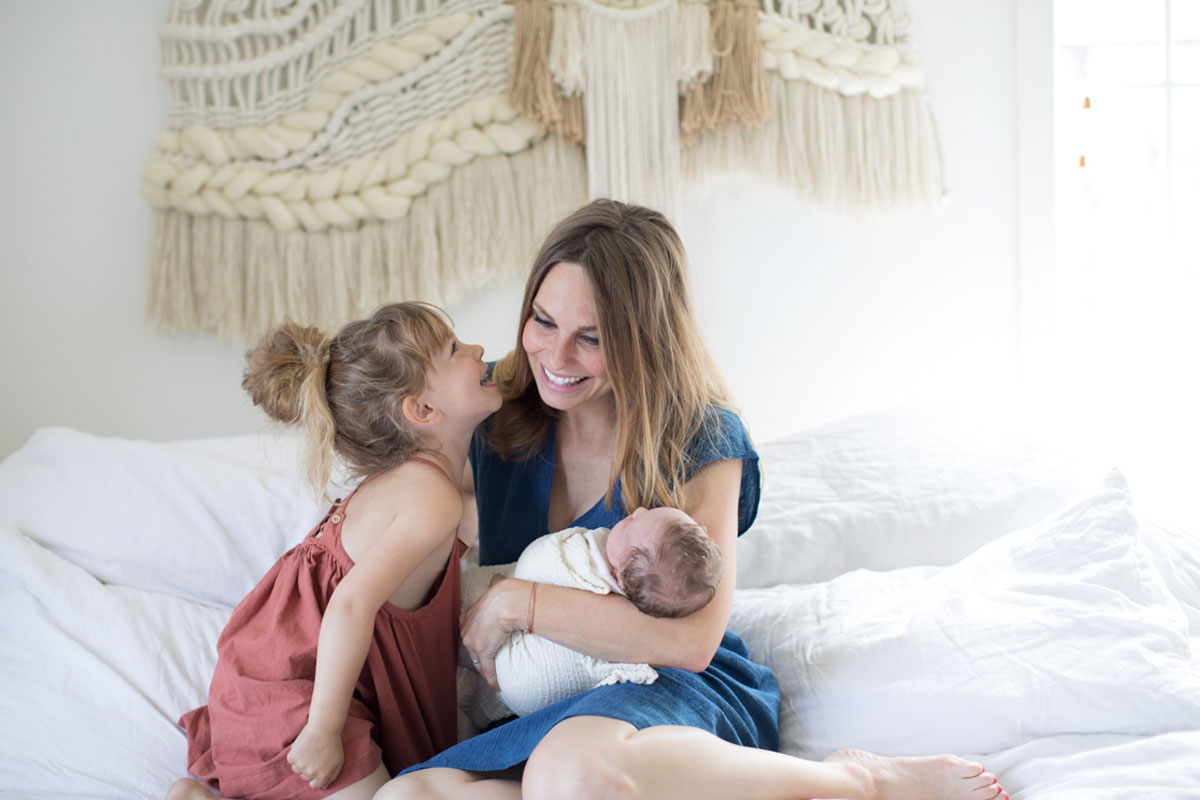 Up today in our Celebrating Motherhood series is one of the wonderful photographers we work with, Nicki Sebastian, who just had her second baby a few weeks ago. Nicki is an incredible mother and all around warm person, and I thought she would be perfect for this series. Adjusting to life with two children is always a challenge and Nicki is handling it with grace and good humor. I love the community Nicki has created and that she takes full advantage of living in Los Angeles by heading to the beach with her family as often as possible. Read on for more joyful rituals and parenting real talk from this talented woman and amazing mother of two. XXJKE 
Rip & Tan: What are your kid's full names and ages? How did you choose these names? 
Nicki Sebastian: Camila Rae (4 years) and Cecelia Lou (4 weeks). Choosing a name for both girls proved to be more challenging than we thought. My husband and I have very different tastes, so finding a middle ground was quite the feat! Spanish is Roni's family's main language, so we wanted names that reflected their Chilean background, and we also love names that come with nicknames (Cami and Cece). The girls' middle names are from my family—my father's name is Ray and my grandfather was Louis, and my mother and I both have the middle name Louise—so we shortened Cece's to Lou to match Cami's one-syllable middle. So much to think about when outfitting a human with something they'll have for the rest of their lives! 

Rip & Tan: What are some things you love most about being a mother?
NS: I absolutely love the responsibility of imparting knowledge and life experiences to another little human—and conversely, I love the endless learning as a parent that comes from raising children. Watching their brains tick as they reason through something, or seeing their eyes light up when they grasp a concept is honestly one of the most magical experiences to me. Even the little infant milestones, like a first smile or coo, are seemingly life-changing—especially after weeks and months of screaming and sleep deprivation!
Rip & Tan: What surprised you? What challenges were you not expecting?
NS: I've always been stubbornly independent, I'm admittedly not a great team player, and control is basically my middle name—so before becoming a parent, I assumed that I could, and would, manage most every part of motherhood singlehandedly. I've never been more wrong in my life. I was honestly surprised by the truth behind the age-old saying, "it takes a village." After having Cami, I needed to learn to be okay with asking for and accepting help from our friends and family. I also didn't expect the physical and mental strain of motherhood. I've pulled all-nighters in college and grad school, I've run marathons, and I've taught kindergarten and second grade and was a nanny for years as well—so I always assumed that motherhood would just be a natural extension of those experiences. Wrong again. Nothing prepares you for this role—and even the second time around has proven to be just as difficult in many ways. But all that said, it's pretty remarkable how we as parents rise to these challenges and power through all the hardships for the sake of our children. The love we have for our kiddos is so indescribably powerful—it makes you a superhuman in so many ways.
Rip & Tan: What do you worry about as a mother? Conversely, what do you tend to let go?
NS: I'm a total worrywart by nature, and honestly, there's very little that doesn't make me anxious, especially with the overabundance of information and opinions we have at our fingertips these days. It's so easy to overthink and over-Google every aspect of parenthood, but I'm really working on just trusting my gut and putting on my blinders when it comes to the decisions I make as a mother. I'm also learning to replace my anxiety with gratitude—this was a suggestion from a dear friend, and it really does wonders. Countless times a day I have to stop myself in the middle of my spinning what-if thoughts and just take stock of this beautiful life we've made for ourselves and count my blessings. 
Rip & Tan: How do you make time for yourself and your relationship with your partner?
NS: Right now, with a newborn in the mix, we're admittedly forced to put that partner time on the back burner. The new "date night" is basically just squeezing in some time with a glass of wine and a DVR'ed episode of John Oliver—and then I inevitably fall asleep on the couch anyhow. I'm longing for the days when we can get back to dinners out as a couple—heck, I even long for the days when dinner doesn't mean standing over the sink and frantically finishing my four-year-old's leftovers because the baby is about to wake up screaming!
Rip & Tan: How has your style or beauty routine changed since you became a mom? 
NS: I've always been a product junkie, and I've loved playing with makeup since I can remember. My beauty routine has pretty much stayed the same since the eighth grade—there's not a day that goes by where I'm not wearing my go-to cat-eye, even if I'm just home in my pajamas. That probably sounds a bit extreme, but it's the one thing that makes me feel like I kind of have it together despite the new-baby chaos that surrounds me. Clothing-wise, I'm still a jeans-and-tee gal, but I'm growing to love casual dresses because you can have a complete outfit in one step. Aside from my eye-makeup, the simpler the better!
Rip & Tan: Who is your mom crush? Who inspires you in terms or personal style and/or parenting style?
NS: I'm wholly obsessed with Cass and Ali Bird. Cass Bird is one of my favorite photographers, and she and her partner Ali are quite possibly the coolest moms ever—I don't know if I want to be just like them, or be their third child, ha! They unapologetically put it all out there, they have the best sense of humor, and their family dynamic is one of the most beautiful I've ever seen. Also, I would be remiss if I didn't mention my extraordinary mom friends who have been there for us in countless ways since welcoming Cece (and beforehand). I'm in absolute awe of these women—they're raising incredible families while running their own businesses and/or fulfilling creative pursuits, and they all make me want to be the best version of myself. Our family honestly couldn't survive without them.
Rip & Tan: What do you love to do in LA with your kids? Outside of LA?
NS: We moved to LA from New York just over a year ago, and we now live near the beach, which was a big motivation for our decision to uproot our lives and settle on the West Coast. So days off usually consist of parking ourselves by the ocean and exploring different areas along the Pacific—Leo Carillo State Beach, Point Dume and Topanga State Beach are our favorites. We also love hiking at Temescal Canyon; watching polo matches and picnicking at Will Rogers State Park; grabbing breakfast at Gjusta, lunch at Malibu Farm Pier Cafe, and dinner at Rose Cafe; eating ice cream at the new Jeni's in Venice; and for an extra-special treat, getting mama-and-me pedicures at Olive & June in Santa Monica. 
As far as excursions beyond Los Angeles, there are countless incredible weekend trips just a few hours beyond the city limits. We love Ojai—Bart's Books and In The Field are must-visits, and dinner outdoors at The Oak at the Ojai Valley Inn and Spa during those magical pink sunsets is an experience to behold. Cami also loved the San Diego Zoo and the Aquarium of the Pacific in Long Beach, and for an indulgent kidless getaway, Roni and I had an amazing stay at the Belmond El Encanto in Santa Barbara.  
Rip & Tan: What are your tips for traveling with kids?
NS: Start them young, and do it often (especially before you have to pay for an extra plane ticket)! Cami got her passport before she could hold up her own head (and threw up on the poor guy taking her photo), and we haven't stopped since. I think you just have to succumb to the fact that your kid will inevitably scream on the plane, vomit in an Uber, or lose their minds because your flights were delayed and it threw off their nap schedule—but every time we've dealt with some sort of challenge like this, there's been some good human(s) in our presence to help us out, or even just nod with an empathetic smile. Also, bring colorful washi and/or painter's tape for toddlers (this has kept Cami busy on flights for hours, and clean-up is fairly easy) and also pack ten times more snacks than you think you need.
Rip & Tan: What is your idea of the perfect Mother's Day? What would you do? What would you receive?
NS:A perfect Mother's Day consists of sleep (and lots of it!), buttermilk old-fashioned donuts from Blue Star (that's all I thought about while pregnant…and frankly, all I still think about), and a day spent with my husband and my girls. This Mother's Day we met friends at Santa Anita Park to watch the horse races, and seeing Cami's face light up when we arrived was one of the greatest gifts of all—horses are her greatest passion in life. I also cherish anything handmade from my little ones—kiddo art is the best art!
 Rip & Tan: What advice do you have for other moms out there? What mantras or tips have helped you the most?
NS: Do you. Seriously, only you know what's right for your children, and no decision you make, with your kids' best interests in mind, is the wrong one. From the moment of conception, there's a million ways to forge your path as a parent, and no one else should have the power to influence your journey. Don't let anyone's silly judgement get in the way of your inner-confidence—mama knows best, always. Also, find humor in the chaos, because sometimes laughter is the only way to make it through the day.