Living
Celebrating Motherhood: Beatrice Valenzuela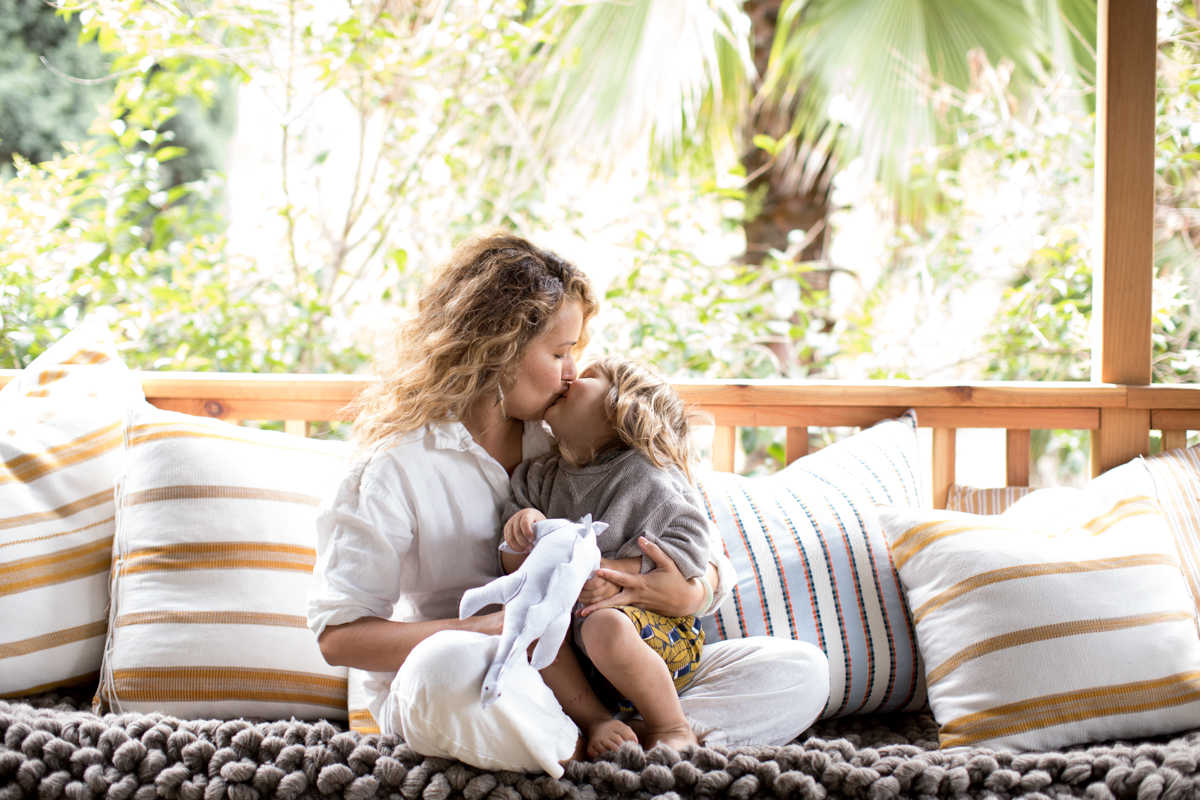 When we decided to launch our Celebrating Motherhood series in honor of Mother's Day, my friend and designer Beatrice Valenzuela instantly came to mind. Beatrice is one of the most stylish and down-to-earth mothers I know. On top of that, we will be carrying her gorgeous leather slides online and in our stores this season. I had been wanting to collaborate with her on a post for Rip & Tan anyway, so this series felt like kismet.
We photographed Beatrice with her son, Dimitri, in their dreamy Echo Park cottage one sunny afternoon and asked her a few questions about her kids, parenting style, self-care rituals, and more. I hope you enjoy her honest and helpful answers as much as I did! If you're in Los Angeles this weekend be sure to check out the Echo Park Craft Fair, which Beatrice cofounded with Rachel Craven. It's a great showcase of local and independent designers and just a fun way to spend an afternoon. XXJKE
P.S. we're having a Mother's Day Giveaway with RE/DONE, Bouqs, and Violet Grey! Enter the giveaway to win two pairs of RE/DONE jeans and tees, one year's worth of flower delivery of Bouqs, a $1,500 eGift card to Jenni Kayne, and a $1,000 gift card to Violet Grey. 
Rip & Tan: What are your kid's full names and ages? How did you choose these names?
Beatrice Valenzuela: Astrid Agustina Conder, 8 years old. We had a list of names we liked for her, but then I saw a photograph of a woman in Brazil standing in front of a river and bridge, and her name was Astrid. I said it out loud, trying out the sound, and Ramsey said, "that's it!". Later as I was having contractions holding on to my fridge, I looked up and the list was right in front of me. I was staring right at it. Then I grabbed a green pen and circled it. Agustina is my grandmother's name. Both of my children have their father's last name and I wanted them to have something of my family in their name. 
Dimitri Domingo Conder, 3 years old. Boy names are so hard! One day the three of us sat down on our bed and read names out loud from a name book. Once we got to the Ds, I read out Dimitri, and we all said at once, "that's it!' There never was a different option. Domingo is my grandfather's name, and Dimitri is the fourth in my family to be named after him. It's very common in Latin American culture to do this. I loved my abuelito so deeply, and it feels great for my son to have his name. 
Rip & Tan: What are some things you love most about being a mother?
BV: The cuddles and sweet kisses! Oh, I love being in bed or wherever and just going into our own little world of sweet nectar. Seeing the world through their new eyes is also so fascinating, refreshing and intriguing to me. It's most exciting when we travel somewhere and experience new things together. 
Rip & Tan: What surprised you? What challenges were you not expecting?
BV: My biggest challenge was becoming a mother of two. From the very beginning it was hard; being pregnant, owning two businesses (at that time I had just opened a store too), running the house, etc. My lover and life partner Ramsey Conder was working a ton and I felt so overwhelmed! Everyone said it would be hard, but it was REALLY hard. I felt exhausted from nursing and lack of sleep. Once Ramsey left his job and started working from home everything changed. He is very hands on, helpful around the house, and supportive towards me and everything to do with making my dreams come true as an individual. We work really hard on making a dynamic where both of our needs are met. At times it is very difficult, but it's important to the quality of life we build together. 
Rip & Tan: What do you worry about as a mother? Conversely, what do you tend to let go?
BV: I am not too much of a worrier, but after the election I became seriously concerned about racism towards my children. I've experienced it my whole life, but I believed, wrongly as it turns out, that times were changing, and that they would not have those experiences. When it happened the first time while Astrid and I were having sushi for lunch in Pasadena, I FREAKED OUT. We sat next to some men spewing hate towards "Mexicans." I was horrified and asked to be moved immediately. I felt very unprepared at that moment. Since then I have been doing so much work to learn how to bring this up to my children. I want to empower them with the tools they will need when it comes up in their lives, because I am 100% sure that it will. 
I let go of many things. They don't have a bath every night, they don't have to wear shoes unless it's unsafe or not allowed. I don't brush their hair all the time, and they can stay up if we're up late on the weekends. It's already so hard to be a parent and live life—why make it harder on yourself? Some wise person said once, "Choose your battles." Though I am aware that depending on your socioeconomic status, sometimes letting go of these simple things might not work for you. It's a privilege to not have to care about your child being a bit grimy or unkempt. 
Rip & Tan: How do you make time for yourself and your relationship with your partner?
BV: Making time for myself and my relationship only happens when it's planned in advance. It is very rare for it to happen spontaneously, because of child care. We don't live near family, so I have gotten in the habit of planning ahead. At first it felt like it was cramping my style. I always saw myself as a free being that could do and come as I pleased, but then I realized my life had changed and I needed to work a little bit to get the candy! In my calendar I book spa dates, romantic dates, and dates with my girlfriends. I also book dates with Astrid where we go have brunch, get our hair blown out or get our nails done. Last month we went to see "Beauty and the Beast", and then to high tea with her best friend and mom. It was so lovely and dreamy. 
Rip & Tan: How has your style or beauty routine changed since you became a mom? 
BV: I do less pampering, but I still do it. I love taking baths, and I'll deep condition my hair and do a mask. I love Shiva Rose's honey nectar mask and scrubbing my body with her green siren lemongrass scrub. It's heavenly—until one of my children bursts through the door and jumps in, totally changing the vibe! 
I book days at the Korean spa and love getting a good facial at Detox with Jannette. The last one was perfection. It was a combination of microdermabrasion and oxygen. It lifted my spirit, and I felt very taken care of. 
Rip & Tan: Who is your mom crush? Who inspires you in terms or personal style and/or parenting style?
BV: My dear friend and EPCF (Echo Park Craft Fair) partner Rachel Craven. She makes a beautiful home for her boys. She is so patient with them and makes them food they like to eat. She also plans beautiful adventures for them like going on lovely hikes and dreamy beach days. Our children love each other, and we get to experience this when our families get together. This weekend we are spending it in the desert. We will drink potions, cook together, and go on hikes. Astrid is already planning to sleep over at their place. She is really an incredible momma.
Rip & Tan: What do you love to do in LA with your kids? Outside of LA?
BV: In LA, I like to take them out to eat really good food. We especially like Korean BBQ, Mexican and raw oysters on the half shell—that is a very special treat. We go see movies and visit museums. Dimitri loves the Natural History Museum and Kid's Space since he's obsessed with dinosaurs. We like hanging out at our home too. It's pretty lovely here. It's attached to their tree house; or I guess the tree house is attached to our house.
I really like getting out of LA. We have a little trailer in a piece of land in Pioneertown that we love glamping in. We also visit Ojai and go camping nearby to Lake Casitas or the Kern River. It's most exciting when we can leave the country and really go away. We were just in San Pancho Mexico for spring break and planning to go to Europe this summer.
Rip & Tan: What are your tips for traveling with kids?
BV: Helping your children be independent will only help your travel experience. We have our traveling routine down. Very early on I taught Astrid how to pack her own bag*. I mean, you should interview her about how to pack! She's quite good at it. We always double check it and it's very rare that she's missed something. 
While you are en route, the most important thing is to keep everyone fed. Take breaks to have a cocktail or a tea. And bring good things to read or listen to. 
We try and check most of our bags and just carry on a bag each with our essentials. In my Agnes Baddoo canvas bags you will see: Two light blankets. Heather Taylor makes the best ones; they work as towels, picnic blankets, and more. Two magazines. Usually fashion titles. I pick them up 2 minutes before I hop on the plane. Dry snacks for everyone. Moon Juice Spirit Dust sachet. In case I start getting unruly. Earth tu Face rose and aloe toning mist. I spray this as often as possible. I always ask my neighbor if they'd like a spritz; it really helps the vibe. Passports. Phone charger. Mini Clare V pouch with some beauty essentials. Mascara, cream blush, eye cream, and lipstick. It always helps to freshen up. Hand cream. Tata Harper makes a very good one. If I start getting anxious I rub it on and that soothing act chills me out. 
If we are traveling by car, then we take our van. Ramsey has really made that car comfortable for travel. I don't believe in 'roughing it", why? Life is going to throw you roughness, at least bring your pillows and linens! There's a fridge in there so I stock it with our favorite things like, pickled veggies, aged sausage, champagne, etc. We keep a bag near us filled with dry snacks and fruit. The rest is the same as when we go by plane. 
Rip & Tan: What is your idea of the perfect Mother's Day? What would you do? What would you receive?
BV: The perfect Mother's Day is to have a beautiful weekend at our Echo Park Craft Fair. We plan our event 4-5 months in advance and always have it on Mother's Day and the second week of December.  It is so wonderful to see so many of my loved friends and community enjoying the fruits of our labor. 
During EPCF I love eating the food and drinking several Pharmacie cocktails! It's so lively and vibrant and it fills me with joy and inspiration every time. I always get to pick something made by a friend and colleague as a gift from my family. I love it.
Rip & Tan: What advice do you have for other moms out there? What mantras or tips have helped you the most?
BV: Self-care is very important for your whole family dynamic. An under resourced mom is not fun to be around. We could all agree on that, right?
I'll share with you my morning routine. It might be for you or maybe not. First thing in the morning I take my probiotics, a pack of typo-spheric vitamin C and B complex plus, then I make a delicious potion using goodies from Moon Juice. It is my ritual. I make two thermoses that I drink all throughout the day or I'll share with whoever needs it (get the recipe below)! 
Be kind to yourself. It's ok to apologize after messing up. Your family will forgive you. 
Stay passionate. Follow your bliss. Dance (even just in your kitchen). Dress up. Wear lipstick. 
Do the things that make you be an individual. Don't be afraid to fail. Try something new. 
REACH OUT AND GRAB IT!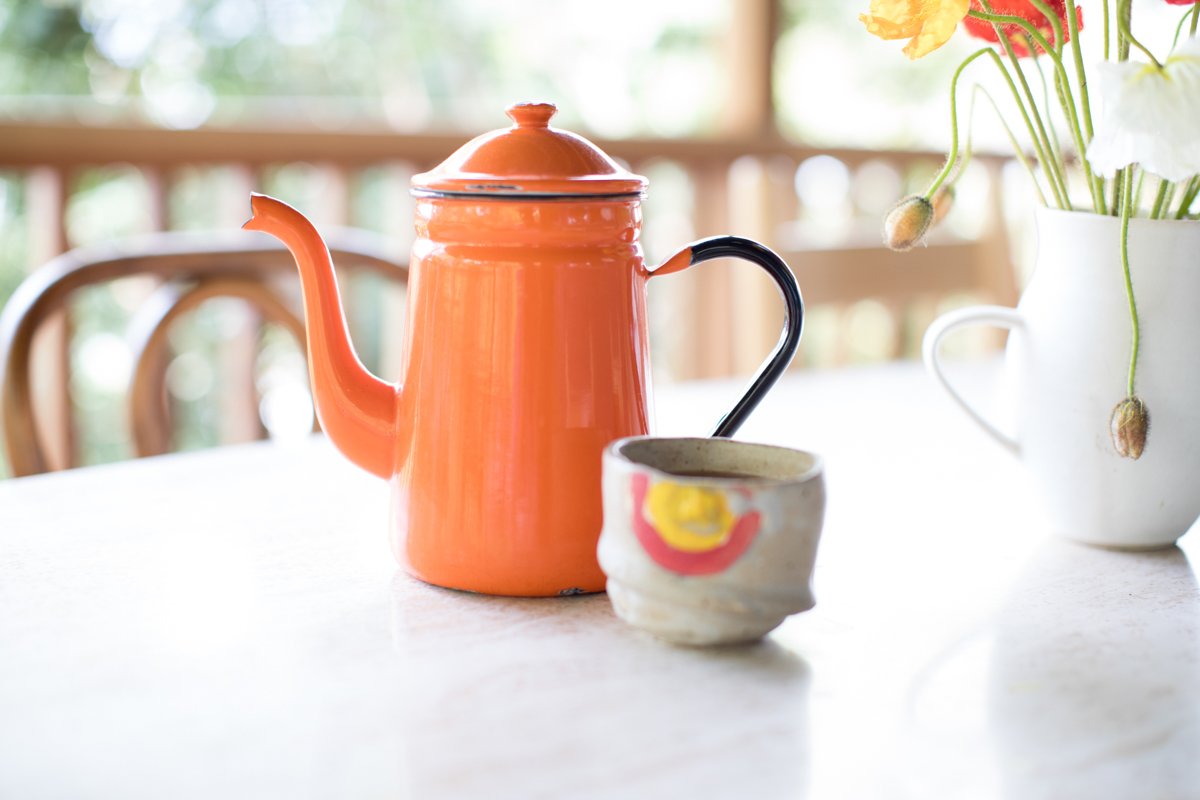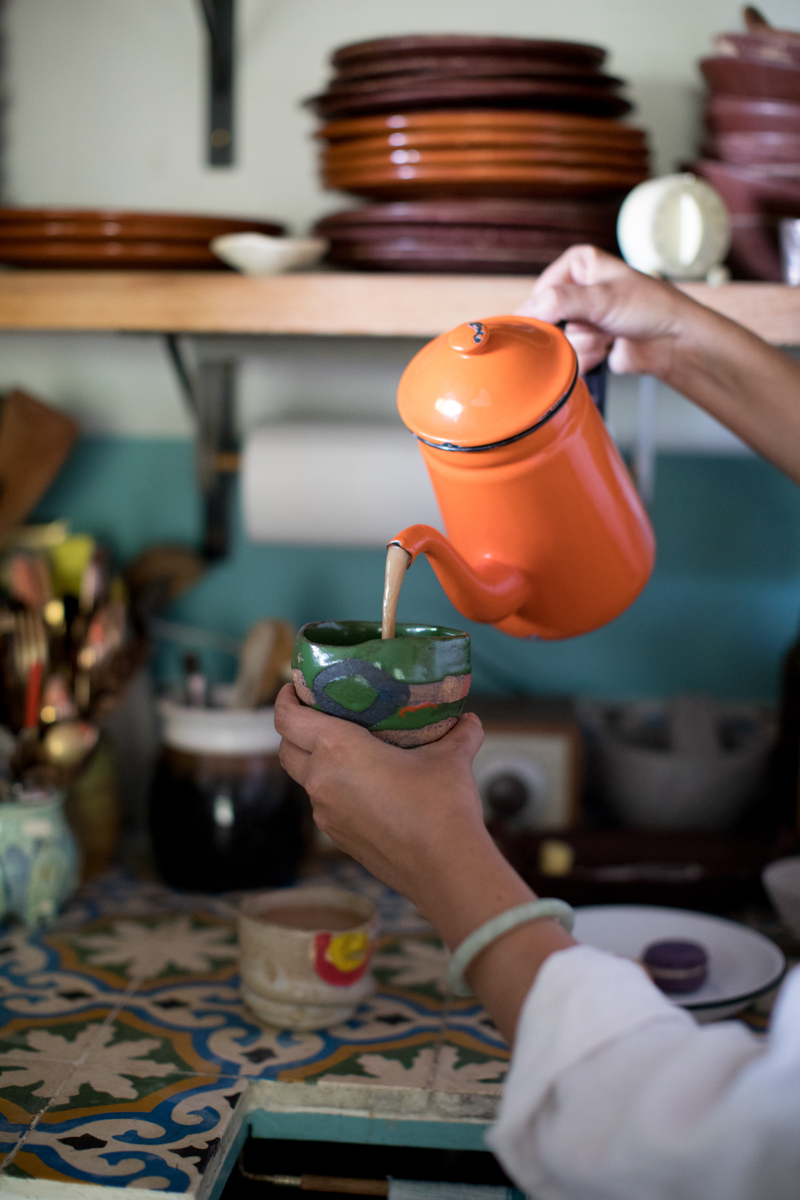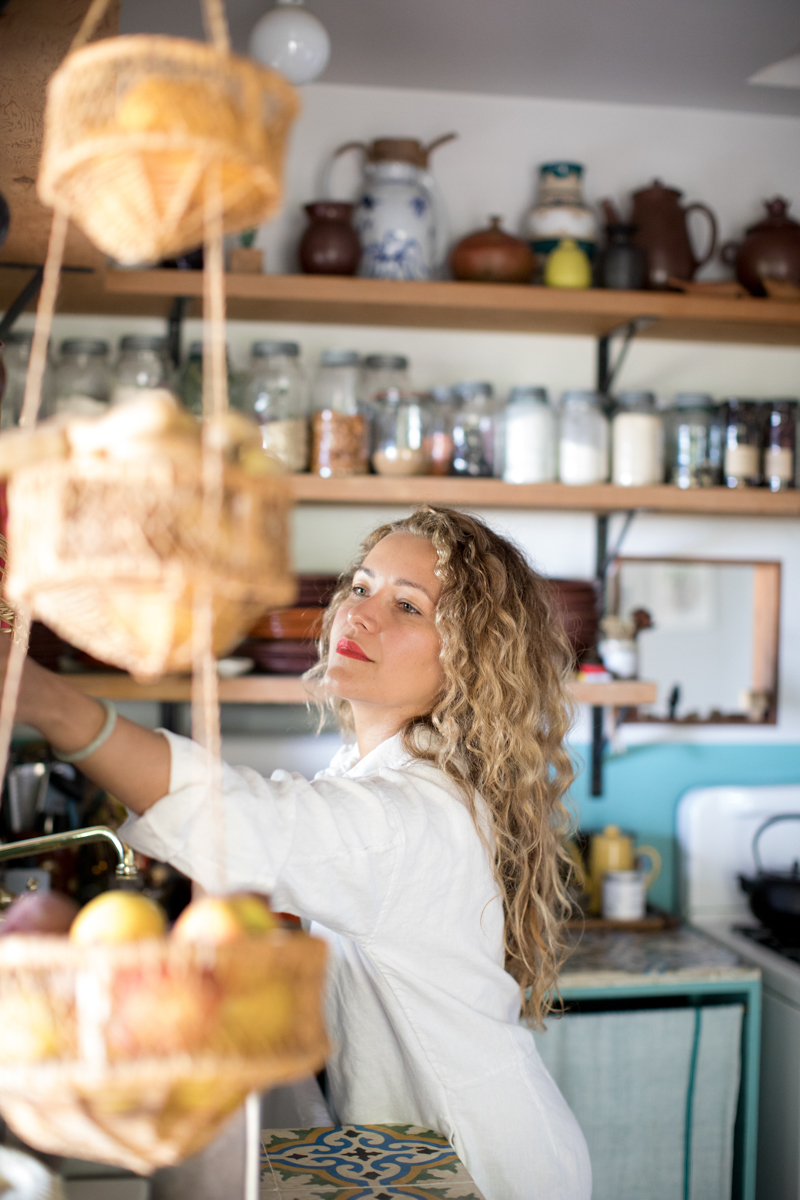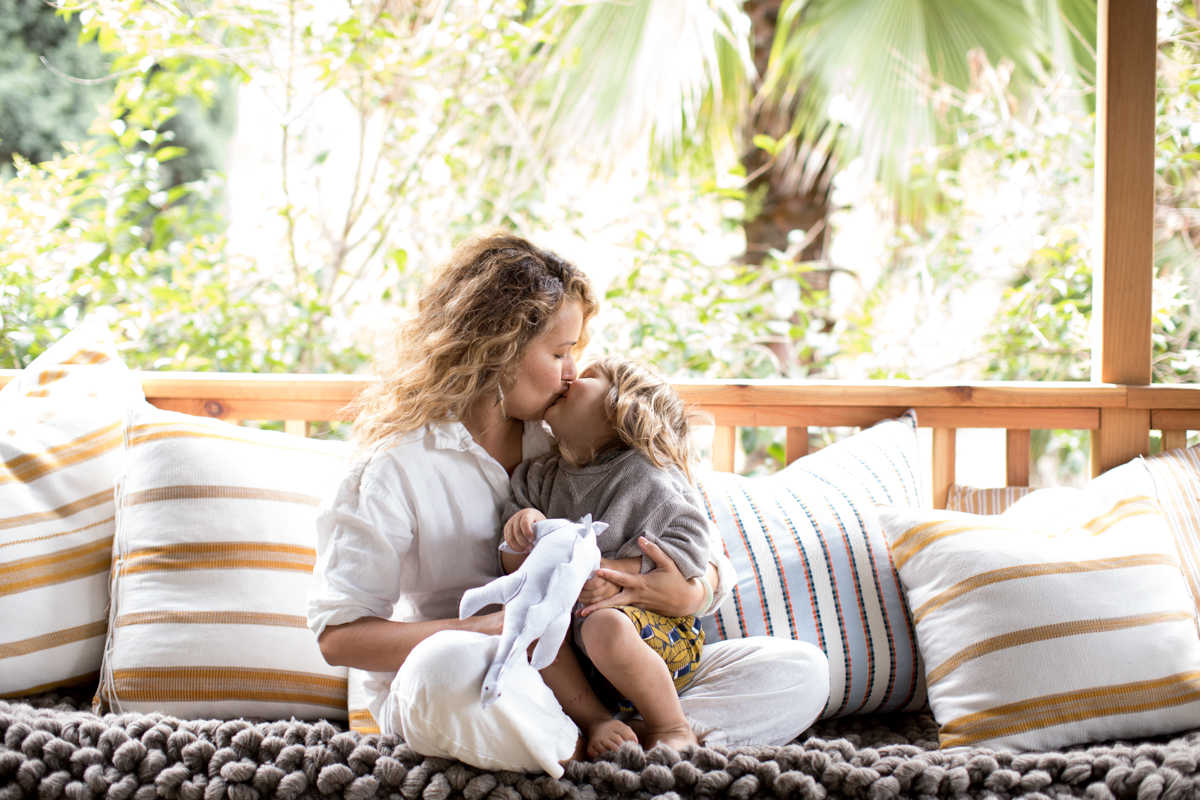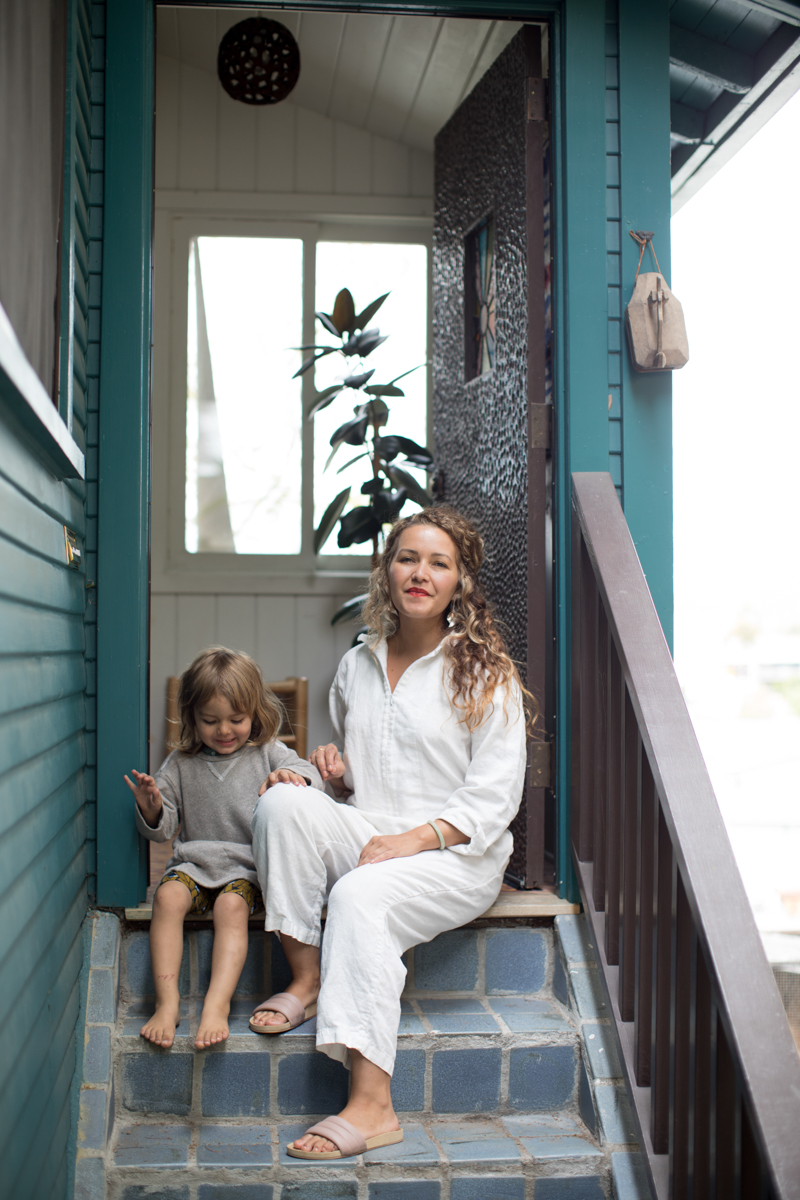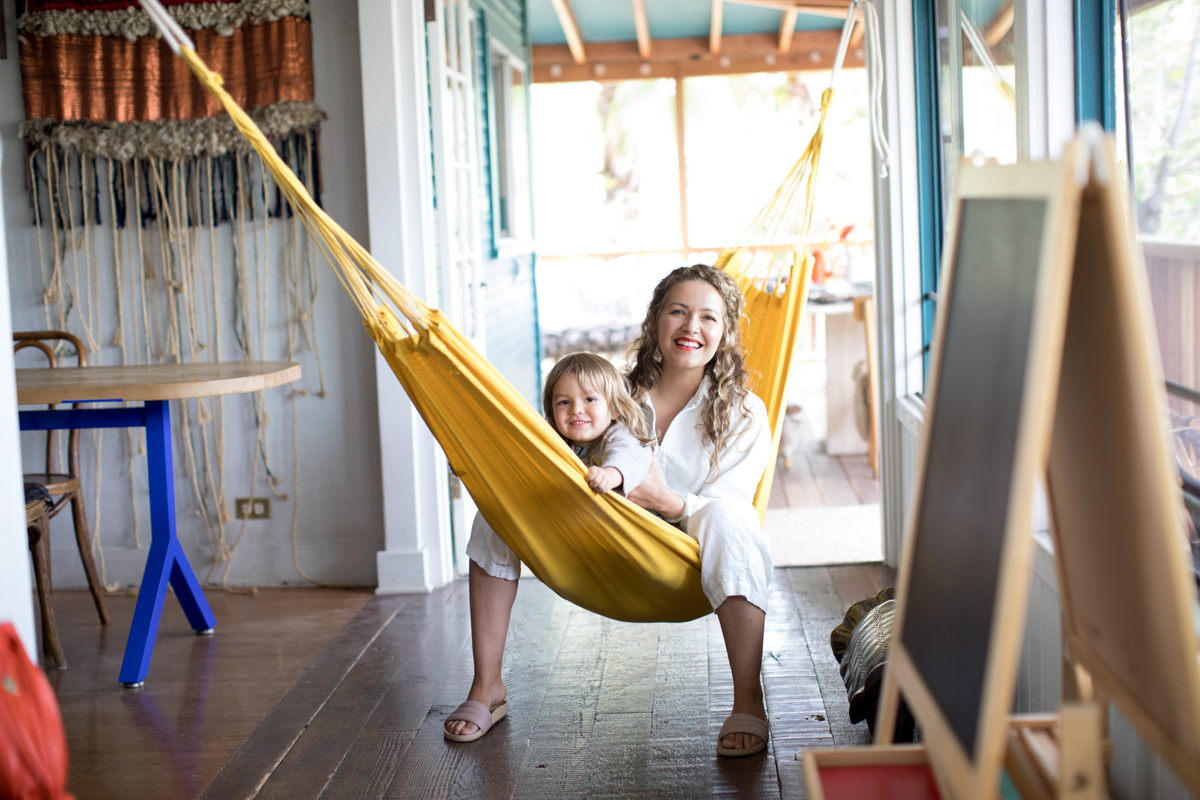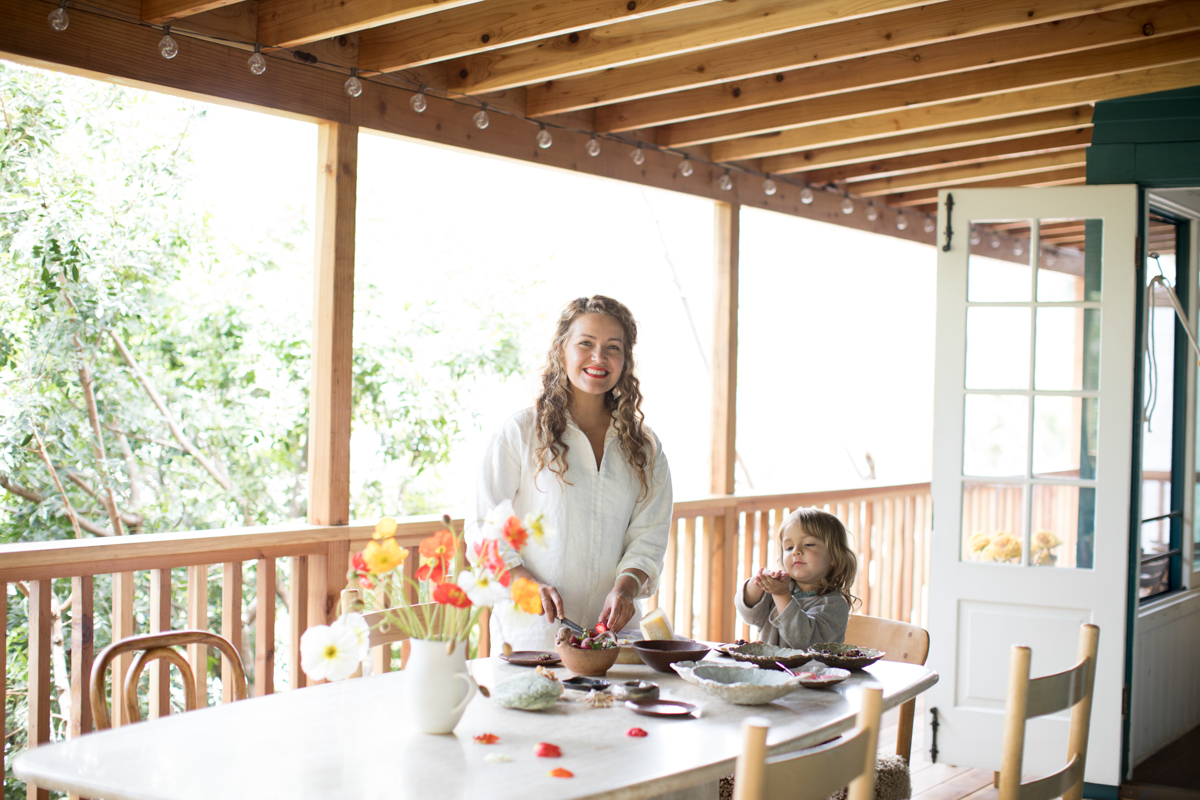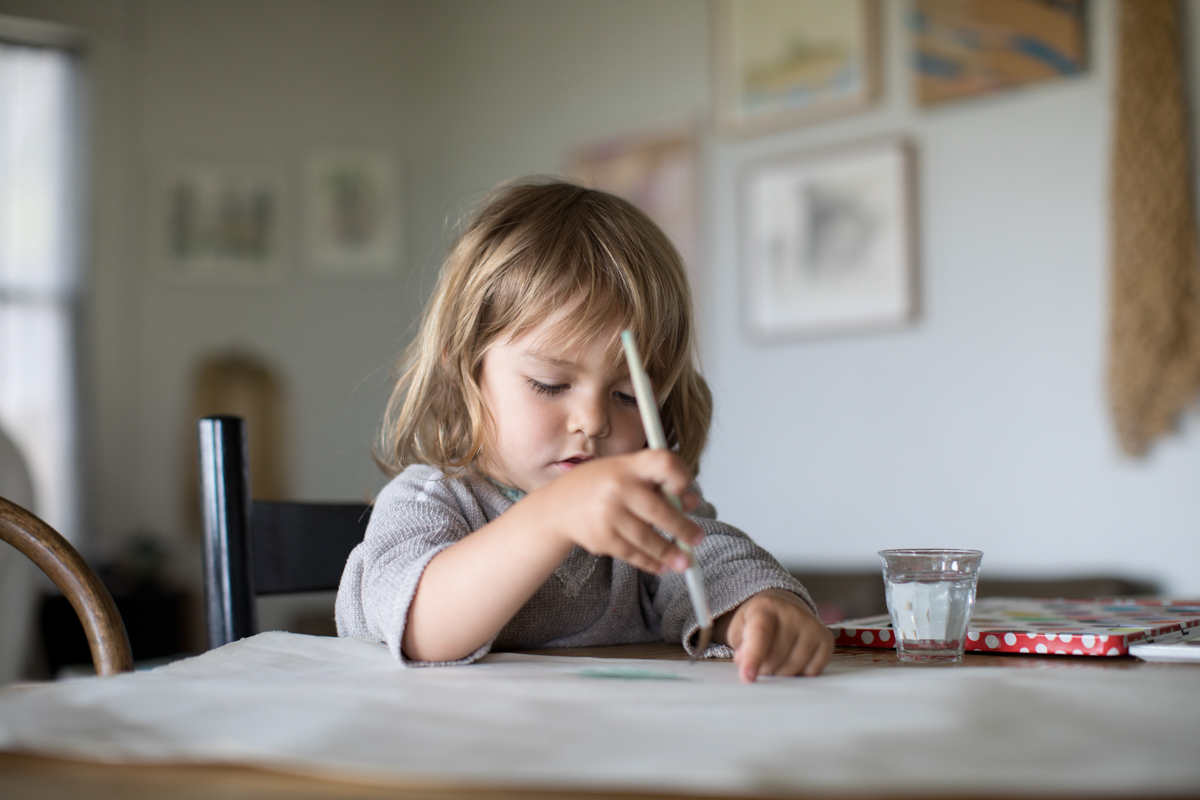 Servings: Serves 5
Units:

Course: Drinks
Ingredients
5 cup

1183 ml

hot water
2 heaping teaspoons Blue Lotus Chai
1 teaspoon Ho Shou Wu
1 teaspoon pearl powder
1 teaspoon Moon Juice Spirit Dust
1 teaspoon Moon Juice Power Dust
1 teaspoon Moon Juice Brain Dust
1 heaping tablespoon almond butter
1 tablespoon California honey
1 teaspoon bee pollen
3 full droppers bulgarian rose water
1 pinch vanilla bean powder
1 pinch pink sea salt
2 pinches ground up cardamom
Blend everything for 20 seconds in a blender and enjoy.
More Stories