Food & Drink
Candace Nelson's Vegan Red Velvet Cupcakes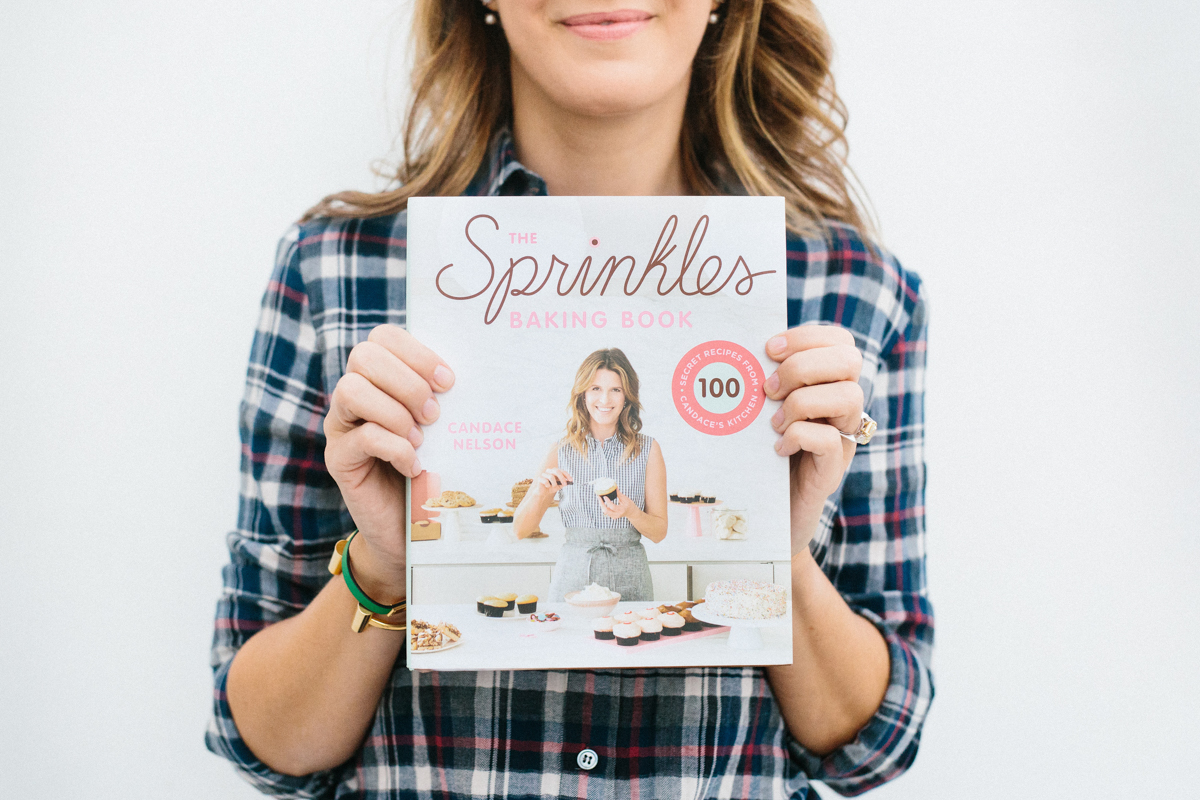 Earlier this week we shared the décor details from our rustic Italian dinner with Lauren Bush Lauren of FEED and Candace Nelson of Sprinkles. The dinner took place in Candace's backyard with food from her soon-to-open restaurant in Brentwood, called Pizzana. But Candace is also celebrating another career milestone this fall: The launch of her first cookbook, called The Sprinkles Baking Book: 100 Secret Recipes from Candace's Kitchen. If you've been to Sprinkles, you know this compilation was a long time coming; Candace's sweets have a serious cult-following.
In celebration of the launch of the book, Candace was kind enough to share her recipe for vegan red velvet cupcakes with us. We also caught up with the pastry chef on what she loved about putting the book together, what makes it different than other baking books, and more. Enjoy! XXJKE
Rip & Tan: When did you first think about publishing a cookbook?
Candace Nelson: I collect cookbooks, I have shelves and shelves and shelves of them, and I have always wanted to write my own eventually. For the past eleven years I have been focused on growing Sprinkles, and raising a family, which has left me little time to devote to extra projects.  I had several people approach me about doing a cupcake cookbook, but it never was the right time for me.  Then, finally, two years ago I decided I was going to do it "for real" and that it would be more than just a cupcake cookbook. 
Rip & Tan: Tell us about the process of putting the book together. What was the most enjoyable aspect? What was a surprising challenge?
CN: I absolutely loved my team! It's so invigorating to work with great people and I worked with the best on this project. My co-writer, Adeena Sussman, is truly one in a million. And my photographer Amy Neunsinger had such an incredible vision for this book. My editor, agent, food stylist, recipe testers…I was surrounded by talented and positive people every step of the way.
I know this sounds absurd, because I LOVE desserts, but having to taste-test desserts all day long was sometimes hard work! I believe in moderation; in fact, the idea of moderation is what Sprinkles is based on—a cupcake is actually a portion controlled cake! Fortunately, now that the recipe testing for my 100 desserts is over, I can go back to coveting my daily dessert again!
Rip & Tan: How does the Sprinkles book compare to other baking bibles (other than the focus on cupcakes)?
CN: People sometimes ask me if I can believe how much Sprinkles has grown, or how far I've come. The question is always tricky for me to answer because I never have an opportunity to reflect on what has happened; I'm just trying to manage what is coming next!  Writing this cookbook forced me to sit and reflect on everything that has happened to get me to this moment.  To have that opportunity was rewarding and, as a result, the writing in this book is very personal.  
Beyond that, the lifestyle photography was all done either in my home or at the original Beverly Hills Sprinkles, which adds to the personal feeling of the book.

Rip & Tan: Who would you recommend the book for? Do you have to be an experienced baker to appreciate these recipes? 
CN: This is a must-have for anyone who is a Sprinkles or a Cupcake Wars fan, but beyond that, it's for anyone who likes to bake! The recipes reflect my own baking style which is simple, fuss-free and elegant with a focus on classic American desserts (with a modern update) and also includes recipes from a few Sprinkles friends, like Reese Witherspoon and Julia Roberts. There are loads of traditional cupcakes, bars, layer cakes, candies and pies, as well as a few more "virtuous" dessert recipes such as Pamela Salzman's grain-free apple cake—perfect for snacking—and Jessica Alba's gluten free/vegan "I'm in Love with the Coco" dessert—ideal for an elegant dinner party.
Rip & Tan: Between this and your new restaurant. Pizzana, you must have a full plate! How have you managed to juggle everything? 
CN: In a perfect world, I would love to have every project and deadline spaced out perfectly, but in the real world, when it rains it pours! The release of my cookbook is very nearly coinciding with the opening of my new pizzeria in Brentwood, Pizzana. I definitely have a full plate right now, but am lucky to have a very supportive husband and kids who have a pretty good understanding of what being an entrepreneur can sometimes mean. Oh, and I have an espresso machine built into my kitchen that is running all day long. 
Rip & Tan: Can you tell us a little bit about your new restaurant?
CN: If it's a carb, count me in! I'm going from cupcakes to pizza, with a new Neo-Neapolitan pizzeria in Brentwood. Our chef is Naples-born master pizzaiolo Daniele Uditi who allows his dough to rise for a full 48 hours, resulting in a light crust that is easy to digest.  His gluten free and vegan pizzas are also amazing! The menu will include salads, wood-fired vegetables, antipasti and a selection of Italian and California wine and beer—and I am creating the dessert menu!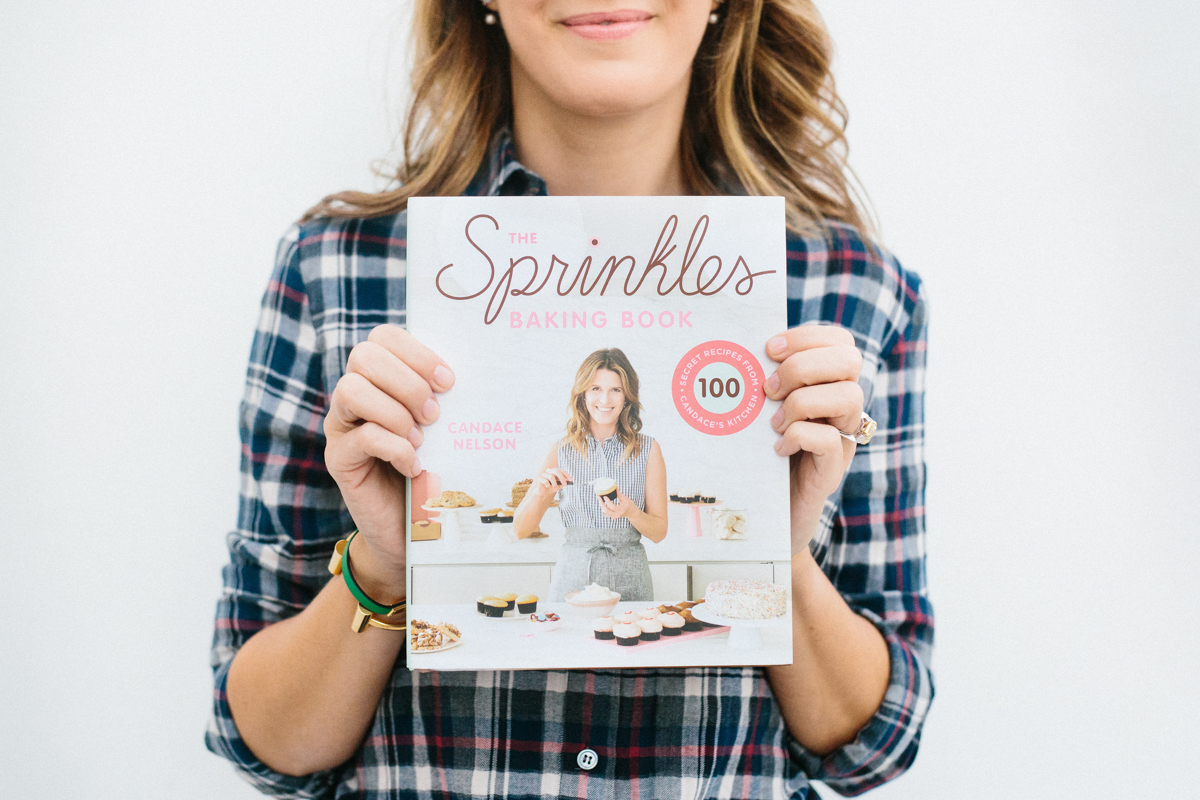 Candace Nelson's Vegan Red Velvet Cupcakes
Recipe
Candace Nelson's Vegan Red Velvet Cupcakes
Servings: Makes 12 cupcakes
Units:

Course: Desserts
Cuisine: American
Ingredients for the Cupcakes:
1 1/2 all-purpose flour
3 tablespoons unsweetened cocoa powder
3/4 teaspoon baking soda
3/4 teaspoon fine sea salt

2/3 cup

158 ml

sweetened plain soy milk
1 1/2 teaspoons distilled white vinegar
1 teaspoon pure vanilla extract
3/4 teaspoon red gel food coloring

2/3 cup

158 ml

coconut oil

1 1/4 cup

296 ml

coconut palm sugar

1/2 cup

118 ml

sweetened applesauce
Ingredients for the Vegan Cream Cheese Frosting:
1 (8-ounce) container vegan cream cheese (such as Tofutti, slightly cold)
3 3/4 cups (1 pound box) confectioners' sugar sifted

1/4 cup

59 ml

coconut oil melted to liquid form, but not warm
1/2 teaspoon pure vanilla extract
1/4 teaspoon fine sea salt
For the cupcakes:
Preheat the oven to 350°F. Line a 12-cup cupcake pan with paper liners.
In a medium bowl, whisk together the flour, cocoa powder, baking soda, and salt. In a small bowl, stir together the soy milk, vinegar, vanilla, and food coloring.
In the bowl of a stand mixer fitted with the paddle attachment, beat the coconut oil and coconut palm sugar on medium-high speed until light and fluffy, 2 to 3 minutes. reduce the speed to medium-low, add the applesauce, and beat until creamy, 1 to 2 minutes. Slowly add half the flour mixture, then the soy milk mixture, then the remaining flour mixture, beating until just blended after each addition.
Divide the batter evenly among the liners and bake until the tops are just dry to the touch and a toothpick inserted into the center comes out clean, 16 to 18 minutes. Transfer the pan to a wire rack and cool completely before frosting with vegan cream cheese frosting.
For the vegan cream cheese frosting:
In the bowl of a stand mixer fitted with the paddle attachment, beat the vegan cream cheese on medium speed until light and fluffy, 1 to 2 minutes. Reduce the speed to low and gradually add the confectioners sugar, 1 cup at a time, until incorporated. Slowly add the liquid coconut oil until creamy. Add the vanilla and salt, increase the speed to medium, and beat until fully blended, 1 to 2 minutes, being careful not to incorporate too much air into the frosting.