Style
Baking with Cannelle et Vanille's Aran Goyoaga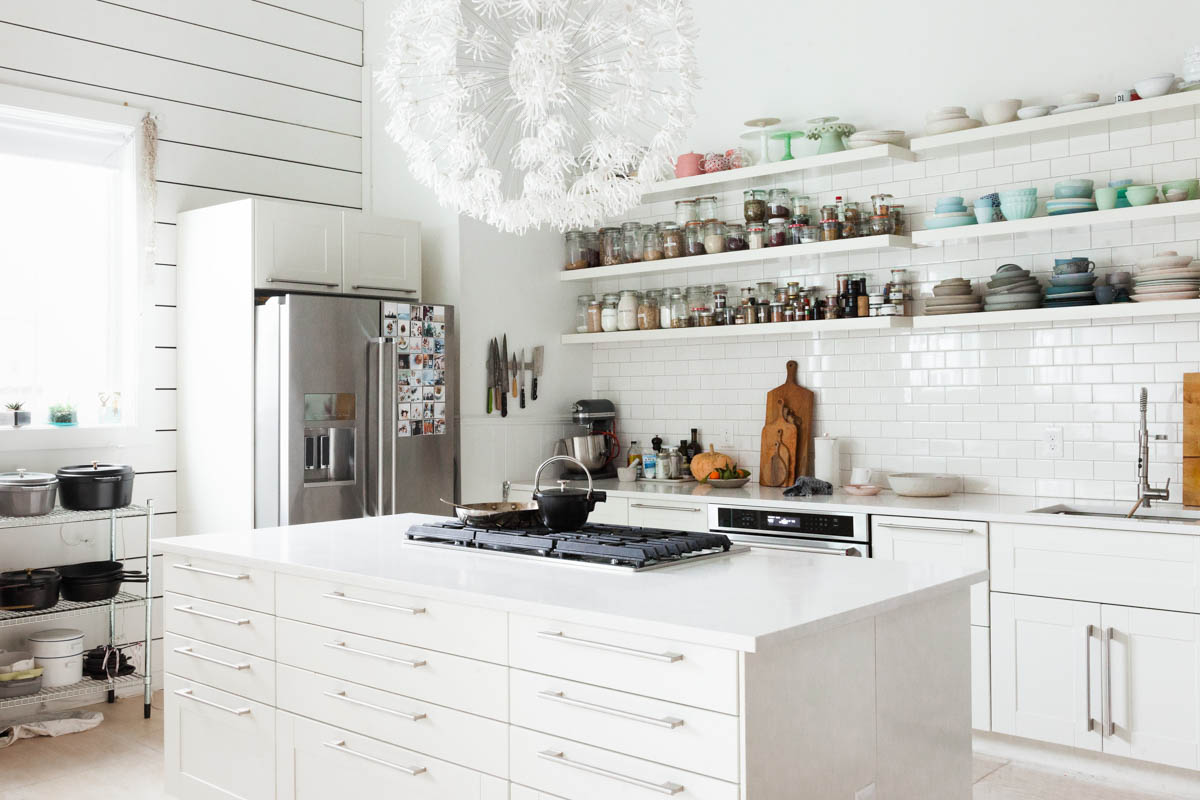 On a recent visit to Seattle, we stopped by Aran Goyoaga's inspiring light-filled studio to talk food, living simple, and cooking as a meditative practice. This Seattle-based photographer, food stylist, James Beard Award winner and Basque country native runs one of our favorite blogs—Cannelle et Vanille—and authored Small Plates & Sweet Treats: My Family's Journey to Gluten-Free Cooking. She's also working on another book set to be released next year based on her video series "A Cook's Remedy," which deals with the emotional relationship she— and so many of us—have with food. As we chatted about her background and personal philosophies, Aran was making a caramelized apple galette. We love beautiful, simple desserts, and she graciously shared her recipe. Read on for our interview with Aran and try your hand at the galette—it's undoubtably photogenic. XXJKE
Rip & Tan: Thank you so much for having us at your beautiful studio! What are some of the most important elements you considered in creating your workspace? What colors or materials are you drawn to? 
Aran Goyoaga: It took me a long time to find a studio in Seattle that had beautiful light, plumbing and gas already installed. Many artist spaces in Seattle were pretty rudimentary and many didn't have water or gas. I knew I wanted a blank canvas so I painted it white with wood floors that were also painted. A space only feels balanced to me where there is a mix of materials so I tried to keep that in mind. The floors are painted wood, countertops are stone, there is subway tile as a backsplash, lots of earthy ceramics, torn-up leather sofas covered with sheepskin, wood tables and chairs, and paper lanterns. 
Rip & Tan: We especially loved how organized you keep your pantry—do you have any tips for keeping a pantry clean and orderly?
AG: Ingredients are a bit of my obsession. I love collecting and making different dried herbs, salts, dried flowers…. I think the key is to have everything in glass jars so I can see what I have. Everything is labeled and on display so I see what needs to be used or what I am running low on. Open shelves can get a bit dirty in a kitchen so it does take a bit of discipline to keep them clean but I enjoy the process, which allows me to keep good track of stock too. Plus it looks beautiful and calm.
Rip & Tan: Your food photography creates scenes that look effortless and beautiful, yet it's clear each detail is thoughtfully considered. What visual elements do you pay attention to most when presenting a dish or setting a table? 
AG: I am all about simplicity. I think a lot about the texture of the recipe instead of adorning with props. I'd rather focus on the recipe so I spend time thinking about cooking and plating. Surfaces are really important as well as ceramics, but overall my aesthetic is very simple.
Rip & Tan: How has growing up in the Basque Country informed your relationship to food? Are there any dishes, customs or philosophies from your upbringing that have stuck with you throughout your career?
AG: Well, I grew up surrounded by people who cooked. My maternal grandparents, great uncles, uncles and aunts, and cousins were all pastry chefs. I grew up across the street from my grandparents' pastry shop so there was no escaping cooking, the love of food, and the attention to detail that most pastry chefs have. Quality and simplicity are the utmost important component of Basque cooking, which I think is why it's hard to replicate in other parts of the world because it depends specifically on how something that has been grown on a specific hill that faces specific direction tastes like. I think Basque cooking is very subtle, which is definitely how I view my style of cooking and my work overall.
Rip & Tan: January is wellness month here at Rip + Tan, and we've been focusing on the ways we find balance in our everyday lives. Do you have any advice for those who are looking to approach cooking, baking, and eating in a more health-conscious way?
AG: I think it goes beyond recipes. It's about where we shop, how we feel as we are cooking and certainly how we feel as we are ingesting. To me wellness is very much about focusing my perspective into the outmost positivity and surrender. So I try to start the day grounding myself through meditation. I give gratitude to all my organs for giving me health. I visualize my day in relation to others, my surroundings, my work. I set an intention that hopefully lasts within me in the day. That might sound esoteric but truthfully it sets the tone for how I view everything around me.
Also, I try to remind everyone that sees my life from the exterior that cooking and baking are my job so of course that is how I spend my days. Not everyone has the time that I do, so try to not compare yourself to others. But I do think the act of cooking and baking are universally grounding. I highly recommend it for those who suffer from anxiety. And for most people with busy lives the key is to plan. I shop at the farmers market on Sundays and buy most of the things I will need for cooking for my family during the week. I make a lot of basic stews and soups. Things that are good for you and easy to reheat. View food as what fuels your cells and organs. Just the simple act of visualizing this will stop you from making bad food choices that will not strengthen you. So plan, keep it simple, and remember that the ultimate goal is to satisfy you and your body.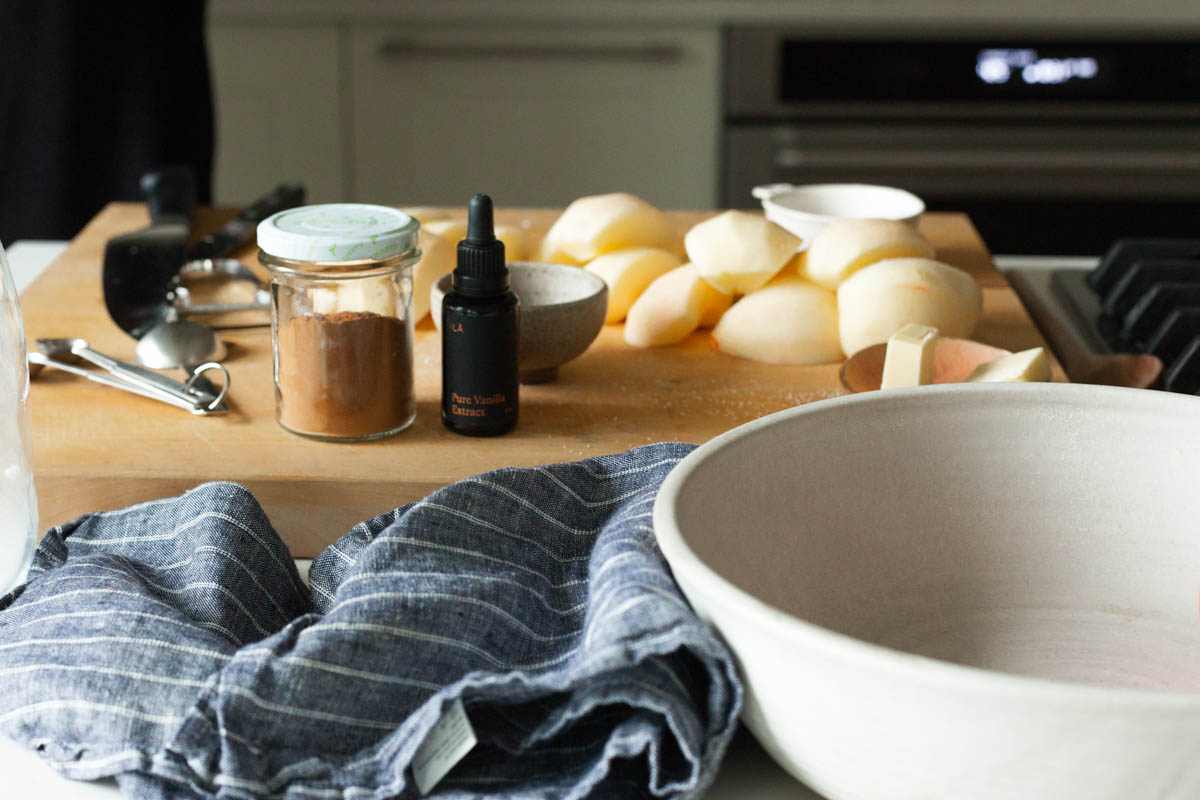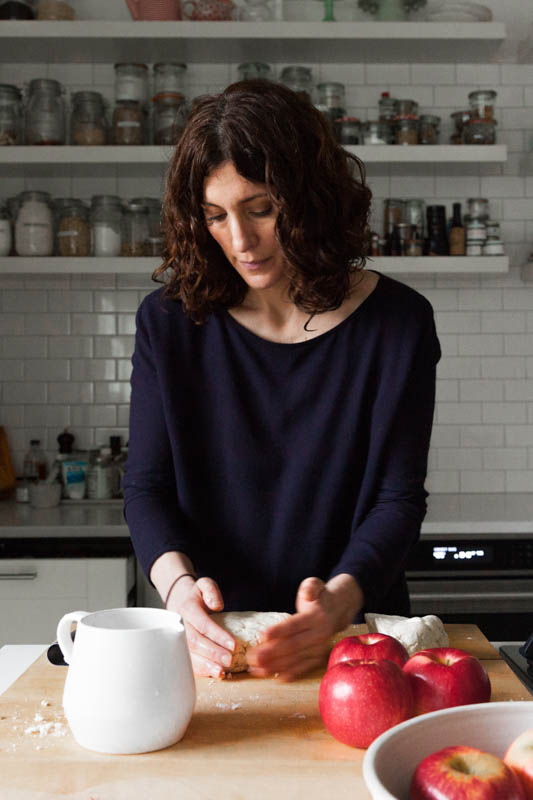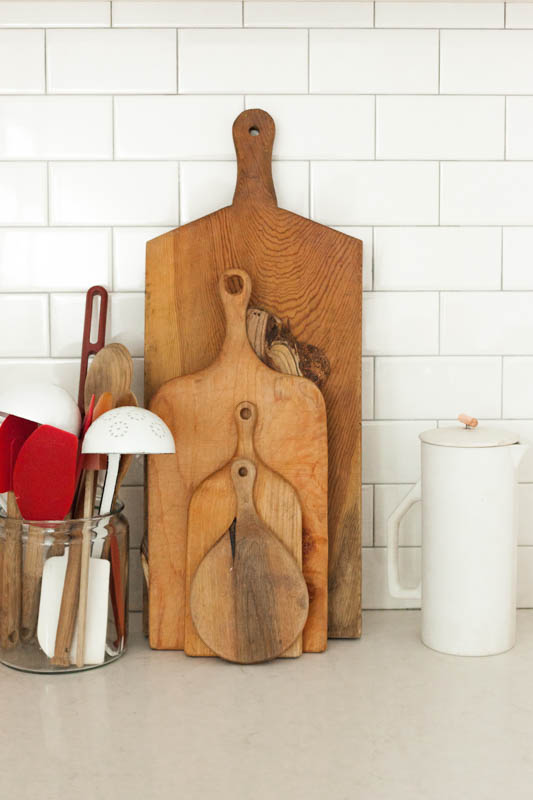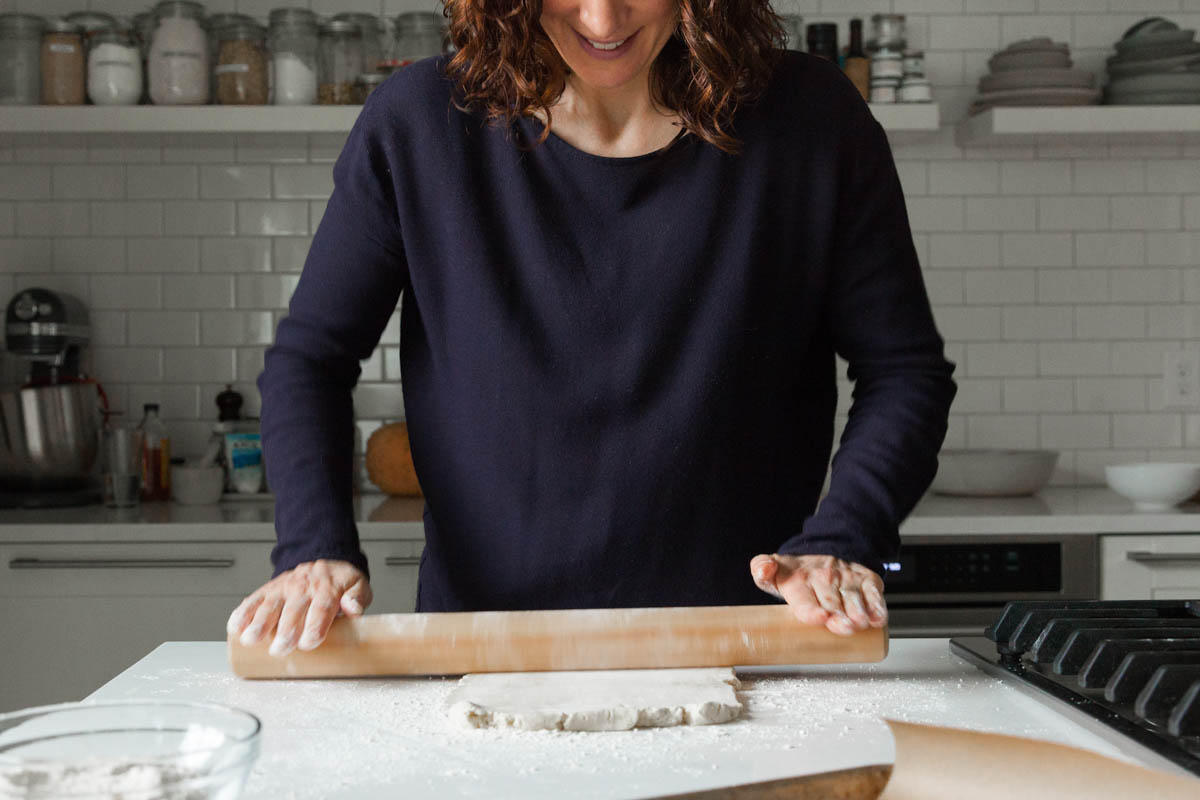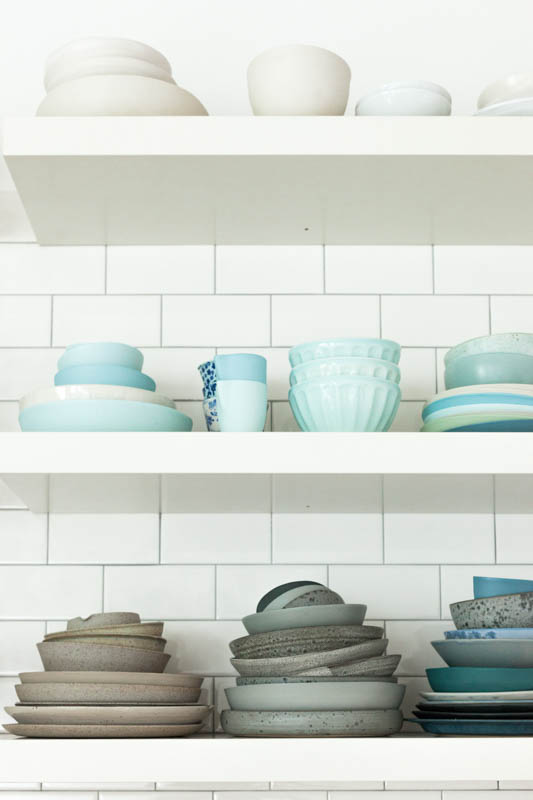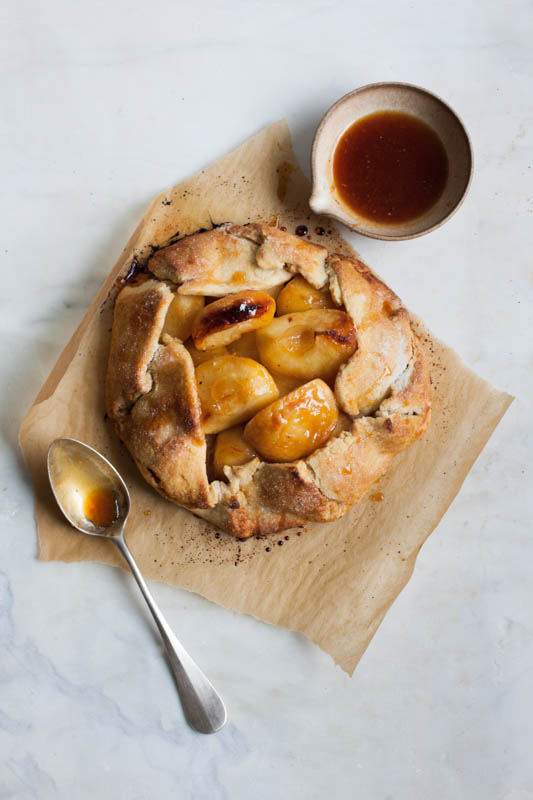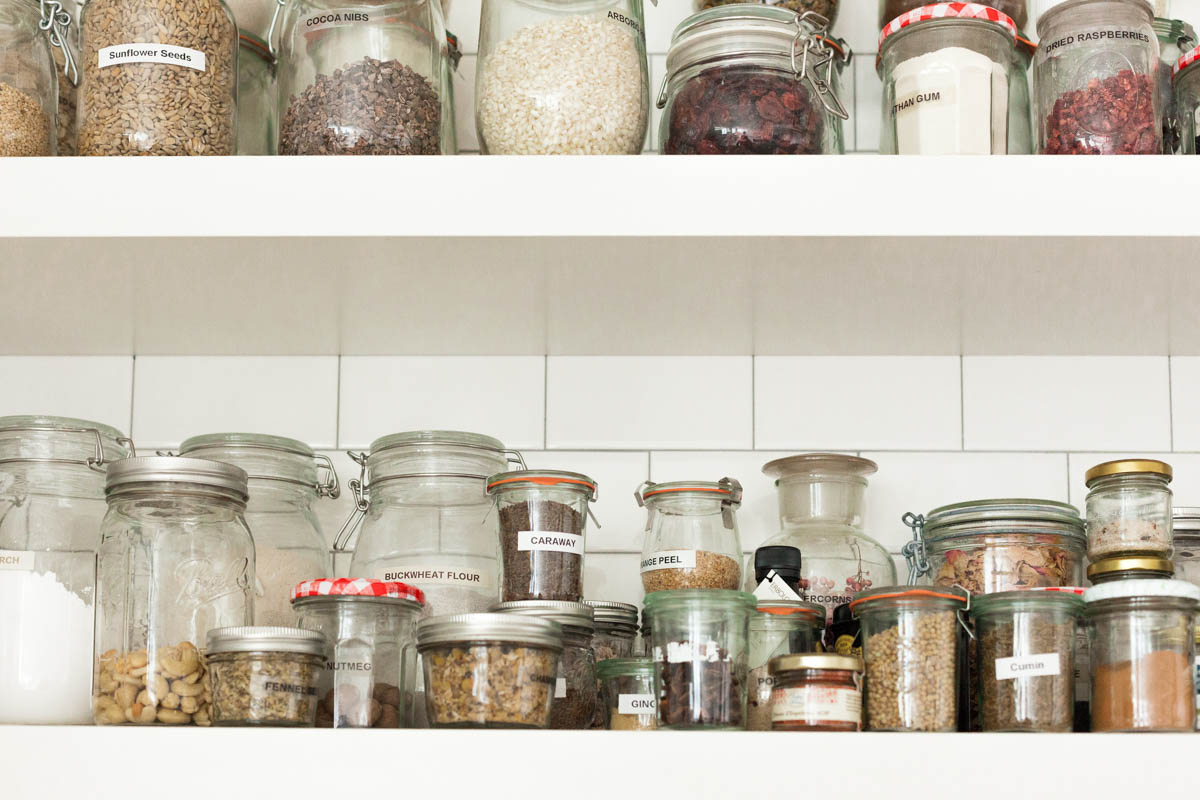 Caramelized Apple Galette
Recipe
Caramelized Apple Galette
Ingredients
4 apples firm and juicy, i.e. honeycrisps

1/2 cup

118 ml

sugar plus more for topping
1 T ground cinnamon
1 T vanilla extract
2 T unsalted butter
2 T apple cider vinegar
1 pie crust enough for 9-in pie
all-purpose flour to roll dough
1 egg lightly beaten
Preheat oven to 425F. Peel, core and quarter apples.
Heat a large stainless steel sauté pan over medium high heat. Sprinkle half of the sugar evenly around the pan and cook until the sugar begins to melt and turn amber. Sprinkle the remaining sugar and cook until it is melted and a medium amber color. Add the ground cinnamon, vanilla extract, butter, and apple cider vinegar. The sugar might bubble up so be careful. Add the apples and lower the heat to low. Swirl the pan so apples are evenly distributed and in one single layer. The apples will release some of their juices that will mix into the caramel. Cook the apples for 7 minutes on a low simmer, until almost fully tender. Remove the pan from the heat and let the apples cool for a few minutes until they are lukewarm and cool enough to handle.
Line a baking sheet with parchment paper. Dust your work surface with some flour. Roll your pie dough to 1/8-inch thickness. It doesn't have to be perfect. Transfer the rolled dough to the baking sheet. Pile the cooled caramel apples in the center of the dough leaving 3-inch border around. Fold the edges over the filling. Brush the edges of the crust with egg and sprinkle sugar.
Bake for 35 to 40 minutes until the crust is golden brown. Wait a few minutes before cutting. Serve warm or at room temperature.
More Stories