Entertaining
Autumn Entertaining: A Warm and Woodsy Lunch with Domino
As I shared yesterday, my collaboration with gift-giving extraordinaire Simone LeBlanc was something we were so excited to create, and are now so excited to share. Incorporating our favorite elements for fall, the Simone LeBlanc x Jenni Kayne Woods Gift Box is all things warm, woodsy, green and soothing. Naturally, our luncheon celebrating the collaboration felt much the same. Hosted for our friends at Domino, the laid-back get-together was held on an appropriately cool and rainy day, and brought the cozy vibe of our gift box to life. Featuring a menu from Annie Campbell all about earthiness, greenery and the spicy notes of fall, alongside elegant, understated florals from Moon Canyon and inspired touches from Simone herself, our get-together was all things autumnal, and the perfect way to launch our partnership. See below for all the menu and decor details. XXJKE
THE DECOR
Warm, natural and organic details, mirroring the elements within our gift box.
Florals – Moon Canyon
Elegant, understated displays incorporating greenery found in California and beyond, featuring a beautiful mix of fern and florals.
Linens – Natural-hued napkins from Heather Taylor Home
Dishware – Rustic and refined Irving Place Porcelain Dinner Plates and Porcelain Dessert Plates
Flatware – Subtle statement-making Matte Copper Oslo Flatware from Canvas Home
Seating – Industrial Hammer Bronze Chairs, styled after vintage Tolix chairs, from Found Rentals
Menus & Placecards – Inspired by watercolor paintings in oceanic and coastal forest colors, hand painted by Simone LeBlanc and featuring calligraphy from Anne Robin.
THE MENU –Annie Campbell
A meal showcasing the flavors of fall, featuring ingredients found in the woods. For inspiration, Annie drew upon memories of her Oregon childhood, of days playing in the woods and foraging ingredients central to Pacific Northwest cuisine – berries, hazelnuts, mushrooms and wild greens – with her mother. The result: a menu perfect for a cozy day indoors.
Sips
deep woods gimlet: "art in the age" sage spirit, touch of mescal, lemon, honey
Snacks
pears + parmigiano reggiano + quince jelly + spiced walnuts
roast beet + house ricotta + sage crostini
Lunch
cacio e pepe with bucatini + porcini mushrooms
wild bitter greens with hazelnuts, blackberries, parmigiano reggiano + shallot vinaigrette
Sweets
layered naked spice cake with almond cream cheese frosting+ moss + end of summer wild berry sauce
served with white sage wild crafted tea from juniper ridge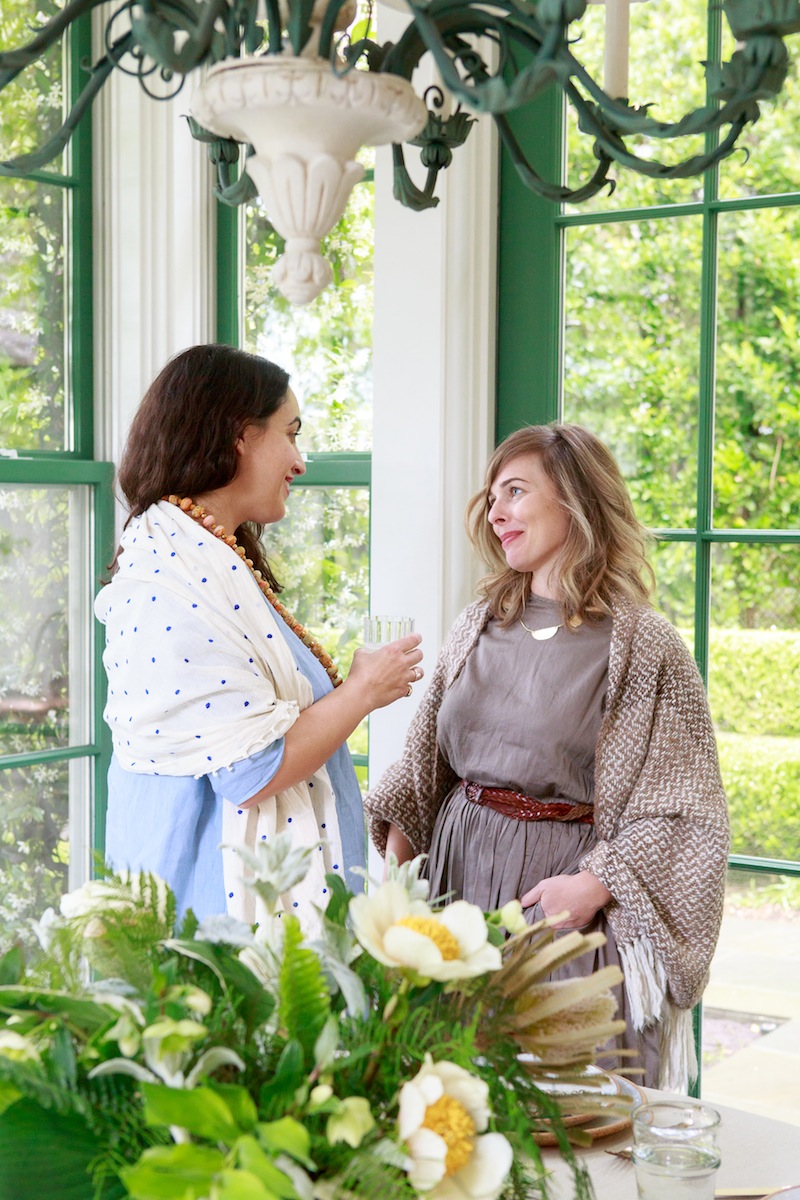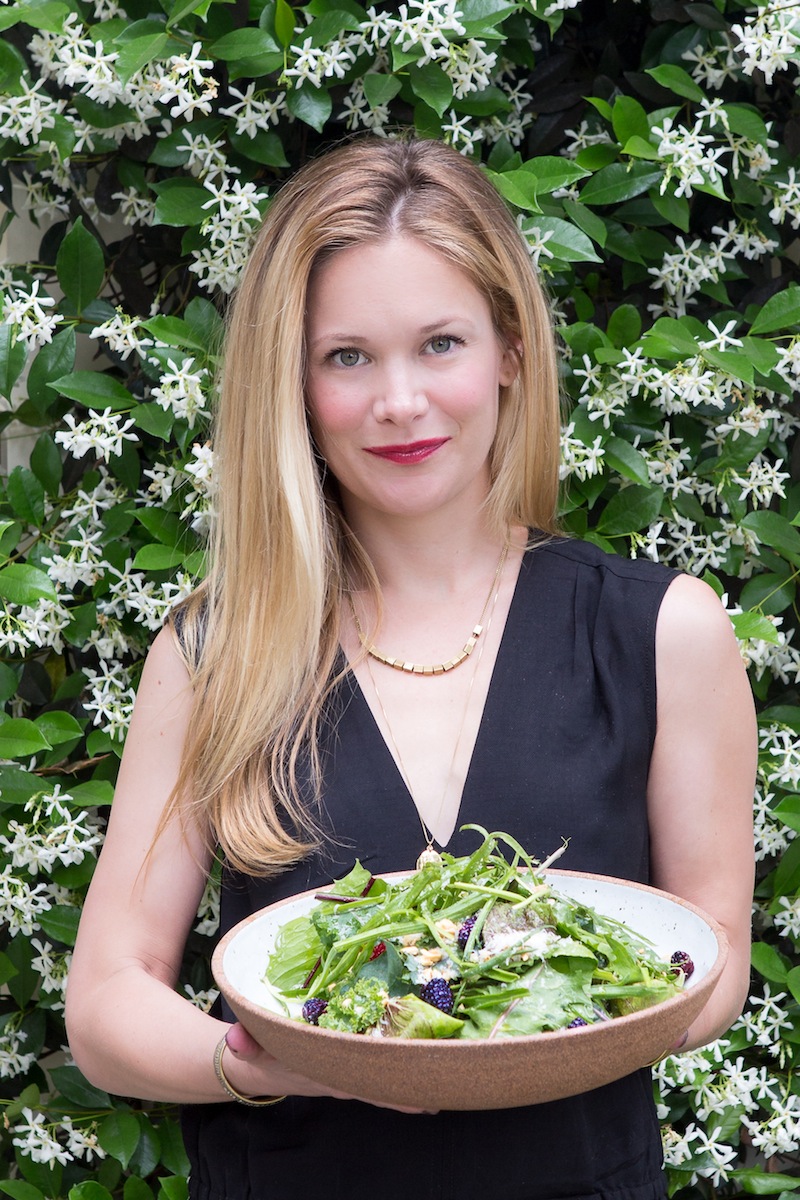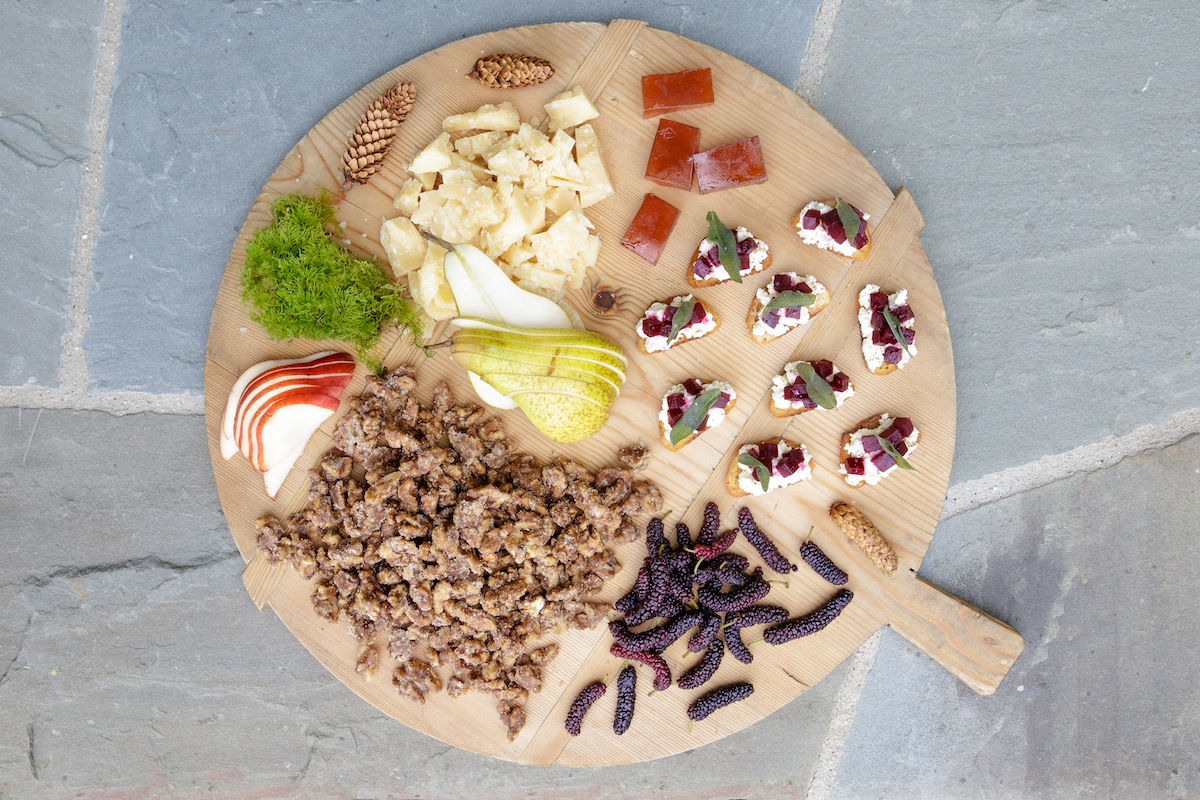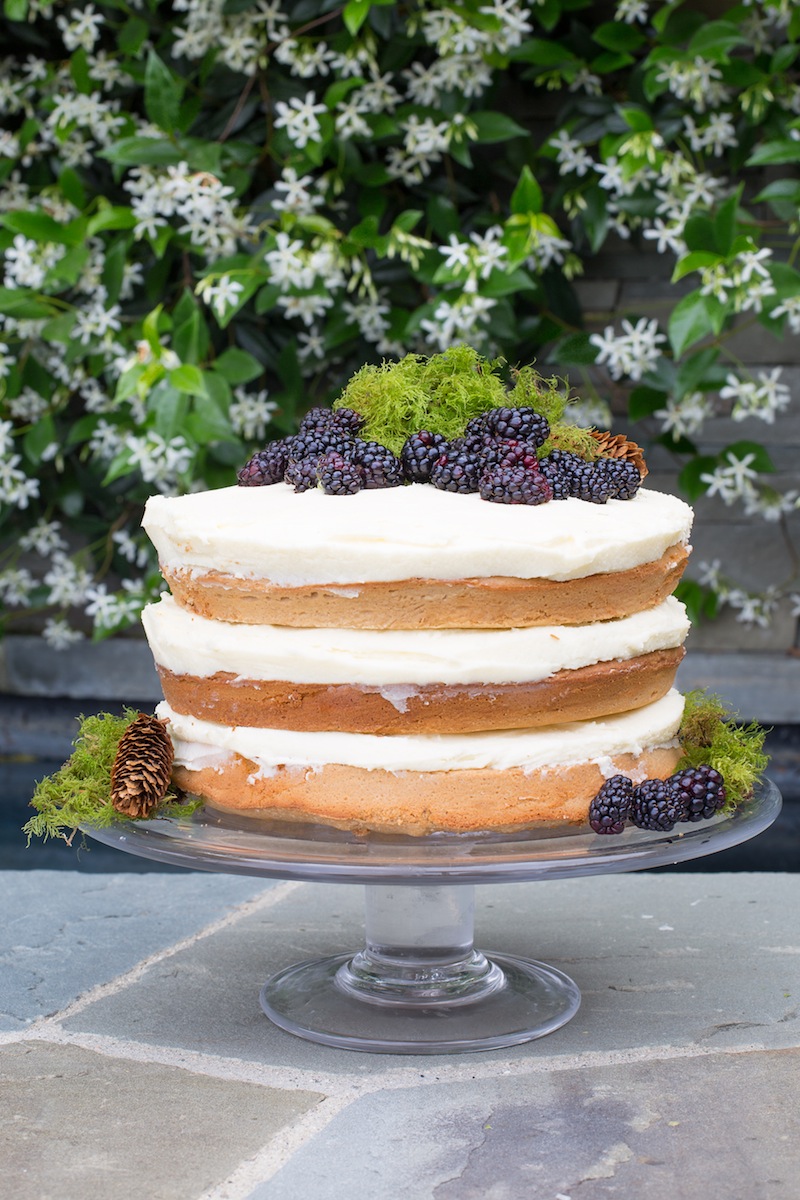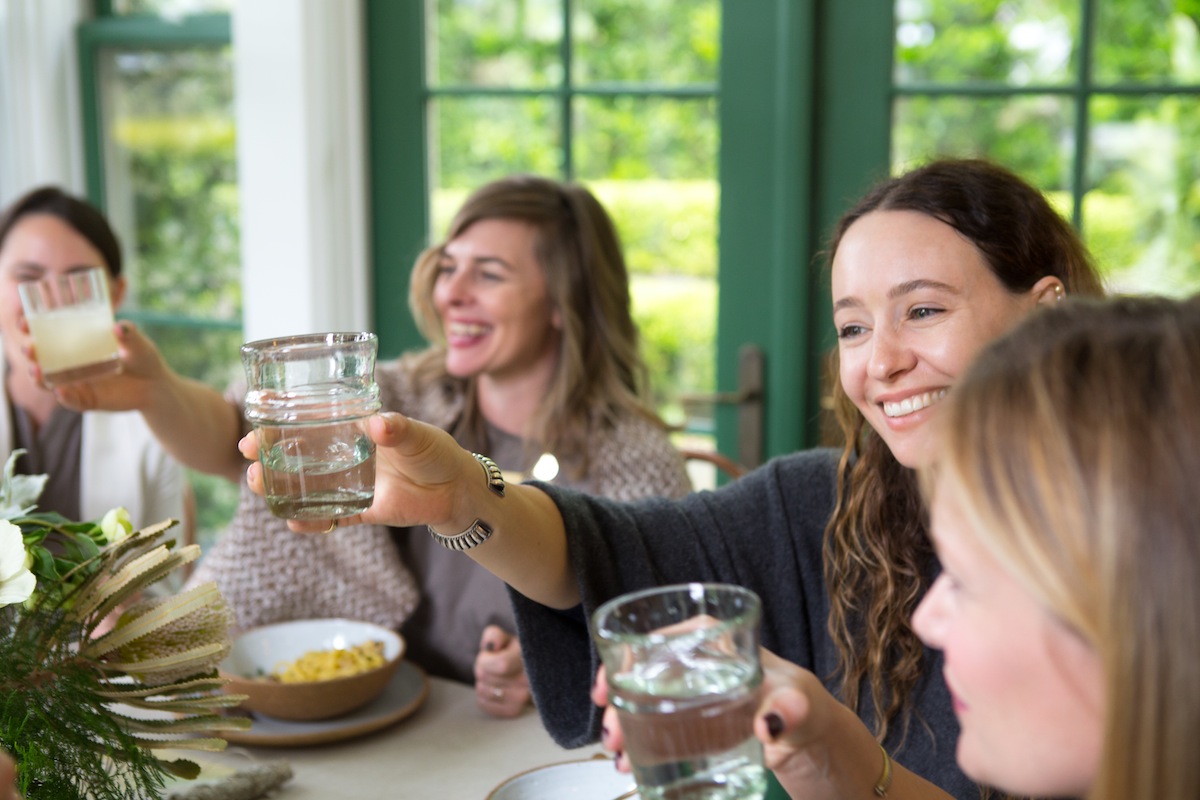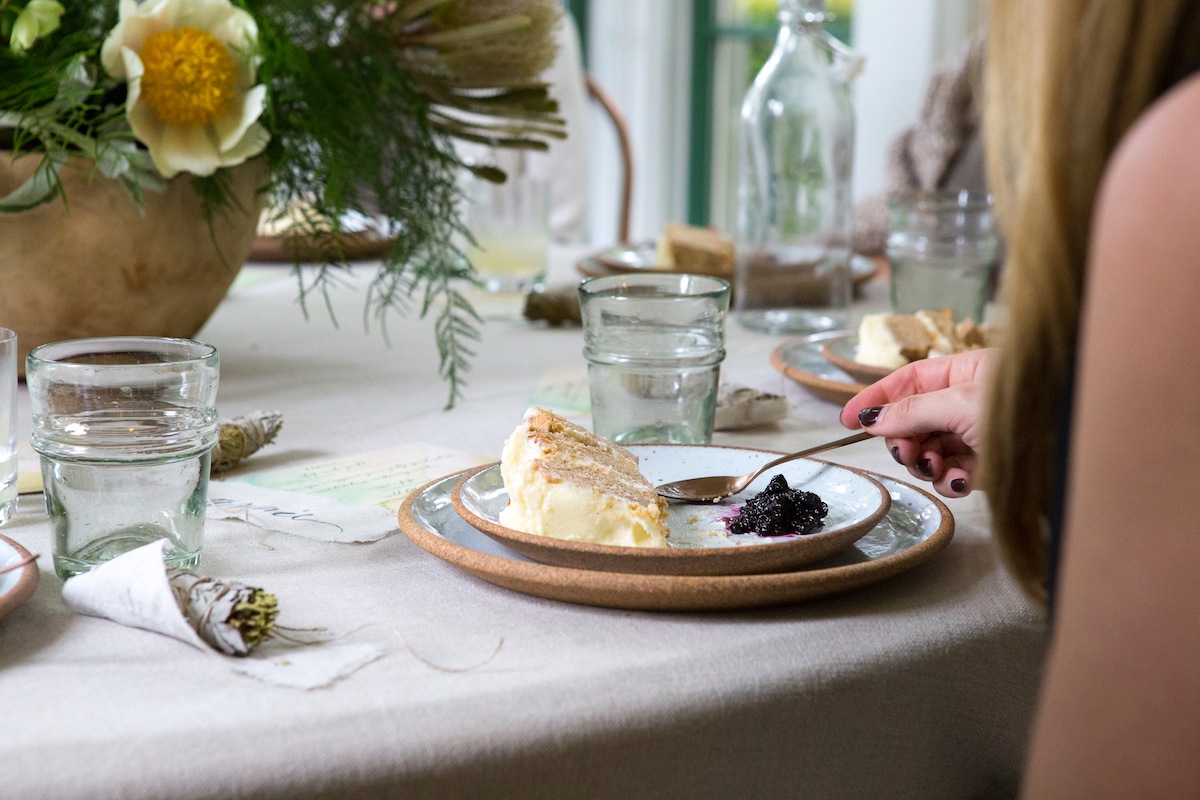 Photos: Jessica Isaac, courtesy of Domino