Entertaining
Autumn Entertaining: A Romantic Southern Bridal Shower with Annie Campbell - The Decor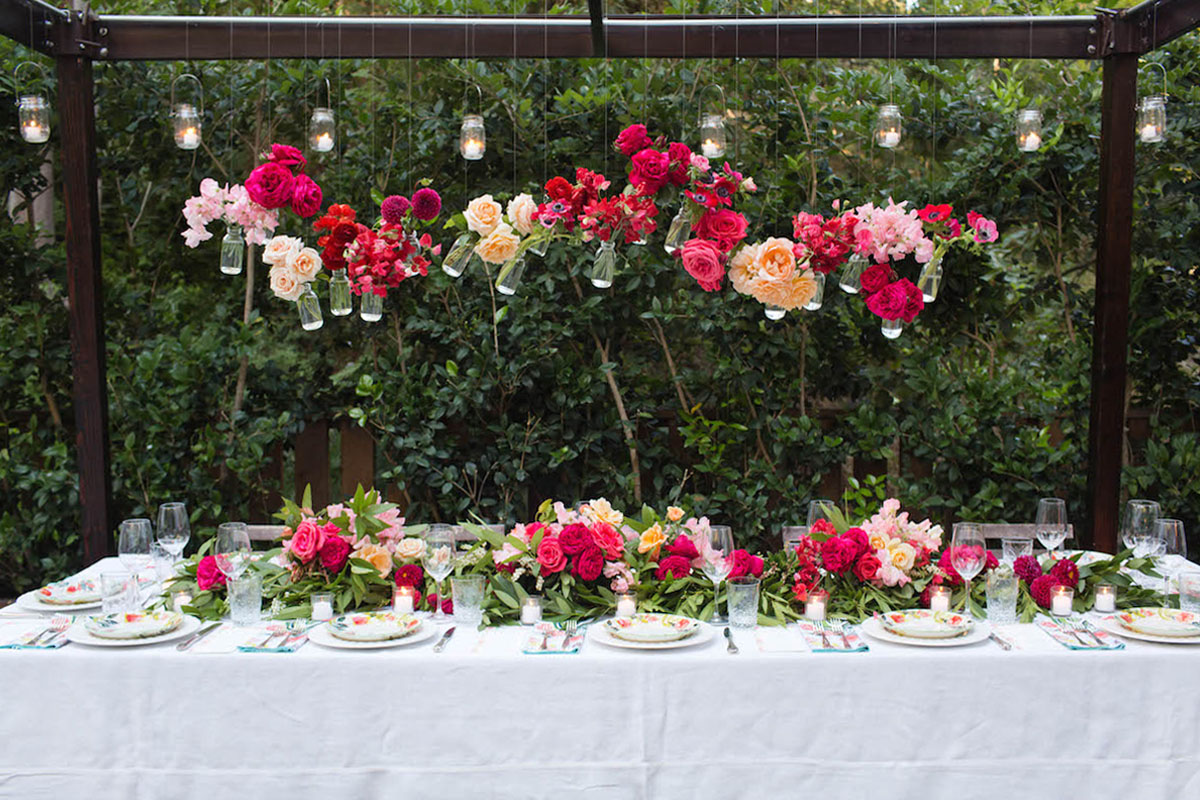 When the lovely and talented Annie Campbell hosts a get-together, you can count on an incredible menu, thoughtful (and often unexpected) details, and an overall wonderful event. So for something as special as a bridal shower for one of her dear friends (and fellow hostesses), the same of course held true – and then some. The intimate dinner party and celebration of friendship featured an abundance of floral, romantic and decidedly feminine details, gorgeous use of color, and a menu inspired by bride-to-be Julianna's Southern roots. See below for all the inspired decor elements, and stay tuned tomorrow for the delicious menu details. XXJKE
THE DECOR
Tabletop – A linen tablecloth in Raw Oyster from Town & Country Event Rentals
Dishes + Napkins – A gift from Annie to the bride-to-be, purchased at Anthropologie, where she is registered. Theme-perfect Climbing Rose Dishes and Climbing Rose Napkins by painter Michelle Morin served as the starting point for the entire table and overall feel of the evening, from florals to menus and everything in between. Anthropologie Latte Dinner Plates in White provided a wonderfully simple backdrop against the colors and imagery of the salad and dessert plates.
Glassware – Fleur De Lis Glasses from Town and Country in Clear (available in a variety of colors, they are one of Annie's party go-tos, adding a pop of color to any table). For wine, Reisling/Zinfandel Glasses from Riedel.
Flatware – Mix and match hotel silver from Ebay.
Place Cards – Amazing custom place cards, courtesy of Amber Moon of Pittbulls and Posies, guests' names handwritten by Anne Robin in her custom "Rina" style. Individual names were then laser cut by Amber on acrylic in a shade of coral, chosen by Annie to complement the dishes.
Menus – Custom menus designed by Mary Kenny and inspired by the Crawling Rose dishes and napkins. A Watercolor Flower Pack was used to design the border alongside Melika Script and Gill Sans fonts, and menus were printed on Luxe White #10 cards from Paper Source.
Hanging Bud Vases + Lanterns – Using an Amalfi Cabana from Town & Country Event Rentals as the structure from which to hang all elements, Annie wrapped 20-gauge jewelry wire around the necks of the bud vases using needle nose pliers. With a piece of natural sisal rope strung across the center of the cabana, she then hung the bud vases at varying heights with heavy gauge fishing line. Similarly, she hung Mason Jar lanterns with handles around the perimeter of the cabana. The result: an incredibly beautiful focal point, and the highlight of the evening.
Florals – Hollyflora
A gorgeous expectation-exceding display featuring colors and floral varieties inspired by the Climbing Rose dishware, brought to life with Holly's magical touch. A lush garland of bay and eucalyptus anchored the table, while an assortment of garden roses, sweet peas, scabiosa, anemones, pieris and dahlias in a red, coral and orangey pink palette were arranged throughout the garland and in the hanging bud vases and bar piece.
THE ACTIVITY & FAVORS
Activity – A very cute and fun updated version of The Newlywed Game. In advance, Annie asked the groom-to-be a series of relationship questions: e.g. "Where was your first kiss? How many kids does Julianna want to have? When do you want to retire?" Then, on the back of each menu, she printed the questions and answers. During dinner, guests took turns asking the questions, with Julianna giving her answers to each.
Favors – The perfect Southern party favor in the form of Mason Jars filled with Krispy Kreme donut holes, topped with peaches from the farmers market (especially fitting as Krispy Kreme was founded in Julianna's hometown). As the finishing touch: "Until the Vineyard…" tags designed by Mary Kenny and secured with baker's twine, in anticipation of Julianna's fall wedding, taking place in Martha's Vineyard.
Photos: Brittany Wood