Living
At Home with Leilani Bishop of Botanica Bazaar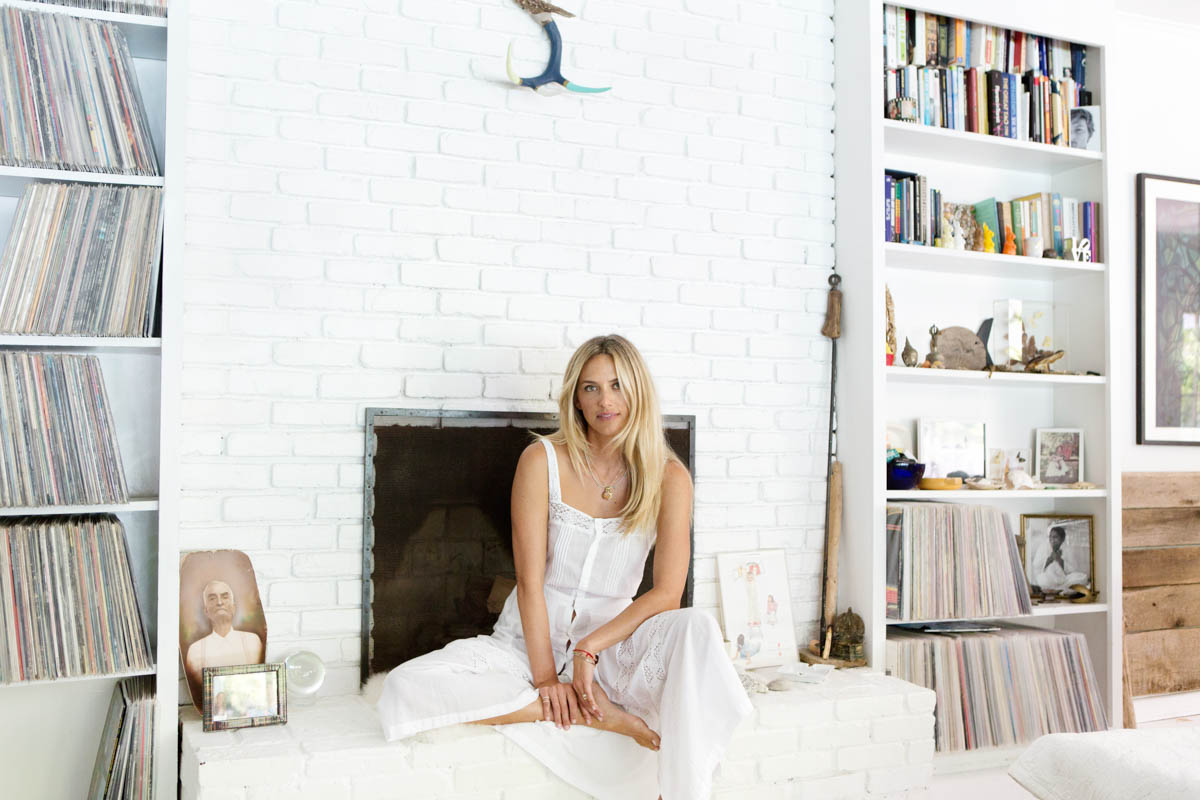 From her eponymous fragrance line and her iconic modeling career—she was on the cover of Hole's Live Through This album and was the face of Tommy Girl perfume in the '90s—to her just-opened natural beauty boutique, Botanica Bazaar, Leilani Bishop has a many career milestones to be proud of. Of course, she couldn't be more kind and down to earth. We recently co-hosted a dinner together at Topping Rose House in Bridgehampton, and she helped make it such a lovely evening.
Leilani lives in the Hamptons with her family year-round, so while we were in town we paid her a visit at home. I love her eclectic-but-minimalist aesthetic. Her Amagansett home has loads of books, artwork, records, and totems from her travels, but the clean, white walls and floors keep everything calm and simple. See photos of her enviable space above, and learn a little bit more about Leilani's current projects—Botanica Bazaar and her fragrance collection—below. XXJKE
Rip & Tan: How long have you been in this home and what do you love about the space?
Leilani Bishop: We have lived in this home for 7 years, which is probably the longest I have lived anywhere. I love that it has a ton of light and a feel of indoor/outdoor living—even in the wintertime. It is also in close proximity to the beach and town so we can walk anywhere.
Rip & Tan: What's it like to live in the Hamptons year-round? How does your lifestyle change with the seasons?
LB: I love living in the Hamptons year-round; there is so much beauty here—between the farm lands, the ocean, and the bay—it's hard to get tired of it. The light changes so much with the seasons, it truly can feel like you are living in different places depending on the time of year. My lifestyle changes dramatically depending on what time of year it is. The summer is super busy and hectic and we are not home much at all. The fall and winter are a beautiful reprieve. We eat at home a lot and slow down enough to really take everything in. 
Rip & Tan: What inspired you to start your fragrance line?
LB: I was living back in Hawaii after having my son and was looking for my next chapter so to speak. A friend of mine had mentioned that I should start a fragrance line as we were stealing flowers, as I have a habit of doing. It was truly an a-ha moment.
Rip & Tan: Why these three fragrances? What makes each one special?
LB: I started out thinking I would do more scents and quickly realized that they needed to have a personal story in order to resonate with me and others. The three that I did reflect different stages in my life and the scent memory that went with each period. Pikake for Hawaii, lilac for my time spent on the East Coast, orange blossom reflects my travels and time abroad.
Rip & Tan: How are the fragrances made? Where do you source the oils from? 
LB: I worked with different fragrances houses to find the best of each floral. It was super important that they be single-note scents as when I pick or wear flowers it is based on the scent of the flowers and how they each make me feel. The perfumes I make are more for the wearer then for other people.
Rip & Tan: Why did you design the fragrances to be portable? 
LB: I have always had an on the go lifestyle and love items that are light, portable and beautiful but also have a function. I like the idea of the application and the bottle adding to the beauty of the person as well as the scent. 
Rip & Tan: What other beauty brands do you love and swear by? 
LB: That is tough as there are so many great brands doing amazing things in the beauty and skin realm. RMS Beauty is what I use for makeup—it's toxin and heavy-metal free. For anti-aging I use Tata Harper, for baths and detoxing I use Pursoma, and for everyday gut and beauty health I use The Beauty Chef. GOOP by JUICE BEAUTY is also making its way onto my shelves, I love the night cream for moisture.
Rip & Tan: Tell us about Botanica Bazaar. Why did you open it and how has it been received? 
LB: Botanica Bazaar has been so much more fulfilling to me then I could have ever thought. I love talking to people about health and wellness, you get very intimate very fast. I also love the over all consciousness that is happening, it is great to give people a venue where they can get questions answered and start exploring alternatives to their own beauty routines.
People have been very receptive and excited, which has been so validating as this was a super last-minute project. The nice thing is that it has been utterly seamless so I always feel that things are meant to be when they flow like this project did.
Rip & Tan: What have you learned about women or fragrance (or both) from getting into this business?
LB: I think ritual is super important to women, and I love when women look at their beauty routines this way. We spend a lot of time thinking and caring for others and when we give ourselves the time and space to dote on ourselves it truly shows in how we are able to function in our daily lives.
More Stories