Wellness
Artisanal Apothecary: NYC's Marble & Milkweed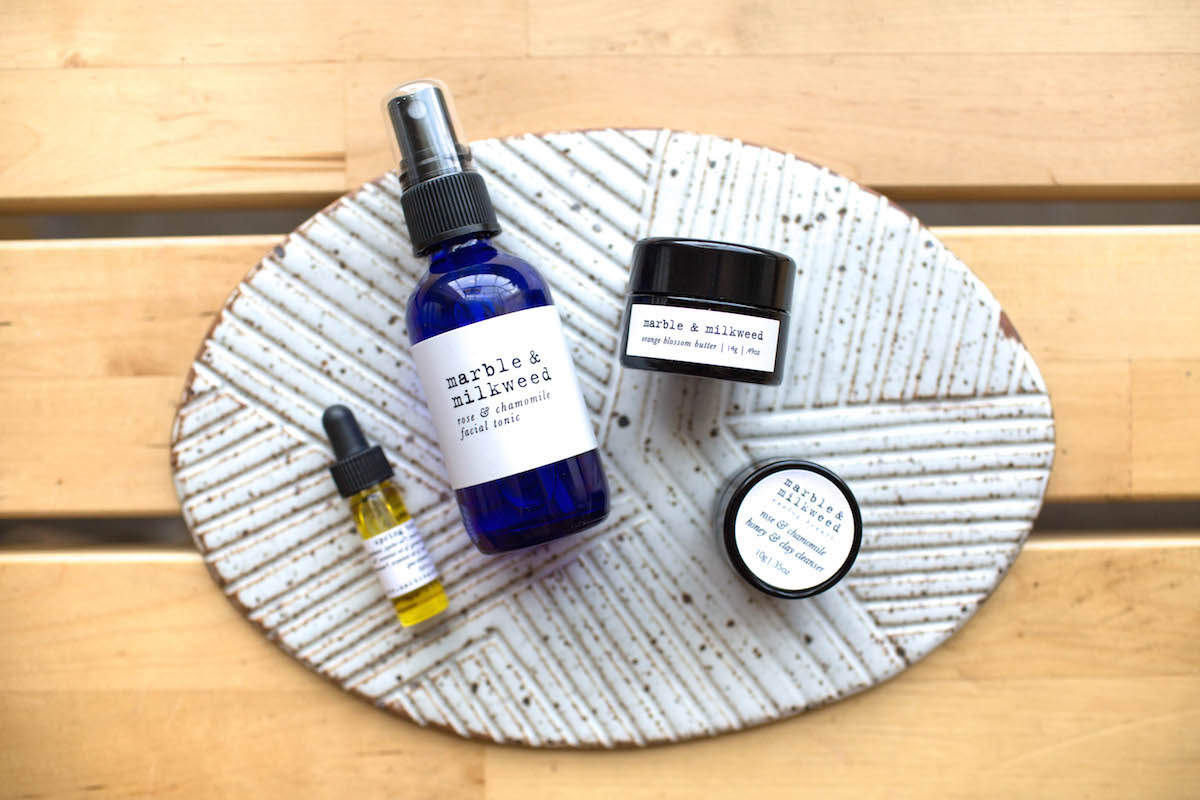 It can be easy to dismiss New York City as a giant metropolis of concrete and steel, where communing with nature is difficult. But despite these perceived hardships, it is in fact home to people, like botanical perfumer Briar Winters, who are incredibly in touch with the outdoors on a daily basis. Briar is the founder of Marble & Milkweed, a conscious apothecary label based out of her home in the Lower East Side.
Not only does Briar put careful thought into sourcing each of her natural, fair-trade and organic ingredients, but she is committed to sustainability and careful that her products—from hydrosols and facial balms to teas and solid fragrance—don't negatively impact the earth. As a former pastry chef, she brings a unique point of view to what she refers to as analog beauty. I find her approach refreshingly unique and responsible. I hope you enjoy learning more about her magical and transportive formulas. XXJKE 
Rip & Tan: As a former pastry chef, what inspired you to turn your attention to skincare products and teas? Why do you feel the two go together? 
Briar Winters: When I started Marble & Milkweed, I was looking to use the skills I had cultivated as a pastry chef in the service of creating something truly nourishing and wholesome. Great precision, patience and attention to detail, as well as a gift for understanding flavors, scents and textures are required in both the pastry kitchen and the apothecary studio, and working in fine kitchens in New York City taught me the art of sourcing pure and beautiful raw materials. Dessert is certainly good for the soul, but it's my hope that what I create now speaks to both body and spirit. 
Rip & Tan: In what ways has your background influenced how you blend and create formulas?
BW: The influence of my pastry background, especially my training in Scandinavian baking, can be seen in the scents I gravitate toward—especially cardamom, and the combination of flowers and spice—as well as in the quest for simplicity in my formulations. So many of the herbs and spices we find delicious also yield oils and essences that are nourishing for us. Rose, of course, is divine in dessert, and is also wonderfully healing for both the body and mind. The creative practice of botanical perfumery is also central to my work at Marble & Milkweed, and I'm influenced by my childhood growing up in rural Washington state, as well as by scents and ideas in the world around me, both past and present.
Rip & Tan: How did you learn to actually make products? 
BW: I made products for myself first, before ever sharing them with anyone. I read voraciously and educated myself about oils and plants and their characters, carefully formulating products that satisfied my own sensitive skin. My botanical perfumery practice is an ongoing education. I am constantly acquiring new oils and entering into conversation with them to see how they want to be shared with the world. 
Rip & Tan: When did you first get turned onto terms like organic, non-GMO and fair-trade?
BW: I grew up on a small farm eating beautiful homegrown produce, but as I went out into the world on my own, I realized not everything was as pure as the food I'd eaten from my family's garden. I began to educate myself about our present agricultural system and the damage it does to the earth, our bodies and the bodies of those who grow and process our food and raw materials. I began to realize that choosing "conventional" industrial products was a vote for a broken system that causes harm to all of us, and that my choices mattered. I believe that it is absolutely crucial to make careful and informed choices about what we buy and use, because the consequences of these choices affect the entire planet. 
Rip & Tan: How did the name Marble & Milkweed come to you? 
BW: The two words originally came together in a poem I wrote long ago. They also refer to the smooth marble-like surface of my clawfoot bathtub in the kitchen on New York's Lower East Side, which serves as muse and symbol for the idea of analog beauty, honoring beauty rituals from a simpler time. The milkweed plant, part of whose Latin name references Asclepius, the Greek god of healing, also inspires part of our mission, which is supporting education about native plants and the delicate local ecosystems that nourish all of us. 
Milkweed is the primary food source for millions of monarch butterflies, but it has often been regarded as "just a weed" and has been systematically removed and replaced with chemically treated monoculture crops like corn and soybeans throughout our country. As a result, migratory monarch populations (not to mention other pollinators!) are in grave danger. It's an important reminder to take a deeper look at what we value, and to recognize the significance of the choices we make in regards to our stewardship of the natural world. 
Rip & Tan: Where do you find creative inspiration? 
BW: I find inspiration both in the incredible ecosystem of New York City, and in the natural world beyond. The balance between these two energies really keeps me going. Memory is also an important source of inspiration for me when I work with scent.
Rip & Tan: What are a few of your favorite ingredients to use? What do they do, and how did you discover them? 
BW: I prefer to use plant materials in their purest forms, and I've put a great deal of love into sourcing my raw materials. A few of my favorite recent discoveries have been a gorgeous organic jojoba oil from a family farm in the Sonoran desert, and some exquisitely fresh organic oats from a small farmer's cooperative in Maine. I've also worked with growers on Long Island and in upstate New York to source botanicals, and I am constantly looking for the freshest and most beautiful herbs and oils. 
Of course, I also adore botanicals from farther afield, like a precious organic rose otto from Bulgaria that fully captures the spirit of the rose, and hand-processed teas from high-elevation organic estates from Ceylon to Taiwan. I often discover suppliers by word of mouth, or sometimes small producers reach out to me knowing that I'm looking for something that's been treated with great care. Connecting with kindred spirits through the sourcing process is one of the most magical parts of my job.
Rip & Tan: What would you consider your hero product? 
BW: Each product has its moment, and my hope is that my customers will be able to carve out more restful moments for themselves throughout their day with the help of ritual to guide them. The busiest of days can benefit enormously from a moment of sweetly caring for yourself at beginning and end, and a dab of botanical perfume and a spritz of facial tonic in the doldrums of the afternoon. A little drop of scent is also the perfect way to mark the transition between the work day and evening activities. The fleeting in-between moments of the day are important and deserve notice.
Rip & Tan: You also sell beautiful beauty accessories, solid perfumes and crystals. How do you curate all these products, and how do you feel they work together?  
BW: I love coming across vintage treasures for the shop! I think it's so beautiful to give new life to something that has fallen out of use. I've even filled family heirloom lockets and small boxes with botanical perfume and it brings me such joy to be part of a treasured object's transformation into its next life. I love the vintage mother of pearl items especially, because the natural material is so luminous and has such lovely natural variation. It may also have something to do with being a Pisces! 
Minerals are such a natural fit with our earth-based ethos because stones have a magic to them that can remind us to remain in awe of our planet and its gifts, and to make choices in alignment with that feeling of connection. We need to slow down long enough to care for ourselves properly so that we can give our energy in service to the causes that matter to us. Building a thoughtful ritual around this can be an important part of the process.
Rip & Tan: Can you share your daily beauty and wellness rituals? 
BW: I keep my own rituals very simple. I am not a morning person, so I prefer to have a slow, restful morning. My partner and I have turmeric tea every morning with ginger, lemon, honey, black pepper, tulsi, ashwaghanda and coconut. I either use a spoonful of our Rose & Chamomile Cleansing Grains, or simply a warm damp facial towel to cleanse in the morning, and then a spritz of facial tonic (usually one of our seasonal offerings) and a few drops of serum. When I'm working in the studio, I don't wear any fragrance, so as not to distract from my work, which makes applying a little scent before an evening engagement even more of an indulgence. 
I'm working on drinking more water throughout the day, especially as the weather warms here in New York City. I find that a small splash of orange blossom hydrosol in my water encourages me to hydrate more. I bathe every night in my clawfoot tub, often with a generous scoop of sea salt, and I'll usually cleanse in the evening with our Rose & Chamomile Honey Clay Cleanser or our Nourishing Facial Balm and a warm, soft cloth. 
Every week or so, I steam my face gently and apply our Jasmine Green Tea Masque, to cleanse deeply and bring everything back into balance. I get much of my exercise by walking (and schlepping!) in the city, but I've been indulging in a little nostalgia for my younger ballet days by doing a bit of Ballet Beautiful each day at home. It's been the perfect way to take a moment for myself after a long day of formulating at my worktable or packing orders.
Rip & Tan: Do you have any tips you can share for best enjoying your teas or using the skincare formulas?
BW: The best advice I can give about enjoying any cup of tea is to make sure that you slow down long enough to truly enjoy it. In the early stages of my business, there were moments that were so hectic that I would constantly make tea, in an effort to give myself a little boost of energy, only to begin something else right away and not remember about my tea until it was cold. It is so important to slow down, to notice and appreciate the scent of the tea while it's brewing. I love to smell the steam rising from the leaves after they've been strained, it can tell you so much about the character of the tea. And notice the way the scent and flavor change as the tea cools while you drink it. There is no lovelier way to put yourself in the heart of the moment. 
I've recently put together a bit more information about our skincare ritual on a dedicated page on our website. Of course, everyone's routine will be a little different according to their needs, but the suggestions are a good starting point for someone new to analog beauty. 
Rip & Tan: Do you have anything new coming out soon?  
BW: I love to work with the seasons, so right now I am beginning to put together our seasonal Summer Getaway Kit in preparation for the months ahead. The summer kit always features our limited-edition Rose & Tulsi Facial Tonic, which is a blend of wild rose and organic tulsi (holy basil) small-batch hydrosols. It has the most divine scent and is truly a beautiful expression of the season. It will be available in the shop beginning in late June.
Photo: Brittany Wood