Wellness
An Herbal Body Oil DIY with Women's Heritage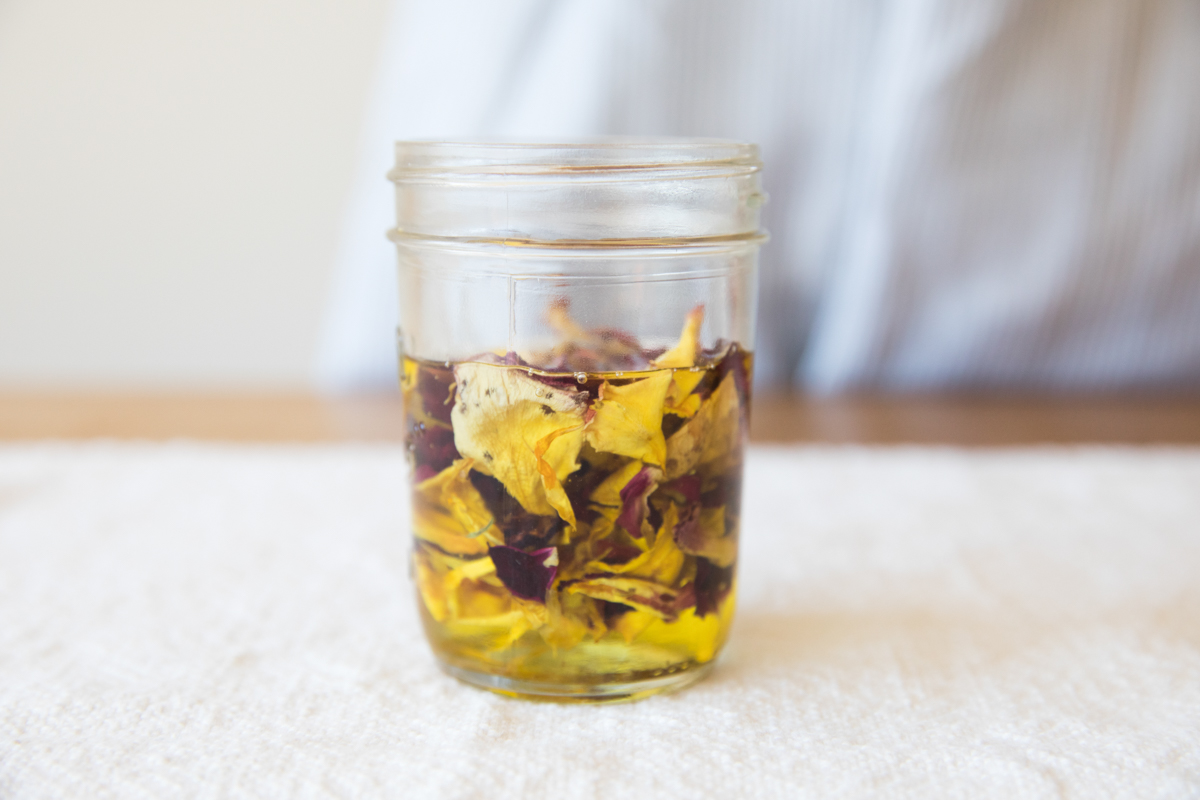 One of the wonderful things about using simple, natural skincare products is that it's possible to make the soaps, lotions, and oils yourself if you're feeling inspired. I love this body oil idea from herbalist Ashley Moore of Women's Heritage in Santa Barbara. Simply mix sweet almond oil with your favorite organic florals—perhaps even from your own garden or backyard—and let the mixture infuse for four weeks. You'll be left with a gorgeous-smelling oil you can decant into the vessel of your choosing, and use whenever you get out of the bath or shower. 
While you aren't limited to sweet almond oil, it's a great, gentle option for skin that absorbs easily. It's naturally loaded with vitamin E, monounsaturated fatty acids, proteins, and more which makes it ultra-nourishing for skin and hair. Read on for Ashley's recipe and instructions, below! XXJKE 
Using infused oils is a wonderful way to get many of the nourishing benefits of herbs. They are easy to make yourself, and you can use different combinations to make one that's just right for your skin type and preferences. Some of my favorite herbs for infused oils are rose, lavender, chamomile and calendula. You can use all or just one of these flowers for your oil. You can also use gentle, nourishing herbs such as nettle or mullein.
As for the oils, I prefer sweet almond oil, coconut oil, or a mix of the two combined with jojoba and avocado oil instead of olive oil. Olive oil makes a lovely herbal oil, too, and is incredibly nourishing for the skin, as well as anti-aging, but it does have a strong smell that really competes with your herbs.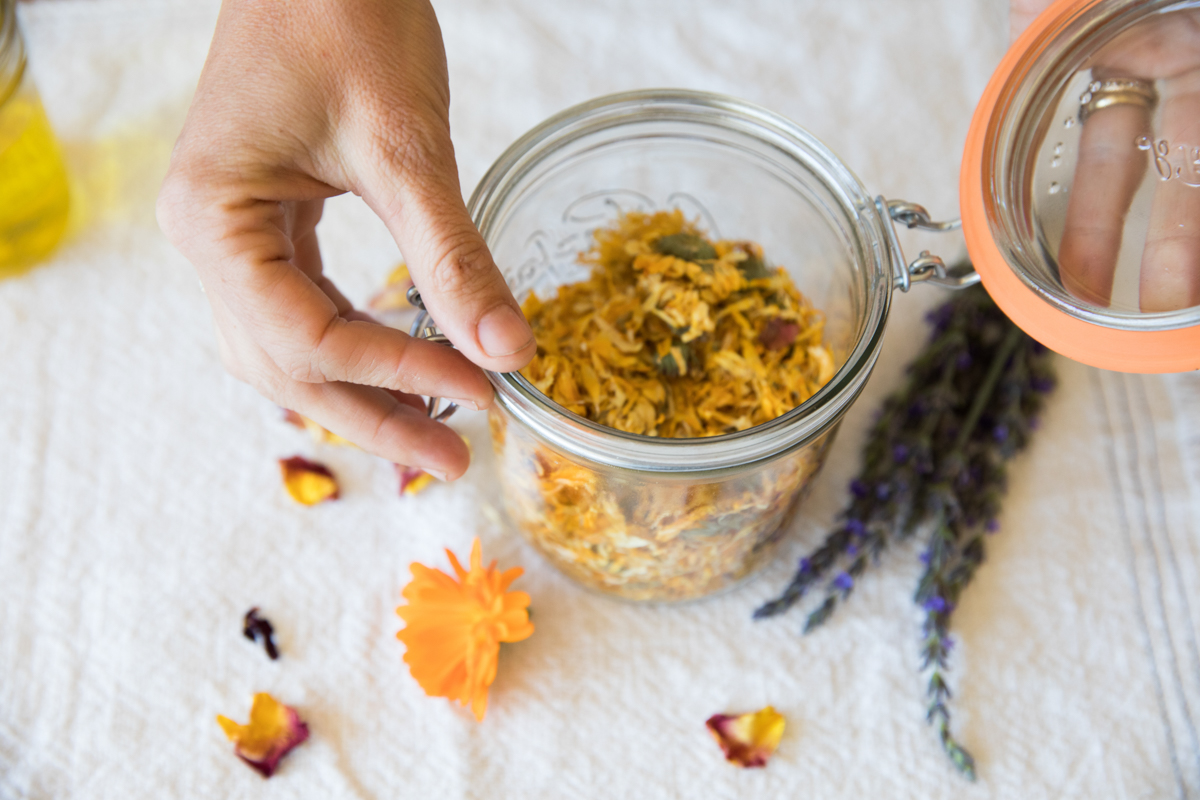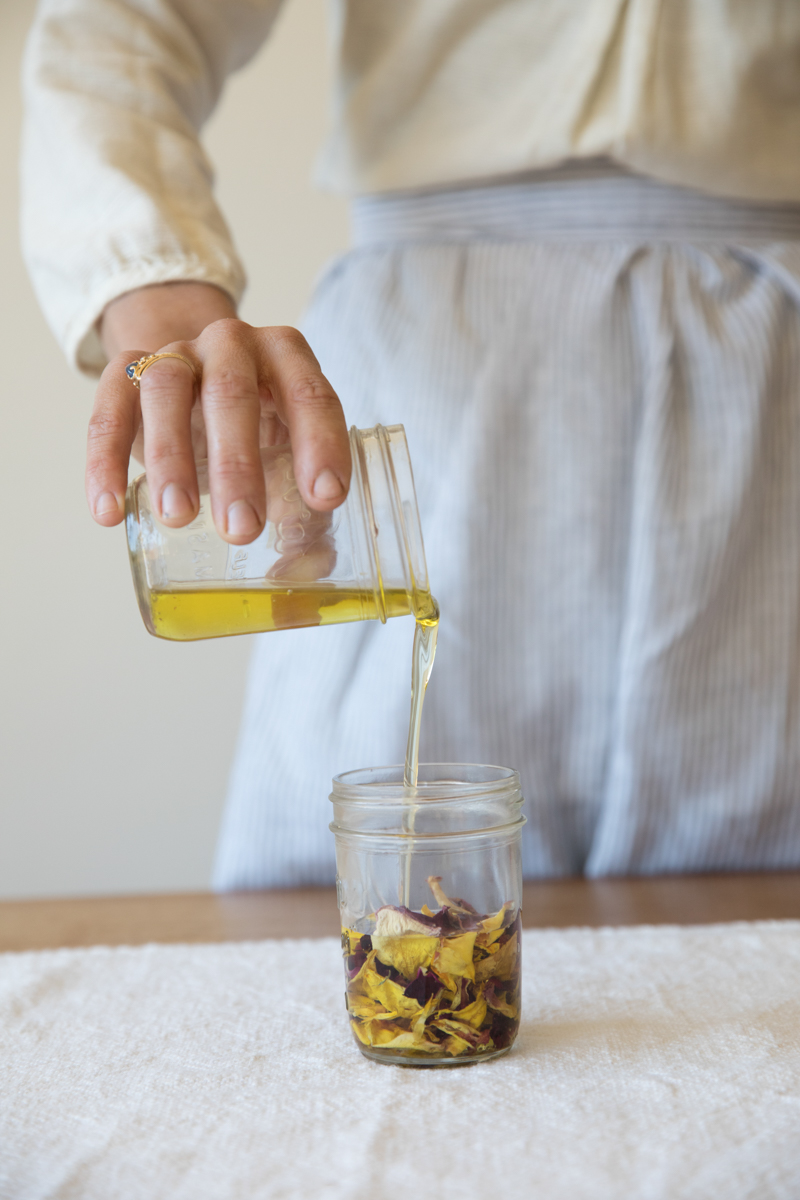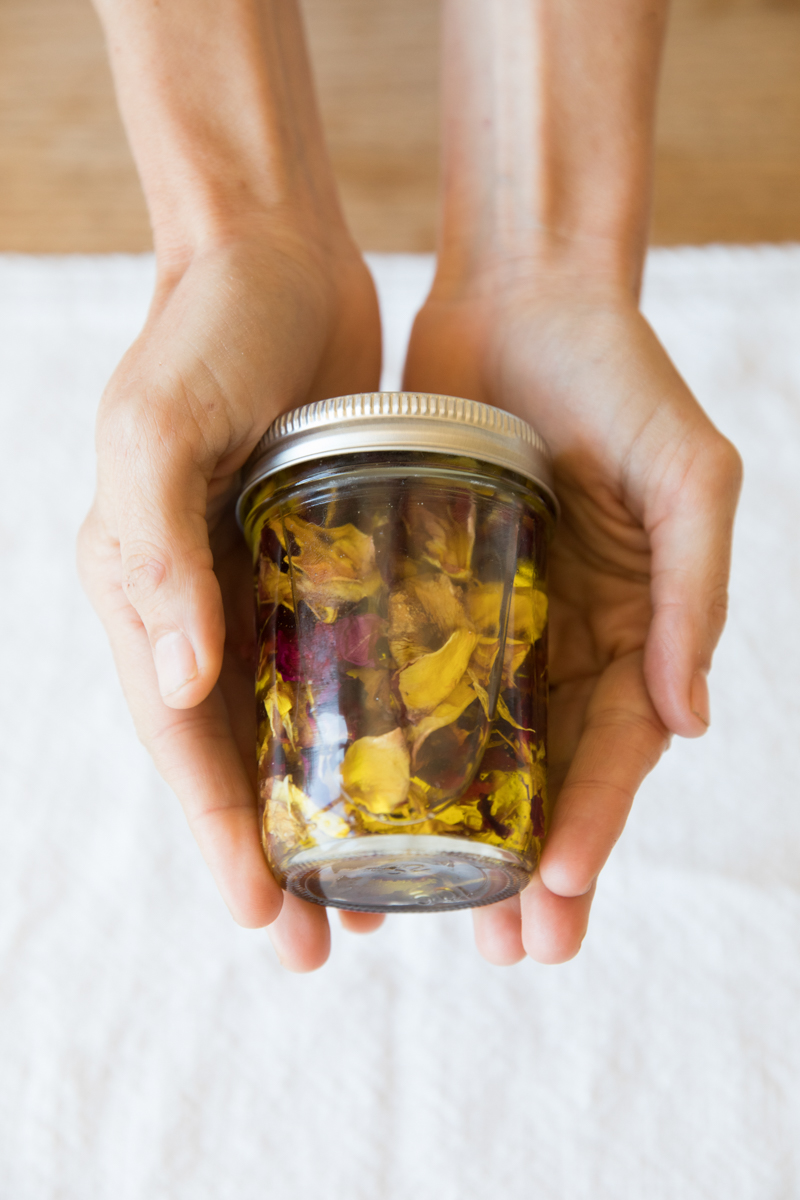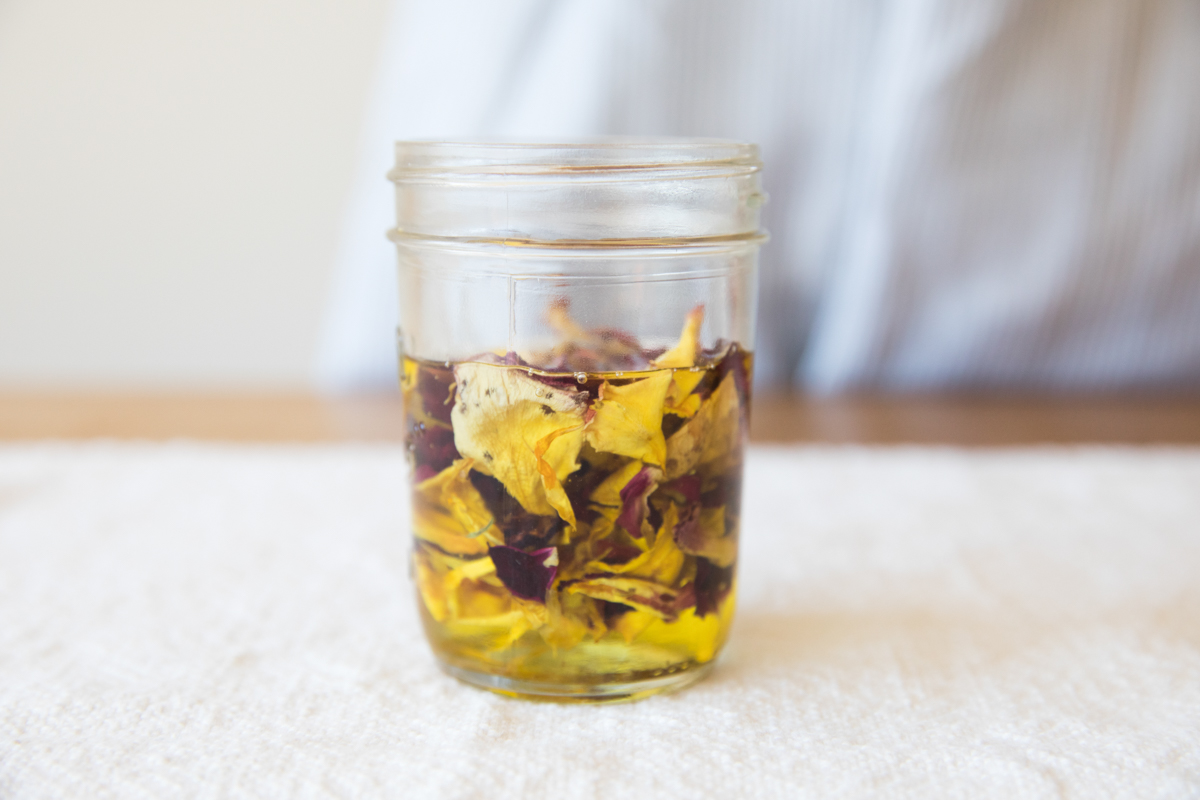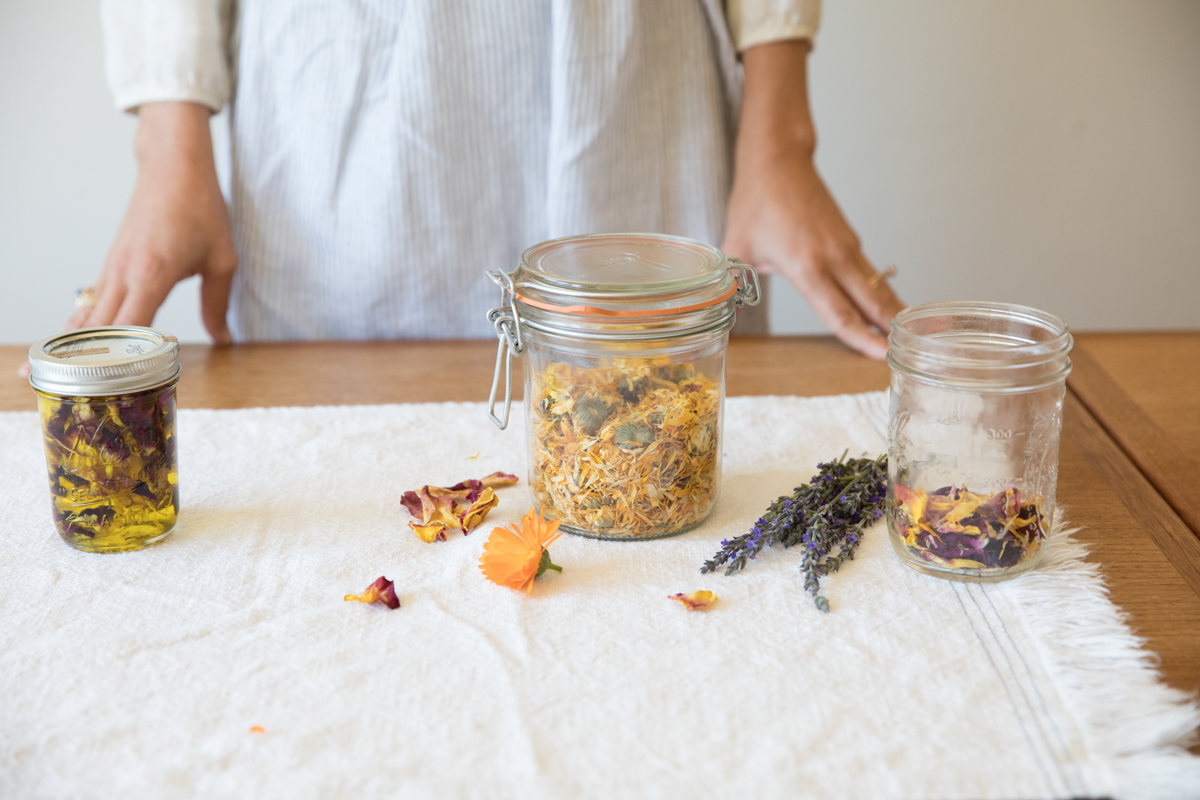 Servings: 1 jar of oil
Units:
Ingredients
1 glass jar with lid

2/3 cup

158 ml

dried herbs (or 1 cup fresh herbs)

2 cup

473 ml

sweet almond oil
Fill a glass jar 1/3 full with your choice of dried flowers/herbs from the list above. Pour sweet almond oil over the herbs and up to 1 inch from the top of the jar. Put on the top and set in a sunny window for four weeks, giving a gentle shake once a day. After four weeks, strain out the solids, saving the oil. If your oil is not fragrant enough, you can repeat the process using your infused oil. This is called a double infusion. Still craving a stronger scent? Add 6 drops of essential oil—try rose, jasmine, neroli, chamomile or lavender—per 1 oz of infused oil. Store your oil in a beautiful glass container or glass bottle with a pump top. Or of course you can keep it in your mason jar as well.
To use: apply all over legs, arms and torso just after showering. Allow your oil to soak in before getting dressed.