Food & Drink
An Almond Milk Latte with Stress-Relieving Tulsi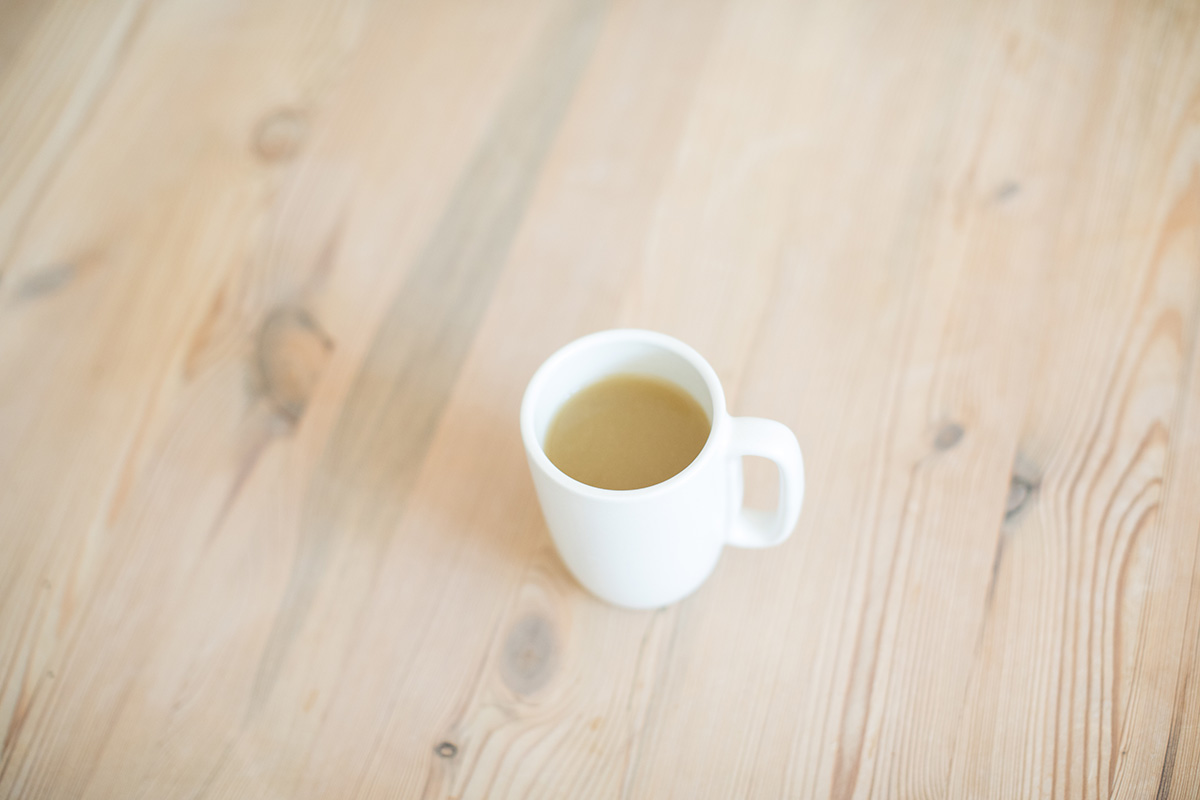 As the weather gets cooler, it's a great time to restock your collection of herbal teas as well as mix-ins like nut milk and adaptogens that help to boost the the health benefits of every cup. Right now I'm enjoying tulsi rose tea, which was recommended to me by my friend, holistic nutritionist Elissa Goodman. Once I steep the tea, I add a little bit of warm almond milk and some fresh cinnamon on top. Because it's caffeine free, calming, and just a little bit sweet it's wonderful as a before-bed drink, but you can enjoy it whenever you crave something soothing. In addition to stress relief, tulsi has other health benefits, including detoxifying the liver and warding off colds. Elissa was kind enough to share some more insight on the herb below. Enjoy! XXJKE
Elissa Goodman's Guide to Tulsi
Tulsi, also known as holy basil, is most commonly consumed as an herbal tea. The flavor is so unique you pretty much need to try it to understand it (in a good way). It's potent enough that I would probably drink it even if it didn't taste so good!
Tulsi isn't a new discovery—the plant originated over 5,000 years ago in India and regions of Asia— and continues to provide an abundance of amazing nutritional advantages including the active ingredient eugenol, which is present in the leaves of the plant. Two of its other primary components, carvacrol and ursolic acid, are antimicrobials and rich in antioxidants. Tulsi means "the incomparable one" in Hindu, and its numerous health benefits explain why.
Tulsi is an adaptogen, which means it can bring the body into balance, increasing our resilience to stress— both emotional and physical —and helping the mind and body cope with everything from disease to everyday stressors. In addition to its adaptogenic qualities, tulsi also helps maintain a healthy mouth, with antimicrobials that fight germs and bacteria in the oral cavity. The plant also enhances adrenal function, and thus is ideal for individuals who are anxious or frequently under pressure by maintaining cortisol levels in the body. The list goes on: tulsi improves digestive health by stimulating the liver and cleansing the kidney, provides cardiovascular benefits from its abundance of magnesium (which promotes blood flow), and promotes a healthy weight by accelerating fat burning potential. Tulsi helps to lower blood sugar levels by ensuring that sugar in the blood is utilized for energy, which in turn can reduce the risk of diabetes. Its anti-bacterial, anti-fungal, and anti-inflammatory properties offer respiratory benefits from soothing mild colds to bronchitis, as well as congestion relief. Its benefits are not only internal: tulsi is full of antioxidants that fight against free radicals that cause the signs of aging. 
The good news, besides its great taste, is that Tulsi is also very accessible. I pick up a box of Organic India Tulsi Tea at my local Whole Foods or organic grocer about once a month, for less than $10. Tulsi tea is made from the leaves and blossoms of the holy basil plant and is brewed in the same way you would prepare traditional teas. You can enjoy it hot or cold—start with a cup a day for two weeks to immediately begin experiencing benefits!