Style
A Visit to Amagansett's Amber Waves Farm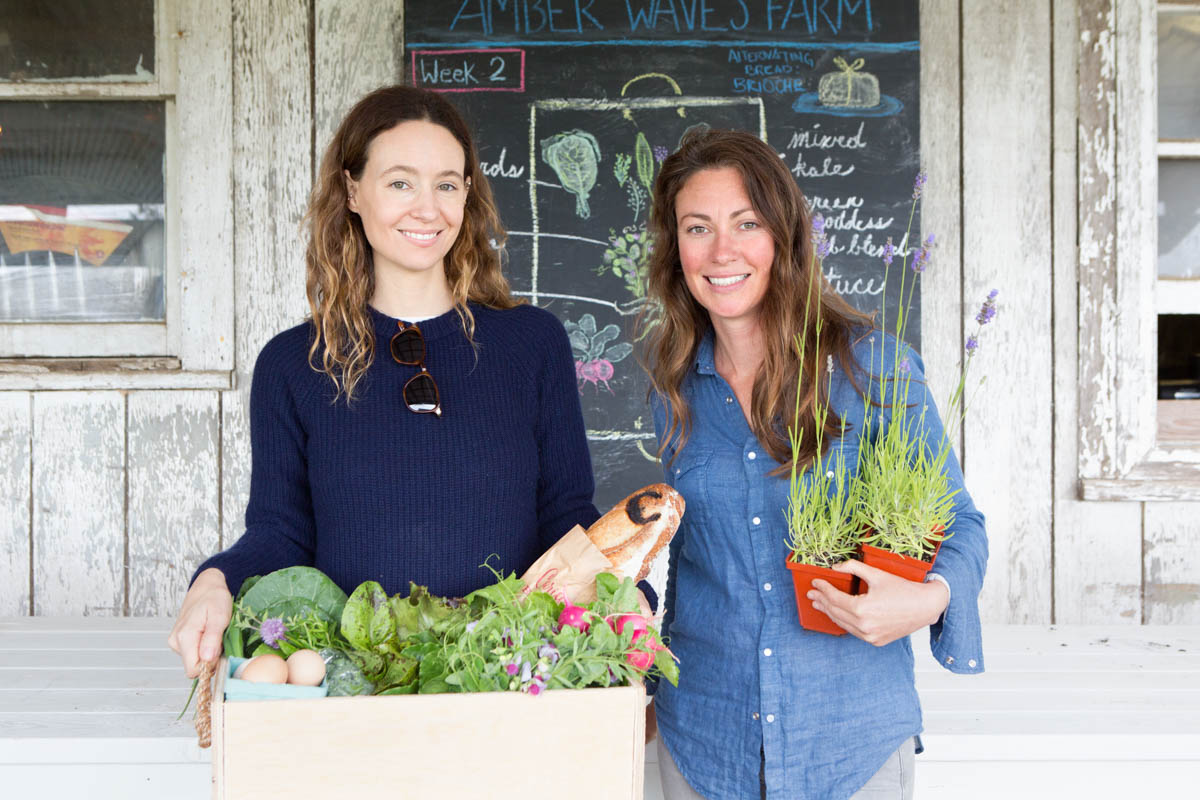 When we opened our first pop-up store in Southampton this summer, I knew I wanted to collaborate with Amber Waves Farm; a beautiful organic farm in Amagansett that supplies a lot of the local restaurants with fresh produce, and runs a popular CSA program as well. The farm was founded about seven years ago by two friends, Katie Baldwin and Amanda Merrow, and has become a hugely important part of the local community in that short time. At the store we're selling Amber Waves Farm's produce boxes—filled with fresh vegetables, fruit, cheese, and bread.  If you're curious what it's like to own an organic farm, and want to know what else Amber Waves has to offer (trust me, there's a lot), check out our Q&A with Katie below. XXJKE
Rip & Tan: How did you come to own the farm? What are your backgrounds? 
Katie Baldwin: I was raised in Southern California and Amanda grew up in Vermont. We met after college on a farming apprenticeship and became fast friends. We eventually decided to follow our passion for good food and hard work by founding Amber Waves Farm in 2009. We started the farm with an empty field, 18 CSA members, and our combined savings of $5,000.
We have built Amber Waves Farm from the ground up and have created a beautiful, social, fun, and productive place that fills our souls and feeds our community. The farm is vibrant! It's a living and breathing place made up of many moving parts including: the two of us, 10 female farm apprentices, one fantastic farmer-educator, hundreds of thousands of crops, a mix of local and celebrity clientele, a chef-in-residence, a partnership with a local artisan baker, a flock of 150 laying hens, and our barn cat, Jim.
Rip & Tan: What does the farm grow and by what means?
KB: We grow hundreds of varieties of organic vegetables and herbs for our Community Supported Agriculture (CSA) Program, the Montauk Farmers Market, East End restaurants, and markets and local food pantries. We grow several different varieties of organic wheat for flour and wheat berries, each with its own culinary specialty. We also grow 50 different varieties of flowers for our U-Pick flower program. We follow the organic regulations outlined in the Northeast Organic Farmers Association (NOFA) Farmers Pledge. We use sustainable soil building practices and natural fertilizers; we do not use synthetic pesticides or herbicides.
Rip & Tan: What are the farm's core values?
KB: Our mission is to produce organic, healthy food for our local community, to reintroduce wheat to our local East End of Long Island food shed, and to provide educational opportunities in agriculture and food at our farm. We are committed to sharing with people the story of their food in order to create both conscientious eaters and future farmers. We are open to the public every day, and the farm regularly welcomes families, school groups, and passers-by to enjoy all the fields have to offer. 
Rip & Tan: How do you engage with the community? What kinds of programs or visitor activities do you offer? 
KB: We have a Food Education Program which empowers children to establish a lifelong connection with their food by bringing them into the fields to see, touch, smell, and taste new and familiar flavors.
Our CSA is our best way to locally distribute fresh, organic produce while also involving the nearby community in our farm. By paying for their memberships up front, our members help us cover the cost of seeds and equipment we need early in the season. In return for their commitment, members enjoy a seasonal bounty from the fields each week, and develop a relationship with us, while coming to understand seasonality and the joy of cooking with new and unfamiliar ingredients.
And then, the farm's Apprenticeship Program trains new farmers in the art of organic agriculture. We are wholly committed to training new farmers in order to strengthen our national food system and security and provide careers for talented young people eager to enter the field of agriculture.
Rip & Tan: What is the most challenging and the most rewarding thing about being a farmer?
KB: The most challenging part of being a farmer is maintaining a happy, healthy farm crew, keeping morale high, and making sure the farm operations are a well-oiled machine. 
The most rewarding part of being a farmer is the food! And, the work/lifestyle blend that allows you to be outside all day working with your best friend in the fields. Oh, and driving the tractors is a blast.
Rip & Tan: What beauty products does a farmer need in her life?
KB: Naturopathica calendula hydrating cream, Southampton Soap Company's Seaside Spa Bar, and Blue Lizzard sunscreen.
Rip & Tan: What are your goals for the farm and your business in the future?
KB: We want to focus on the experiential part of the farm—agri-tourism activities including dinners, events, tours, and workshops. We are also going to increase the footprint of the farm to make room for livestock, and to add high tunnels to extend the farming season. Books, B&B, and a restaurant are on the horizon!
Rip & Tan: How many days do you take off per month? What do you do to unwind and relax?
KB: We try to take Sundays off and go to the beach or go sailing with our friends!
Rip & Tan: What unexpected vegetables should we be eating and cooking with this time of year? Or, what flowers should we use right now? 
KB: High summer vegetables are in season in New York, so tomatoes, cherry tomatoes, eggplant, peppers, garlic, sweet corn, potatoes are all exploding out of the fields.
An unexpected fruit that really 'wows' our customers are husk cherries (a small fruit in a husk like a tomatillo with the flavor of grape, blueberry, tomato and passionfruit). We halve them, add them to a small bowl with olive oil, salt, and pepper, and pair with Mecox Bay Dairy Sigit cheese, and Carissa's salty pickled sour rye bread.
An unexpected vegetable that we are in love with this season is Salanova! It is a baby head lettuce with a magenta exterior and lime green interior that stays crisp and mild flavored in the summer heat when other lettuce turns bolty and bitter. It's most amazing characteristic is that you cut out the core and you have the perfectly sized baby lettuce leaves without any other chopping.