Living
A Venice-Beach Home Tour with Stylist Kate Brien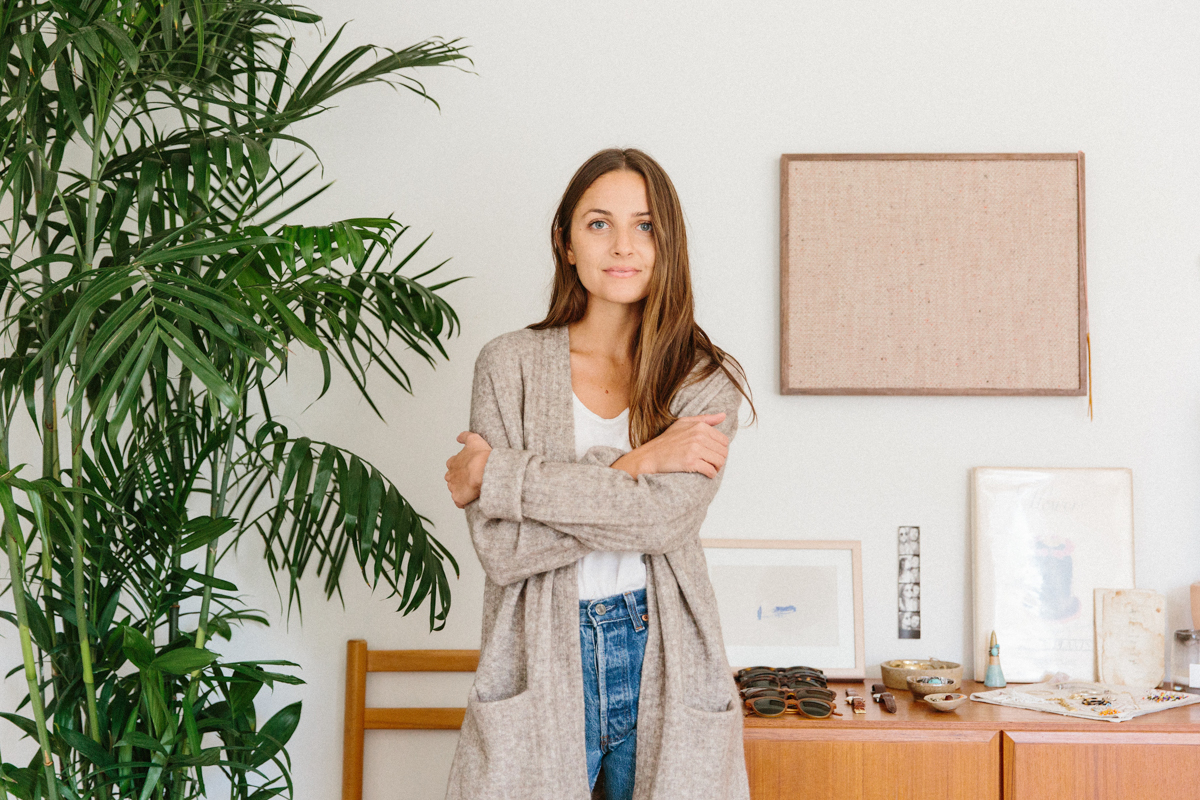 Seeing my female friends thrive as artists and business leaders is so inspiring; especially those friends I've known for years and years. Kate Brien is a great example of this; I met her through my sister Maggie when they were at NYU together and I've known her sister, Carly, since high school. Watching her career as a stylist flourish and evolve over the years has been incredibly fun. The last time we checked in with Kate on Rip & Tan she was immersed in her blog, View from the Topp, and living in Venice with her boyfriend, artist David Kitz. Fast forward to 2017 and Kate and David are married, with a new Venice Beach house, and Kate just wrapped up styling her first feature film.
Here's a look inside Kate's new space—which is layered with beautiful textures, soft neutral colors, and plenty of plants and pottery—as well as a Q&A with her on her latest personal and professional endeavors. I hope her success (and newfound focus on balance, especially), inspires you too! XXJKE 
Rip & Tan: The last time we interviewed you was over two years ago! How has life changed since then?
Kate Brien: Well, I got married. I left Venice, moved back to Venice, costume designed a feature film, and have taken a bit of a step back on View From The Topp.
Rip & Tan: Tell us about your new Venice home. How did you come to find it or what's the story behind it?
KB: My husband and I left Venice last year and couldn't wait to move back and into another little craftsman by the beach. I had driven by this place with a sign in the yard, yet when I contacted the realtor they said it was unavailable. We looked for months but I kept thinking (and journaling) about this charming little spot. A few months later, it popped up again. The person who had moved in unexpectedly had to get out of their lease and it was all of a sudden available. We saw it that morning, signed the lease the next day, and moved in a few weeks later. I like to think I manifested it. 
Rip & Tan: What's your favorite room, corner, or detail in the house?
KB: This house has a lot of quirks as it was built in the '20s and has had very little done to it since then.  I love all of the old windows and the wood door. My favorite room is probably our bedroom. There's a West facing window behind our bed, and in the afternoon the sun shines through as it's setting and it's the coziest place to be. 
Rip & Tan: Tell us about the décor. How is it different (or the same) as your previous space?
KB: We've kept a lot of the same pieces from our last place but pared it down a bit. More neutral; a little more grown up. There's more storage here so not everything has to be displayed, which is nice, and we've managed to donate a lot of things that no longer serve us. 
Rip & Tan: What are you excited to do in your new home?
KB: I'm looking forward to having dinner parties in our backyard—there's so much space! 
Rip & Tan: What is the last thing you bought for your home that you're in love with?
KB: The bamboo palm in our bedroom. Plants are life!
Rip & Tan: What projects have been keeping you busy lately?
KB: I just finished costume designing my first feature film in December, which was one of the most challenging yet rewarding experiences.  Since then I've been working on a few styling and consulting projects, but also I've been taking some much needed time for myself. 
Rip & Tan: Tell us about your work on the film Home Again. Is this a new process for you or have you worked on film sets before?
KB: One of my old and dear friends, Hallie Meyers-Shyer, had written and was about to direct her first film and asked if I was interested in being the costume designer. I had never designed costumes for a film, or worked on a film in any capacity, so it was definitely a new process for me.  Home Again is a contemporary film so my background in fashion and styling were helpful, but I had never worked to create characters in such depth—thinking not only about the way characters looked, but also how their costumes might assist in storytelling.
My grandfather was a filmmaker and I have always felt not only a love for cinema but a personal connection to the medium, so it was really special being able to experience and contribute to the making of a movie firsthand. 
Rip & Tan: What have you learned about yourself in the last couple of years when it comes to work?
KB: Growing up and throughout college, I was always the type of person who put work first. I paid my dues and worked non-stop, interning throughout all four years of college, then attending two years of design school and getting a job for a fashion editor just as I finished up my design degree.  I had a clear path that I was following and my attitude was always go, go, go.  
Once I was out on my own as a stylist, and started View From The Topp, I spent a few years taking every opportunity that came my way and having that same work ethic in a new context. These past few years, however, I've realized the importance of having a healthier work/life balance. I love my life—my family, friends, husband, home, and hobbies—and I noticed that I have a tendency to spend a lot of time focusing on the future and working towards future goals rather than being present. I've become a lot more selective about the jobs that I take, and I've learned to appreciate how lucky I am that my job allows me the time and space to have both a career and a colorful life outside of work if I choose to live that way. 
Rip & Tan: What wellness ritual or beauty routine is making you feel your best these days?
KB: Yoga, Pilates and hiking each a few times a week, greens juices from Pressed Juicery and as much sunshine as possible!
Rip & Tan: What products have a firm spot in your medicine cabinet?
KB: Aztec Secret Indian Healing Clay Face Mask, Goe Body Oil, and Kiehl's Musk Bodywash 
Rip & Tan: Has your style changed much in the last couple of years?
KB: I've always worn a lot of vintage, but I think in the past few years I've been more dedicated to sustainable living, especially in terms of my style. Keeping old pieces and investing in items from smaller, local designers or a few designer investment pieces.  But my style is still very much relaxed and minimal; a bit more bohemian if anything.
Rip & Tan: What is inspiring you right now when it comes to style or beauty? What image, muse, or brand?
KB: It's an interesting time that we're living in right now; the social and political climate are really affecting the way that I live and think on a daily basis. I'm finding inspiration in women who have used their minds and voices to take a stand—women like Joan Didion and Gloria Steinem—and women-run brands like Jenni Kayne and Doen. 
Rip & Tan: What are you listening to, reading, or watching right now?
KB: I just spent a few weeks in Hawaii and have been really into listening to traditional Hawaiian music.  We brought back a few records from our trip and they've been on loop. My favorite is a Keola Beamer slack key guitar record from 1972.