Living
A Tour of Lauren Malloy's Central Coast Ranch Home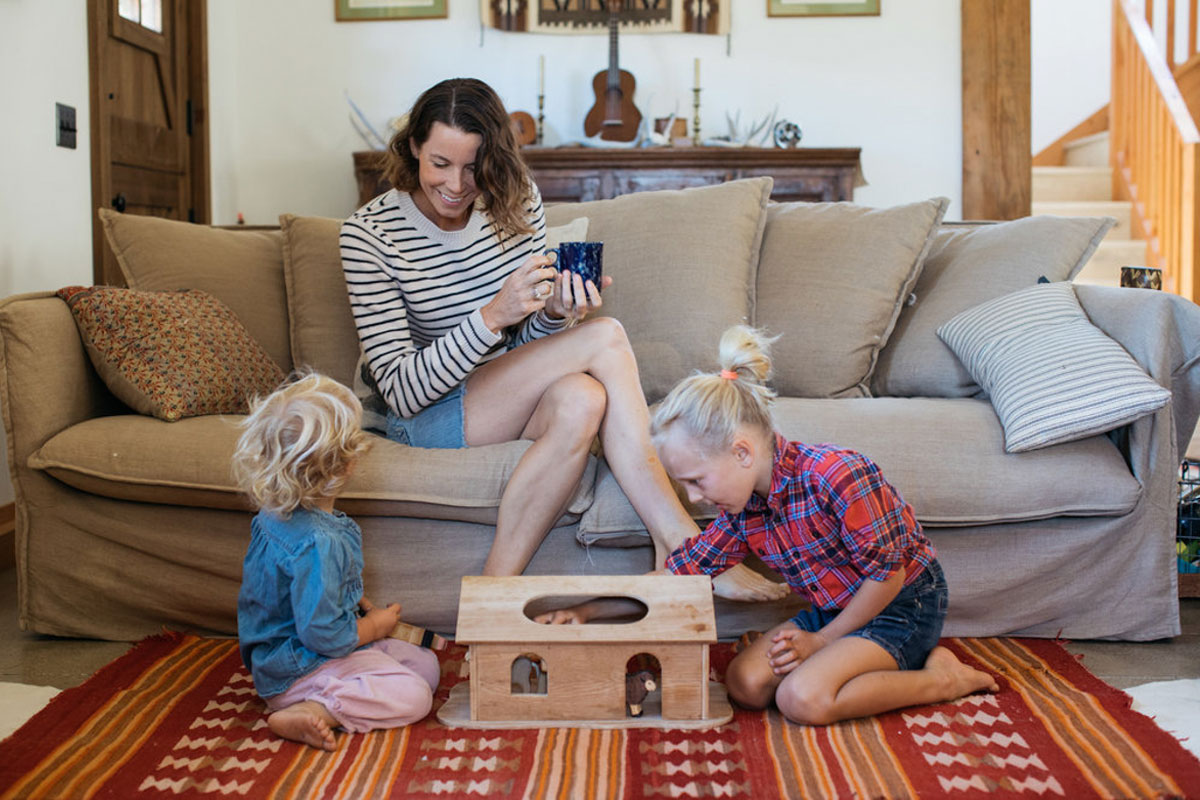 If you've enjoyed our DIY beauty series with the ladies of Women's Heritage in Santa Barbara County, I think you'll appreciate today's interview. Lauren Malloy is one of the founders of Women's Heritage and their natural beauty line and lives on a ranch in the Central Coast area with her husband and two daughters as well as horses, cows, dogs, and other animals. Lauren was kind enough to give us a tour of her property and home and talk to us a little about what it's like to live among nature, almost an hour from the nearest store. Lauren's commitment to slow, natural living is inspiring and her home and lifestyle on the ranch is quite dreamy—though, of course, it requires plenty of hard work! I hope you enjoy getting to know this dynamic woman as much as I have. XXJKE
Rip & Tan: What inspired you to move to Central Coast? Was it a difficult transition? 
Lauren Malloy: My husband (Keith Malloy, a professional surfer and filmmaker) and I both had rural upbringings. I am originally from Vermont and he grew up in Ojai, California. When we decided to have a family, we shared the same passion of raising our children the way we were raised. We moved to where we had room to have animals and where our children could grow up running wild! It's amazing how the human population drops off right near the border of southern and central California border and how wide open this part of the state still is.  
Rip & Tan: Have you changed the land, structures, or layout significantly since moving onto the property?
LM: We kept the same structural integrity of the house but did a complete remodel on the inside and also sided the house with redwood. My husband and I luckily have similar taste and instead of hiring a designer my husband and I did most of the design ourselves. It was such an awesome and overwhelming experience! I remember having a meltdown mid remodel and thinking "I am not a designer, this is never going to work" but using natural wood, white walls, cement floors it all came together and we couldn't be happier with the space we created. 
Since we have so many animals, we needed to put up fencing and structures for our animals which includes a horse and cow open air barn, a pig house and a chicken coop.  We have put in fruit trees, olive trees and garden boxes.  Our property is pretty steep so we have done our best to work with and utilize the land we have. 
Rip & Tan: How would you describe the decor? Where did you find most of your things?
LM: I would say our decor is Rustic Country. I really want people to walk into our home and want to sit right down and have a cup of tea. I like the feeling when a home is warm and welcoming and the space feels livable. We have used reclaimed wood, vintage and antique pieces mixed with cozy seating, and Native American rugs to create a space with interesting, natural textures. My New England roots also show up in our house with a big wood burning stove, a mud room and lots of quilts and baskets. One of my favorite places in our house is our hutch in our entryway. My grandmother's Navajo rug hangs above it and it is filled with antlers, which my husband and I have found while riding in the hills around here, as well as my husband's grandfather's ukulele's. I add special things to it as they come to us, it's like our little shrine. 
Rip & Tan: What do you most love about where you live? What is challenging?
LM: What I love most about where we live is the quietness. Rarely does someone even drive by!  We hear owls at night and occasionally a mountain lion.  We once had a bear walk right along our fence line. I love the wild of where we live. I can only be in a city for a few days without dying to get back to nature.
The hardest thing about living where we do is that we are 40 minutes from the store, so we have to plan way ahead for meals as we can't just run back if we forgot something! Luckily the drive is beautiful. 
Rip & Tan: How do you tend to entertain in this home? Who comes over and what do you do?
LM: We have a lot of guests and I love to host! We have an airstream on our property which makes a perfect little guest house. Having company out here, we usually don't go out to eat so there is always lots of cooking. We'll usually collect eggs in the morning and make a big breakfast. We love to BBQ together in the evening and we usually have meat we have raised ourselves to share. I also love taking friends for a horseback ride, so if our guests are up for it, we go riding!
Rip & Tan: Any goals for your house or land in the future? Things you'd like to make/build? 
LM: I think we will always be improving our property, even though my husband says, "please, no more projects". Haha! Actually, we are in the middle of building a little tack room to store our saddles in…
Rip & Tan: What do your girls love about your home or way of living? 
LM: My girls love being around the animals.  Everyday there is something to do, whether it's riding their ponies or helping halter train the calf, they are very involved in daily chores and seem to love helping. Yesterday we moved the turkey to a new structure and they spent an hour getting the area "all ready" for the turkey by collecting sticks, rocks and grass.  I give the girls a lot of freedom to roam as long as they stick together and check in. My oldest who is 6 can actually feed all the animals by herself, though I am there to oversee.
Rip & Tan: What is your typical (or "perfect") day like from start to finish?
LM: The perfect day for me is if we don't have to leave home! A day at home is focused around family, preparing food, doing projects and being with our animals. 
Having animals is such a nice rhythm but a lot of work.  Daily chores include, feeding all the animals, milking the cow, cleaning the barn area in the morning and then doing it all again in the evening. 
Rip & Tan: Tell about your mission with Women's Heritage. How did it come to be and why is it important to you?
LM: I began Women's Heritage with two of my Mama friends, Ashley Moore and Emma Moore.  We began by hosting classes and starting a blog which help bring elements of the homestead to everyday life.  I am the animal specialist of the trio and Ashley is the herbalist and Emma is the cook. So together we have had classes ranging from making sourdough bread to cow milking to foraging edible plants. Our blog has a wide variety of our specialties as well ranging from how to render lard to how to make an herbal bug spray to how to keep chickens. We realized in our modern, fast-paced society it is so powerful to learn heritage skills.
Rip & Tan: How has the company grown since you started it? How would you like to see it expand in the future? 
LM: Our little company has grown so much since we started in early 2016.  We have started a handmade beauty line, we are designing a line of aprons and are opening a curated country store in Caprinteria, California called "Heritage Goods and Supply".  We realized there was a need for a lifestyle store where people could come and find the goods they need to make jam, do natural dye projects, get set up with beekeeping and much more. There will be a range of classes and community events in the store space and customers will be able to find unique products and functional clothing all of which will help bring elements of the homestead, home! 
Rip & Tan: What were you doing prior to Women's Heritage? How do you apply those skills to your work in the company?
LM: Prior to Women's Heritage I began a blog for Patagonia called Worn Wear which celebrated the stories of people and their favorite piece of Patagonia clothing. That part of the company has expanded and now sells and repairs old Patagonia clothing. I learned so much in the process of developing Worn Wear including starting and running a blog. But I have to say, creating Women's Heritage with my partners and sharing my true passion for animal husbandry is what really feels really right for me.  
Rip & Tan: How would you describe your personal style? What do you tend to live in?
LM: My personal style is pretty simple and has to be functional for where I live so it's usually jeans or jean shorts with a peasant top and clogs. I also love vintage overalls and usually wear mine with a t-shirt underneath. I love high-waist shorts and jeans. Even though I'm dirty most of the day, I still like to wear things I love. I recently scored a pair of vintage high-waist Wranglers in Austin Texas that I am thrilled about!
Rip & Tan: What are some of your beauty staples?
LM: I use our Women's Heritage facial beauty line daily, which is made of only natural, organic ingredients with no preservatives. I love the regimen of our four products; I know they are fresh, pure, and clean as they are handmade in small batches! I do an apple cider vinegar rinse for my hair once a week and love to use apricot oil in the shower so that when I get out my skin is already moisturized.  
Rip & Tan: What wellness rituals do you cherish?
LM: I don't have a wellness ritual other than just trying to check in daily with myself to see what I need on that particular day. Some days it's going for a long walk, somedays its riding or surfing, and somedays it's taking a break from everything! 
Rip & Tan: How do you stay healthy? 
LM: We have fresh eggs from our chickens, drink raw milk from our cow, and make other raw dairy products. We raise our own cows for beef and pigs for pork and we have a garden, so to be healthy we try to eat what we have raised and grown. Disclaimer: we go to the grocery store, too. 
Rip & Tan: What are reading/watching/listening to right now?
LM: Right this minute I am reading "The Beguiled", watching "Planet Earth 2", and listening to "S Town".