Living
A Tour of Interior Designer Sally Breer's Minimalist Loft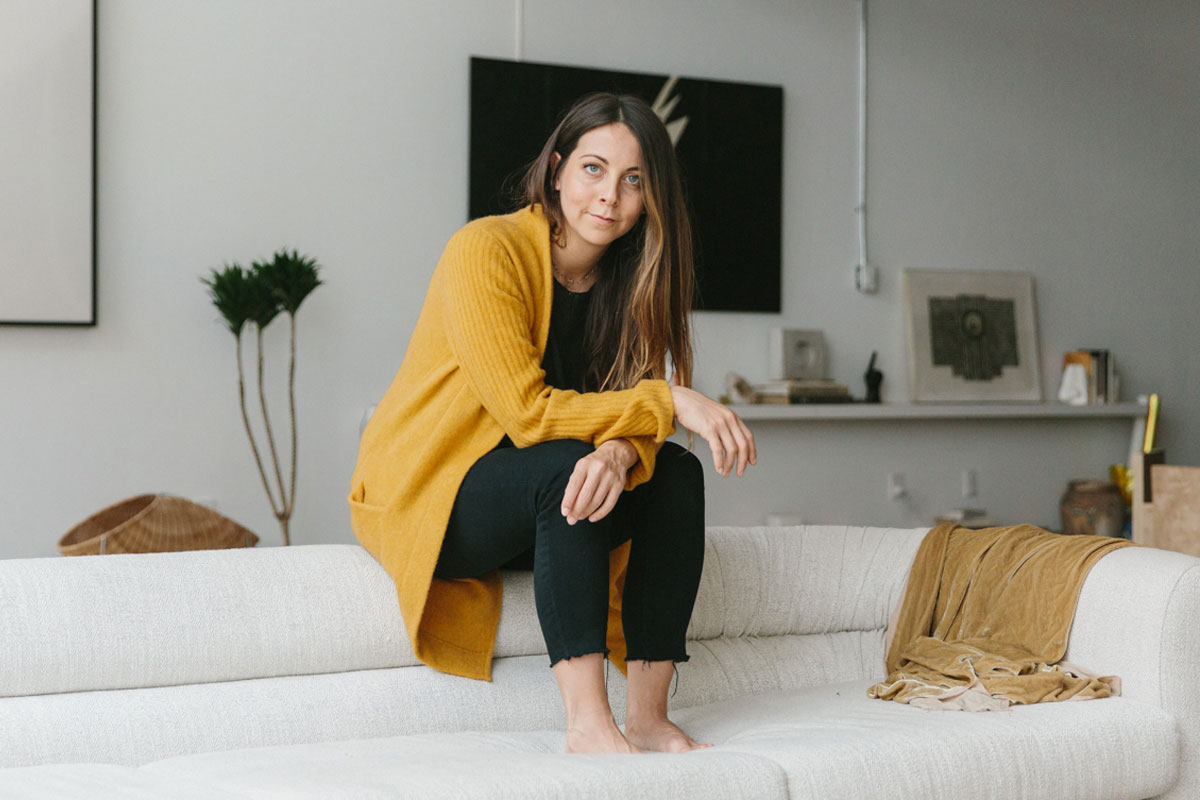 Interior designer Sally Breer's Frogtown home is the best of two domestic worlds: It is both a spacious, minimalist loft with tall ceilings and lots of natural light, and also a cozy pad with lots of little nooks and spaces to tuck into for privacy and low-key entertaining. Sally didn't just happen upon this beautiful spot; she waited for over a year to snag an apartment in the building, then carefully designed and renovated it to suit her aesthetic. Sally is self-taught and works with creative clients from Hollywood to the design world and beyond. As her home beautifully showcases, she is a master of spare but dramatic scenes, artfully appointed conversation pits, and inventive uses of space. 
Sally was kind enough to give us a tour of her home and sit down with us to talk about all things interior design—and we were lucky, too. She is expecting her first child and plans to leave the dreamy apartment by the end of the year. We can't wait to see her next pad. Until then…enjoy! XXJKE 
Rip & Tan: What drew you to this apartment and/or neighborhood?
Sally Breer: I actually discovered visiting a friend of mine who lives here; he's an amazing art, furniture, object collector who has a company called shopNFS. Naturally, I walked into his space and fell head over heels. It was about a year later that a space opened up in the building and I swooped in. What's really neat about Frogtown and this building is that it's an urban, industrial space but my backyard is the LA river so I have the best of both worlds. Beautiful lofty bones AND trees!  
Rip & Tan: What have you changed in terms of the layout and finishes?
SB: I added new black oak doors for the kitchen cabinets and added the cabinet around the fridge and on the end. Storage is a premium in the apartment because there's not a ton of it behind closed doors. I took off the wall below the stairwell to build a nook for my Arthur Umanoff wine rack and daybed (that opens up to a king bed if guests ever drink too much wine and need to crash. I also designed and built the mirrored closet and headboard upstairs! 
Rip & Tan: What is your favorite object, piece of furniture, or corner in the space and why?
SB: Gosh. hard to pick a favorite.  The art in my home is very special to me. The big lightning bolt painting in my dining room was done by my mama, who would not call herself a painter. She made it when she met my papa because she said it was how she felt when they met. They taught me a lot about passion, both how important it is to have in your partnership, as well as in your career. 
Rip & Tan: Where have you found some of your most special pieces? Any favorite LA design stores?
SB: I love my Desede Terrazza sofa upstairs, it feels very sculptural in the room but it's also insanely comfortable. My goal is to have three more by the time I die so I can have a proper pit of them.  
Rip & Tan: How do you tend to entertain in this apartment? Who comes over and what do you do? Where do you gather?
SB: Oh boy, we love entertaining in this apartment. My boyfriend and I both love to cook, so we tend to host a lot of dinner parties for our friends. One morning we woke up and decided we wanted to make paella, so we ran to the store and bought a huge paella pan and threw together a last minute paella party for 12 together. They generally start around our big dining table and after too many bottles of wine, end in the living room around the coffee table with everyone sprawled on the floor, playing celebrity or Scattergories. 
Rip & Tan: How long do you see yourself living here? What would the next step be, ideally?
SB: Sadly, our time at Blake Avenue is coming to an end soon because we're expecting a baby in December! My boyfriend, Dan, has a great post-and-beam house in Highland Park that we're working on an addition for. It's a dreamy tree fort bachelor pad, but for the three of us, it needs a little bit more space. So because we're masochists, we decided to add another level on a hillside property before the baby comes! 
Rip & Tan: When did you know that you wanted to be an interior designer?
SB: Like my girl Oprah says, I'm not sure that there was a clear "ah-ha moment". I started to become seriously interested and pursuing knowledge around furniture and interiors when I was about 21 years old, living in Austin Texas. Interior spaces, art, and design have been interesting to me since I was a little girl.  
Rip & Tan: What types of formal (and informal) training did you receive before launching your own company?
SB: I'm a college dropout so my "training" has been entirely informal. I've been lucky enough to have really great mentors in my life that let me ask questions. And if I'm being very honest, so much of what our company is today, is from trial and error. Try it, if it works, great, if it doesn't work, we try something else. 
Rip & Tan: How has the business grown from day one until now? What milestones or turning points can you identify as being crucial?
SB: Oh boy – well it's almost been a decade that I've been supporting myself as a self-employed "interior designer". When I started doing this, I was primarily focused on learning and understanding the craft of creating spaces (I'm still very much learning that BTW) but it took me a couple years before I even began to treat or look at it like a business. I'm still not GREAT at the business side but I've certainly made an attempt to learn it. The most major step I've taken was bringing on my best friend, and now business partner, Jake Rodehuth-Harrison. I had to start turning down work two years ago because I was so spread thin. I realized that it was time to bite the bullet and figure out how to expand this puppy and there was no better person I could imagine taking on that endeavor with than Jake. Lucky for me, he was game. 
Rip & Tan: How would you define your work? What do all of your spaces have in common?
SB: Soul. Does that sound corny? I wish there was a better answer but that's really the truth. We have a lot of personality in this office, and we work closely with our clients to individualize all of our spaces. There's nothing formulaic or cookie cutter about the way we work. 
Rip & Tan: Tell us about your new venture with Jake. Why have your partnered and how will that work, logistically?
SB: We've only been partners for a year and a half but Jake has been my design sister for years. We would spend Saturdays on his floor reading vintage design books and ooing and ahing over all the things that were done so damn well 50 years ago. We very much complement each other's aesthetics, but maybe most importantly inspire each other which is so damn important to keep the magic alive in what we do.  
Rip & Tan: What are your goals for your career in the future?
SB: Well this is probably too soon for me to announce, but we're currently undergoing an office remodel so that we've got some space for a retail component. We've been designing and producing custom pieces for clients for years, so we've finally decided to let the public in on some of our ideas. Stay tuned for Fall 2017! 
Rip & Tan: How would you describe your personal style? What do you tend to live in?
SB: Typically, my personal style is easy breezy, jeans and a t-shirt because I'm often on construction sites but now that I'm pregnant, I've been wearing a whole lot more dresses. Mostly because that's what I fit into now.  
Rip & Tan: What do you wear when you need or want to dress up a bit?
SB: I'm a big fan of a jumpsuit. I love a clean silhouette, in either a fun color or with some kind of bold statement jewelry. I don't generally like to feel too frilly or girly. 
Rip & Tan: What are some of your beauty staples?
SB: Nars Belle De Jour lipstick, it's the perfect nude, and Olo's Dark Wave fragrance. I feel naked if I go a day without those two. 
Rip & Tan: What wellness rituals do you believe in?
SB: This may sound crunchy but my mom raised me to be aware of where my food comes from. So when I eat out, for the most part, I don't eat a ton of meat unless I know the restaurant gets their stuff from a good spot.  
Rip & Tan: What are some of your favorite spots to hang out in LA?
SB: I love El Compadre in Echo Park, it's just really good vibes. Ernest E Debs Park in Highland Park is one of my favorite urban escapes. And for neighborhoods, Highland Park is the best in my opinion. 
Rip & Tan: What are reading/watching/listening to right now? What is inspiring you?
SB: We just finished The Defiant Ones on HBO; good god are they badass. Very inspiring to listen to people who are so severely focused on their passion.