Food & Drink
A Summer Grain Bowl Recipe from "Simple Fare"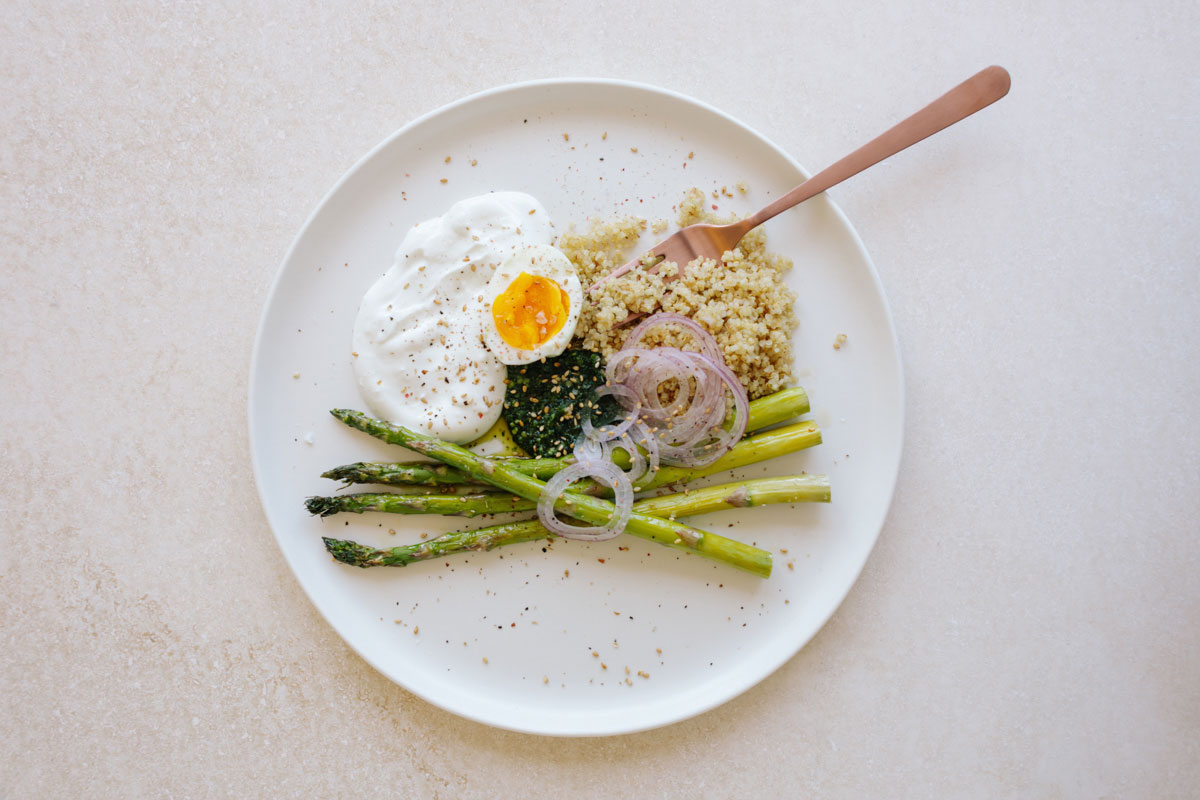 We published a grain bowl recipe from New York chef Lily Kunin earlier this month but I had to share another composition I tried and loved recently. This one comes from the new cookbook "Simple Fare: Spring/Summer" by Karen Mordechai. 
Karen is a photographer and food lover whose dinner series, Sunday Suppers, is something of a phenomenon in New York. She published a cookbook around these meals back in 2014 and also launched a line of cooking essentials, called ILA, which you can find at Midland in LA among other stores. Her new book, "Simple Fare", is geared more towards market-driven, everyday eating but the recipes have the same sophistication and nuance that her family-style dishes are known for. This farro bowl, for instance, has cured eggs, roasted purple carrots, and a refreshing watercress dressing, among other slightly unexpected ingredients. I love the way it looks on the plate and the delicious flavors at play here. If you're a fan of grain bowls and need a few new ideas to shake up your routine, this recipe—and book—is just the thing. XXJKE 
Servings: Serves 2 to 4
Units:

Course: Mains
Cuisine: American
Ingredients
1 cup

237 ml

quinoa
2 purple spring onions purple parts only, thinly sliced
1 bunch asparagus roasted
1 ounce shaved Pecorino
1 tablespoon maple syrup
Preheat the oven to 400 degrees fahrenheit. Line a baking sheet with parchment paper.
In a medium saucepan, heat 1 tablespoon olive oil over medium-low heat. Add quinoa and toast in the saucepan until lightly golden and fragrant, 2 to 3 minutes. Add the water (or stock) and a pinch of salt and bring to a boil. Reduce the heat to low, cover, and cook for 25 minutes.
Toss the asparagus with maple syrup, then spread out on the prepared baking sheet and drizzle with olive oil. Season with salt and pepper and roast for about 10 minutes.
On each plate or bowl, scoop the desired amount of quinoa and top with spring onion and roasted asparagus. Shave Pecorino over the top, drizzle with avocado oil, and season with salt and pepper. Add a soft boiled egg and yogurt for garnish.