Food & Drink
A Simplified Lasagna Recipe by Julia Turshen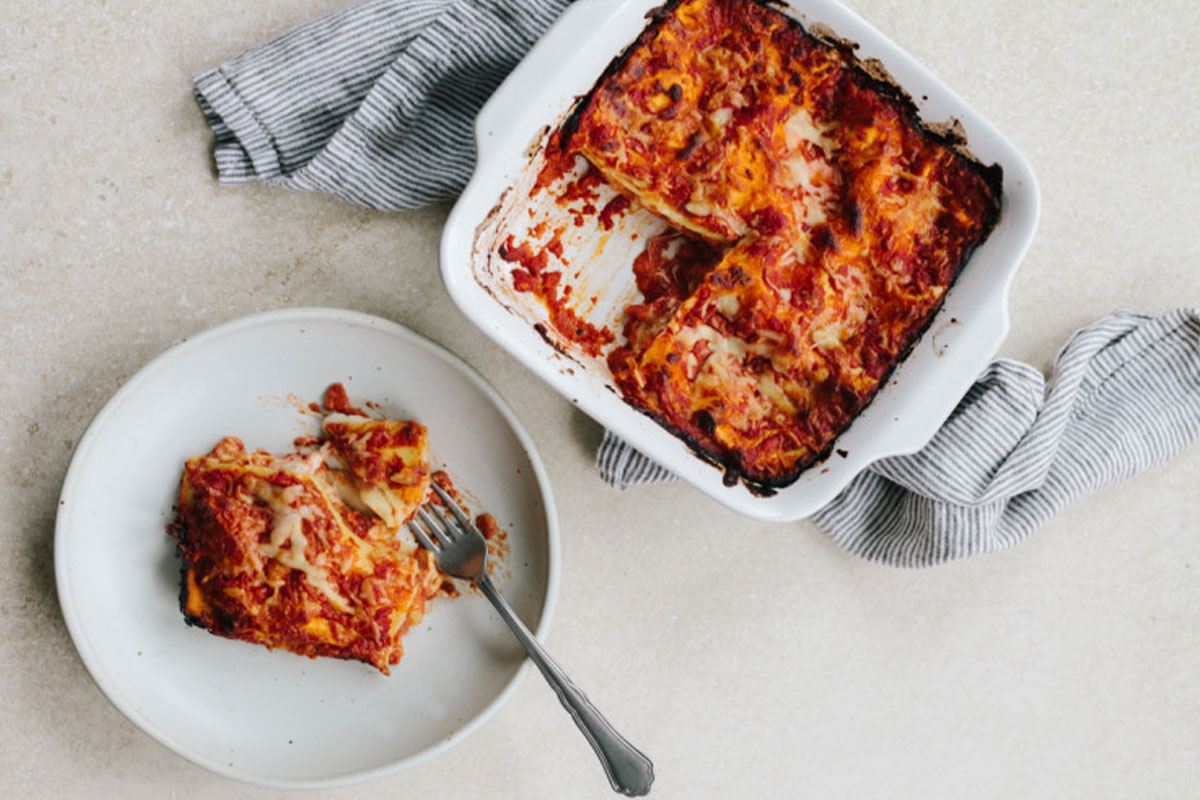 "Small Victories" is New York chef Julia Turshen's first solo cookbook, but she's coauthored some of my favorites including "It's All Good" with Gwyneth Paltrow and "The Fat Radish Kitchen Diaries", among many others.
I love her bold yet approachable recipes and her warm, funny tone in describing how to make them at home. This "Nice Lasagna" recipe, for example, might be made with homemade pasta but the ingredients are stripped down and simplified to keep the dish easy and elegant.
Julia skips common lasagna staples like ricotta, béchamel, and veggies, relying on an abundance of creamy sauce made with whole peeled tomatoes, garlic, and crème fraiche instead. It is truly delicious and while cheese is not normally part of my culinary routine, I've been reaching for this recipe over and over again since "Small Victories" came out in September. My husband, kids, and friends all love it. It's one of those crowd-pleasers you can make ahead and know that you've got an ace in your pocket for a rainy-day lunch or casual dinner. XXJKE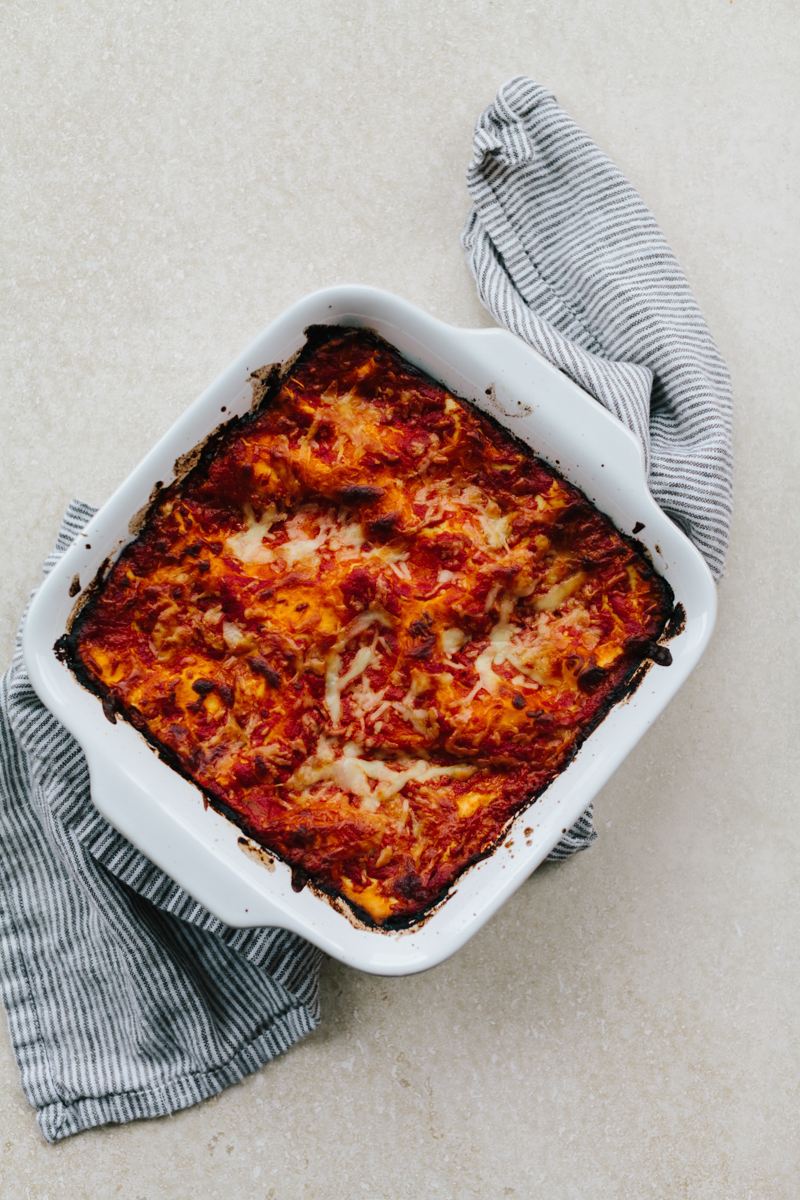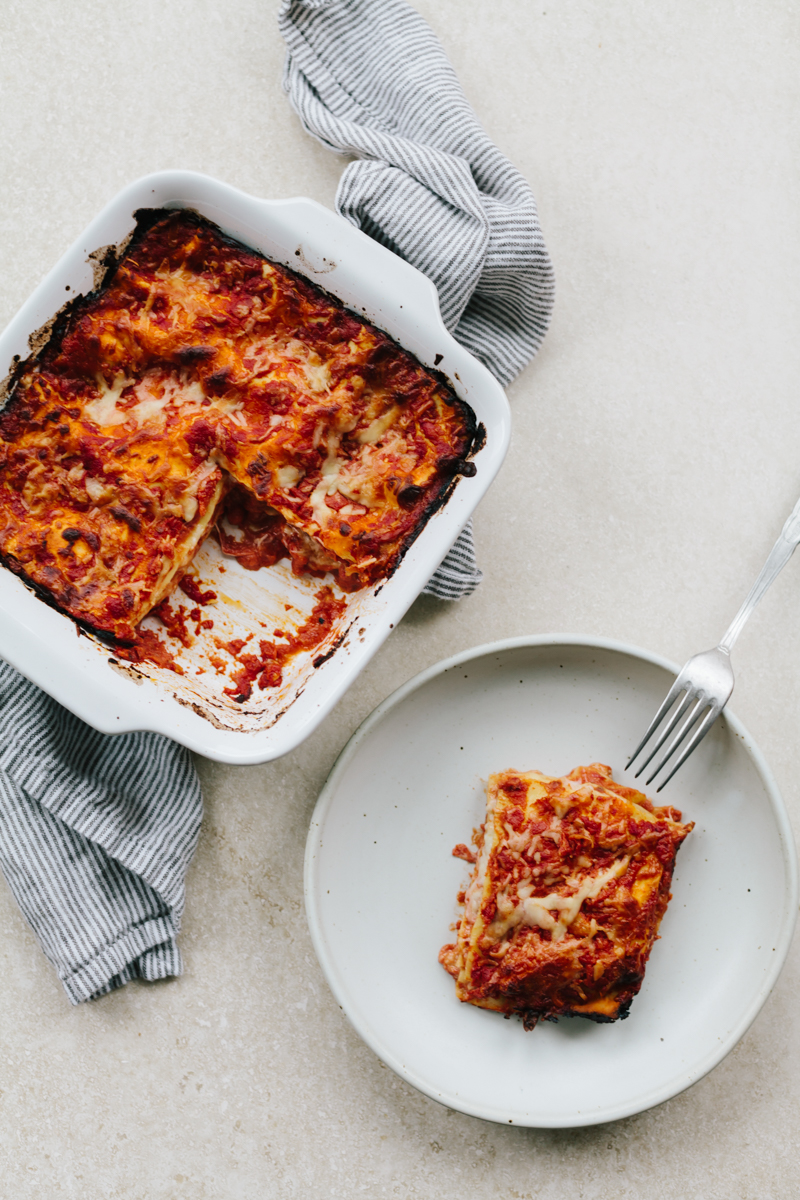 Servings: Serves 6 to 8
Units:

Course: Mains
Cuisine: American
Ingredients for the Sauce:
2 28-ounce cans of whole peeled tomatoes
3 tablespoons extra virgin olive oil
4 garlic cloves thinly sliced
1 pinch kosher salt
1 cup crème fraiche
Ingredients for the Pasta Dough:
2 1/2 cups all-purpose flour
3 eggs
1 tsp kosher salt
Ingredients for the Lasagna:
1 cup

237 ml

finely grated Parmesan Cheese

1 cup

237 ml

whole-milk mozzarella cheese coarsely grated
2 large handfuls fresh basil leaves torn into small pieces if large
To make the sauce:
In a large bowl, crush the tomatoes with your hands.
In a large saucepan over medium-high heat, warm the olive oil, add the garlic, and cook, stirring, until it begins to sizzle, about 1 minute. Add the tomatoes and 1 tsp salt and bring to a boil. Lower the heat and let the sauce simmer, stirring every so often, until it is slightly reduced, about 30 minutes.
Whisk the crème fraîche into the sauce and season to taste with salt. Set the sauce aside to cool to room temperature while you conquer the pasta.
To make the pasta dough:
In the bowl of a food processor, combine the flour, eggs and salt and run the machine until a firm ball of dough forms around the blade, cleans the side of the processor bowl, and doesn't stick to your fingers when you touch it. If the dough is too dry, add a little water, 1 tsp at a time, until the dough comes together. If, on the other hand, it's sticky when you touch it, add a little flour, 1 tsp at a time, until the dough comes together. (The exact amount of moisture in the dough depends on how you measured your flour, how large your eggs are, even the humidity in the air.) Once your dough is good to go, dust it lightly with flour and wrap it tightly in plastic wrap. Let it rest at room temperature for 1 hour.
Line a baking sheet with parchment paper and have more parchment paper at hand.
Cut the rested dough into six pieces. Working with one piece at a time (keep the rest covered with plastic), lightly dust the dough with flour and press it down with the heel of your hand. Run the dough through your pasta machine, starting on the widest setting and working your way through the narrower settings, rolling it through each setting twice, until it is very thin but not too thin. I usually stop at 6, but your machine might be different from mine, so I'll just say that the final pasta should be the thickness of an envelope—which is to say thin, but not at all transparent. You don't want it to disappear into the finished lasagna. If the dough sticks during the rolling, simply dust it with a little flour. Lay the rolled-out pasta on the prepared baking sheet. Repeat the process with the rest of the dough, keeping the rolled pieces separated with parchment paper.
To make the lasagna:
Preheat your oven to 400°F. Ladle a thin layer of room-temperature sauce onto the bottom of a 9-by-13-in [23-by-33-cm] baking dish. Spread the sauce with a spoon to cover the surface of the dish. Add a layer of pasta (brush off any excess flour), cutting the pasta and arranging it as needed to form an even single layer. Spoon over just enough tomato sauce to cover the pasta and then scatter over some of the Parmesan, mozzarella, and basil. Repeat the layering process until you've used up all of your components, ending with sauce and cheese (not naked pasta or basil, both of which would burn if exposed).
Bake the lasagna, uncovered, until it's gorgeously browned and the edges are bubbling, 35 to 40 minutes. Let it rest at room temperature for 15 minutes, just like you would a steak, before slicing and serving. This lets the pasta fully absorb all of the bubbling sauce, so you don't end up with soupy slices.