Food & Drink
A Kitchen Chat with Ojai's Inspiring KNEAD Baking Company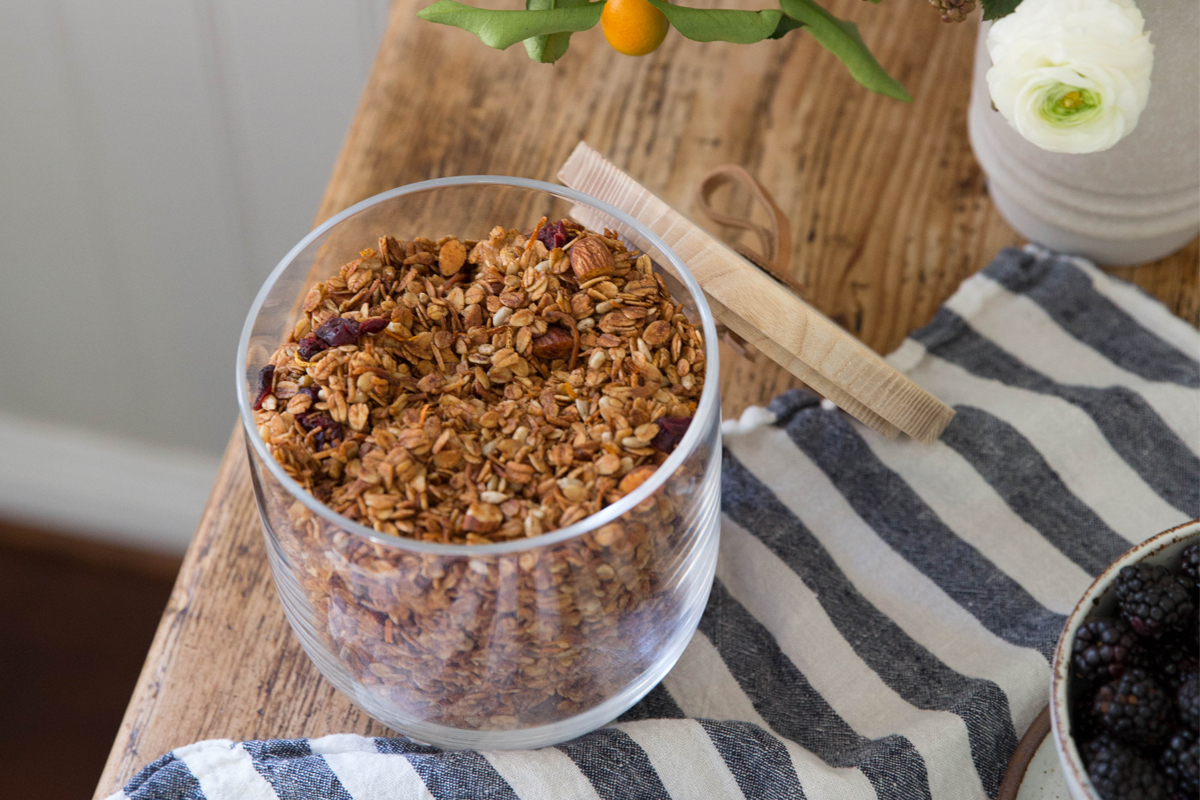 Next week we'll be revealing our gorgeous summer catalogue, which we shot in Ojai, California. The artistic hub north of Los Angeles is home to many independent businesses, and one of my favorites is KNEAD Baking Company. It's an artisan bakery and cafe that uses local and organic ingredients for truly delectable breads and desserts. As a family business—run by Bobbi, Leah, Rachel and Jake Corbin—they truly epitomize the concept of teamwork.
Each member of the family—Bobbi, along with her two daughters and son—brings something unique and special to the business. Their success can probably also be attributed to being brought up with a strong sense of family and community, and an appreciation for gardening, baking and high-quality, homemade food. They strive to elevate their customers' everyday quality of life through their mouthwatering goods, and I think they succeed. You can feel the soul they seem to bake into everything. Here, the inspiring team shares their story and best at-home baking tips. XXJKE
Rip & Tan: You all have very different backgrounds. With all your unique influences and interests, how did you wind up starting a family bakery? 
Rachel Corbin: The bakery has really grown into something bigger than we ever imagined when we first started at the Ojai Farmers' Market in 2007. It's been a natural progression, with each family member adding a different set of strengths. Our mom, Bobbi, really kicked things off with her professional pastry and architecture background. When looking for a bakery in Ventura County to settle into, she was left wanting more and decided to explore the possibility of creating her own place. When I graduated from college after studying environmental studies and Italian, I really had no idea what I was going to do for work. I knew I wanted to do something food- and sustainability-related, so I jumped on board with the bakery plan and started researching local ingredients and sustainable packaging. After we got things rolling we realized we needed more help. 
We'd be baking and trying to ring up customers and it took a lot of juggling. Thankfully my sister Leah decided to move back home and take over the front of the house. She came to us with years of customer service experience in the food industry and is a natural people person. Our younger brother Jake graduated from culinary school and took over as our bread baker. He's mastered caring for our sourdough starter and bakes beautiful loaves every week. He also composts all our food waste to go into our family garden, which produces fresh herbs, veggies and citrus for the bakery. All of our past jobs, education and travel have contributed to the bakery, however I think the bakery really is what it is because we were raised in a house where we always had a vegetable garden, where we always sat down to dinner as a family, where making bread and cookies from scratch was normal, and where we knew that a beautiful well-cared for home added to our quality of life. 
Rip & Tan: How does Ojai inspire your products? Does it influence a lot of the recipes?
RC: Oh yes! We have access to such great ingredients that lend themselves to baking. The variety of citrus grown here is amazing. Our landlords are actually one of the oldest citrus-growing families in Ojai. They deliver crates of fresh oranges and lemons to us every week. Needless to say there's citrus in tons of our recipes. Zest, juice, whole candied fruit, we use it all! We just started getting Ojai Wildflower Honey, which adds a really rich flavor to our granola. Rosemary, sage and other herbs grow like weeds here and make our savory baked goods shine. Seasonal fruit is always the inspiration for Bobbi's tarts: Strawberries and rhubarb in the spring, stone fruit in the summer, apples and persimmons in the fall, and citrus in the winter.   
Rip & Tan: What are your earliest memories of a baked good or treat? 
RC: Our mom has tons of cookie cutters for each holiday. I remember rolling out sugar cookies for Halloween and Valentine's Day. It was definitely as much an art project as a cooking project; we got to be really creative. I also remember lots of crisps and cobblers with big scoops of vanilla ice cream. We grew up on the East Coast and would pick blackberries in the woods across the street from our house in the summer. We'd go apple picking in the fall. All that fruit turned into yummy desserts.
Rip & Tan: What sets Knead apart from other baking companies? 
RC: When it comes to baking or cooking in general, a little extra effort goes a long way. It would be a lot easier to use lemon extract in our lemon shortbread cookies, or orange flavoring in our granola, but we don't. We hand-zest fresh locally grown fruit and I really think you can taste the difference. Our slow-fermented sourdough breads take three days to make. Making bread with instant commercial yeast takes a lot less time and energy, but it's a completely different product. It's less nutritious, less flavorful, less interesting texturally, and has a shorter shelf life. We'd much rather put in the extra work and create something we're really proud of.  
Rip & Tan: Can you share some tips for baking at home in this spring-summer season?
RC: Sometimes it's really helpful to rewrite a recipe in a way that's simplified and clear to you before you dive in. I always read a new recipe at least three times before I actually start baking. Also, mise en place, which is a French culinary term that translates to "putting in place." It is so important to have everything measured out before you begin. It makes the process a lot more fun when everything is ready to go and in its place. Also, be patient. You can't rush baking! Baking in the summer heat can be tricky. Make sure ingredients, like butter for scones and crusts, stay cold in the fridge. Bread doughs will rise faster in the heat. You can always let them come up overnight in the fridge so they don't rise too quickly.  
Rip & Tan: What is the biggest mistake people make when baking at home? 
RC: Start simple. It's important to learn the basic concepts, skills and chemistry before you tackle a complicated recipe. I also think it's really helpful to learn from other bakers instead of relying on cookbooks. Some things you just need to see in person. It's the chemistry that makes baking difficult. Ingredients must be the right temperature, sometimes cold and sometimes warm. Baking is much like making salad dressing. The ingredients mix together in a certain step-by-step process in order to be properly incorporated. Most home recipes don't explain this. It's good to look at several recipes for the same type of thing to see what they have in common. And measure accurately—baking is not as forgiving as cooking.
Rip & Tan: What would you pack for your perfect summer picnic? 
RC: When it's hot out we like to keep it fresh and simple. Start with a loaf of crusty bread from your local bakery—I'd grab a Rustic Bread if I was stopping at KNEAD—and soft cheese. We love Saint Andre or fresh ricotta. Ripe melon wrapped in prosciutto. Figs and peaches work well, too. Peak-season tomatoes—all different colors and sizes—with basil, balsamic, really good olive oil and lots of sea salt! And chilled Ojai Vineyard Rose. Done.
Rip & Tan: Why is baking something you feel passionate about? What do you feel you get out of it?
RC: There's something really empowering about making something from scratch, especially something that takes time and care. If you've ever grown your own tomato, built a piece of furniture, or baked a loaf of bread, you know how frustrating it is when things go wrong and how satisfying it is when everything comes together perfectly. Baking is a lot of work, and it's definitely not something you do to get rich, but it's grounded, meaningful work. Our food becomes a part of our customers' day-to-day rituals, their birthdays, weddings, baby showers and holiday traditions. Food can really bring people together and elevate our quality of life. That's what we're hoping to do each day.
Rip & Tan: Is there a recipe you can share that seems impressive but is simple to recreate at home?
RC: With summer coming, here's a recipe for a delicious creme fraiche custard filling for summer fruit tarts. Winter fruits work well with this, too, but apples and pears should be sautéed first before using. And you can also make this in a ramekin without a shell.
Photos: Lauren Ross