Food & Drink
A Healthful Easter Lunch Menu by Pamela Salzman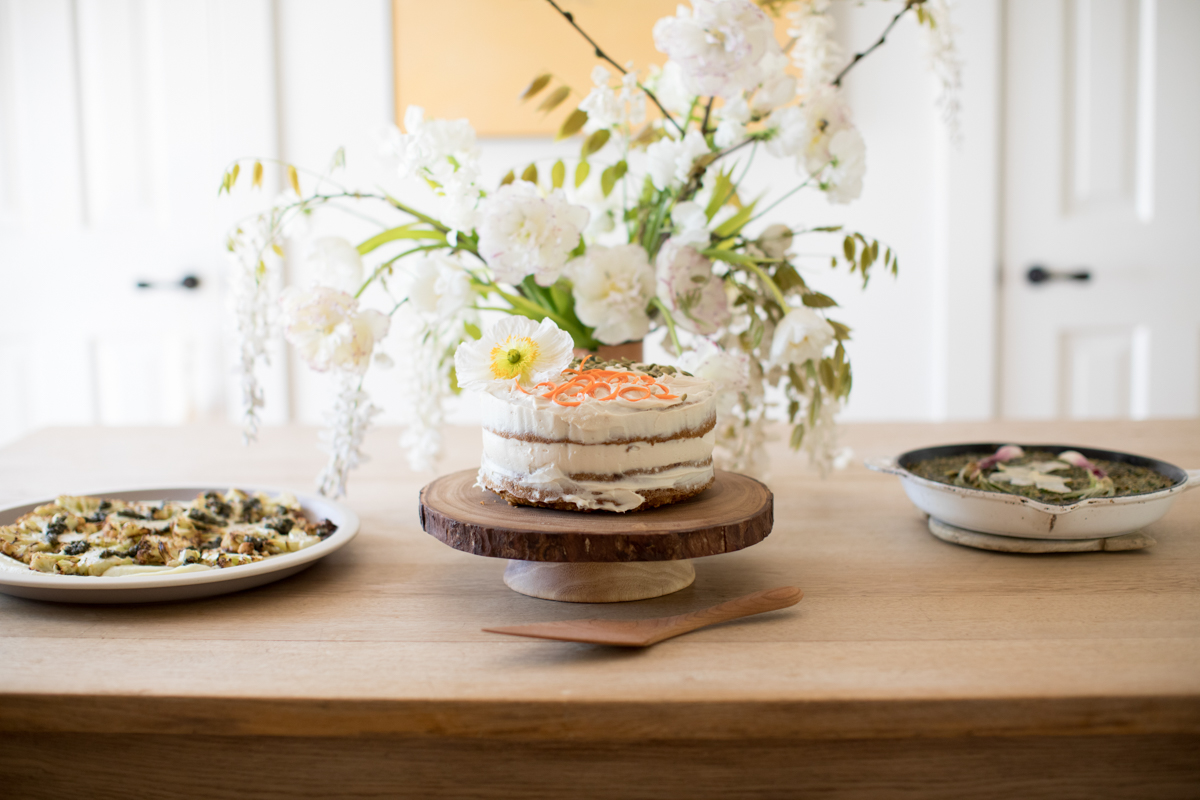 Yesterday I shared the décor details from our latest In the Veggie Kitchen gathering, which was centered on Easter lunch. Before we sat down together to enjoy the food and partake in Amy Blessing's shibori egg DIY project, my friend and talented holistic chef Pamela Salzman hosted a cooking class so we could learn how to make each dish. In the tradition of our series, Pamela focused the menu around vegetarian recipes that are beautifully light, vibrant with color, and easy to make in large batches for a big group. You could bring any one of these dishes to a friend's house for Easter or another spring-season gathering, or make them all for your own party, along with your personal favorites.
We started things off with a creamy asparagus soup that couldn't have been easier to make, and yet was so delicious. Instead of dairy, Pamela used rolled oats and unrefined oil to add richness. For a salad, she made a classic spring salad with avocado and lemon cashew dressing drizzled overtop. And cauliflower steaks with cauliflower puree and mint pesto served as the vegetable side dish. The puree is made with Yukon Gold potatoes, butter or ghee, and a little bit of salt; it is creamy and turns the cauliflower into a decadent addition to any plate. For a "main", protein-rich recipe, Pamela selected a mixed herb and spring onion frittata. A frittata is always a great choice for brunch because it's beautiful on the plate, keeps for hours, and is a crowd-pleaser with kids and adults alike.
Of course, we couldn't forget about dessert! Carrot cake felt like the appropriate choice, but Pamela's recipe put a healthier spin on the treat. Her recipe was grain-free and used an almond-milk frosting in lieu of traditional cream cheese. It was beautiful and divine; all of us agreed that it was better than the original. Get the recipe below! XXJKE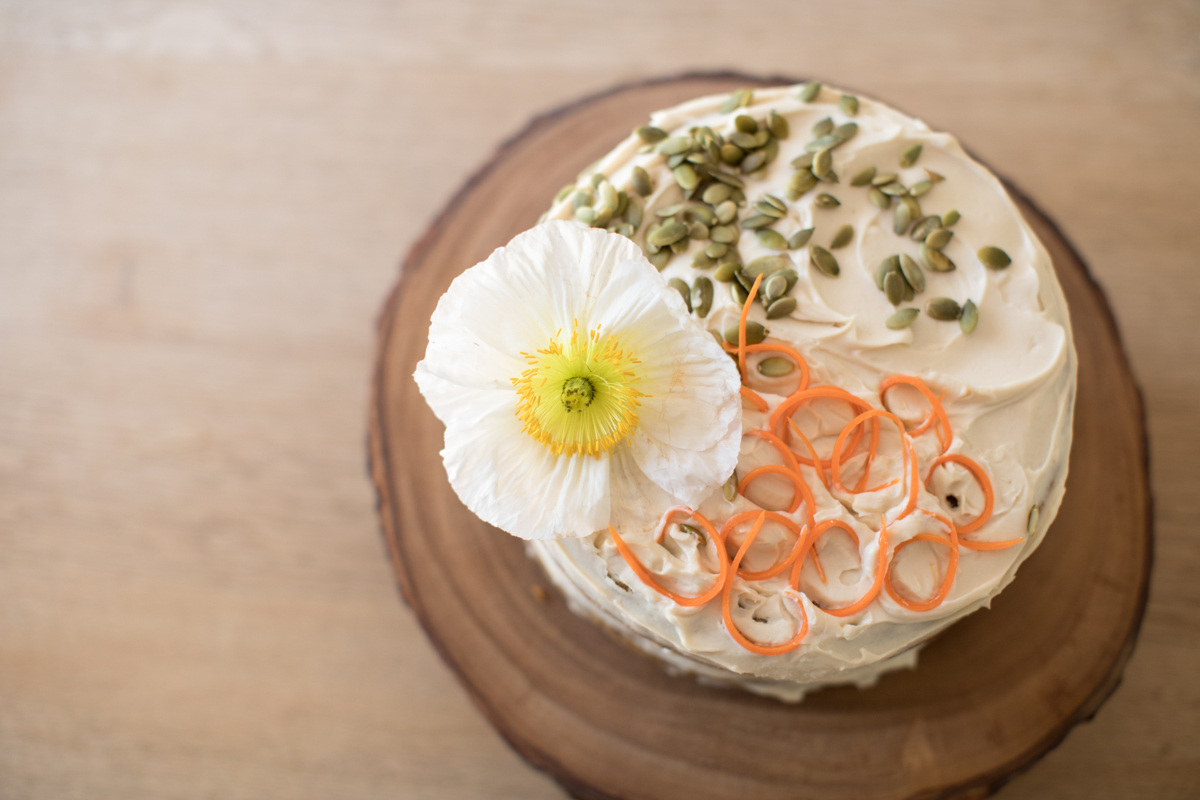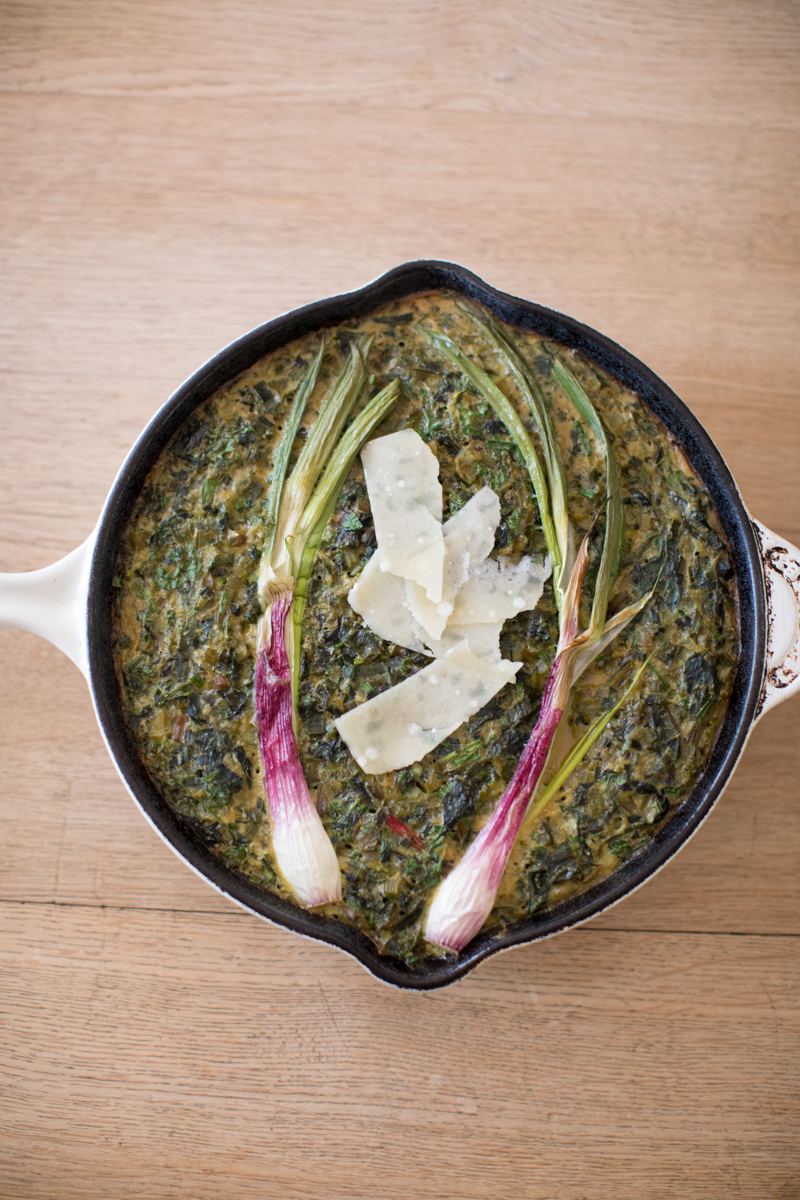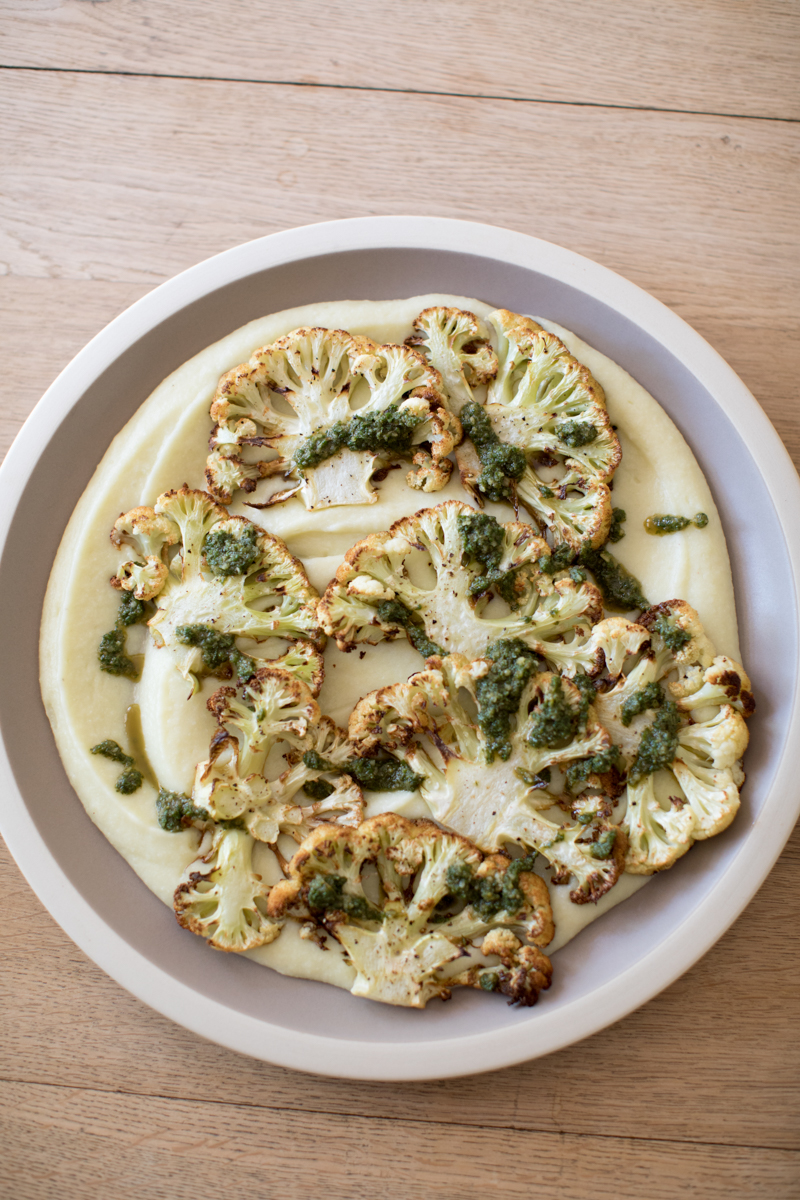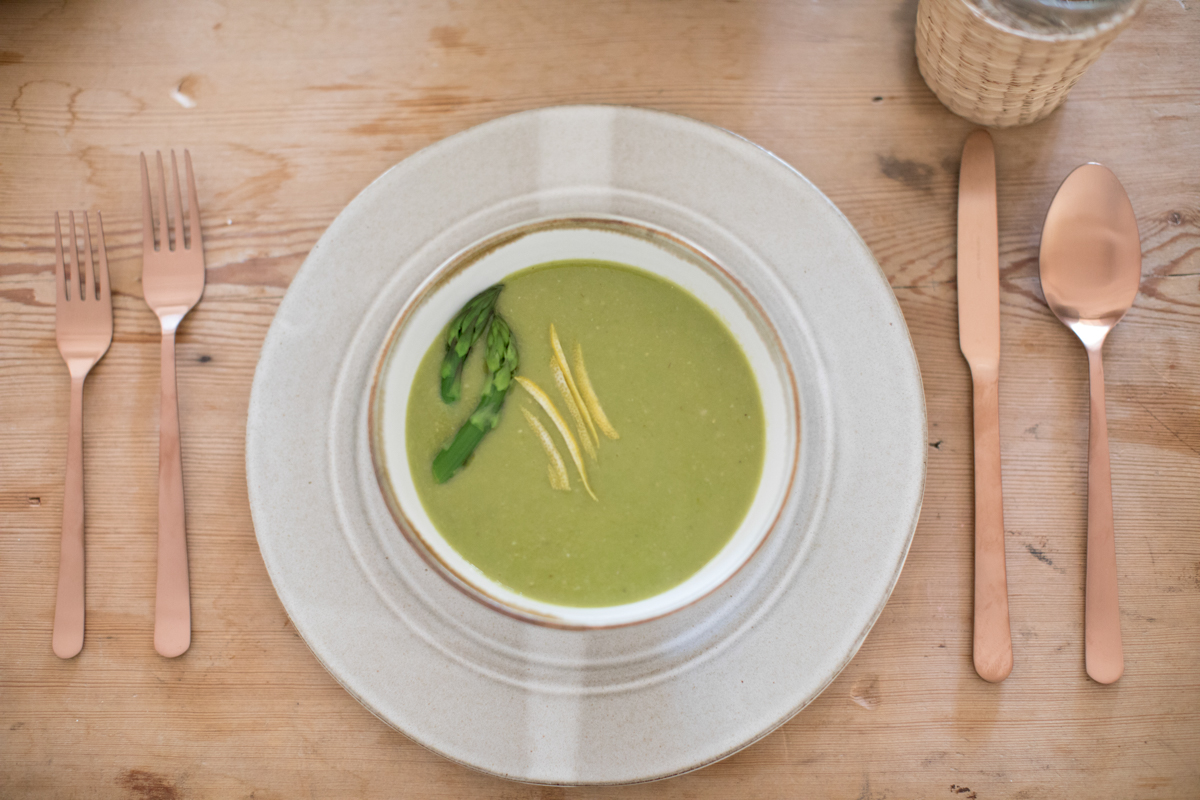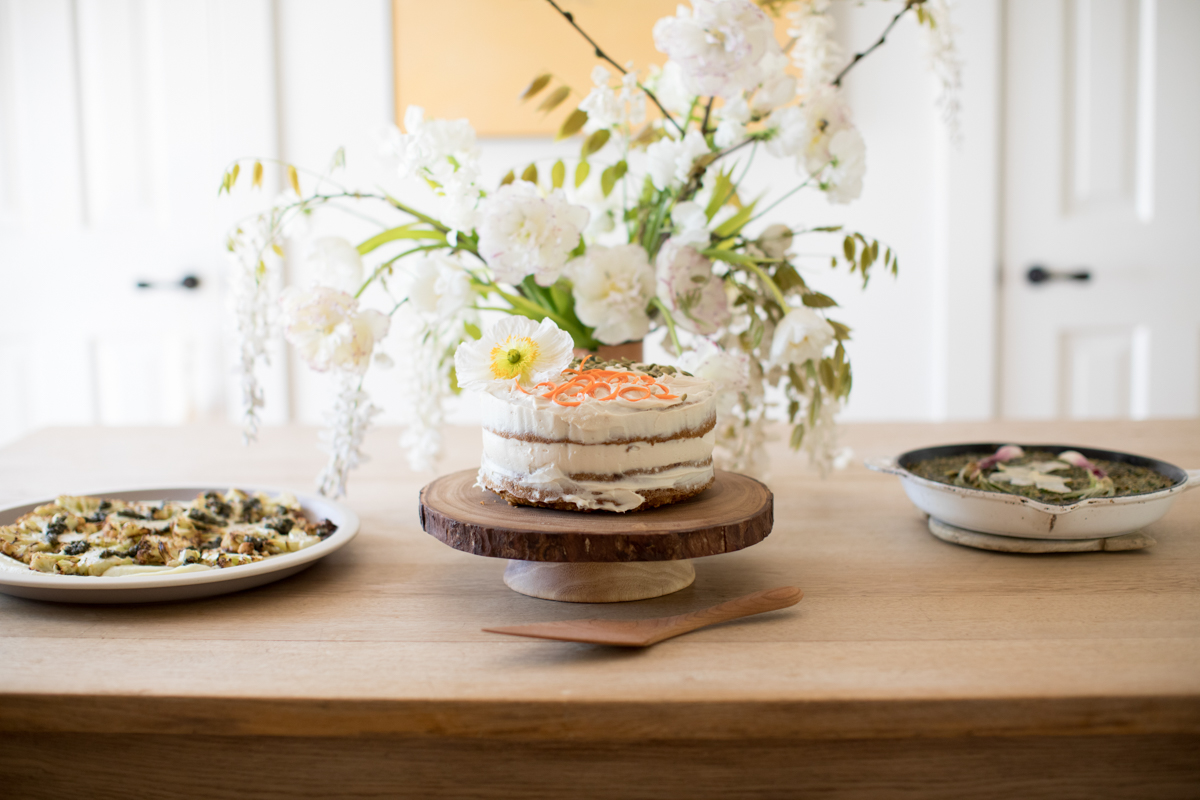 Grain-Free Carrot Cake with Almond Milk Cream Cheese Frosting
Recipe
Grain-Free Carrot Cake with Almond Milk Cream Cheese Frosting
Servings: Makes 2 8-inch round pans
Units:

Course: Desserts
Ingredients for the Cake:
unrefined coconut oil for greasing pan

2 cup

473 ml

blanched fine almond flour

1 cup

237 ml

arrowroot powder

1/2 cup

118 ml

coconut flour
2 teaspoons ground cinnamon
1/2 teaspoon ground ginger
1/4 teaspoon ground nutmeg
2 teaspoons baking soda
1 teaspoon sea salt
8 large eggs

3/4 cup

177 ml

pure maple syrup or honey

1/2 cup

118 ml

melted unrefined virgin coconut oil
2 teaspoons pure vanilla extract

3 cup

710 ml

grated carrots (about 6 medium carrots, peeled)

1/2 cup

118 ml

chopped walnuts

1/4 cup

59 ml

raisins
Ingredients for the Cream Cheese frosting (optional):
16 oz

454 g

almond milk cream cheese (such as Kite Hill, at room temperature) or dairy cream cheese can be used as well
6 tablespoons Grade A maple syrup
1 teaspoon pure vanilla extract
Preheat oven to 350 degrees. Grease 2 8-inch round pans. If desired, line the bottoms with unbleached parchment paper as well.
In a large bowl whisk together the almond flour, arrowroot powder, coconut flour, spices, baking soda, and salt.
In a medium bowl, whisk together the eggs, maple syrup/honey, coconut oil and vanilla. Pour into the almond flour mixture and combine well.
Stir in carrots, walnuts, and raisins.
Pour into prepared pans and bake 40-45 minutes until just set and a toothpick comes out clean or with dry crumbs.
Cool 5 minutes in pans before turning out onto a cooling rack. Cool completely before frosting.
Prepare the frosting: in the bowl of a mixer, beat the cream cheese, maple syrup, and vanilla until light and fluffy, about 1-2 minutes.
Place one cake on a cake plate and cover the top of the cake with half of the frosting. Place the second cake on top and use remaining frosting to ice the top of the cake.