Living
DIY: A Handmade Heirloom Quilt with Simone LeBlanc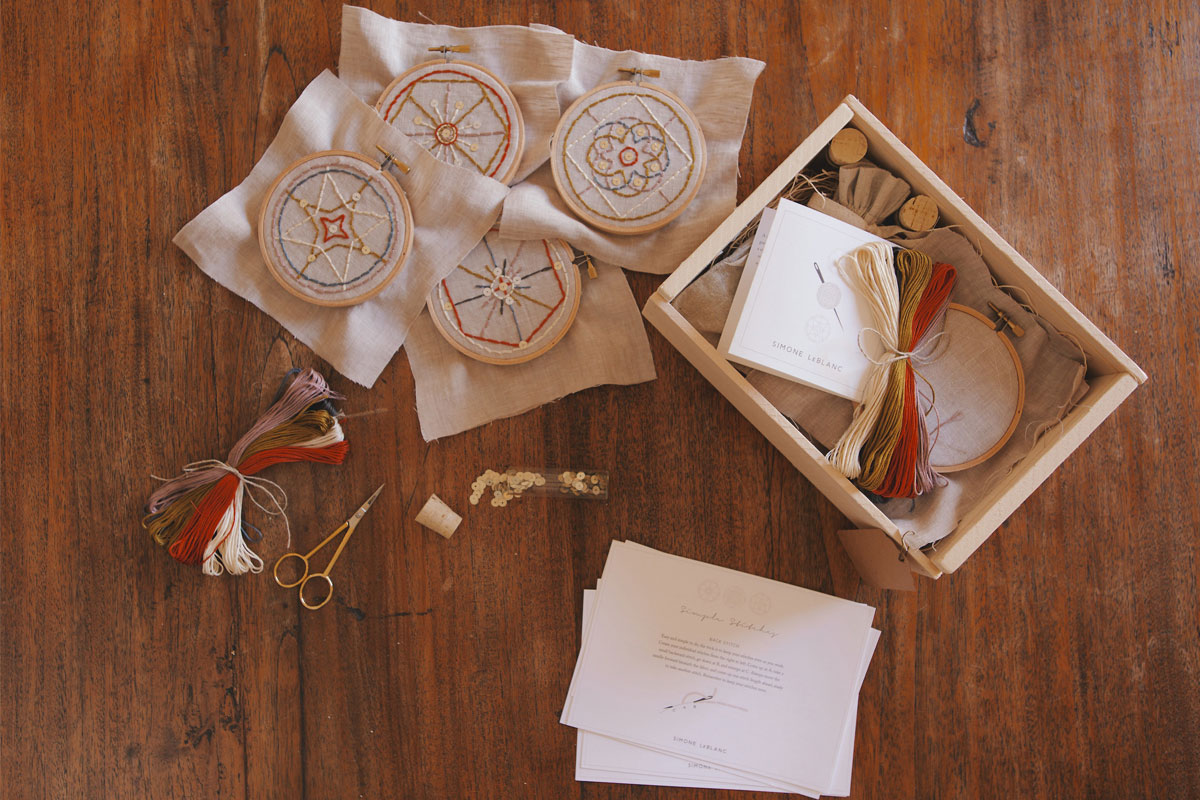 A while back, I shared all the beautiful details of Stephanie Schur's baby shower, not the least of which was the activity for the celebration, created by Simone LeBlanc. I've often featured Simone's inspired gifts in these pages, and the one that she created for Stephanie and her guests was especially so.
At the shower, each guest received their own kit with all the materials needed to create a unique mandala embroidery, which they all began together. They then took the rest home to be embroidered at their leisure. After all of the squares were finished, Simone turned the mandalas into a handmade heirloom quilt for the baby's nursery. I asked Simone to share her inspiration for this special activity and gift, and hope you enjoy. XXJKE
R+T: As an expert in inspired giving, can you share what drew you to the mandala kits (and a resulting quilt) when creating the perfect baby gift for Stephanie? Does being a new mama add some inspiration?
I wanted to make an heirloom gift that all of the ladies in Stephanie's life could come together and contribute to. The mandala appears in all aspects of life: the celestial circles of the earth, sun and moon, as well as conceptual circles of friends, family and community. The embroidery process is meaningful as a contemplative and meditative act, and it also references historical quilting bees where ladies would sit and stitch for hours and share stories and exchange wisdom.
As a new mama I really connect to the idea of community and knowledge sharing with those close to you as a support. The quilt is a literal translation of that idea – gathering together, stitching individual mandalas (stories), that when sewn together transform into one voice of support and love (the quilt).
R+T: Is there a process or series of factors that you consider when dreaming up your one-of-a-kind gifts?

Absolutely. When creating our one-of-a-kind gifts I rely on a few key points. I try to create a finely tuned balancing act between listening, editing, exploring and refining.
I listen to my clients' wishes and think about who they are and what they want to say. I dig deep into my personal gifting experience, archives and sourcing spots from where I can become inspired and then edit ideas. I creatively explore the idea that I think will work best for the project. And finally, I then refine that idea by experimenting in my studio to determine the best fabrication method to create it.
R+T: Your gifts are often designed to be an experience… Tell us about the experience of creating the mandalas as a group…and then your experience of creating the quilt itself.

Creating in a group that day was a truly unifying experience. The whole process was a ritual – from my conception of the idea and building of the kits, to working with the group on stitching their pieces, to my final building of the quilt. Every person contributed something personal, honest and meaningful. Delivering the final piece to Stephanie was amazing. I really felt like we were bringing her a museum piece that could be passed down through her family for generations.
R+T: What do you hope that this quilt brings to Stephanie, her new baby, and her home?
As with all of our custom heirloom gifts, I aim to create something that is meaningful and tied directly to the family and loved ones of the recipient.
I hope the quilt is a piece that Stephanie finds meaningful for many years. I hope it is something she will treasure and pass down for generations, reminding her of the love and support in her life. I want this gift to carry the memories of how the quilt came together, with the blessings of so many people. My ultimate wish is that the quilt becomes part of their own personal family history.