Entertaining
A Friendsgiving Gathering with FEED and Lauren Bush Lauren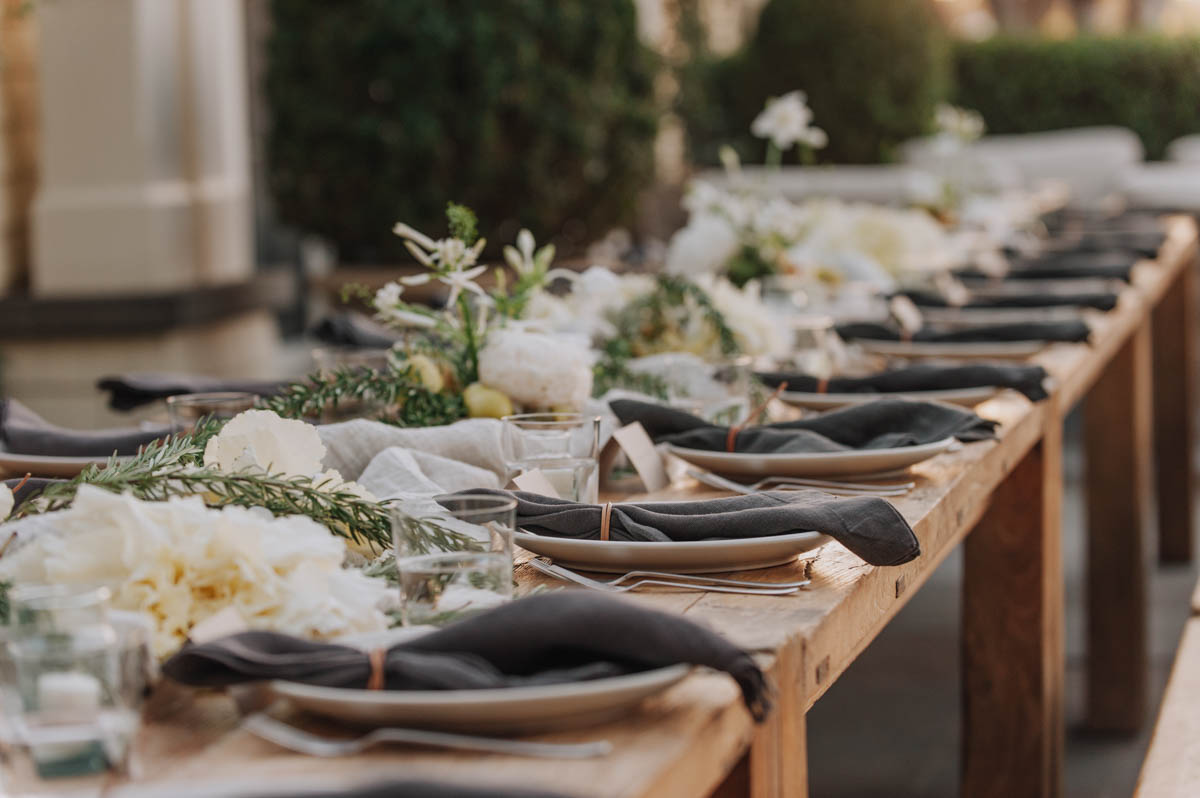 I always love to host some type of "Friendsgiving" meal ahead of the Thanksgiving holiday and for the last several years I've partnered with FEED to bring a giving element into the gathering. FEED is an organization founded by Lauren Bush Lauren whose mission is to create good products that help in the fight against hunger worldwide. FEED Suppers, meanwhile, harness the power of group giving–and a great dinner party–to help American families in need. At our recent gathering, which I cohosted with Lauren, thanks to the generosity of our guests, we raised the equivalent of over 17,000 meals for families in need across the country.
To set the scene for the party we adjoined several reclaimed wood farm tables and benches from Found Vintage Rentals creating one long, family-style table. We added linen runners from Parachute and charcoal linen napkins from Hudson Grace tied with leather twine for an earthy, monochromatic look. Maurice Harris of Bloom & Plume put together a garland of veggies and blooms in low wooden bowls and since they added so much to the table, we kept the rest simple with Heath plates, Canvas silver cutlery, and Marta tumblers from CB2.
Jessica Koslow of SQIRL in Silver Lake was the mastermind behind our delicious Thanksgiving-inspired meal. The dinner started off with puffy dinner rolls with Labne butter, a crispy potato and tomato salad, and a wedge salad with parmesan and radish. For the main course Jessica served roasted whole cauliflower, grilled kobach from SQUIRL's farm, kasha with braised beats, and cranberry sauce. Everything was vegetarian, wholesome, and beyond delicious. For dessert we enjoyed a macadamia and pecan pie that was just delicious and a fun twist on the holiday staple.
I hope you enjoy your own Thanksgiving gatherings this week and that they bring you closer to your family, friends, and community. To host your own FEED Supper in the future, check out FEED's website for all of the info on planning the event! XXJKE