Food & Drink
A Dinner Party Menu from Our Autumn-Inspired Gathering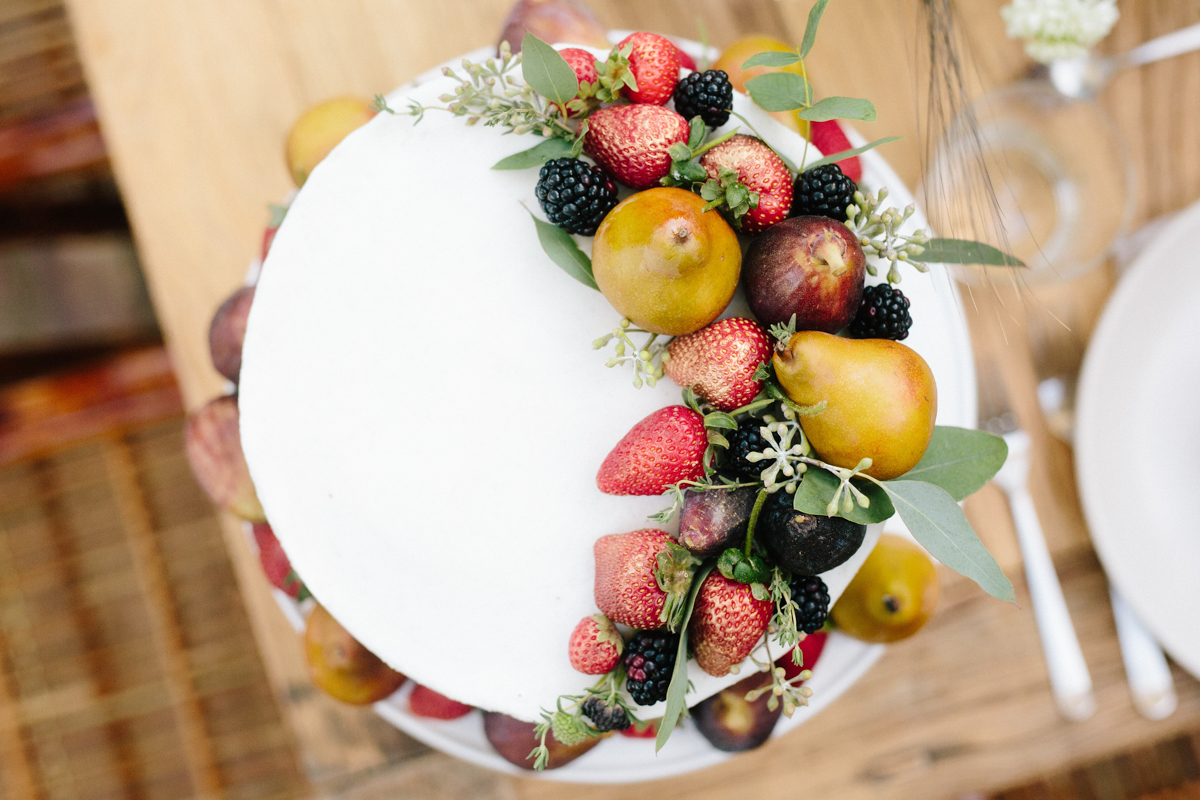 Yesterday we walked you through the décor elements that set the stage for our latest gathering, and today we're onto the dishes and drinks that made the event a real success. One of my favorite restaurants in LA, Jessica Koslow's Sqirl, put together the dinner for us, taking inspiration from the fall theme while using ingredients that were in season at that precise moment.  
As people arrived, Sqirl served fresh spinach dip with spiced Meyer lemon tortilla chips, and cocktails made with vodka and blackberry lemon verbena jam. It was casual but special; the perfect way to welcome old and new friends to our home. 
We started off dinner with a seared Brussels sprouts salad with fromage blanc, autumn citrus, and citrus vinaigrette followed by seared Santa Barbara halibut served over opal basil and fermented fig leaf and drizzled with fermented tomatillo sauce. It was so flavorful and perfect for a cool California evening. Three fresh sides accompanied the fish: charred broccoli rabe with toasted almonds, crispy potatoes with sauerkraut and dill, and cauliflower salad with ginger and herbs. 
The night wouldn't be complete without dessert, so Sqirl made a vegan chocolate layer cake with the thinnest layer of coconut frosting and fresh berries on the side. It was almost too beautiful to eat! Jessica was kind enough to share the recipe for the cake with us, which you'll find below along with more photos from our gathering. XXJKE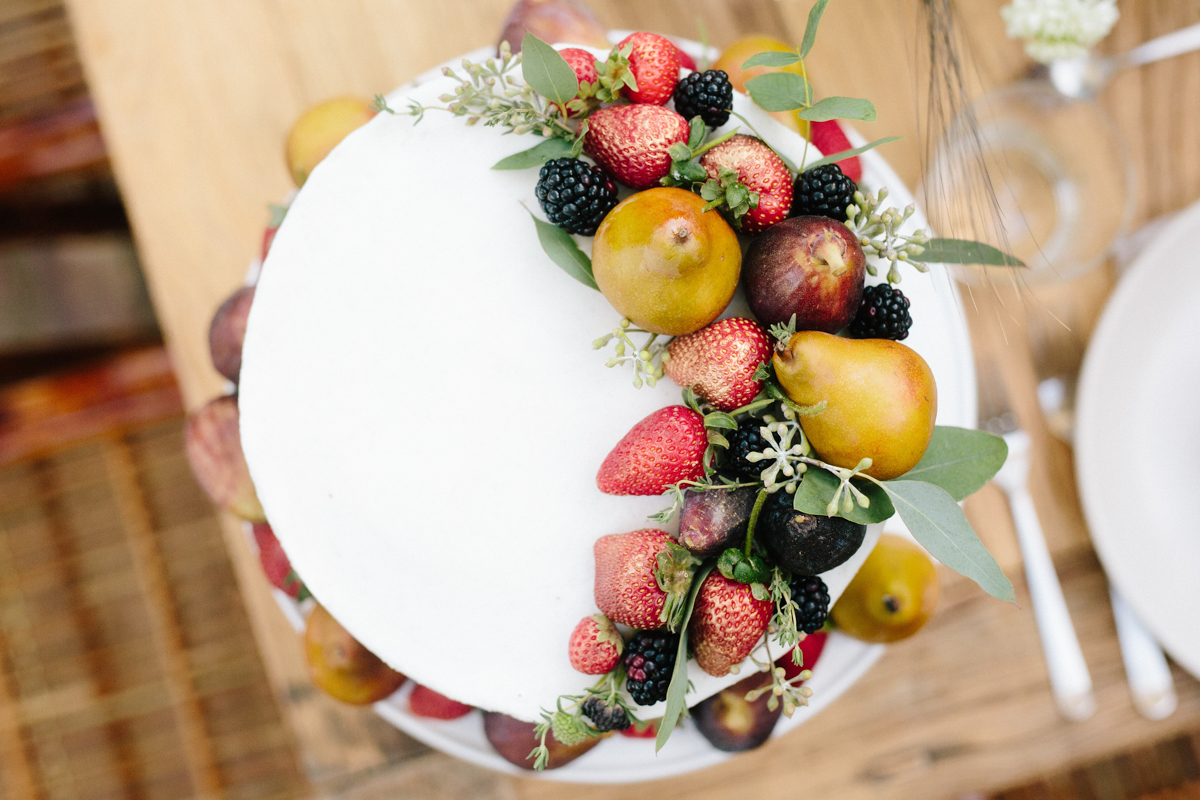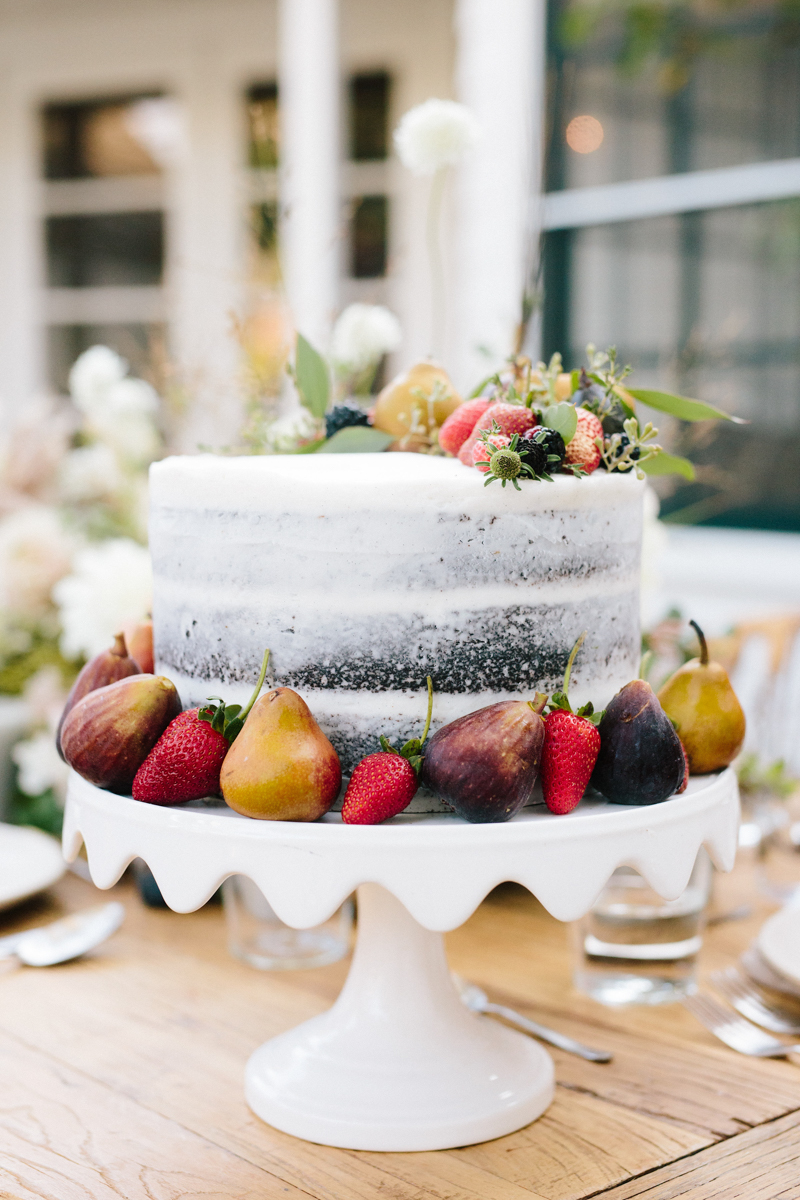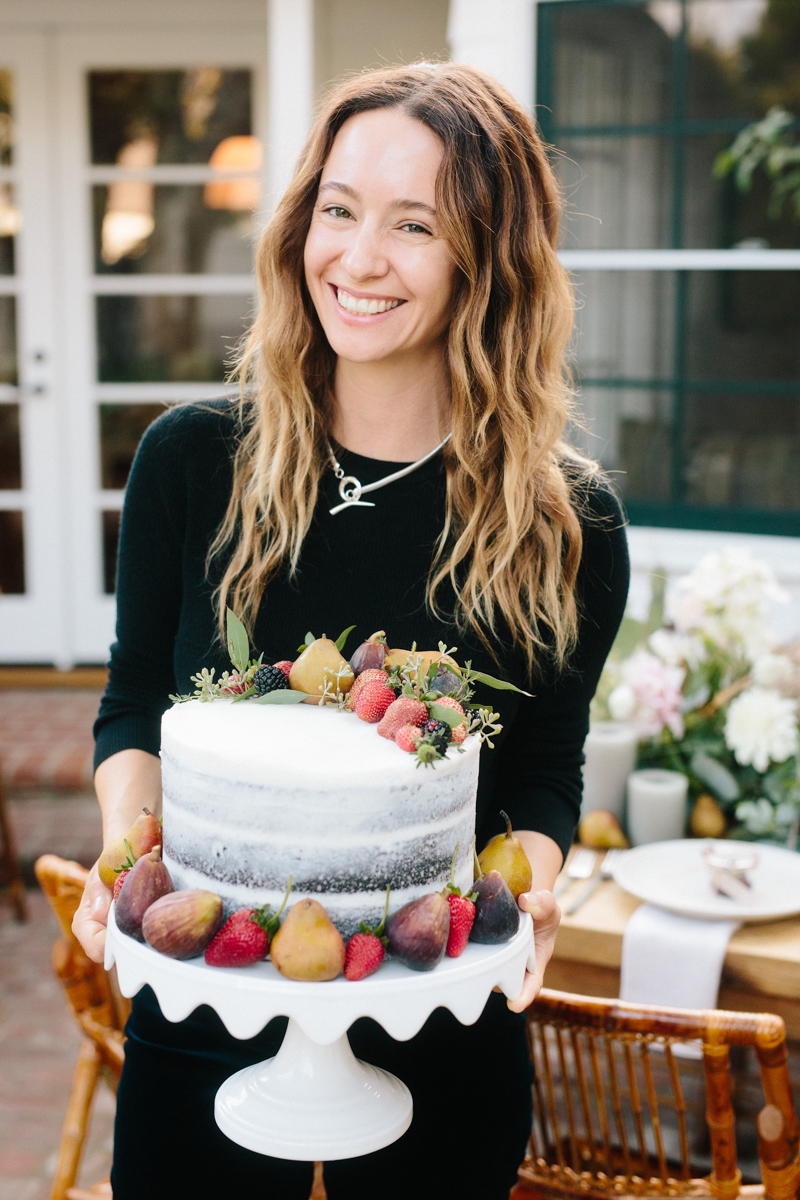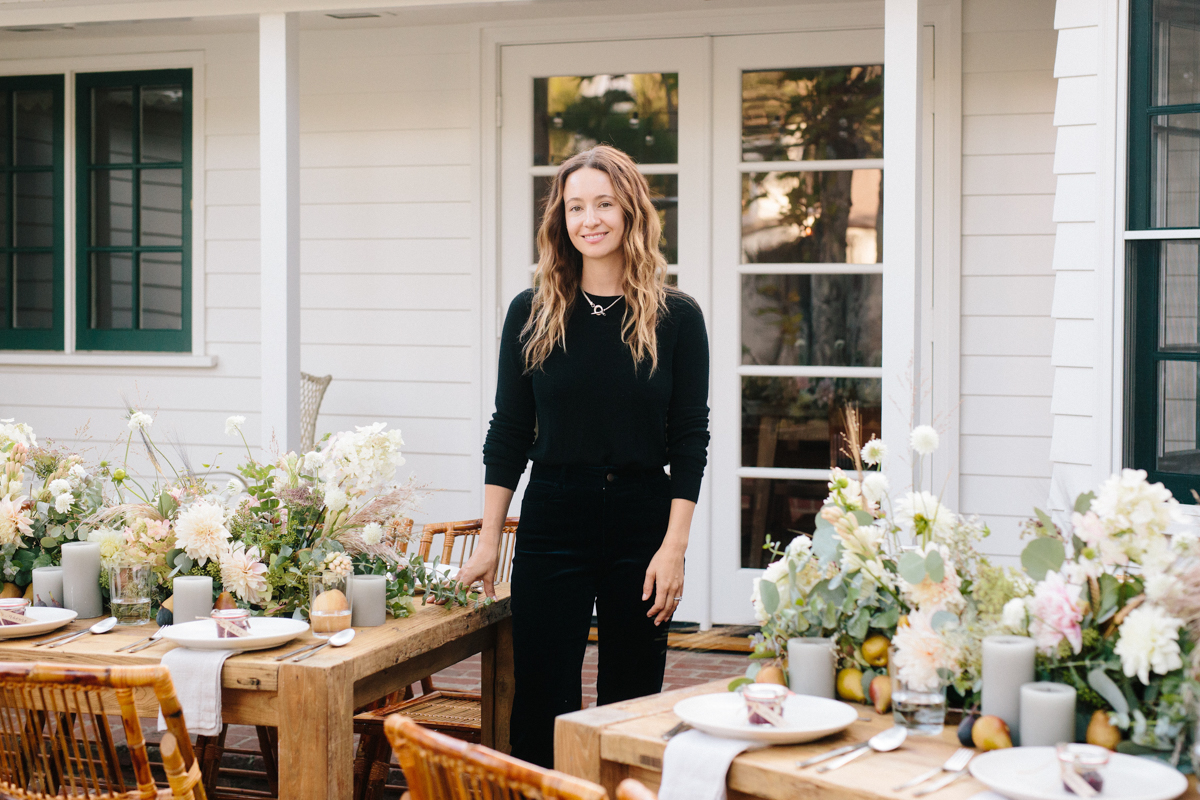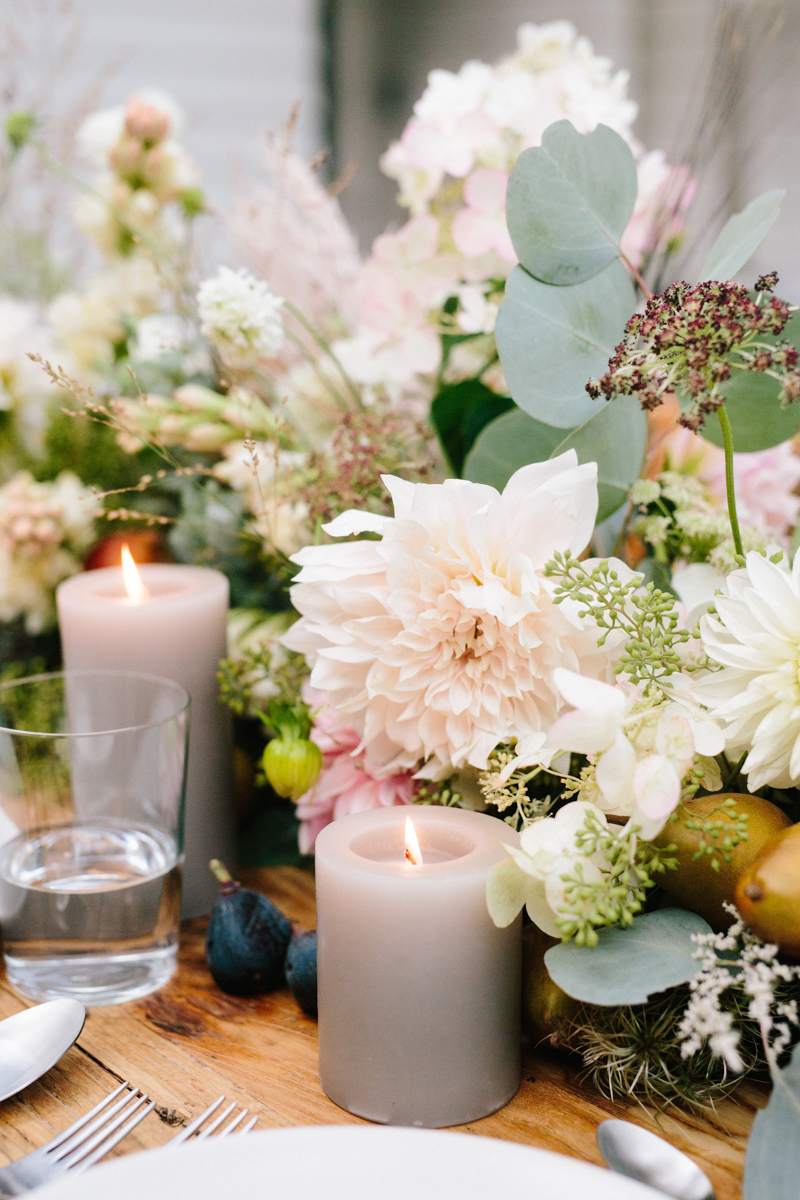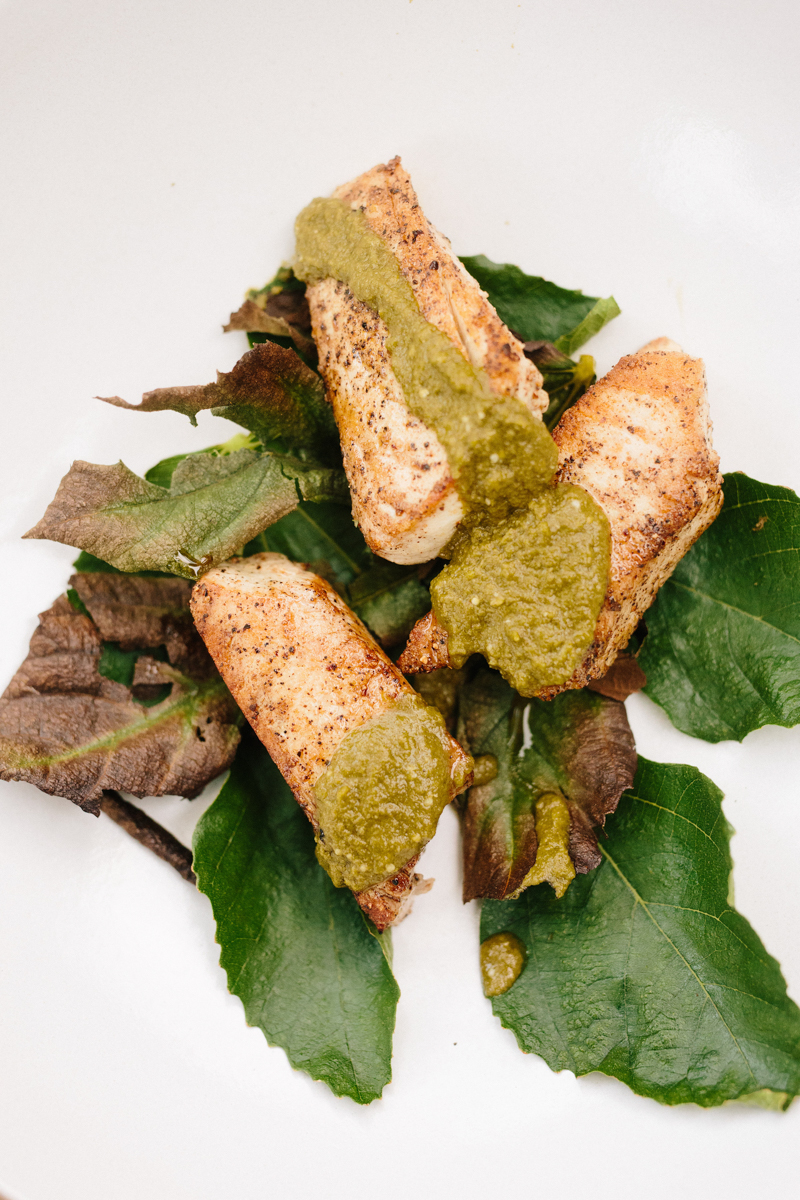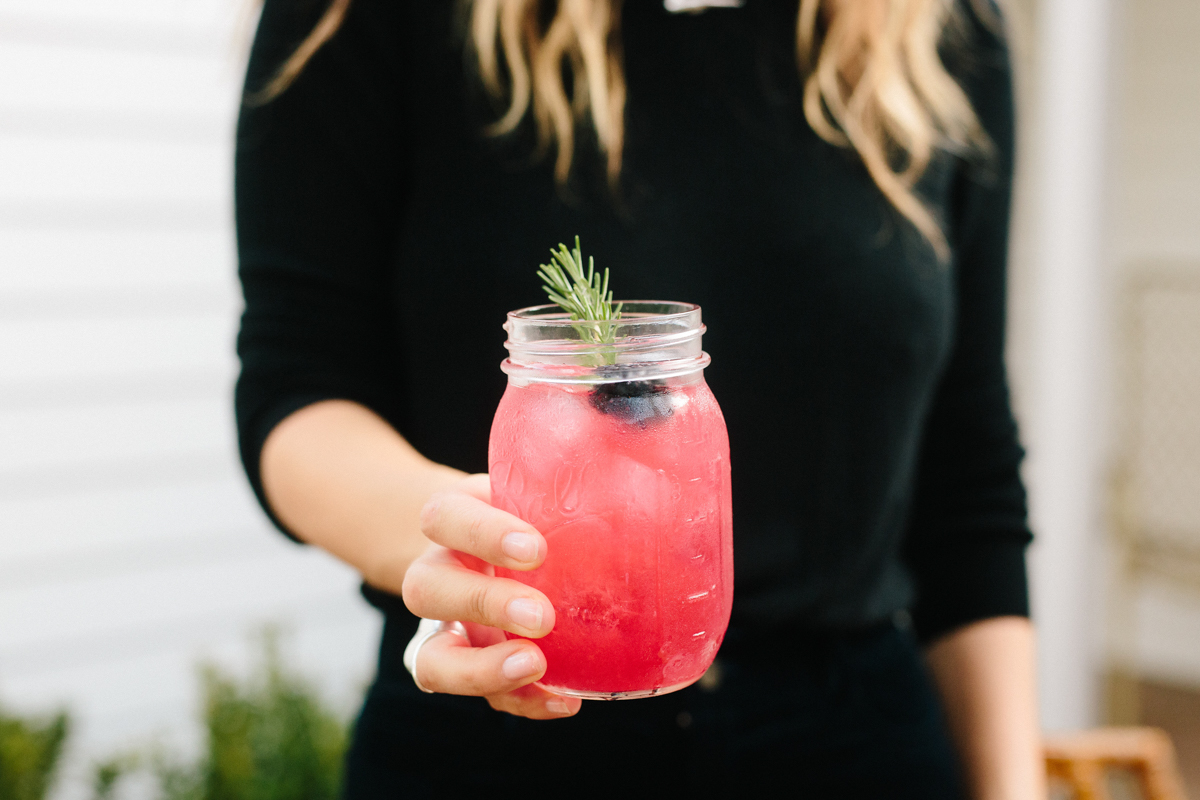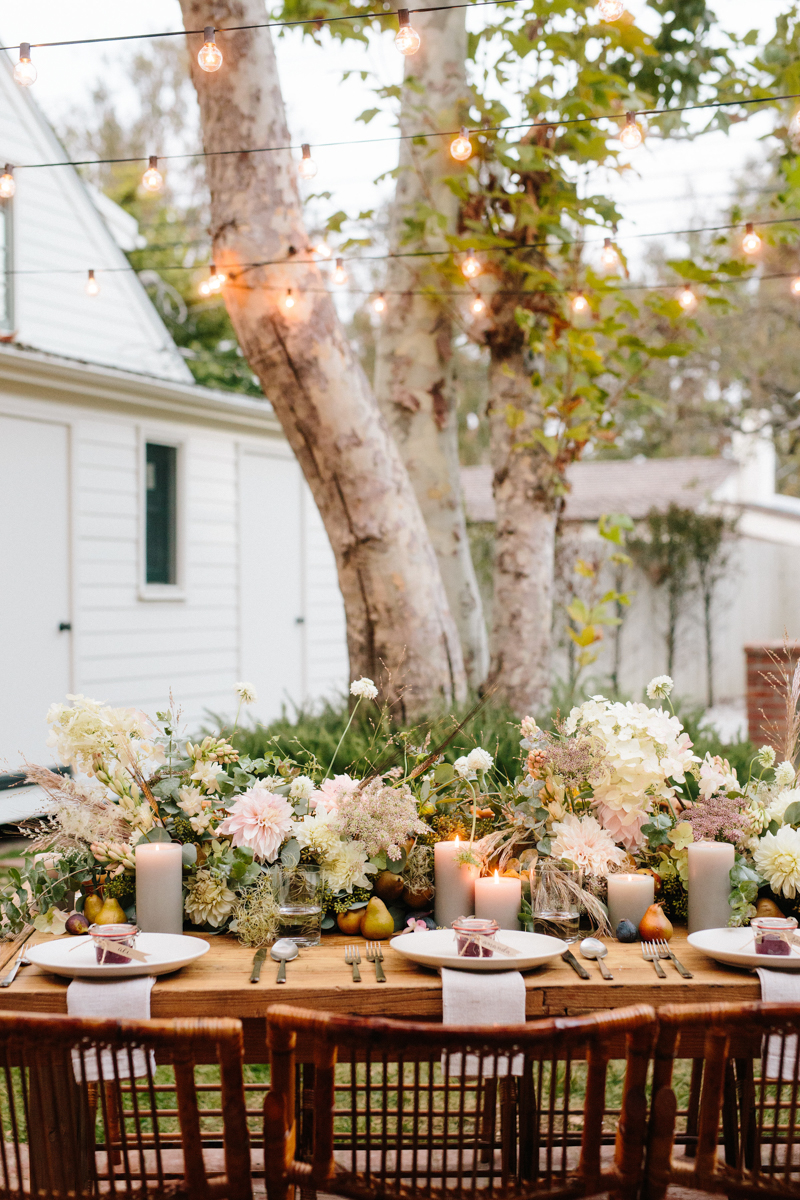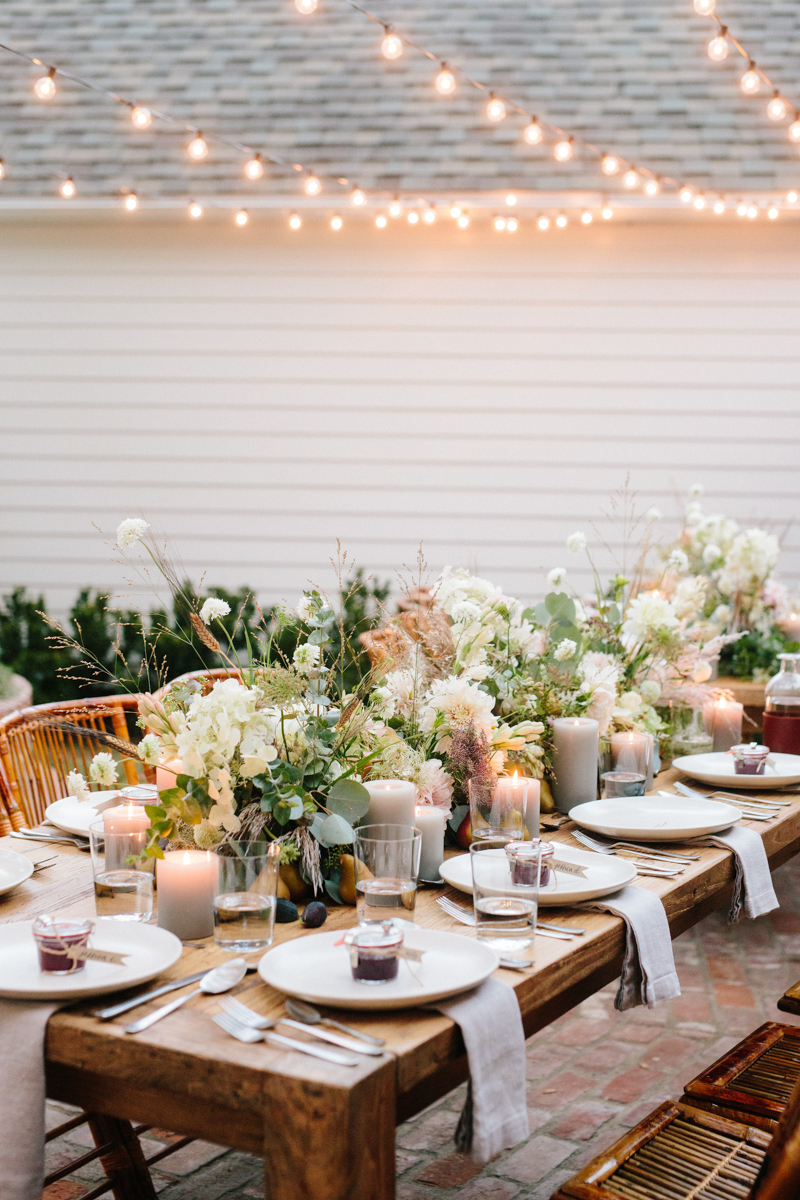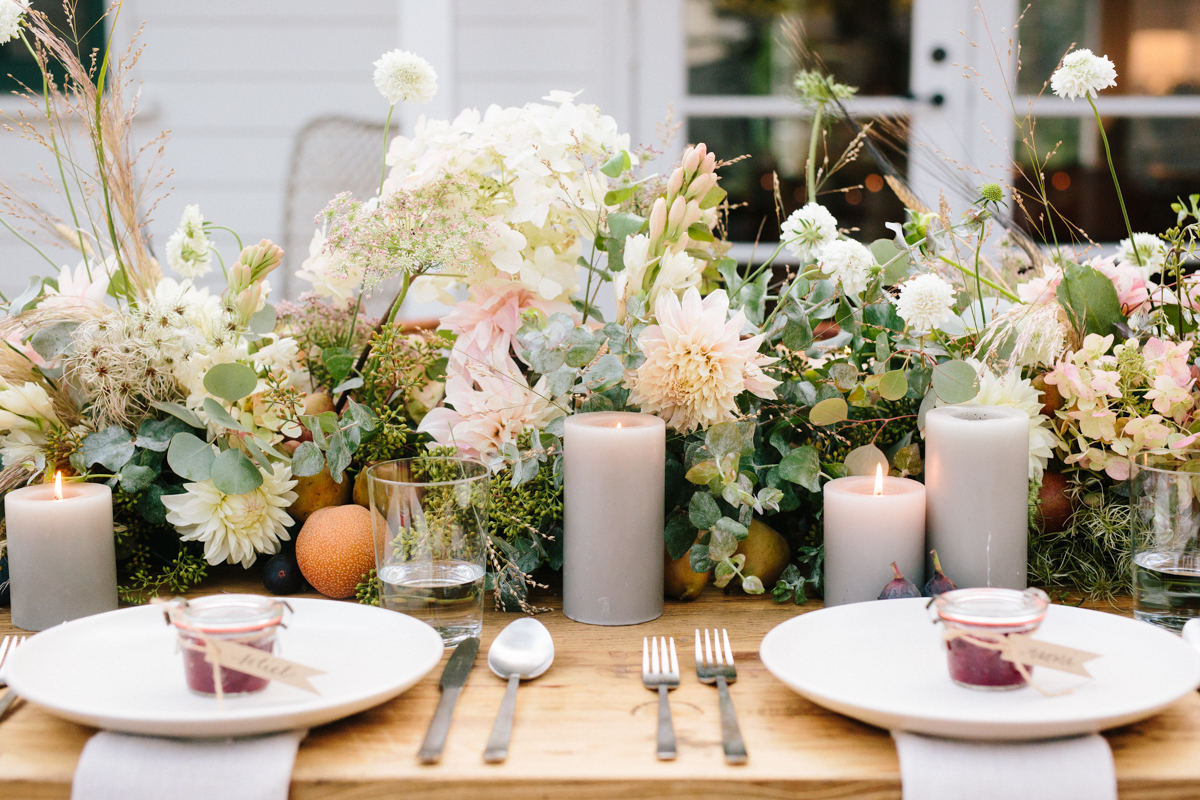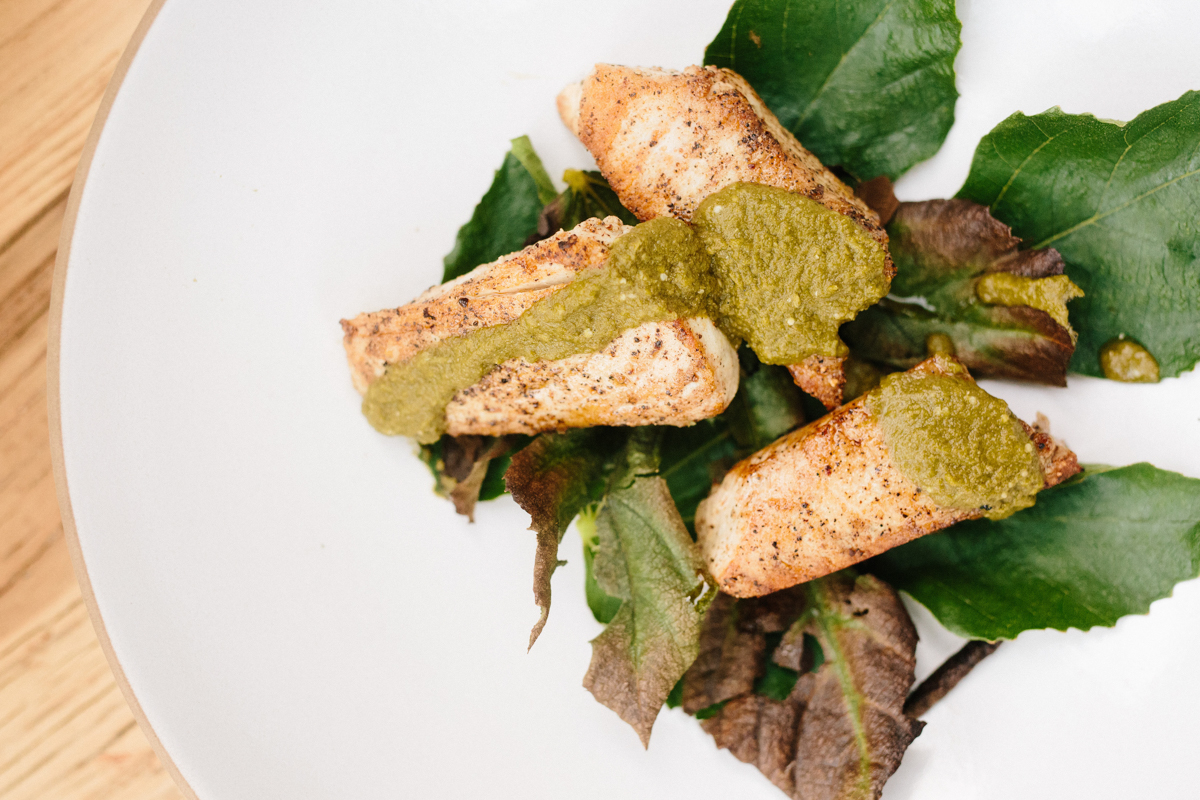 Vegan Chocolate Cake with Coconut Frosting
Recipe
Vegan Chocolate Cake with Coconut Frosting
Servings: 3 8" layers
Units:

Course: Desserts
Ingredients for the Cake:
5 1/2 cup

1301 ml

all-purpose flour
4 cups sugar

1 1/4 cup

296 ml

cocoa powder
1 tablespoon (plus 3/4 teaspoon) baking soda
1 teaspoon salt
1 cup oil

1/3 cup

79 ml

coconut oil (warm)

3 3/4 cup

887 ml

warm water
1 tablespoon vanilla extract
Ingredients for the Frosting:
16 oz

454 g

coconut oil (must be solid at room temperature)
1 vanilla bean (seeds scraped out, pod set aside for another use)
2 powdered sugar (sifted)

1/2 cup

118 ml

coconut cream (skimmed off of top of coconut milk)
1 tablespoon vanilla
For the cake:
Combine dry ingredients and make a well in the center. Add wet ingredients. Mix gently but well.
Pour into 3 8" pans sprayed with non-stick cooking spray and lined on the bottom with parchment paper.
Bake at 350 degrees for 20-25 minutes or until the middle of the cake springs back to touch. Allow to cool in pans completely before flipping out and removing parchment paper from bottom.
For the frosting:
Cream coconut oil, vanilla seeds, and salt on medium speed of stand mixer until smooth and fluffy. Alternately add sifted powdered sugar and coconut cream, beating smooth between additions until both are incorporated completely and frosting is smooth and spreadable.
Add vanilla. Beat well to incorporate.
To assemble the cake:
Trim domed tops off of cakes. Set scraps aside for snacking.
Place one layer on a plate or cake pedestal. Lightly spread about 3 tablespoons of your favorite jam on the cake (spread to 1/2 inch of cake edge).
Spread one cup coconut frosting all the way to the edge of the cake. Top with second cake layer and repeat jam and frosting step.
Top with last cake layer and spread two cups of frosting over the top of the cake. Slowly spread frosting to sides and gently encourage frosting down the side of the cake, easing frosting into cake layer joints and down the bottom of the cake sides. Add frosting as needed, but try to keep the sides relatively bare.
Using a long offset spatula, smooth out sides of cake. Scoop remaining frosting on top of cake and smooth flat or in swirls with offset spatula.
Decorate with fresh seasonal fruit or flowers.