Entertaining
A Bountiful Fall Floral Arrangement by Sarah Winward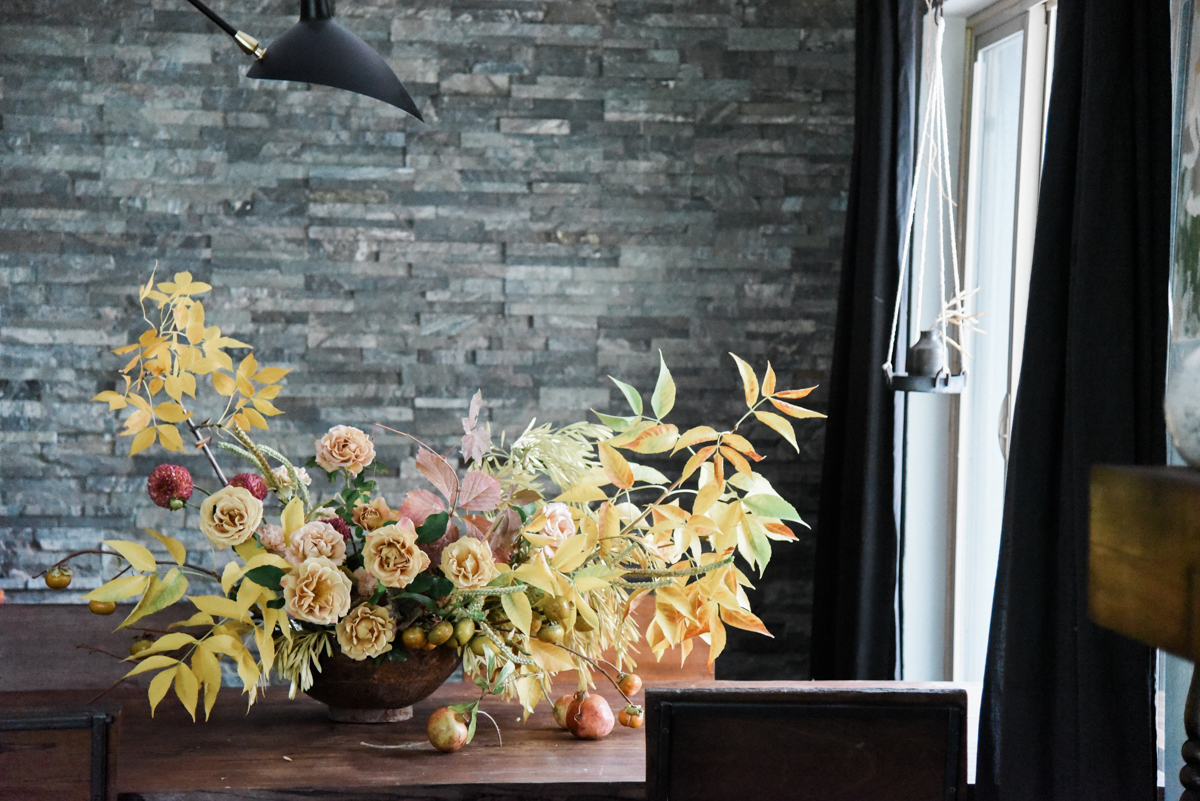 This monochromatic arrangement by Salt Lake City floral designer Sarah Winward is a beautiful follow-up to the more muted design we shared with us earlier this season. Featuring shades of golden yellow, beige, and mauve it would be perfect on an entryway table or mantel during this time of year. Sarah used tree of heaven branches, honey Dijon garden roses and dahlias as the primary elements, filling in with heuchera leaves, pomegranate, and creeping Virginia foliage as well as persimmons and bloomed-out obedience flower seeds. The effect is lush and decadent but still natural. We asked Sarah to share a little bit about her technique, below. XXJKE
This arrangement was made in an old metal pot, and I used chicken wire to hold the flowers. Chicken wire is my material of choice for arranging as it gives the flowers a bit of room to move and fall naturally, but for the most part, keeps them where you want them. I like that they are in water when you use chicken wire, and that you can reuse it. 
I made this arrangement by first placing the bigger branches. Since they have the most dominant shape, I think it is important to use them first. Then I filled in with my roses and dahlia, making clusters of these focal flowers in lines that your eye can follow through the arrangement. The last pieces I put in were the smaller pieces, like the heuchera and the obedience seed heads. These are accents to the color palette and add depth to it. I like to finish arrangements with heavy fruit on the stem hanging over the bowl, and letting it trail out from the bowl onto the table. 
This arrangement is inspired by the crazy autumn color that is around me right now in Utah. Most of the leaves that are red have already crisped up and fallen, but the yellow is still on fire. Many flowers have turned to seed pods, and I love the texture that they contribute to the landscape as they live on in their skeleton form.